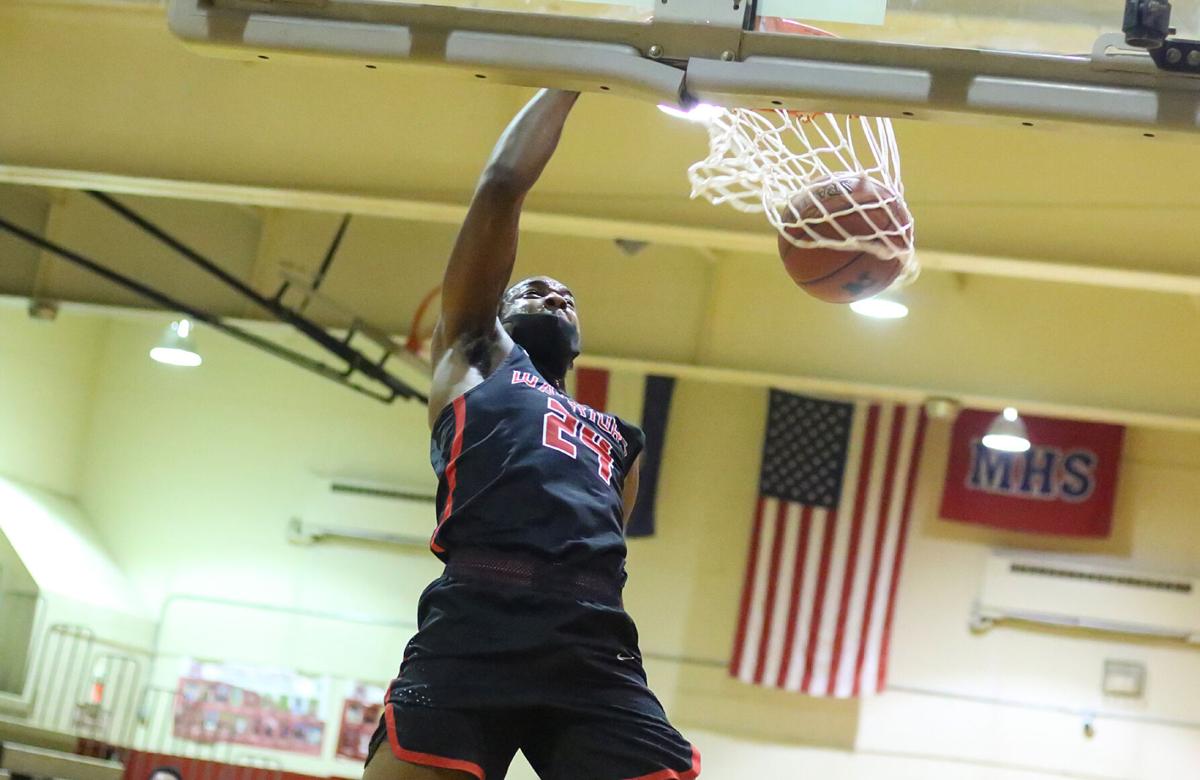 Danny Thomas did what he could to pit his Jennings boys basketball team against the best competition he could find in the shortest season in school history.
On Monday afternoon, that schedule helped the Warriors keep their season alive another few days.
Jennings held on for thrilling 63-61 victory over Hazelwood East in a Class 5 District 6 semifinal at Jennings High.
The No. 2 seed, Jennings (6-6) advanced to play at No. 1 seed McCluer North (8-2) at 4:15 p.m. Thursday.
Hazelwood East finished 6-7.
The Warriors got another spectacular performance from senior guard DeMarion Shanklin, who scored 28 points. The area's leading scorer with a 24.2 points per game average, Shanklin has scored 27 or more points each of his last three games despite shooting 3-of-17 from 3-point range in that span.
Senior forward Karl Moore finished with 16 points, eight rebounds and five steals. Sophomore guard Danny Thomas scored nine points, all on 3-pointers.
Coach Thomas said that playing the likes of Cardinal Ritter, Chaminade, Eureka, Pattonville and University City in the span of a few weeks was instrumental in the Warriors finding their way past the Spartans on Monday.
"It comes down to that tough schedule," Thomas said. "As your season comes to a play or two, we've played some really good competition."
Jennings beat Hazelwood East 54-49 on Feb. 2 but that didn't mean much Monday afternoon. After falling behind 47-33 after the third quarter, the Spartans exploded for 28 fourth-quarter points.
"They went small ball, they hit some threes and we turned it over," Coach Thomas said. "East didn't quit. They made us earn it."
The Spartans were led by Terry Lowe, who scored 19 points. Junior guard Carlos Roberts finished with 16 points and Marcus Huckleberry scored 13.
Jennings has not faced McCluer North this season. They played the past two seasons at Kirkwood's Denver Miller Tournament, with the Stars pulling out wins both times, but this will their first meeting this abbreviated season.
"We know who they are and what they do, we know who we are and what we do," Thomas said. "I'm excited for the opportunity."
University City 88, Clayton 49: Fresh out of a late season quarantine due to potential exposure to COVID-19, the Lions found their legs after halftime as they scored 58 second-half points.
The No. 1 seed in the Class 5 District 5 tournament and the No. 2 small school in the STLhighschoolsports.com rankings, U. City (16-3) will host No. 2 seed and No 3 small school Cardinal Ritter (15-5) at 5 p.m. Wednesday in the district championship game. It's the first meeting between these two teams since 2010 and just their fourth since 2007.
Senior forward Jalen Hampton led the Lions high-octane attack with 32 points, 14 rebounds, three assists, four steals and two blocks.
Junior Carleton Thomas had 15 points, six rebounds and blocked three shots. Junior point guard Larry Abbey had 12 points, six assists and three steals. Senior guard Justin Holland chipped in 10 points and a pair of steals.
Priory 49, John Burroughs 45 (OT): Senior Harrison Wilmsen scored 23 points and hauled in 15 rebounds to lead the Ravens to a thrilling win over the rival Bombers in a Class 4 District 5 first-round game at Priory.
The No. 3 seed, Priory (19-6) advanced to play at No. 2 seed Westminster (18-5) at 6 p.m. Wednesday in a district semifinal.
The winner will play the winner of the MICDS-Normandy semifinal on Friday.
Priory has won three consecutive games, two of which came against Burroughs with a victory over MICDS sandwiched between.
Senior guard Myles Kee scored 12 points and junior Jahaad Fort scored 11 points and handed out four assists.
Cardinal Ritter 64, St. Mary's 48: The reigning Class 3 champion officially began its march into Class 5 Monday as the Lions beat the rival Dragons in a Class 5 District 5 semifinal at Cardinal Ritter.
The No. 2 seed in the district and the No. 3 small school in the STLhighschoolsports.com, Ritter (15-5) will travel to No. 1 seed and No. 2 small school University City (16-3) for the district championship game at 5 p.m. Wednesday.
It will be the fourth time these two teams have played since 2007. The Lions have won all three previous meetings, the most recent of which was 2010.
Bayless 61, Hancock 57: Senior Cameron Gunter scored 31 points, grabbed seven rebounds, handed out five assists and made two steals to lead the Bronchos to a semifinal victory in a Class 4 District 3 semifinal.
The No. 2 seed, Bayless (14-7) advanced to host No. 4 seed Roosevelt (4-11) in the district championship game at 6 p.m. Wednesday.
Senior Jeremiah Strain finished with 13 points, five rebounds, four assists and four steals. Senior Stacian Livingston scored 11 points, grabbed six rebounds and made three steals for the Bronchos.
The No. 3 seed, Hancock finished 6-15.