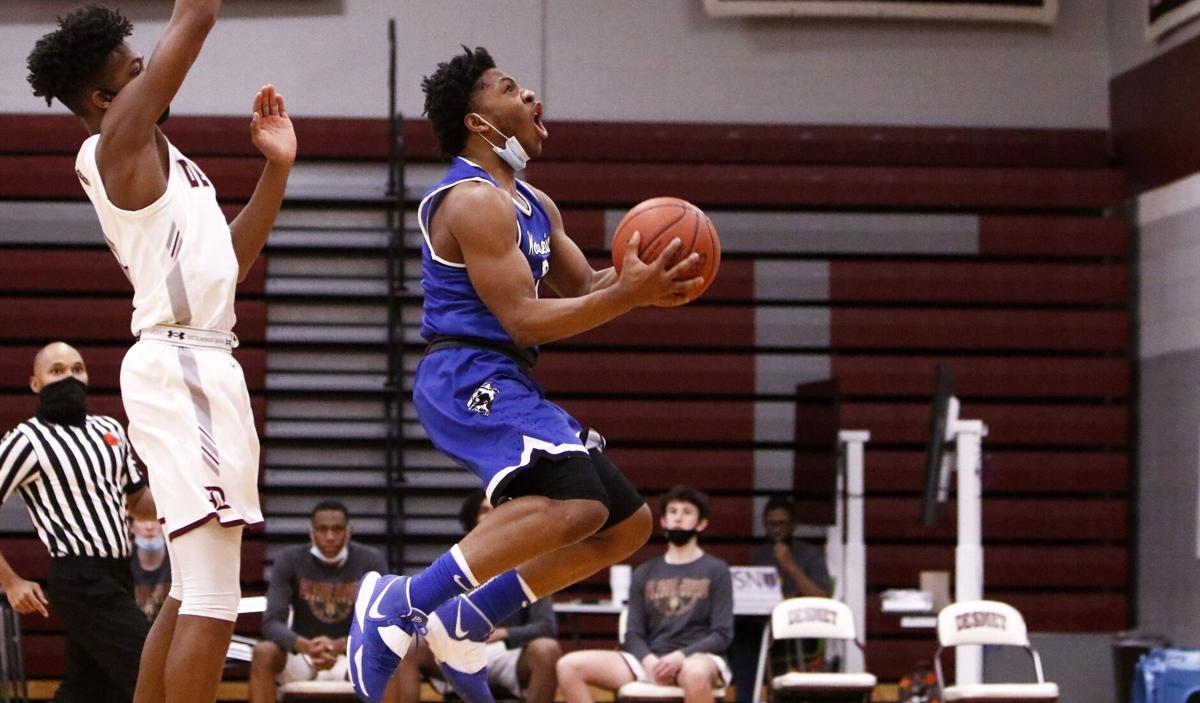 Tony Irons began his coaching career 12 years ago. First at Imagine College Prep, then Madison Prep and for the past six years he's led the Vashon boys basketball team.
In his time, Irons has one season where his team did not win a district championship. It was his first, in 2008-09, at Imagine. Eleven consecutive district championships later, it still gives Irons a thrill for his players to get handed that Missouri-shaped wood grain plaque.
"It always feels good," Irons said. "You never take it for granted. You feel blessed. There's a lot of people playing that don't win one."
The No. 1 seed and the top-ranked area small school in the STLhighschoolsports.com rankings, Vashon cruised past Public High League rival Soldan 76-41 in the Class 4 District 4 championship Thursday at Vashon.
It's the sixth consecutive district title for the Wolverines and, according to the Missouri State High School Activities Association's online record book, their 35th overall.
Vashon (12-1) advanced to face Roosevelt (4-11) in a sectional round game at 6 p.m. Tuesday at a site to be determined.
Of all the district championships, Irons has been a part of this one was unique simply because of the circumstances it was conducted under. The coronavirus pandemic has forced changes, stoppages and long delays. Usually the Wolverines crisscross the country playing the best competition they can find. This winter they stayed at home.
Of Vashon's 12 games, three were on the road.
When the ball went up on Thursday night, the Wolverines were coming off a week-long break. They were awarded a forfeit win in the district semifinal when Metro was unable to play. Those kinds of layoffs are unusual most years but have become more routine during these COVID-19 times.
A self-identified perfectionist, Irons did not think Vashon looked crisp at the start of the game and he saw some things on the defensive end he wished were cleaner.
"It's never going to be perfect for me," Irons said. "We were stagnant in the first couple minutes then we got rolling a little bit."
Senior standouts Nick Kern and Keshon Gilbert led a balanced offensive attack. Of the 11 players that saw action, 10 of them scored. Kern was the high man with 22 points while Gilbert scored 12, 10 of which came in the first quarter.
The Wolverines will see another PHL team in the sectional round in Roosevelt. The Roughriders are fresh off their first district championship since 1975 and just the fifth in school history. It looks like a mismatch on paper but Irons didn't lead his teams to 11 district titles by worrying about paper.
"Roosevelt is 2-0 and we're 1-0 the way I see it," Irons said. "We have to approach the game like it's an opportunity to come out and play as hard as we can.
"You know they're going to come into the game and give us their best. We have to give them ours."
De Smet 70, St. Charles 29: The Spartans scored the first 23 points of the game and rolled to the Class 5 District 7 championship Thursday at home.
It's the first district championship for De Smet since 2013 and the 32nd in school history.
The No. 1 seed, De Smet (14-6) advanced to play either Fort Zumwalt South or St. Dominic in a sectional round game at 6 p.m. Tuesday at a site to be determined.
St. Charles finished the season 10-15.
Thursday's victory was extra sweet for the Spartans. After losing to Metro Catholic Conference rival CBC the past two years and three of the last four in the district championship, it was nice to get over the hump and into the sectional round.
"The last two years we've been in some dog fights," De Smet coach Kent Williams said. "It feels great. Our guys were excited."
The season has been a rollercoaster for De Smet. Coming into the winter the Spartans were expected to be a heavy contender to make a long, deep playoff run. They were selected to play in the exclusive Bass Pro Tournament of Champions. It was going to be their year.
Only it wasn't. The Tournament of Champions was canceled. Standout center and Missouri signee Yaya Keita suffered a season-ending injury in the fall. Other pieces that were expected to be significant parts of the team were not. And still the Spartans trudged on.
"It's been such a wild year," Williams said. "Dealing with all the things we dealt with and now we're seeing guys step into those roles. It's taken some time but in the last month the guys have really stepped up."
Junior forward Brennan Lovette led the way with 15 points. Senior center Sekou Gassama and senior guard Jeremiah Walker each scored 12 points. Junior guard Brian Taylor and sophomore guard Justin Duff scored 10 points apiece.
The eight-year gap between district championships is the longest drought for De Smet since it won its first in 1971. But the Spartans don't get to enjoy it long. Williams said they'll find out their next opponent Friday night and then begin preparing for Tuesday's sectional accordingly.
"It's tournament time, there's no time to sit back and enjoy it," Williams said. "We took care of our business this week. Next week is a two-game tournament. We're going to keep focused on one at a time."
Washington 66, Rock Bridge 53: For the first time since 2013, the Blue Jays are a district champion.
Washington knocked off Rock Bridge in the Class 6 District 8 championship game Thursday night at home.
Washington (18-7) advanced to play either Troy or Liberty in a sectional at 6 p.m. Tuesday at a site to be determined.