When the coronavirus pandemic shut down showcases and shootouts last winter, Terrell Ramey had an idea.
Instead of running one showcase event in the season, he'd make it two.
The man behind the popular and successful Midwest Showdown Shootout has added another event to his portfolio in the Mid Missouri Invitational at Harrisburg High in Harrisburg, Missouri.
"With COVID, the opportunity presented itself," Ramey said. "(COVID) brought a profound appreciation of what you missed."
The seven-game showcase pits six area teams against the best competition from the middle of the state Ramey could find.
Ramey chose Harrisburg as the host site after developing a relationship with former Harrisburg coach Steve Combs. Harrisburg played in a few of Ramey's Midwest Showdown Shootouts and he and Combs hit it off.
Combs has since retired from basketball, been inducted into the Missouri Basketball Coaches Association hall of fame and is currently the superintendent of Harrisburg School District. It didn't hurt the cause that Harrisburg has a 2,200-seat gymnasium that is routinely full when there's good basketball being played.
Ramey had been noodling taking a showcase outside of the area, and when the opportunity came up he jumped at it.
"It's something I've wanted to do," he said.
The first game tips off at 11:30 a.m. with the girls from Harrisburg facing off against Capital City. The boys are up next with Miller Career Academy (10-5) taking on Harrisburg (10-2) at 1 p.m.
The No. 3 small school in the STLhighschoolsports.com rankings, Confluence (8-4) draws Monroe City (8-3) at 2:30 p.m. Confluence will bring standout guard Trasean White, who just went over the 1,000-career point mark in the Titans' 100-52 win over Normandy last week. White is currently the area's top scorer with a 29.1 points per game average.
At 4 p.m. DuBourg (4-5) plays Helias (4-7), which features junior point guard Desmond White, who's among the most sought-after players in his class in the state.
Pattonville (8-7) tussles with Mexico (10-0) at 5:30 p.m. while No. 4 small school Cardinal Ritter (8-8) faces Blair Oaks (11-1) at 7 p.m. The only team to beat Blair Oaks this season is East St. Louis when the two met Dec. 11 at the Norm Stewart Classic in Columbia. This is a rematch of a 2020 Class 3 semifinal which Ritter won 68-54 on its way to the first of back-to-back state titles. Blair Oaks features standout 6-foot-10 senior post Luke Northweather, who has a NCAA Division I scholarship offer from Wyoming, according to Verbal Commits.
The final game of the night features Hazelwood Central (3-6) playing Tolton (10-3) at 8:30 p.m.
Tickets are $12 and are only available at the door. Ramey said the event will not be streamed this year but possibly in the future.
Ramey did say that as of Tuesday all the teams are lined up to compete and there aren't any expected changes. But living in these times he's well aware that can change and said should a team have to step away for reasons related to COVID-19 he believes he'll be able to fill in as needed in short order.
"There are plenty of teams out there looking for games right now," Ramey said. "I have some contacts."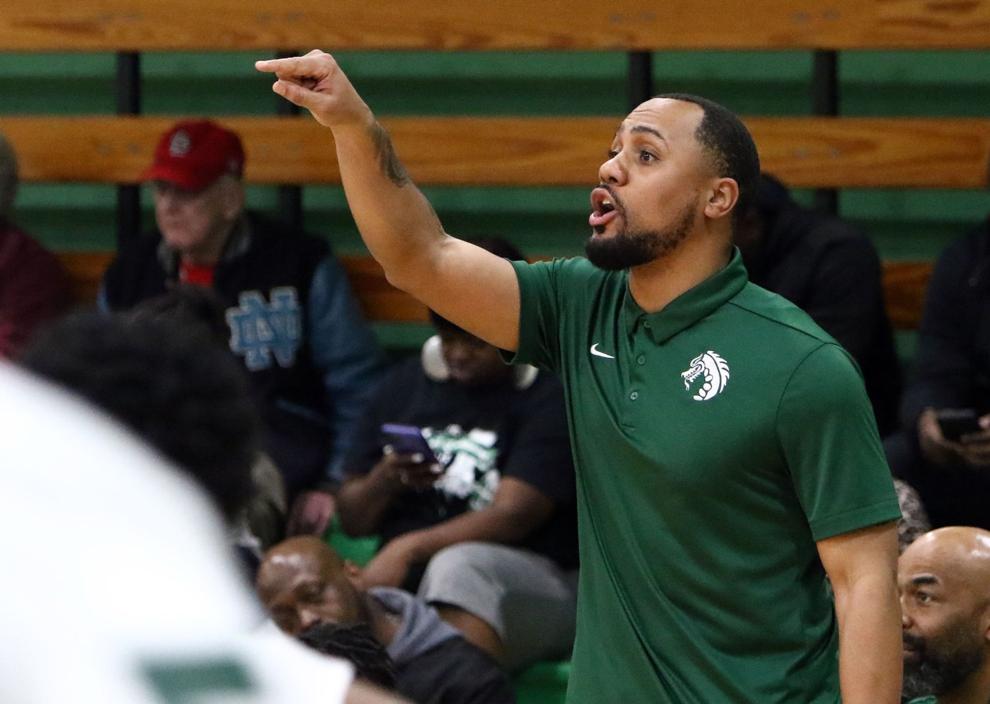 Bryan Turner is happy but not satisfied.
The St. Mary's coach, Turner is thrilled his Dragons have won four games in a row and are playing well, but there's always room for improvement.
"We can still play better," Turner said.
St. Mary's (8-6) has already vastly improved on last season's COVID-19 ravaged record of 2-7. After losing their first-round game at MICDS's Don Mauer Invitational to Parkway Central, 61-57, the Dragons won their next three games to claim the consolation title as Turner won his 100th game as a coach.
St. Mary's opened up the new year with a 77-70 win over Lutheran North last week.
Turner wants his team to continue to grow and learn no matter the results on the scoreboard, but those lessons sure go down smoother after a victory.
"It makes it so much easier," Turner said. "You want these kids to have success."
There have been two challenges so far that Turner is still working out. The first is just getting his team used to what basketball looks like now. Last season there were few games and even fewer fans. Playing in a gym with a crowd, especially a hostile road crowd, takes some getting used to and the Dragons missed out on that last year.
"This is new for a lot of them," Turner said.
The second challenge is folding in the members of the state championship football team that were delayed in joining basketball until early December. Turner said moving from one sport to the next is physically challenging.
"Making that transition from football to basketball is very hard," Turner said.
But it's also a puzzle for Turner and his staff as they try to hash out the best way for this team to play together. Turner prefers to play an up tempo style but wants to do what's best for the players he has.
"I still don't know what type of team we are," Turner said. "A lot of guys are still getting acclimated to basketball."
The Dragons will find out a lot about themselves over the next few weeks of the season. St. Mary's is entering challenging stretch of its schedule as it travels to AAA rival Cardinal Ritter for a 4:30 p.m. game Wednesday then hosts Tolton at 7 p.m. Friday. The following week it will play at Borgia, which stunned Cardinal Ritter last week.
"This is a crucial time for us," Turner said. "We're going to learn a lot about ourselves the next couple of games."
St. Mary's defended its home court in a 62-49 win over Borgia on Dec. 3. But that was so long ago the Dragons' football team won state the next day.
The schedule doesn't let up as the Dragons push into February as there are still dates with Cape Notre Dame, Chaminade, Lift For Life and rematches with Ritter and Tolton.
St. Mary's has received a strong freshman season from point guard Zyree Collins who's averaging 15.1 points and a team-high 4.1 rebounds per game. Senior guard Kameron Taylor has been a long-range bomber as he's knocked down 34 of 71 3-pointers and averages 15.3 points per game. Senior guard Noah Johnson is good for 10.2 points per game.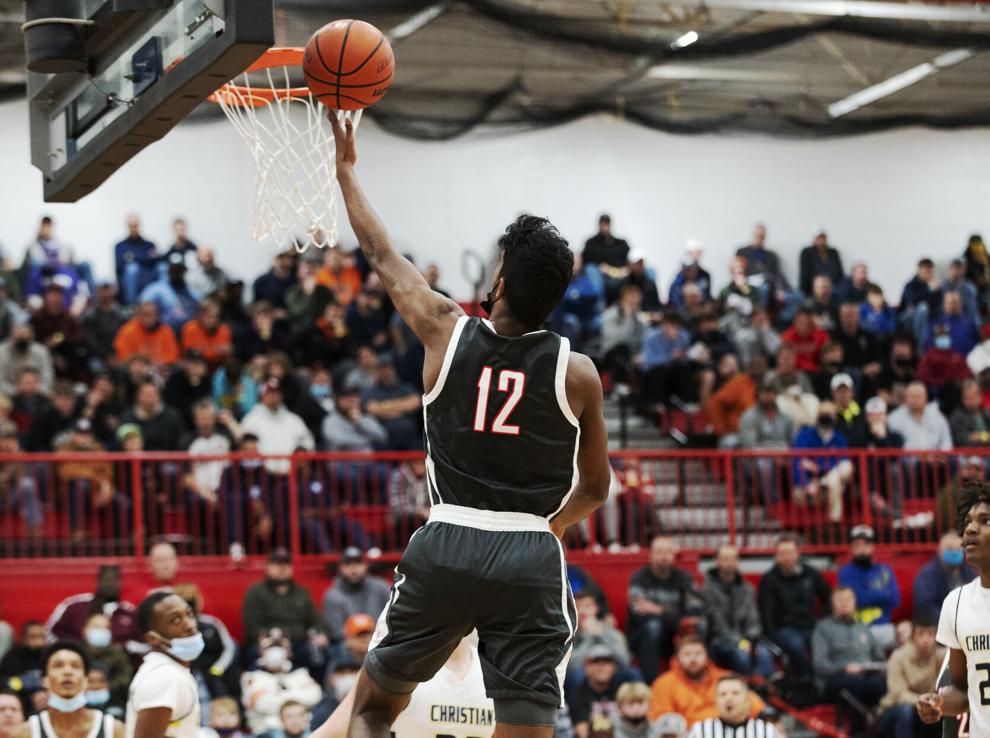 MCC RACE COMES INTO FOCUS THIS WEEK
This week will go a long way to determining who lays claim to the Metro Catholic Conference title this season.
The powerhouse league has a full slate of action. It started Monday when Chaminade eked out an 82-79 home win over De Smet. The Red Devils have won three in a row and four of their last five against the Spartans.
On Wednesday, De Smet (8-4 overall, 1-1 league) hosts St. Louis U. High (9-2, 1-0) at 6 p.m. The Jr. Billikens have not played since they beat Lift For Life to win the Legends of Winter Roundball Classic on Dec. 30. SLUH beat Chaminade at home on Dec. 21.
CBC (8-4) is set to play its first conference game when it travels to Chaminade (8-3, 1-1) at 6 p.m. Friday. No tickets will be sold at the door and must be purchased online.
The Cadets were scheduled to play at SLUH in December, but that game was postponed out of an abundance of caution related to COVID-19.
CBC did not beat Chaminade in either conference game last season or their district championship showdown in the postseason. The Red Devils ended the Cadets two-year run as the league champion.
It's going to the first in a good string of games for CBC as it is scheduled to play at Staley (10-1) on Saturday then return to play at De Smet on Jan. 21 before closing out the month with road games at East St. Louis and Westminster. Staley's only loss this season was at Webster Groves in the Webster Classic championship game on Dec. 11.
Vianney (7-5, 0-1) hosts SLUH at 6 p.m. Friday. The Golden Griffins were beaten by the Spartans 81-50 on Dec. 17. Vianney is back in action this week after going on pause due to COVID-19 related reasons.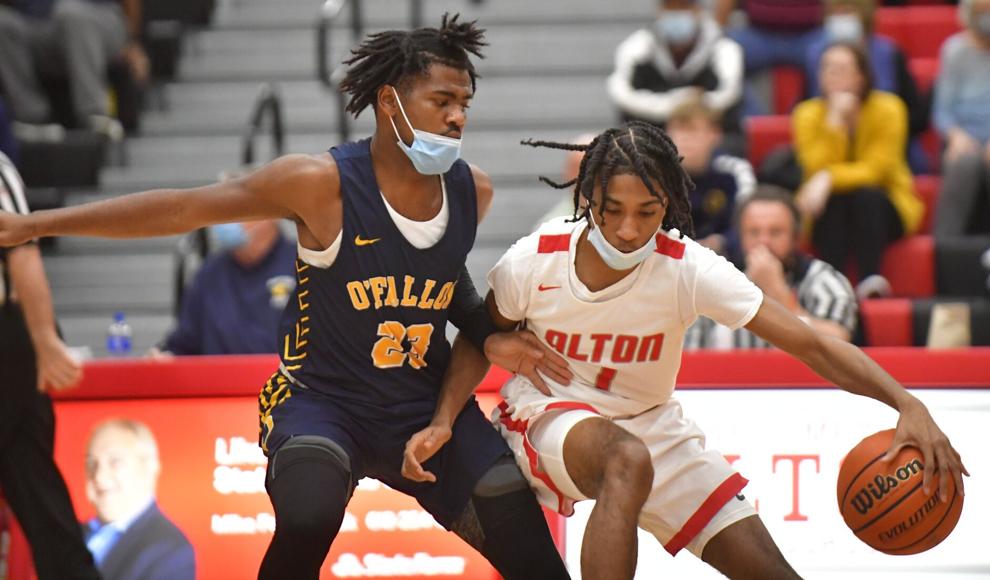 After enduring a 28-game losing streak that lasted parts of three seasons Alton has won three games in a row headed into Tuesday night's Southwestern Conference clash at Collinsville.
The Redbirds ended their 19-game losing streak in conference play with a 55-39 win over Belleville West on Jan. 4. The last time Alton had won a Southwestern Conference game was when it beat Edwardsville 43-40 on February 21, 2020.
Senior guard Adrian Elliott Jr. scored 19 points to lead the Redbirds against the Maroons.
Alton then followed that win with a 45-44 thriller over Triad on Saturday. It was the first time the two teams played since 2003. Elliott scored a team-high 16 points for the Redbirds.
Alton (3-12 overall, 1-5 league) hosts Edwardsville (7-9, 1-4) at 7:30 p.m. Friday.
TOURNAMENTS UNDER WAY THIS WEEK
Several area tournaments are playing through their brackets this week. Here's a quick glance at who's playing when and where.
• Rotating 8 hosted by Clayton
Top seed Whitfield (11-3) beat O'Fallon Christian 63-22 Monday. The Warriors advanced to play No. 5 seed Battle (6-5) in the semifinals at 4:30 p.m. Thursday. Battle beat No. 4 seed Fort Zumwalt North 67-63 Monday night.
No. 2 seed Lift For Life (11-3) took on No. 7 seed Hazelwood East (3-8) and No. 3 seed Oakville (6-4) faced No. 6 seed Clayton (4-6) on Tuesday night. The winners of those games will meet in a semifinal at 6 p.m. Thursday.
The championship game is scheduled for 8:30 p.m. Friday.
Top seed Westminster (12-1) cruised past No. 8 seed Francis Howell North (1-11) 69-25 in the opening round Monday night and was set to take on No. 4 seed Jackson (8-5) Tuesday night.
No. 2 seed Eureka (10-4) beat No. 7 seed McCluer 56-45 in the opening round and advanced to play No. 3 seed Lindbergh (7-4) in a semifinal Tuesday night.
Lindbergh took down Riverview Gardens 61-48 in the first round Monday night as senior swingman Mason Ribble scored 25 points and hit a single-game school record eight 3-pointers.
The championship game is scheduled for 8 p.m. Thursday night.
The chalk won out the first round as No. 1 seed Pattonville (8-7), No. 2 Ladue (9-3), No. 3 St. Dominic (10-4) and No. 4 Borgia (8-4) all advanced to the semifinals which will be played Wednesday.
Pattonville takes on Borgia at 7 p.m. followed by Ladue and St. Dominic at 8:30 p.m.
The championship game is scheduled for 8:30 p.m. Friday. All games are streamed on Washington High's YouTube channel.
• Vashon and Webster Groves are scheduled to play each other on Feb. 25 in the final game of the regular season for both teams. But they could meet much sooner. Both schools will take part in next week's Bill Hanson Memorial Tournament at Pittsburg High in Kansas.
The No. 1 small school, Vashon (12-1) is the top seed and takes on Wichita West (0-6) in the first round at 7 p.m. Thursday.
The No. 2 large school, Webster Groves (11-1) is the No. 2 seed and faces Willard (9-5) in the first round at 8:30 p.m. Thursday.
The championship game is set for 2:30 p.m. Saturday. The biggest threats to prevent an all-St. Louis finale are Blue Valley Northwest (5-1) and host Pittsburg (5-1) both of which would be semifinal opponents for Vashon and Webster Groves, respectively.
• The Belleville East Classic is back. The opening round will be split over two days as Alton takes on McCluer at 6 p.m. Tuesday and Belleville East faces Southern Illinois Edwardsville Charter at 7:30 p.m. On Wednesday Collinsville draws Hazelwood Central at 6 p.m. while Belleville West plays Althoff at 7:30 p.m.
The semifinals are slated for 6 p.m. and 7:30 p.m. on Friday Jan. 21 with the title game to follow the next night at 7:30 p.m.
Tickets are $5 per day and will only be sold at the door.
• The Quincy Shootout has returned bigger than ever. Located about two hours north of St. Louis through Hannibal, Quincy will host its fourth shootout with 21 teams participating in the two-day event Jan. 21 and 22.
Area teams included in showcase games include Cardinal Ritter, CBC, Confluence and SLUH.
Link Year Prep with former Chaminade standouts Tarris Reed Jr. and Damien Mayo Jr. is scheduled to play in both days of the event.