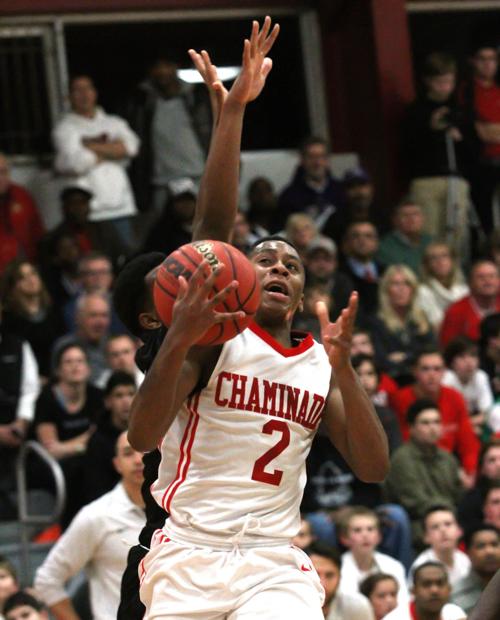 KIRKWOOD • The Chaminade basketball team gets heaps of praise and piles of plaudits for its offense. High-flying dunks, alley-oops, fade-away jumpers, transition 3-pointers, you name it and the Red Devils are apt to do it on any given possession. They are undeniably talented at putting the ball in the basket.
But what feeds that offense, what makes Chaminade so lethal, is its defense.
The Red Devils put their length and quickness on full display Friday as they routed Metro Catholic Conference foe Vianney 65-46 at Vianney.
The No. 1 large school in the STLhighschoolsports.com rankings, Chaminade (14-3 overall, 6-0 league) hit Vianney early and often as it led 40-15 at halftime and never looked back.
"We wanted to prove a point the first quarter," Chaminade junior phenom Jayson Tatum said. "We know we can score. Getting a stop on the defensive end is something we can key in on."
Tatum finished with 25 points, 11 rebounds, four steals and two blocks. He had three monster two-handed jams, a tomahawk in transition and finished one alley-oop so hard it shook the rafters.
Junior shooting guard Mike Lewis II has been asked, at times, to play more of a point guard role. It's no easy task but Lewis looked the part Friday. He handed out six assists and at least three of them came on lightning-fast passes into the post for easy layups. Lewis scored 15 points and said the Red Devils priority was making the Golden Griffins miserable.
"When we don't play defense we can't get into transition and those are the games we struggle to score in," Lewis said. "We want to come out with a mindset like tonight where we want to stop them first, score and get another stop."
Chaminade was so sharp defensively that Vianney (12-8, 1-4) played like it was under pressure when it wasn't. The Golden Griffins struggled to break the full-court pressure at times. But even when they did, they were unable to consistently run their sets and execute. Much of that goes to Chaminade's grimy defense, but Vianney didn't have its best night. The Golden Griffins committed 24 turnovers and treated the ball like a hot potato in the second quarter. They threw it into the first row of stands, into Chaminade's bench, they kicked it out of bounds and even the band was on the receiving end of an errant pass. The Golden Griffins played faster than they prefer and it didn't suit them. Which is exactly what Chaminade was after.
"They stuck to the game plan to speed their pace up and not get comfortable in the half court and that's what we wound up doing," Chaminade coach Frank Bennett said.
As the fouls mounted, Vianney slid downhill and out of the game. It trailed 14-6 after the first quarter and then was outscored 26-8 in the second quarter.
"To use a boxing analogy they came out and punched us right in the nose and we staggered away and didn't get our feet under us," Vianney coach Kevin Walsh said. "We turned it over too much and when we didn't we took weak shots, soft shots. It was frustrating the way we came out and played."
The Golden Griffins had their four-game win streak snapped. The game before their streak was a loss at Chaminade that saw Vianney break out to an 11-point halftime lead. The Golden Griffins had hopes of playing well and giving themselves a chance in the end only that never happened. Walsh was left wondering why his team got so out of whack early and didn't recover until it was too late.
"I really thought they were committed to pressuring us in the full court," Walsh said. "When we saw some pressure this time it was like we hadn't seen it before even though we've seen it plenty. They did a good job of using their speed and athleticism and I thought we were a little scared."
Vianney junior guard Zach Colletta finished with 12 points as did freshman post Carte'Are Gordon. Senior forward Danny Baker scored nine points.
There were two injuries of note. Chaminade junior power forward Tyler Cook dove for a loose ball near the end line and slid into the wall, striking his head. He was dazed for a moment or two before heading to the bench. He would return later and appeared no worse for wear.
The same can not be said about Vianney junior point guard Nick Thomas, who was helped off the court with 2 minutes and 47 seconds remaining in the third quarter with an apparent ankle injury. Walsh said it appeared to be a sprained ankle and had no idea when Thomas would be available again.
STLHighSchoolSports.com is the most comprehensive source of stats, scores and stories from any and all area high schools.