CREVE COEUR — Once Luke Kasubke was done being recruited, he started doing the recruiting.
A senior shooting guard for the Chaminade basketball team, Kasubke verbally committed to play at Kansas State in September. But he didn't want to go alone.
He went to work pitching the Wildcats to Davion Bradford.
"He's one of my best friends," Kasubke said. "We've been playing together since we were in sixth grade."
They played together on youth teams, then the duo joined forces again this summer as they helped MoKan win the Peach Jam, Nike's Elite Youth Basketball League's championship tournament.
Whatever the 6-foot-5 and 185-pound Kasubke told the 7-foot and 260-pound Bradford must have worked. A senior center at Mehlville, Bradford committed to Kansas State on Oct. 11. Both Kasubke and Bradford signed binding national letters of intent with Kansas State on Wednesday afternoon. Wednesday was the first day high school seniors could sign to play college athletics in any sport aside from football. Football players can sign Dec. 18. Basketball players can sign until Nov. 20, then must wait until the next signing period begins on April 15, 2020.
Kasubke was happy his lifelong friend will be joining him in Manhattan.
"Going to school with your best friend is crazy," Kasubke said with a wide smile. "I took my official visit with him. I was on him. I think he took too long to commit."
Bradford said Kasubke was persistent without being pushy. He knew his friend would support him no matter what choice he made. Bradford had 22 offers to sift through.
"He was supporting me and recruiting me at the same time," Bradford said.
Bradford whittled his own list down three finalists: Missouri, Kansas and Kansas State. He was in the house when Snoop Dogg put on his now infamous show at Kansas' "Late Night in the Phog" that had the university apologizing for its adult-themed content. Bradford said it was hard to turn down the Jayhawks.
"They were my dream school as a kid," he said. "When it comes to recruiting, you can't have a dream school."
Kasubke and Bradford are the latest locals to take their talents to Kansas State. They join Hazelwood Central products Xavier Sneed and Sean Williams and Vashon's Levi Stockard. Kasubke said he spent a lot of time on campus with the St. Louis contingent and really got comfortable. Bradford said he felt right at home with those guys, too.
Kasubke whittled his list of 15 offers down to St. Louis U., Loyola-Chicago and Kansas State. He took visits to his final three and Kansas State was the winner. He could hardly contain himself Wednesday when it came time to sign.
"I was super excited to make it official," Kasubke said. "You're committed but putting the pen to the paper and knowing there's no going back. It's a good feeling and I'm confident with my decision."
Kasubke is now free to focus all of his basketball attention on achieving his ultimate goal of bringing Chaminade its third state championship. He averaged 22 points per game and hit 69 of his 182 3-point attempts. He chipped in more than four rebounds, nearly three assists and two steals a game last season. But his junior year ended in the first round of a loaded district tournament at Webster Groves.
"I still feel like I have to get a ring. That's my goal," Kasubke said.
Bradford is looking forward to what he can do in his second season at Mehlville. The Panthers made the Class 5 quarterfinals for the first time in school history a year ago as Bradford averaged 18 points, 11 rebounds and more than two blocks per game. With college recruiting off his plate it's one less thing to worry about as he and the Panthers gear up for what they hope is another season of firsts.
"All I have to do is worry about basketball and school right now," he said.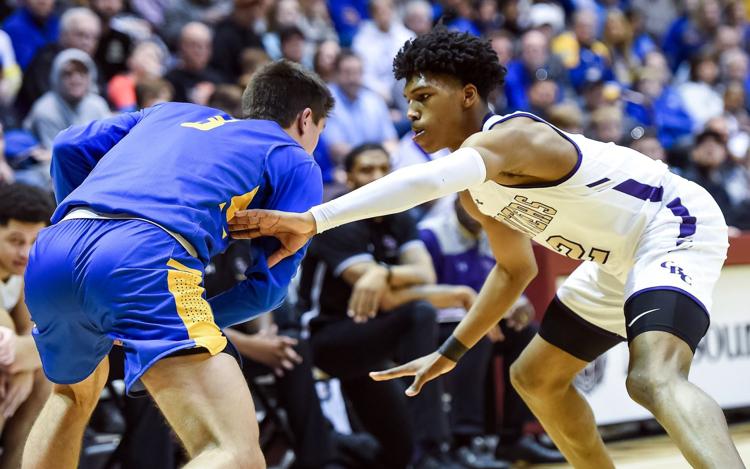 LOVE SIGNS WITH UNC, FLETCHER TO KENTUCKY
Caleb Love picked North Carolina over Missouri in October.
He still had people in his ear asking him to change his mind.
A senior guard at CBC, Love officially became a Tar Heel on Wednesday afternoon when he signed with North Carolina.
"People were still trying to get in my ear. I just let them talk," Love said. "It's all a blessing. I've worked so hard for this. I'm happy."
The 6-foot-4 and 190-pound Love is one of two area standouts headed to blue blood programs. Vashon's Cam'Ron Fletcher is set to sign with Kentucky at 5 p.m. Thursday in Vashon's library.
They are the highest profile jewels in an outstanding senior class in the area that includes Chaminade's Luke Kasubke and Mehlville's Davion Bradford, both of whom signed with Kansas State. Trinity's Ryan Kalkbrenner signed with Creighton.
"It's great to be a part of this senior class," Love said.
Love averaged 19 points, more than four rebounds and nearly four assists per game as CBC was the Class 5 runner-up to Rock Bridge last season. The Cadets are showcasing their latest star as they will travel the country to take part in tournaments and showcases. They have just four home games scheduled this season. Having signing day out of the way is one less distraction as CBC chases its first state championship since 2014.
"We've got a long season here and he's focused on that," CBC coach Justin Tatum said. "That's the main thing, get signed and get ready for the season."
STLHighSchoolSports.com is the most comprehensive source of stats, scores and stories from any and all area high schools.