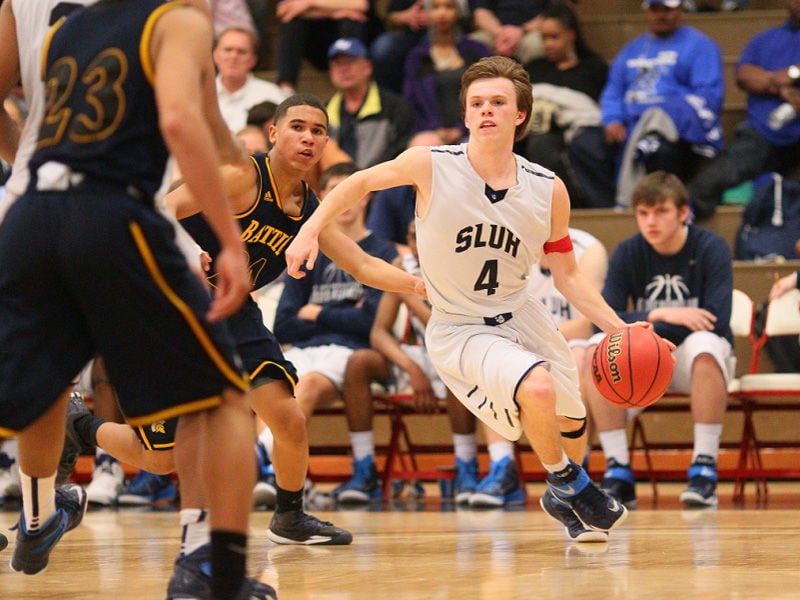 • CHAMINADE RED DEVILS vs. HAZELWOOD CENTRAL HAWKS
When, where: 1 p.m. Saturday, Lindenwood University.
Records: Chaminade, 23-3; Hazelwood Central, 23-5.
Rankings: Chaminade, No. 1 large school in the STLhighschoolsports.com rankings, No. 1 in Missouri Basketball Coaches Association Class 5 poll; Hazelwood Central is No. 8 in the STLhighschoolsports.com large school rankings and No. 9 in the MBCA poll.
Sectional scores: Chaminade 72, Lafayette 40; Hazelwood Central 67, Fort Zumwalt South 52.
Next round: Rockhurst-Park Hill South winner in Class 5 semifinal at 4:15 p.m. Friday at Mizzou Arena.
Last quarterfinal appearance: Chaminade, 2011; Hazelwood Central, 2014.
Notes: Chaminade has won 14 in a row, 19 of its last 20 and has not lost to a team in Missouri this season. ... Chaminade went on a 24-0 run during its thrashing of Lafayette in the sectional to salt the game away by halftime. Junior 6-9 standout guard Jayson Tatum displayed the versatility that makes him among the most coveted schoolboys in the nation. He hit 10 of his 13 field goals, scored 24 points, grabbed four rebounds, had two steals and blocked a shot despite sitting out the fourth quarter. Tatum recently was named to the Naismith All-American team. He was the only junior to earn such an honor. ... 6-9 junior forward Tyler Cook had 16 points and threw down a steady diet of dunks against Lafayette while 6-9 junior forward Will Gladson scored five points, hit a 3-pointer and hauled in eight rebounds. Also, junior shooting guard Mike Lewis scored 10 points on six field goal attempts. ... Second-year Chaminade coach Frank Bennett has guided the Red Devils back to the quarterfinals for the first time since NBA star Brad Beal was a senior in 2011. ... Hazelwood Central makes its second quarterfinal appearance in as many years. Last season the Hawks finished fourth in Class 5. ... Junior swingman Xavier Sneed leads the Hawks in scoring with a 19 points per game average. He had 17 in Wednesday's sectional win. ... Junior post Dominique Dobbs is a capable scorer and rebounder. He averages 13 points and a team-high 8 rebounds per game. ... Junior point guard Steve Holloway has had two strong postseason performances in a row. He scored 18 in the district title game and then had another 20 in the sectional victory. ... 6-7 senior forward Marcus George provides a big interior presence but can step out and regularly knock down a jump shot.
• ST. LOUIS U. HIGH JR. BILLIKENS vs. JACKSON INDIANS
When, where: 6 p.m. Saturday, Lindenwood University.
Records: SLUH, 18-11; Jackson, 23-6.
Sectional scores: SLUH 61, Battle 31; Jackson 59, Vianney 57.
Next round: Blue Springs-Nixa winner in a Class 5 semifinal at 2:30 p.m. Friday at Mizzou Arena.
Last quarterfinal appearance: SLUH, 1993; Jackson, 2014.
Notes: St. Louis U. High won its first district championship since 1993 when it eked past Webster Groves at Webster on March 6. SLUH then hammered second-year program Battle in the sectional round. ... The Junior Billikens have two seniors in Hunter Schmidt and Spencer Stapf. ... Sophomore guard Brandon McKissic has emerged as the go-to guy for SLUH as he averages a team-high 14 points. He hit the game winner against Webster. ... Junior guard Matt Nester averages 12 points a game and is a deadly shooter. He's hitting more than 44 percent of his 3-pointers and 80 percent of his free throws. ... Schmidt provides an interior presence as he averages 9 points and team-high 7 rebounds. ... Erwin Claggett is in his third season at SLUH after coaching at McCluer. He spent Friday and Saturday morning in New York at the Atlantic 10 tournament as an A-10 Legend for his time exceptional playing career at St. Louis U. ... Jackson fell behind in the second half and then rallied past Vianney to advance to the quarterfinals for the second consecutive season. ... In the past three years, Jackson has run through the entire Metro Catholic Conference. Two years ago it beat Chaminade in the sectional and then lost to De Smet in the quarterfinal. Last year it lost to CBC in the quarterfinal. This season it beat Vianney in sectional and now SLUH awaits. ... Yale recruit Blake Reynolds is the most dangerous weapon for the Indians. The 6-7 senior averages a team-high 21 points and 9 rebounds per game. ... Jackson used a balanced attack to knock off Vianney as four players scored 10 or more points. ... Jackson also showed the ability to shoot from deep as it buried nine 3-pointers. Senior guard Braden Wendel had four of those.