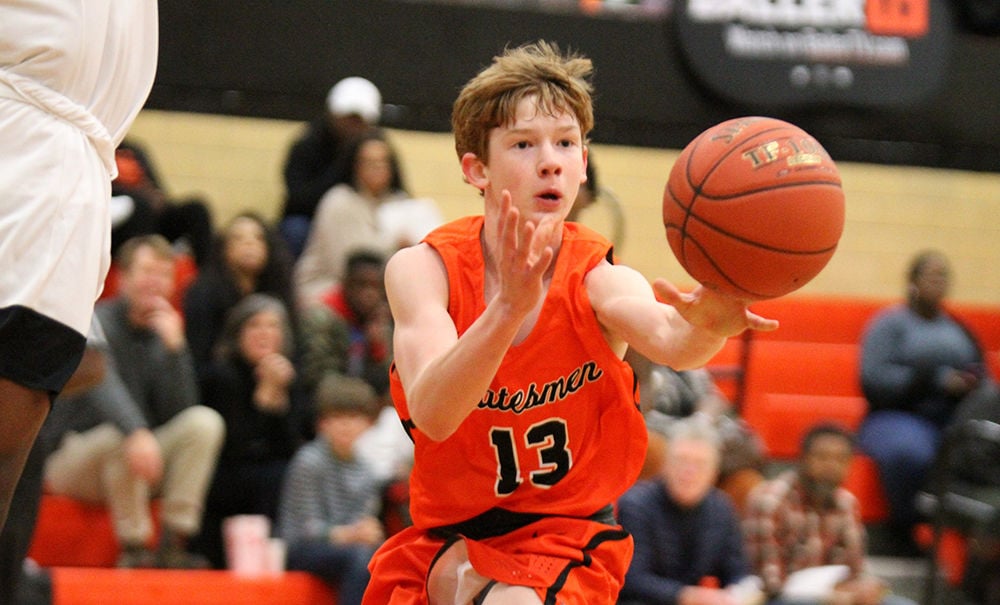 QUINCY — Matt Enright didn't let the shirtless devil with the flaming pitchfork that danced around the basketball court get in his head.
He just let it fly from the opening tip Saturday night.
A sophomore guard for the Webster Groves boys basketball team, Enright knocked down eight 3-pointers and scored a game-high 26 points to power the Statesmen to an impressive 57-46 win at Quincy.
Webster Groves (8-3) has won back-to-back games after losing to De Smet in the semifinal round of the Coaches vs. Cancer Holiday Tournament last Sunday. It was the Statesmens' third consecutive win against Quincy and second on the Blue Devils home court.
And what a home court it is. Basketball is a treasured commodity in Quincy and the city loves its Blue Devils. When the pregame introductions begin, the lights go out and the mascot emerges from a glowing tunnel under the bleachers with a three-pronged pitchfork that's on fire. The mascot then dances his way around the gym, including close to the visiting bench. It is a sight to behold and only adds to the mystique and tradition of the program.
"This is as tough a place to play as there is in the Midwest," Webster Groves coach Justin Mathes said.
Webster won the opening tip. Half a minute later Enright buried his first 3-pointer. The Blue Devils answered with five quick points of their own to get the lead but only held it briefly. Webster junior guard Anthony Phiffer knocked down his only 3-pointer of the game to put the Statesmen ahead 6-5. They wouldn't trail the rest of the night.
Enright had a lot to do with that. The 5-foot-10 lefty knocked down five more long-range shots in the first half. Most of the time he had more than enough time and space to comfortably shoot from behind the arc.
"I was a little surprised," Enright said. "They were sagging off a little at the beginning."
Enright's sharpshooting was key but so was Webster's defensive effort. The Statesmen went into the locker room with a 33-20 lead. Keeping Quincy (10-5) to 20 in a half is no small task.
"They're a get up in your face type of defenders and we had a hard time getting into the flow," Quincy assistant coach Tom Lepper said. "We weren't moving very well. We weren't screening very well to get guys open."
Lepper was filling in for head coach Andy Douglas, who was suspended for Saturday night's game after being ejected from Friday night's game against Washington. It was a wild game that included more than seven technical fouls. Lepper didn't think it played much of a role against Webster.
"We knew they were a good team. I don't think last night had a factor in it," Lepper said. "We were looking forward to playing today and knew it was going to be a tough one, and I don't think we showed up."
Quincy tried something different in the second half when it opened up in a man-to-man defense to try and keep a lid on Enright. The Blue Devils are best known for their 1-2-2 defense. It was jarring to see them play man-to-man.
"For them to come out of it takes a lot. Just like it pains me to come out of our full-court man," Mathes said. "We start four guards and they work as hard as they do, they can all shoot it, we're really hard to zone."
Enright didn't get loose but Quincy's offense never found its footing. The Blue Devils went five and a half minutes into the third quarter before their first field goal. The normally rollicking gym was quiet as could be.
Webster junior forward Luke Maupin scored nine points and crashed the glass for eight rebounds. Phiffer finished with eight points. Senior guard Jacobie Banks scored six points, grabbed three rebounds and handed out five assists.
Quincy was led by Brady Rupert's 12 points. Jeremiah Talton scored 11 points and had five rebounds. Lucas Reis finished with eight points and six rebounds.