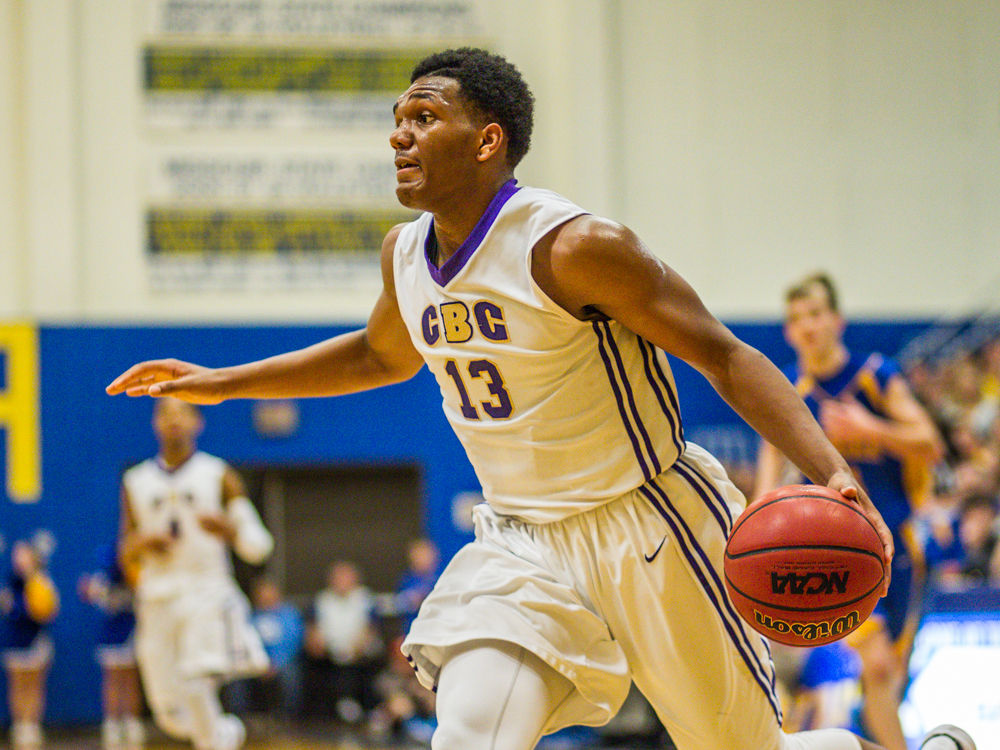 ST. LOUIS • The CBC basketball team didn't win Saturday, but it did bounce back.
After getting handled by rival Chaminade on Tuesday, the Cadets faced another stiff challenge in Memphis Hamilton, the No. 1 team in Tennessee that boasts three Division I prospects.
Hamilton managed to squeak out a 66-64 win in the eighth annual Midwest Showdown Shootout at Vashon High.
It was a loss, but CBC walked away encouraged.
"We wanted to come out fast and redeem ourselves from Tuesday," CBC junior guard Christian Willis said. "We knew we were going to play a great, athletic team and we wanted to see if we could match up with them and have a better game."
The No. 1 team in the STLhighschoolsports.com large-schools rankings, CBC (3-2) was on the verge of another beatdown. The Cadets trailed unbeaten Hamilton 34-24 at halftime and were outmuscled and outgunned by superstar brothers Dedric Lawson (6-foot-8) and Keelon Lawson (6-7). The Memphis-bound brothers are a force.
However, CBC showed some toughness and played one of its best quarters of the season as it rallied back to take a 45-40 lead into the fourth quarter.
"The first half was bad. The second half we came out much better. We had 17 turnovers in the first half. You can't beat the Bad News Bears like that," CBC coach Justin Tatum said. "We came out second half and we started attacking the basket. We picked it up defensively and started pressuring."
Willis was particularly great. He finished with 18 points and scored 15 of them in the second half.
He set the tone for the Cadets as they put together the 15-point turnaround to end the third.
"They turned up their energy and we took a lot of quick, bad shots," Hamilton coach Todd Day said. "You can't do that on the road. We played like it was a home game."
What hurt CBC early is what came back to hurt it in the fourth quarter.
The Cadets squandered their lead in 90 seconds into the fourth quarter and trailed Hamilton (7-0) by as many as six, 57-51, with 4 minutes and 25 seconds left in the game. They continued to grind and had a chance to tie the game with five seconds left, only Willis' runner rattled in and then out of the basket.
"Coach was telling me that in the second half he needed me to pick it up," Willis said. "I tried to get my team going."
Junior point guard Jordan Barnes was good in the second half, too. He finished with 15 points and scored seven in the fourth quarter.
The Lawson brothers were too much, though. Dedric had 23 points and Keelon had 20. They combined for 17 in the fourth quarter.
"We had a five-point lead and we gave it away with careless turnovers," Tatum said. "They were a little bit bigger and used their athleticism and pulled it out."
Hamilton was at a bit of a disadvantage. The Wildcats played Friday night and arrived in St. Louis Saturday afternoon.
"We played our big rival back in Memphis last night and jumped on the highway this morning," Day said. "They were probably out of energy, but a win is a win. We'll take it any way we can get it."
Tatum said he'd chalk Saturday's result up as a moral victory. The Cadets got contributions from different places in different phases.
Sophomore guard Sam Orf had six points a huge 3-pointer during the third quarter. Junior big man Jacob Foxworth had six points and displayed some nice footwork in the post.
"We had key guys off the bench give us key minutes defensively or knock some shots down," Tatum said. "If we stay on this path hopefully you'll see the CBC team I expected to have."