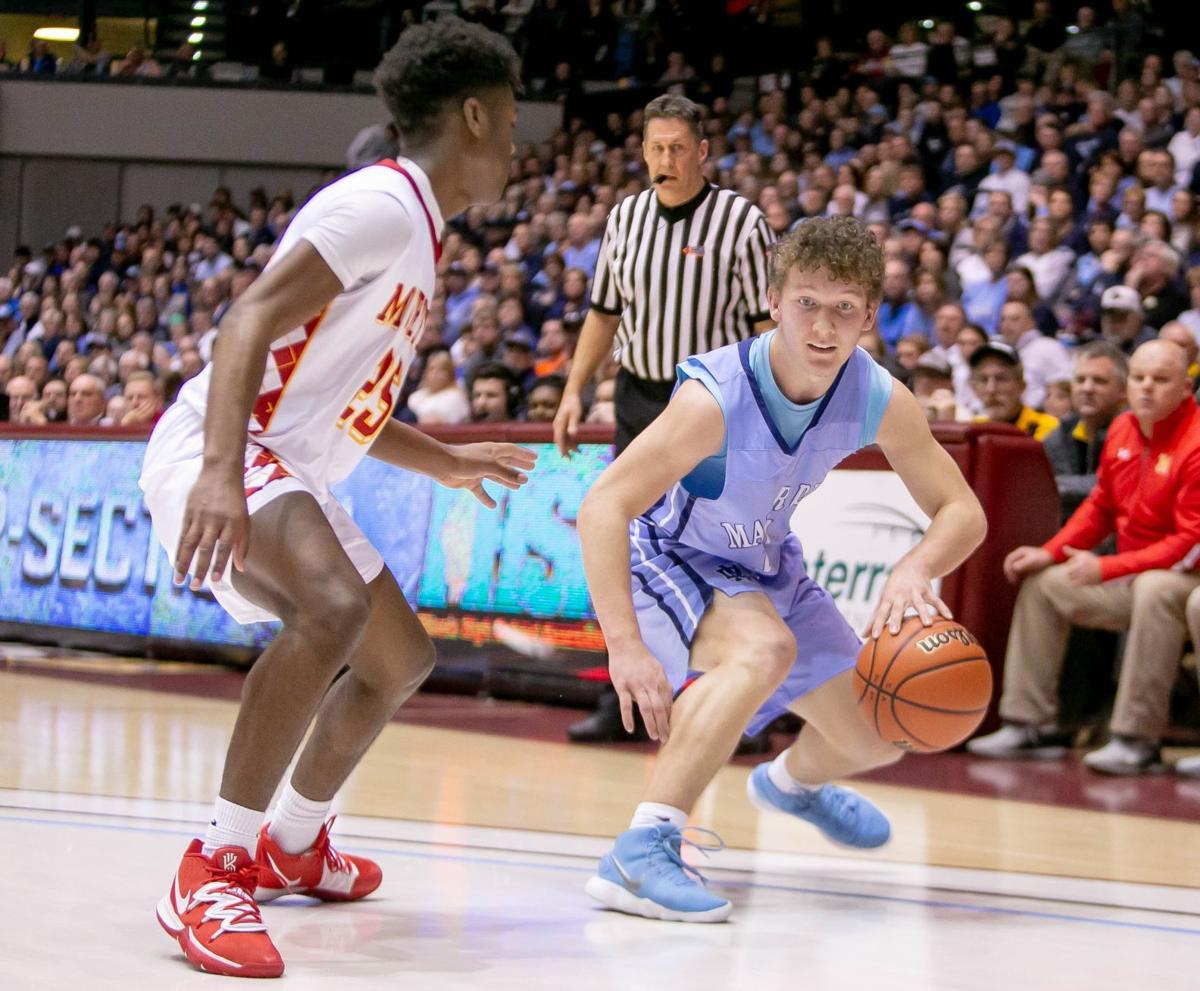 The Illinois High School Association announced Thursday it will curtail the number of spectators the remainder of the boys basketball playoffs in response to the coronavirus pandemic.
Teams participating in the Class 1A and 2A state semifinals and the Class 3A and 4A sectional finals Friday have been given an allotment of 60 tickets to distribute. Those restrictions carry over to games scheduled for Saturday and next week, as well.
The Mater Dei boys basketball team plays Chicago Orr in a Class 2A semifinal at 5:30 p.m. Friday at Carver Arena in Peoria. Mater Dei coach and athletics director Ron Schadegg said the school's administrators met Thursday morning to discuss the best way to distribute their ticket allotment.
"We had 14 players that dressed and we gave each of those players four tickets each," Schadegg said. "That's 56 tickets and we have four administrators. That's our allotment. We thought it was the fairest thing to do."
The IHSA consulted with the Illinois Department of Public Health and the Peoria City/County Health Department to arrive at its decision.
"This was a difficult decision shaped by thoughtful deliberation set against a truly unprecedented backdrop," IHSA executive director Craig Anderson said in a statement. "IHSA Basketball is America's Original March Madness, and we recognize that this tournament is a once-in-a-lifetime experience for the competing teams, communities and fans. Ultimately though, we have to put the health and safety of the students, along with the general public, ahead of the spectacle of the event. This is and remains a fluid situation."
Venue changes could occur next week for Class 3A and 4A super-sectionals, which typically are played on college campuses. Illinois State University has canceled classes on campus for students.
Mater Dei began preparing itself for drastic changes Wednesday night after the NBA announced it was suspending its season due to the pandemic.
Schadegg said not since September 11, 2001, has he encountered something along these lines in his career.
"This is a global situation," Schadegg said. "As basketball coaches and educators we talk about real life situations. It's the first time since 9-11 that we've had to deal with a crisis."
Madison will play Aurora Christian in a Class 1A state semifinal at 11 a.m. Friday. East St. Louis will play Chatham Glenwood at 7 p.m. Friday at Mount Vernon High in a Class 3A sectional final. Collinsville will take on Normal Community West in a Class 4A sectional final at 7 p.m. Friday at Pekin High.
Limiting spectators was just one of several changes the IHSA instituted Thursday morning. It also has closed team shootarounds at Carver Arena to the public. The March Madness Experience in the Peoria Civic Center will not open this weekend. The 1A/2A 3-point shootout has been postponed. The Unified State Basketball Tournament with Special Olympics Illinois set for Saturday has been canceled.
Also affected were the IHSA debate, drama and scholastic bowl, which now will include only competing students, coaches and essential meet personnel.