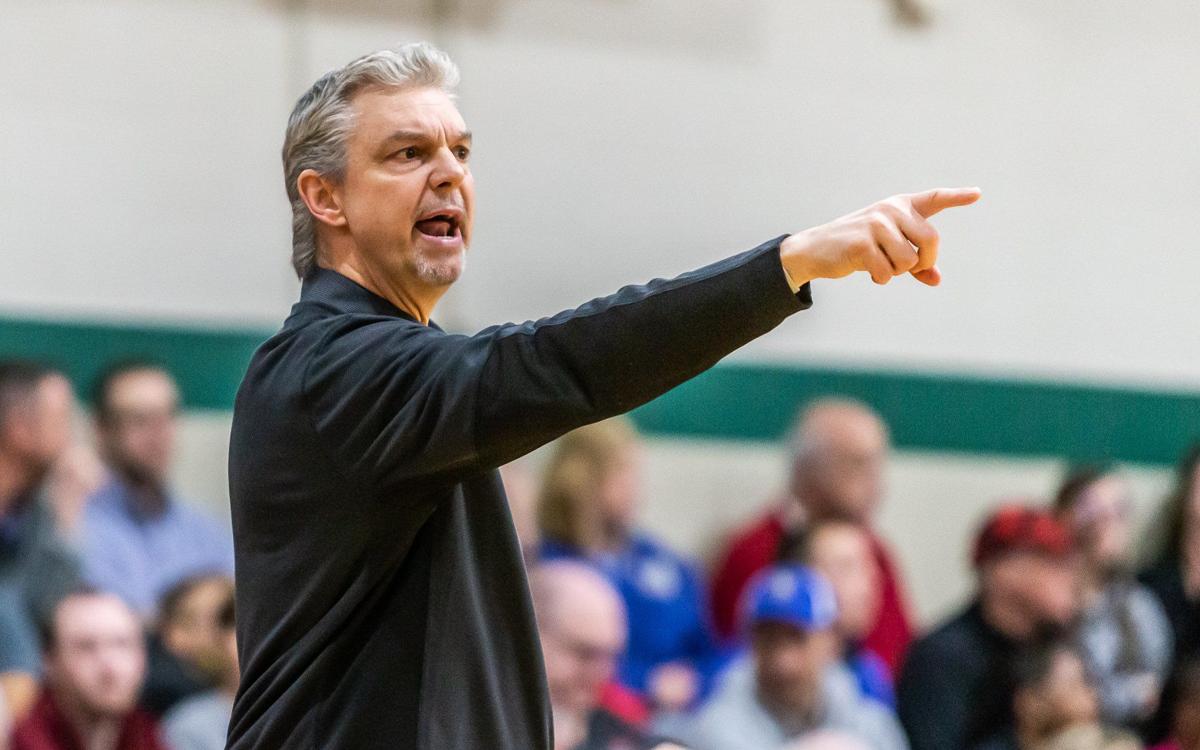 Kurt Jacob pulled the pin.
After seven years as Francis Howell's boys basketball coach, Jacob said he has retired. The school announced the move Wednesday.
It's the second time Jacob has walked in the waiting arms of retirement. Prior to being hired at Francis Howell before the 2014-15 season, he stepped down after 26 years at McCluer High as a teacher, coach and athletics director.
Jacob, 57, said he and his staff met after every season to evaluate where they were going and how they were feeling. This year Jacob felt it was time to step away.
"There's never a good time to do it," Jacob said. "You're invested in the relationships, it's hard to step away. It was a bittersweet decision, no doubt about that."
It's a hard choice but one Jacob can make with the knowledge Howell's program is in a better place than when he and his assistants arrived. During his tenure the Vikings went 162-36, won seven Gateway Athletic Conference South titles, three district titles, made two state tournament quarterfinal appearances and in 2019 made the program's first state semifinal appearance. That year Howell finished fourth in Class 5.
"I'm very proud of what we were able to accomplish," Jacob said.
The Vikings went to places they'd never been before in part because Jacob and his assistant coaches, whom he praised at every turn, carved out an identity for the Vikings. They established who they were, what they were about and how they would go about their business.
"All of that (success) is a byproduct of the culture we've built there," Jacob said.
It didn't hurt the cause that the Vikings had a swell of talented athletes come through the program in Jacob's tenure. Many of his best players were multi-sport athletes including Matt Schark, the program's all-time leading scorer who's currently crushing baseballs at Jefferson College.
"I had no idea we'd be inundated with all the talented kids and all the good kids we've had," Jacob said.
Jacob admitted he was curious how he'd make the transition from McCluer to Howell when he first arrived. It didn't take long for him to realize he was in a unique and special situation.
"Howell is the polar opposite situation and everybody bought in," Jacob said.
At the moment Jacob said he will have no shortage of ways to keep himself busy. He'll spend a lot of time on the golf course. He's also a partner in a golf business, which he said will take some of his time.
"There are plenty of things to do," he said.
Jacob wouldn't rule out a return to the sideline at some point. The idea of sliding down the bench a few seats to become an assistant appeals to him because he already knows when the winter comes around and he's not in a gym, it'll be an itch that he just won't be able to scratch.
"The coach-player relationship is so special, there's nothing like it," Jacob said. "As a coach it's in your blood, it's who you are. You can't replace that. That's why it's so hard to get out. I will miss it."