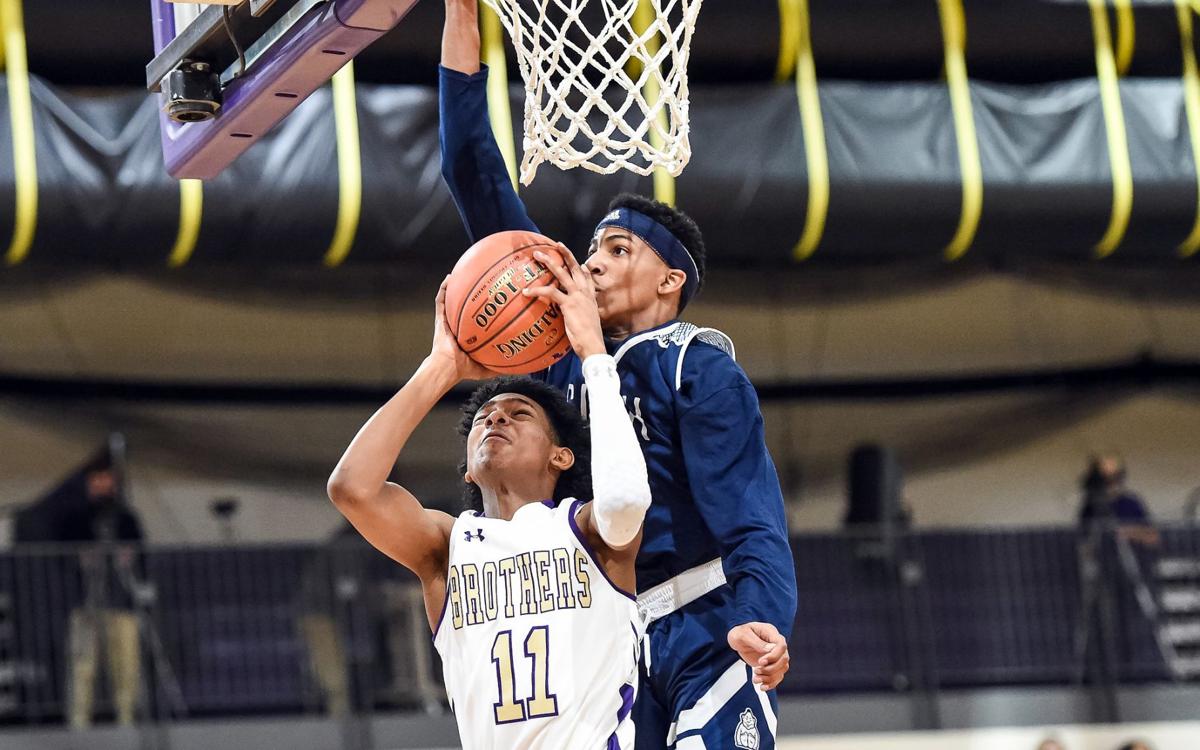 Justin Tatum had a New Year's resolution for his CBC basketball team.
He wanted the Cadets to actually make their free throws.
The No. 3 large school in the newest STLhighschoolsports.com rankings, CBC (7-4) took a road trip down Interstate 55 to face Christian Brothers–Memphis on Jan. 2 as part of the Memphis Hoopfest. The Cadets scored a 68-58 win as sophomore guard Larry Hughes II scored a career-high 20 points and knocked down four 3-pointers to be named the most valuable player.
STLhighschoolSPORTS.com rankings - 1/8/2020 Large schoolsLast Week1. Collinsville (15-0)12. Chaminade (8-0)33. CBC (7-4)24. Francis Howell (10…
Sophomore point guard Robert Martin scored 18 points while senior guard and North Carolina signee Caleb Love had 16. It's the first game this season Love didn't score at least 20.
Tatum credited his team's free-throw shooting as the reason it won in a hostile road environment. Christian Brothers–Memphis (14-5) had won nine in a row before it bumped into CBC.
"We shot it well from the free-throw line," Tatum said. "If we hit our free throws we're tough to beat."
Three of CBC's four losses have come by eight or fewer points, including a 59-55 setback to St. Louis Christian in the semifinals of the Legends of Winter Roundball Classic at St. Louis U. High. That night the Cadets went 6 of 12 from the stripe.
They're hovering around 66 percent as a team for the season, which has taken scoring chances off the board. CBC is gearing up for a stretch where it'll need all the easy points it can get.
On Friday, CBC travels to Metro Catholic Conference rival De Smet. On Saturday it'll play Chicago's Whitney Young in the showcase game of the Highland Shootout, and on Tuesday it travels to Chaminade for a showdown that is expected to determine the MCC champion.
The following week there are road games at East St. Louis, Cardinal Ritter and Hazelwood Central.
"We've been preparing for these last two months," Tatum said.
The Class 5 runner-up last season, CBC's fortunes this season largely will be determined by how well its sophomores grow and develop. Hughes has stepped into a starting role and broke out in Memphis. Martin was solid as a freshman but has shown flashes of his potential this winter. He's scored in double figure seven times and handed out six or more assists four times.
"It's a beautiful thing," Tatum said of his underclassmen's improvement. "They're starting to relax and calm down. It's good to see them grow."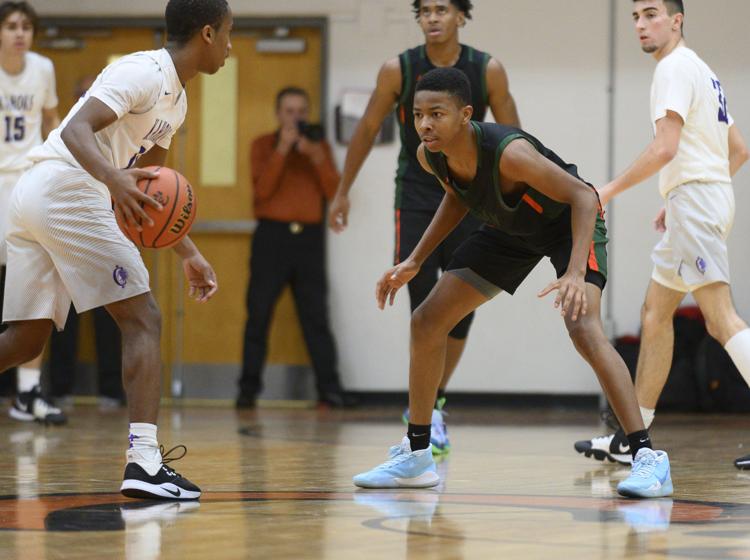 BROWN ADJUSTS TO LIFE AT MORGAN PARK
Wunya Brown is still wearing green. He's just doing it in Chicago.
A junior guard who began the school year at St. Mary's, Brown transferred to Chicago powerhouse Morgan Park in November.
"My grandma got sick up there so we moved to help her out," Brown said. "It's a good school."
Brown had to find out where he fit in with the Mustangs in a hurry. He's a regular part of their rotation but the competition is fierce. Morgan Park is routinely battling with Simeon, Whitney Young and Curie for top billing in the Windy City. Brown knew St. Louis loves its basketball but has found Chicago takes it to another level.
"I like it," he said with a smile. "It's a show being on the sideline, it's a show being on the court. I do what I have to do and know my role."
Brown played his role well last season as St. Mary's made its first state semifinal appearance and finished as the Class 4 runner-up. He averaged 6.7 points, nearly two rebounds and two steals per game. He knocked down 31 percent of his 131 3-point attempts.
Brown figured to be a prominent piece of St. Mary's program this season and next with his experience.
Now standing 6-foot-1, the lanky Brown has the potential to be a difference maker in the long run as he grows more comfortable at Morgan Park.
"(Coach Nick Irvin) tells me I can do more with my role," Brown said. "Rebound, play defense and shoot when I'm open. Run the sets."
He might have relocated to Chicago, but Brown has seen plenty of familiar faces this winter as Morgan Park played CBC and Hazelwood Central in showcase events near its campus. The Mustangs came down to the Edwardsville Shootout and faced Collinsville in a tightly contested game that required overtime to finish.
"It's cool, I like it," Brown said of playing for the Mustangs. "I feel like everybody has their game. They push me."
HIGHLAND SHOOTOUT SOLD OUT
If you waited to buy tickets to the biggest basketball showcase in the area this winter, then you're out of luck for seeing it live and in color.
The Highland Shootout features eight games split into two sessions. All-day passes for both sessions sold out online last week. However, the showcase will be streamed online at NFHSnetwork.com on Highland High's page.
The showcase features an array of local and regional talents and the best teams in the area.
At 8:30 a.m., Highland's girls will face Greenville. At 10 a.m., Highland's boys take on rival Triad. Then things really get cooking with the national recruits.
At 11:30 a.m., Tolton faces a strong Mater Dei (14-3). Tolton brings another pair of Porter brothers to the area. Senior Coban Porter (6-foot-5) and sophomore Jevon Porter (6-foot-8) are the next wave from Missouri's first family of basketball. Mater Dei leans on senior swingman Caleb Zurliene (6-foot-5) and senior guard Jacob Schadegg (5-foot-10). Zurliene averages nearly 17 points per game and five rebounds while Schadegg is good for 16 points and four rebounds.
Collinsville (15-0) draws De Smet (8-3) at 1 p.m. The No. 1 large school in the STLhighschoolsports.com rankings, Collinsville features senior guard and SIU Edwardsville signee Ray'Sean Taylor, who averages 23 points, 5.6 rebounds, 5.3 assists and more than three steals per game.
The No. 7 large school, De Smet gets around 10 points per game from senior center Yaya Keita, Michael Skoff and Brennan Lovette. Keita (6-foot-9) and Sekou Gassama (6-foot-10) are two of the more intriguing talents in the area's junior class. Gassama returned from injury after Christmas.
The second session begins with the biggest matchup of the event — literally. At 3 p.m. No. 5 large school Mehlville (9-1) and 7-foot center Davion Bradford take on No. 3 small school Trinity (9-2) and 7-foot center Ryan Kalkbrenner. Bradford signed with Kansas State while Kalkbrenner signed with Creighton.
Mehlville also brings swingman Lamontay Daugherty (6-foot-7) and guard Dylan Branson (6-foot-5).
Trinity senior guard Rashad Weekly signed with Central Michigan.
At 4:45 p.m., No. 2 large school Chaminade (8-0) faces Sussex Hamilton (7-0), the No. 1-rated team in Wisconsin. Chaminade features senior guard Luke Kasubke, who signed with Kansas State, and strong sophomore talents in guard Damien Mayo Jr. and Tarris Reed (6-foot-8). Hamilton brings Patrick Baldwin Jr. (6-foot-9), who's ranked as the No. 2 junior in the nation complete with offers from the likes of Duke, Kentucky, North Carolina and Kansas.
No. 1 small school Vashon (6-3) takes on Chicago Simeon (8-4) at 6:30 p.m. Vashon has Kentucky signee Cam'Ron Fletcher (6-foot-6), Southeast Missouri signee Phil Russell, senior forward Kobe Clark (6-foot-4) and junior forward Nick Kern (6-foot-5). Simeon's best talent is in its underclassmen with sophomore guard Jaylen Drane (6-foot-1) as the highest-rated prospect. Junior guard Ahamad Bynum (6-foot-1) holds offers from Missouri, Illinois and Wisconsin.
The finale pits two future rivals against one another as No. 3 large school CBC (7-4) takes on Whitney Young (6-6) at 8:15 p.m. CBC senior guard Caleb Love signed with North Carolina while Whitney Young senior guard DJ Stewart signed with Duke. Senior guard Tyler Beard (6-foot-2) and junior forward Grant Newell (6-foot-6) are also nationally ranked for the Dolphins.
The Cadets also have strong sophomores in shooting guard Larry Hughes II (6-foot-3) and point guard Robert Martin (5-10).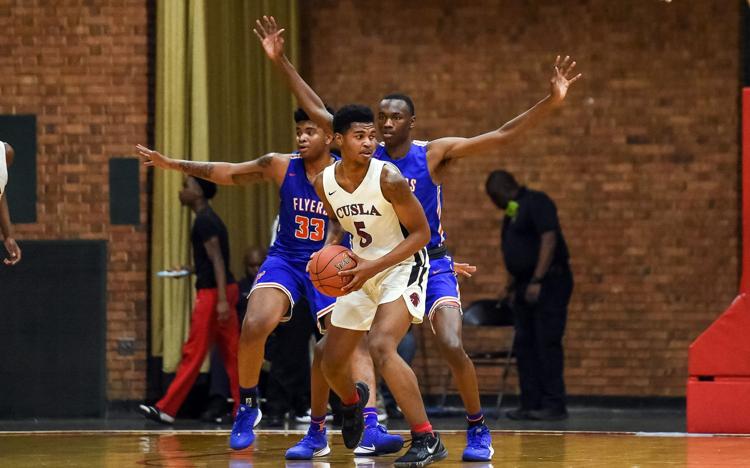 EAST ST. LOUIS VISITS VASHON 
Two of the most recognizable athletic programs in the region will face off when East St. Louis travels to Vashon for a 7 p.m. tip off on Thursday. Tickets went on sale at Vashon on Wednesday morning for $10 and were expected to sell out quickly. No tickets are expected to be sold at the door.
It's Vashon's second game in the area of the new year. It won 69-29 at Gateway STEM on Monday. Prior to that the Wolverines played at the City of Palms Classic in Fort Myers, Florida, and the National Hoopfest in Memphis. They went 3-2 against their nationally ranked competition, with two wins coming against Briarcrest Christian from Eads, Tennessee.
The No. 1 small school in the STLhighschoolsports.com rankings and defending Class 3 champion, Vashon (6-3) faces East St. Louis for the third consecutive year. The Wolverines won in 2018 and the Flyers defended their home court last season.
The No. 10 large school and defending Illinois Class 3A champion, East Side (8-4) has won five in a row. That includes a championship at the 87th Normandy Holiday Invitational.
Vashon will continue its tough slate when it plays Chicago powerhouse Simeon at the Highland Shootout on Saturday before it travels to Springfield for the Tournament of Champions from Jan. 16-18. That tournament bracket is scheduled to be revealed Thursday. The Wolverines will return home to host Whitney Young, another Chicago giant, on Jan. 25.
East St. Louis jumps back into Southwestern Conference play when it hosts Alton on Tuesday, travels to Edwardsville on Jan. 15 then hosts CBC on Jan. 18.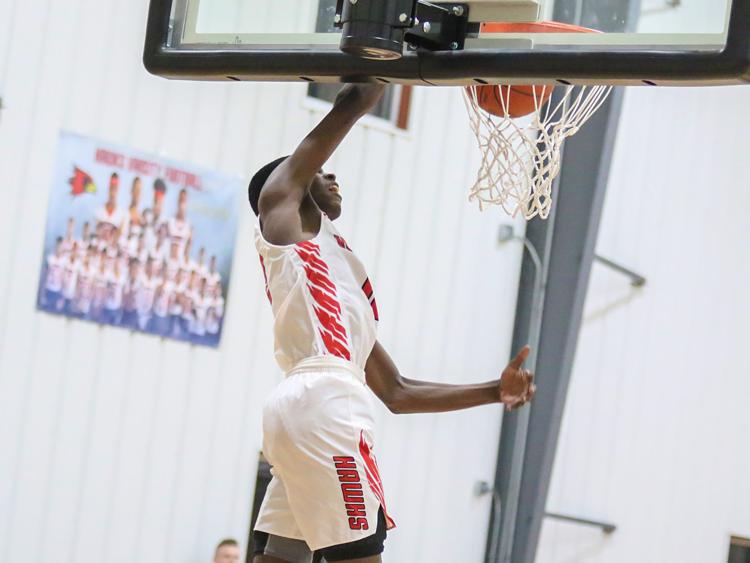 SECOND SOULARD SHOOTOUT SET FOR SATURDAY
Lift For Life will host its second Soulard Shootout on Saturday. The charter school on Broadway has a slate of five games scheduled.
It begins at 1 p.m. with Orchard Farm (8-2) facing Maplewood-Richmond Heights (3-6). Lovejoy (10-7) takes on Miller Career Academy (4-5) at 2:30 p.m. At 4 p.m. Lutheran North (11-4) draws Cahokia (0-14). Madison (8-7) takes on St. Mary's (6-9) at 5:30 p.m.
Lift For Life (12-4) tussles with Soldan (4-4) in the showcase game at 7 p.m.
• Francis Howell travels Thursday through Saturday to Joplin for the Kaminsky Classic. The No. 4 large school, Howell (10-1) is the two-time defending tournament champion. It's the seventh consecutive year the Vikings will take part in the tournament. They have won it three times and made the championship four times in their six previous appearances.
• The Lindbergh Invitational begins Monday with pool play. Included in the field this year are Lindbergh, Confluence, DuBourg, Jackson, Riverview Gardens, Wesclin and Westminster. The championship game will be played at 7 p.m. Friday.
• Kirkwood's Denver Miller Tournament is slated for Jan. 14-17. The first-round matchups will be split between Kirkwood's two gyms on Tuesday, January 14. At 5 p.m. McCluer North plays O'Fallon. At 5:30 p.m. Ladue takes on Kirkwood. At 6:30 p.m. University City plays Hazelwood East and at 7 p.m. Eureka faces Jennings.
The semifinals will be played at 5:30 p.m. and 7 p.m. on Jan. 16. The championship game is scheduled for 7 p.m. Friday, January 17.
• The 49th Washington Tournament gets under way Monday with four games. The first is at 4 p.m. when Francis Howell Central plays Sullivan. At 5:30 p.m. the Blue Knights play St. Dominic. At 7 p.m. St. Charles faces Borgia. Washington and Union play at 8:30 p.m. in the finale.
The semifinals are scheduled for Jan. 15 at 7 p.m. and 8:30 p.m. The title game is slated for 8:30 pm. Jan. 17.