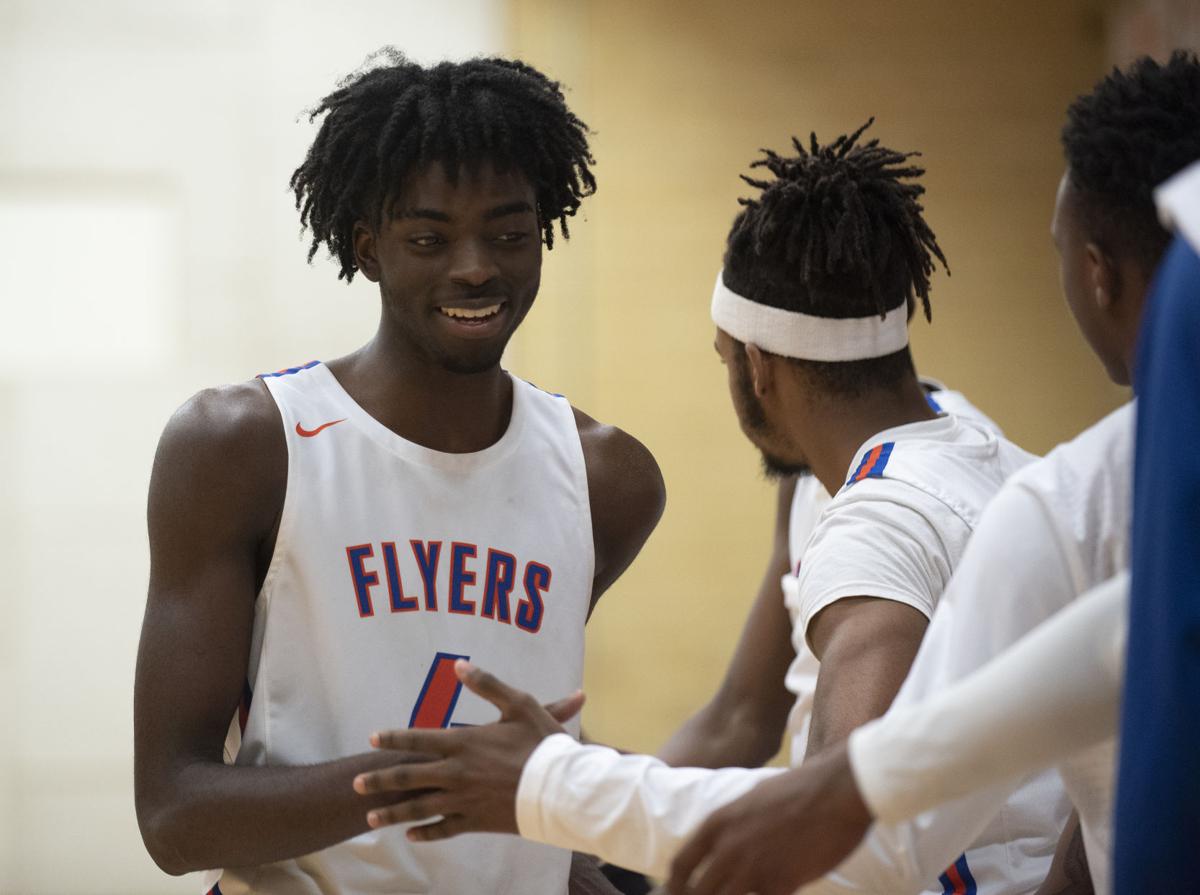 When Mark Chambers took the reins as the East St. Louis boys basketball coach in the winter of 2018, one of his priorities was making East Side a hoops destination.
"We want to make East St. Louis one of the go-to places in the state of Illinois and St. Louis," Chambers said. "Hopefully this is the first of many to come."
There are four games on the docket that feature teams from as far west as Kansas City and as far north as Chicago. The bones of the Classic are mostly local.
First up at 2 p.m., Kansas City's Lincoln College Prep takes on Lovejoy (11-8). Alton (9-8) and Normandy (6-3) are next at 3:45 p.m. Illinois 2A powerhouse Chicago Orr draws Cardinal Ritter (8-4) at 5:30 p.m. The finale features the host Flyers (9-5) against CBC (8-6) at 7:15 p.m.
The No. 2 small school in the STLhighschoolsports.com rankings, Ritter is in the midst of a challenging stretch as it hosts Tolton (8-1) on Friday night. then draws Orr (10-5) on Saturday. The Lions then host CBC on Tuesday.
The No. 4 large school, CBC will play its second home game this season when it hosts Vianney on Friday. It turns around and takes on No. 9 large school East St. Louis. It's another tough test for the Flyers a little more than a week after battling tooth and nail at Vashon. Chambers said he's looking forward to seeing how his team compares with the Cadets and their North Carolina-bound senior guard Caleb Love.
"We're excited to have them come in. It's going to be a good game," Chambers said. "We wanted to play the hardest schedule to get us ready."
As East St. Louis began putting together the Classic, Chambers found that having won the program's first state championship last March didn't hurt the sales pitch. The defending 3A champions made an impression on their spectacular run last spring.
"East St. Louis basketball is kind of on the map now," Chambers said. "They'll listen and want to participate in your event."
They'll also ask East St. Louis to participate in their event. East Side will play North Lawndale on Jan. 26 at Chicago Orr's shootout. It'll then face Trinity at Alton's first basketball shootout Feb. 1.
"That's the way it has to work," Chambers said.
The best way to spread the word about the Classic is for the teams that participate to go home and talk about their experience. Chambers has hopes to grow the showcase and a bigger pool to pull from can only help in the search for the best teams, players and matchups. Starting with teams from Kansas City and Chicago can lay that groundwork.
"We want to expand our boundaries a little bit," Chambers said.
Tickets to the Classic are $10 and on sale at East St. Louis High.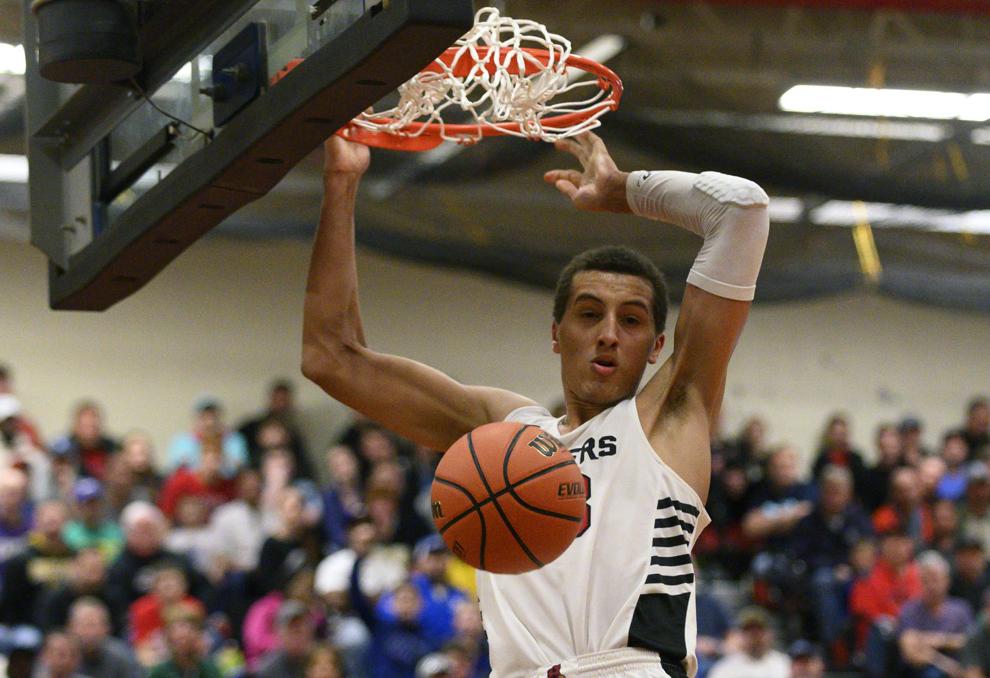 HIGHLAND SHOOTOUT SERVES UP BEST SHOWCASE YET
The only thing that could have made the 29th Highland Shootout better is if the gym had three more sets of bleachers.
The standing-room-only crowd of more than 3,000 people saw one of the most complete and entertaining basketball showcases in the area in recent memory.
Five of the seven boys games were decided by 10 or fewer points and of those five three were decided by three or fewer points.
The first session really got cooking when Tolton escaped Mater Dei 51-48 when a Knights' 3-point attempt at the horn was off target.
No. 1 large school Collinsville needed overtime to hold off De Smet as senior standout guard Ray'Sean Taylor found Cawhan "Skeet" Smith for the buzzer-beater 3-pointer to win it, 50-47.
Trinity and Mehlville opened the second session with a matchup that featured two 7-footers. Trinity's Ryan Kalkbrenner and Mehlville's Davion Bradford went toe to toe, but it was Trinity senior guard Rashad Weekly who stole the show. Weekly scored inside and outside as he pumped in 36 points to tie him for fourth-most in the shootout's history.
"I was just playing my game and letting everything come to me," Weekly said.
Trinity grabbed a 77-67 win and handed Mehlville its second loss this season. Tolton is the only other team to beat the Panthers this winter.
During a day where there were strong performances all around, no one was better than Sussex Hamilton's Patrick Baldwin Jr. The 6-foot-9 swingman led Wisconsin's top-ranked team to a convincing 70-57 win over Chaminade. Baldwin scored 29 points, grabbed 12 rebounds, blocked four shots and handed out three assists. One of the top-rated recruits in the class of 2021, Baldwin looked every bit the NBA lottery pick he's expected to be.
If you missed him, then there is good news. Matt Powers, who organizes the event and runs it with the help of Highland High and the Highland Optimists, said Hamilton already has committed to returning next season. It's hard to imagine Hamilton not playing in the showcase game with its star.
Vashon rallied past Chicago's Simeon, 80-71, behind a monster game from senior guard and Southeast Missouri State signee Phillip Russell. The 6-foot Russell scored 31 points as he connected on 7 of 9 3-pointers. His 31 points tied him with Bradley Beal (Chaminade), Michael Porter Jr. (Tolton), Thaddeus Young (Memphis Mitchell) and Charles Matthews (Chicago St. Rita) for seventh all-time at the Highland Shootout.
The biggest performance came in the last game as Chicago's Whitney Young slipped past CBC 66-64. Duke-bound guard DJ Steward scored 40 points to tie him with Javon Pickett (Belleville East) and Josh Pruemer (Stewardson Strasburg) for most all-time in event history.
Powers, as mentioned above, already has started laying the foundation for next year's shootout. He said he's looking to lure more of Chicago's best players and teams downstate and casting his net into Memphis to see what he can find. There will, of course, be a heavy local presence with the wealth of basketball talent in the area.
"It could shape up to be the best we've had," Powers said in an email.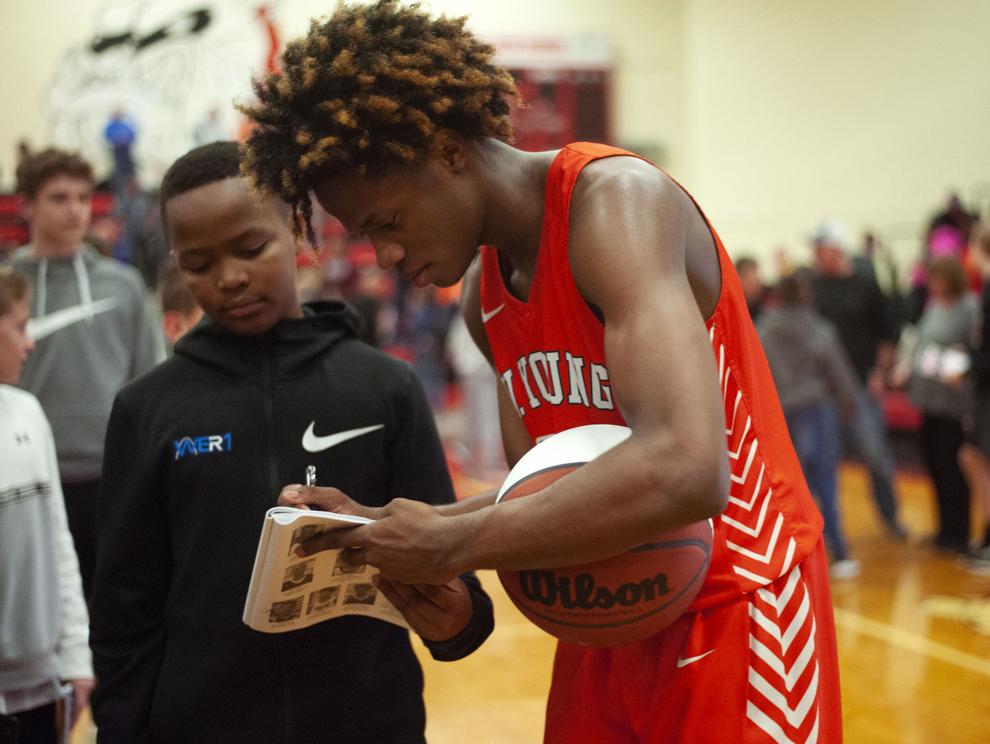 WHITNEY YOUNG RETURNS NEXT WEEK, FACES VASHON
If you missed Whitney Young and standout senior guard DJ Steward at the Highland Shootout, fear not. The Dolphins and their Duke recruit are coming back Jan. 25 to play Vashon in the Vashon Winter Classic.
The event features two varsity games. First up is No. 2 small school Cardinal Ritter facing Peoria Manual at 5:30 p.m.
At 7 p.m., No. 1 small school Vashon takes on Whitney Young. Kentucky signee Cam'Ron Fletcher leads the Wolverines against Steward and the Dolphins.
Tickets are $10 and available at Vashon High. VIP seating is available for $25. Contact Tony Irons at tonyirons20@gmail.com for more information.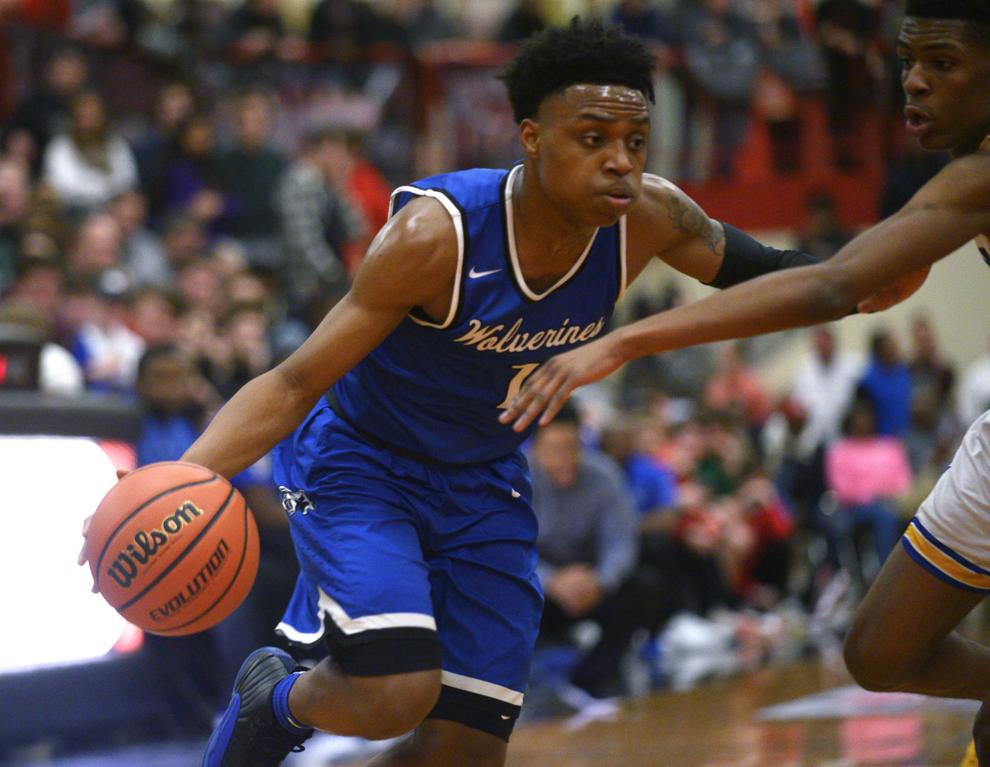 VASHON HEADS TO SPRINGFIELD FOR TOURNAMENT OF CHAMPIONS
For the fourth time in five years, an area team will take part in one of the highest-powered basketball tournaments in the nation. Now in its 36th year since restarting in 1985, the Tournament of Champions in Springfield, Missouri, features six of the best teams it can find in the country and the two best teams from Springfield.
Area teams have managed to break into the exclusive field recently as Chaminade (2016), Webster Groves (2018) and Belleville West (2019) have taken part. But none of them have the history and tradition at the tournament like Vashon.
The No. 1 small school, Vashon (8-3) will make its seventh appearance at the Tournament of Champions, the most for an area school. The Wolverines have won the tournament twice (2002, 2006) to best St. Charles West (1995) and CBC (1997) as the only area teams to do so.
Vashon was in the original field when the tournament started its second life in 1985. Among the notable names to play for the Wolverines then were reserve forward Anthony Bonner and reserve point guard Gerald "Dink" Jones. Vashon finished fourth that year. Two years later it was the tough-luck runner up when it lost to Indian River (Va.) 50-49 as Alonzo Mourning was named the tournament's most valuable player.
When Vashon captured the 2002 tournament title, Jimmy McKinney was named the MVP along with teammate Nick Kern. McKinney is an assistant on Vashon's staff now.
In 2006, Vashon beat fellow original member Christ the King in the title game. That year James Washington was the MVP and Bobby Hill joined him on the all-tournament team.
Vashon opens up the tournament against Christ the King at 4:30 p.m. Thursday at the JQH Arena on the campus of Missouri State University. The winner would be lined up to face national powerhouse Oak Hill (Va.) in the semifinal round at 7 p.m. Friday. Oak Hill will tussle with Kickapoo in its first game at 6 p.m. Thursday.
Also included in the field are Paul IV from Fairfax, Virginia, which features Duke recruit Jeremy Roach. Booker T. Washington from Tulsa brings Kansas recruit Bryce Thompson. Missouri Class 2 champion Greenwood will make its Tournament of Champions debut with five-star guard Aminu Mohammed, who has become the big-ticket player in Springfield over the last 18 months. Mohammed dropped 49 points to lead Greenwood past Kickapoo 65-55 in the championship game of the Blue and Gold Tournament. It's the first time Greenwood won its own Blue and Gold Tournament in its 74 years.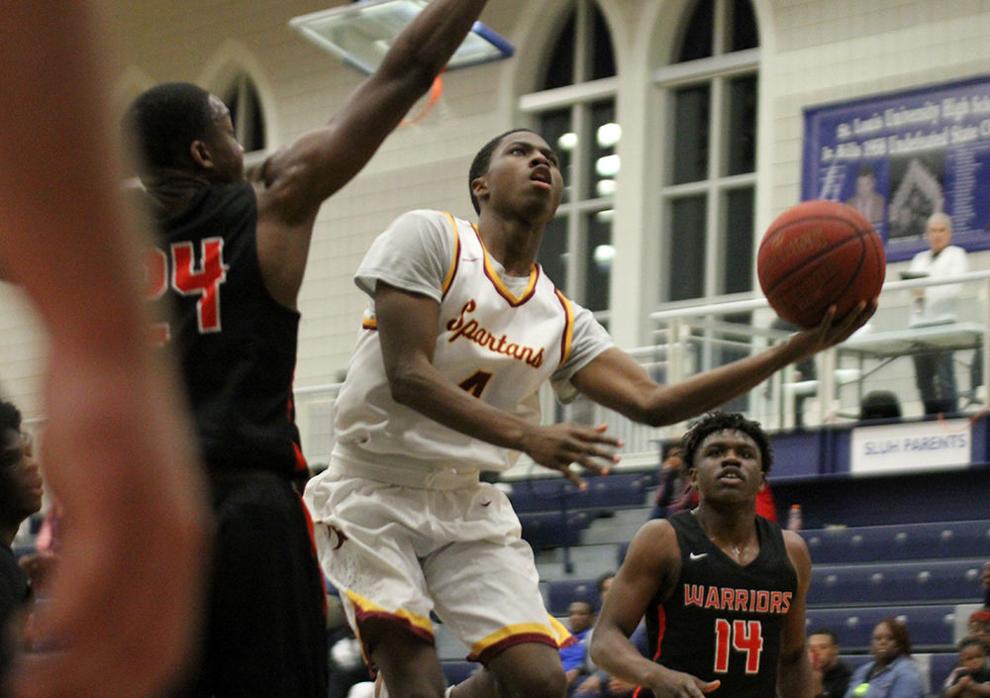 SLUH HOSTS BACK-TO-BACK SHOWCASES
The best gym in the city will be bustling this weekend as St. Louis U. High's Danis Fieldhouse hosts back-to-back showcases.
The Missouri Sports Hall of Fame Basketball Classic is a seven-game affair that starts at 11 a.m. Saturday. The No. 1 large school in the STLhighschoolsports.com girls rankings, Francis Howell Central opens things up with Hazelwood Central. That's followed at 12:30 p.m. by No. 3 small school Whitfield facing Barstow.
The first boys game features St. Mary's facing Barstow at 2 p.m.
Fort Zumwalt South's girls face Eureka at 3:30 p.m.
Fort Zumwalt South's boys play Cape Central at 5 p.m.
No. 8 small school Confluence draws Soldan at 6:30 p.m. and Helias takes on SLUH in the nightcap at 8 p.m.
On Monday, SLUH will put on its Martin Luther King Jr. Remembering the Dream Classic, which features four games.
At 12:30 p.m., Cahokia faces Ritenour. At 2 p.m., Soldan takes on DuBourg. At 3:30 p.m., SLUH draws Madison.
The last game of the night pits St. Louis Christian and standout guard Jordan Nesbitt against Hazelwood East at 5 p.m.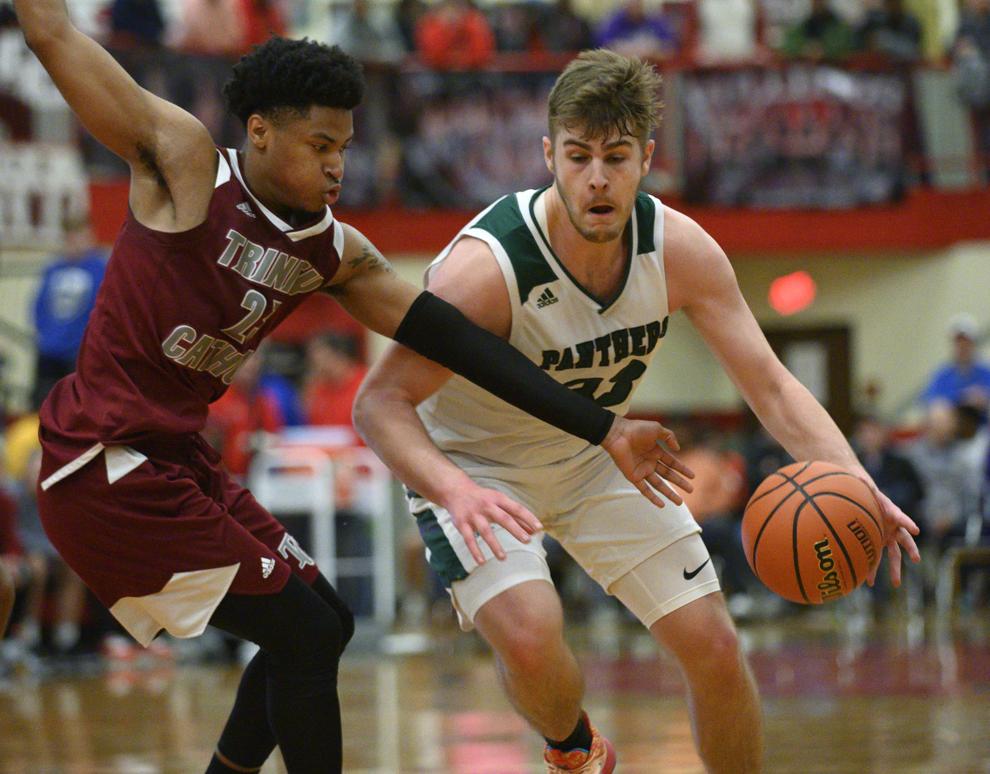 QUINCY SHOOTOUT NEXT WEEKEND
If you're willing to drive to get your basketball fix, the Quincy Shootout will make it worth your while. Located not far from Hannibal, Quincy High and Quincy Notre Dame are hosting two days packed with some of the best teams from the region and the nation Jan. 24-25.
At Quincy High, the action gets going at 4 p.m. Jan. 24 when Mehlville takes on Hamilton Heights out of Chatanooga, Tenn. Chaminade plays Memphis East at 5:30 p.m. At 7 p.m. Quincy takes on Rock Island.
Vashon finishes up Friday night by facing Sheldon from Sacramento, Calif., at 8 p.m.
At Quincy Notre Dame, St. Louis Christian faces Marian Catholic at 6 p.m. Friday.
On Saturday all the games are Quincy High, starting at 10 a.m. when Chaminade faces Chicago Corliss. Mehlville draws Marion Catholic at 4 p.m. St. Louis Christian plays Hamilton Heights at 5:30 p.m.
Tickets are $12 for the lower level and $10 for the balcony. Tickets for Friday's games will be sold at the door. You can buy tickets to Saturday's games online. Visit Quincyshootout.com for more information.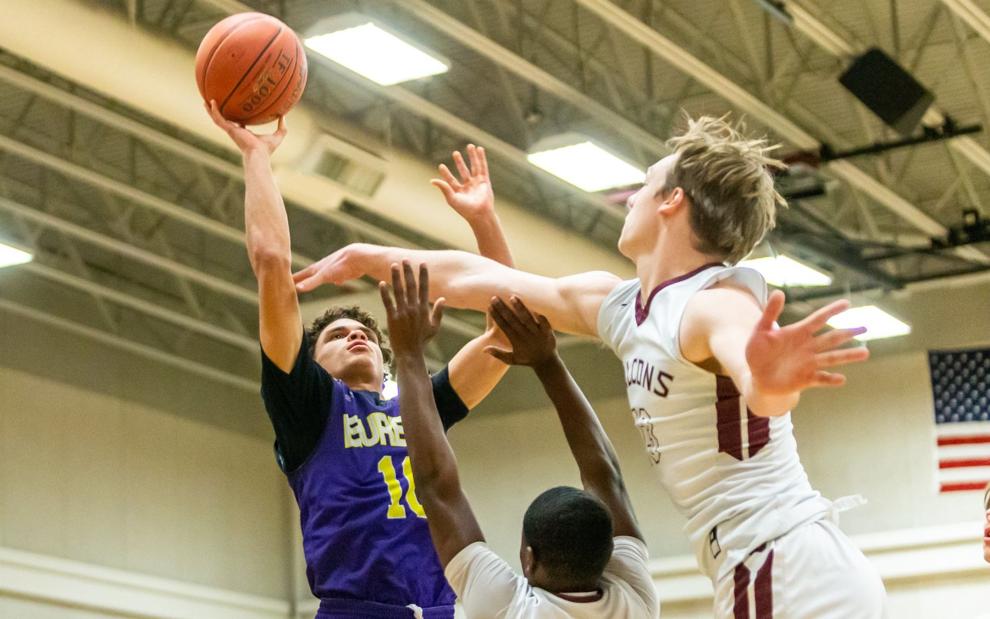 SEMIFINALS SET AT KIRKWOOD'S DENVER MILLER
The No. 7 large school, O'Fallon (13-3) faces No. 10 small school University City (6-5) at 5:30 p.m. It's only the second meeting between these two teams in the last two decades and the first since they played at the Lindbergh's Flyer Invitational in January of 2014.
Ladue (8-3) faces Eureka (10-3) at 7 p.m. It's the first of two meetings between the Rams and Wildcats this month. They'll play again at Ladue on Jan. 30.
The winners of the semifinals will meet at 7 p.m. on Friday
The consolation bracket will also play on Thursday in Kirkwood's Denver Miller Gym, the older of its two facilities located a short walk down the hall.
Last year's tournament champion McCluer North (4-8) faces rival Hazelwood East (5-5) at 5:30 p.m. Kirkwood (4-6) gets Jennings (5-6) at 7 p.m. The consolation bracket final will be played at 6:30 p.m. Friday in the Denver Miller Gym.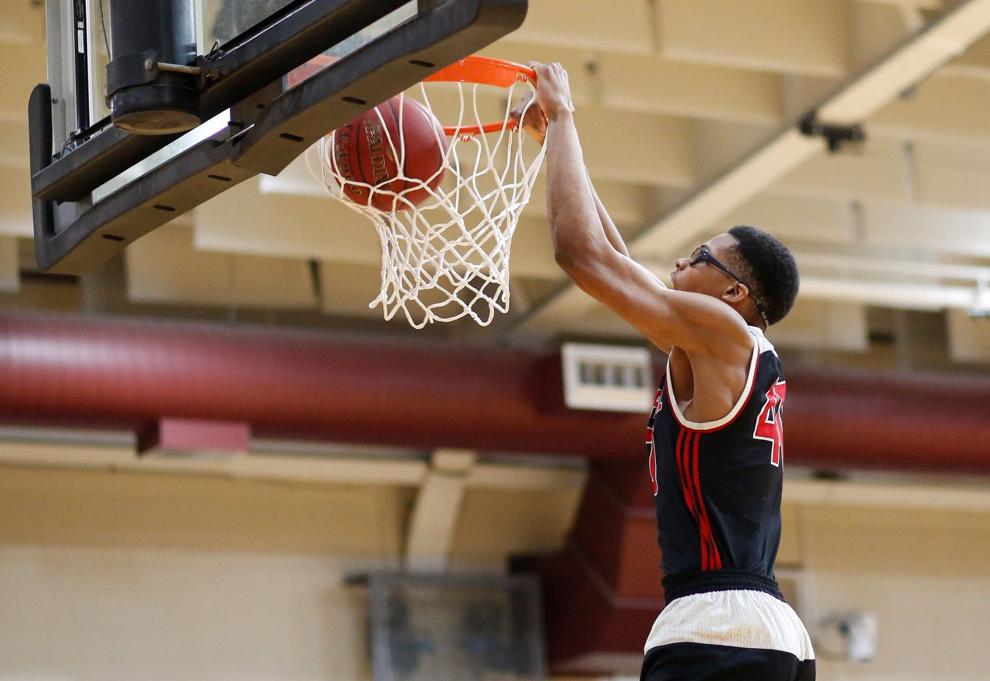 • Parkway Central senior forward Devion Harris scored 19 points in Tuesday's 48-44 win over Summit to give him 1,006 points for his career. He is currently No. 8 on the Colts' all-time scoring list. He's closing in on Austin Kirby (1,082), who's No. 7, and would have to average more than 17 points per game the rest of the season to catch or pass No. 6 Zach Biggs (1,175).
Parkway Central (7-5) takes the floor again when it hosts Vianney (3-9) at 7 p.m. Tuesday.
• Trinity faces Chaminade at 7 p.m. Saturday at Maryville University. Advance tickets are on sale at both schools and cost $5. Trinity won last year's meeting 71-65 at Chaminade. The game was moved to Maryville in anticipation of a large crowd that would be too much for Trinity's small gym.
• The Cardinal Ritter Classic is set for Feb. 1 with six games. The showcase opens up at noon with Ritter's girls team taking on Parkway South. At 1:30 p.m., Miller Career faces Ritenour. At 3 p.m., Confluence plays Granite City. At 4:30 p.m., Lift For Life takes on Jennings. At 6 p.m., Soldan plays University City. The last game of the night features Ritter and McCluer at 7:30 p.m.