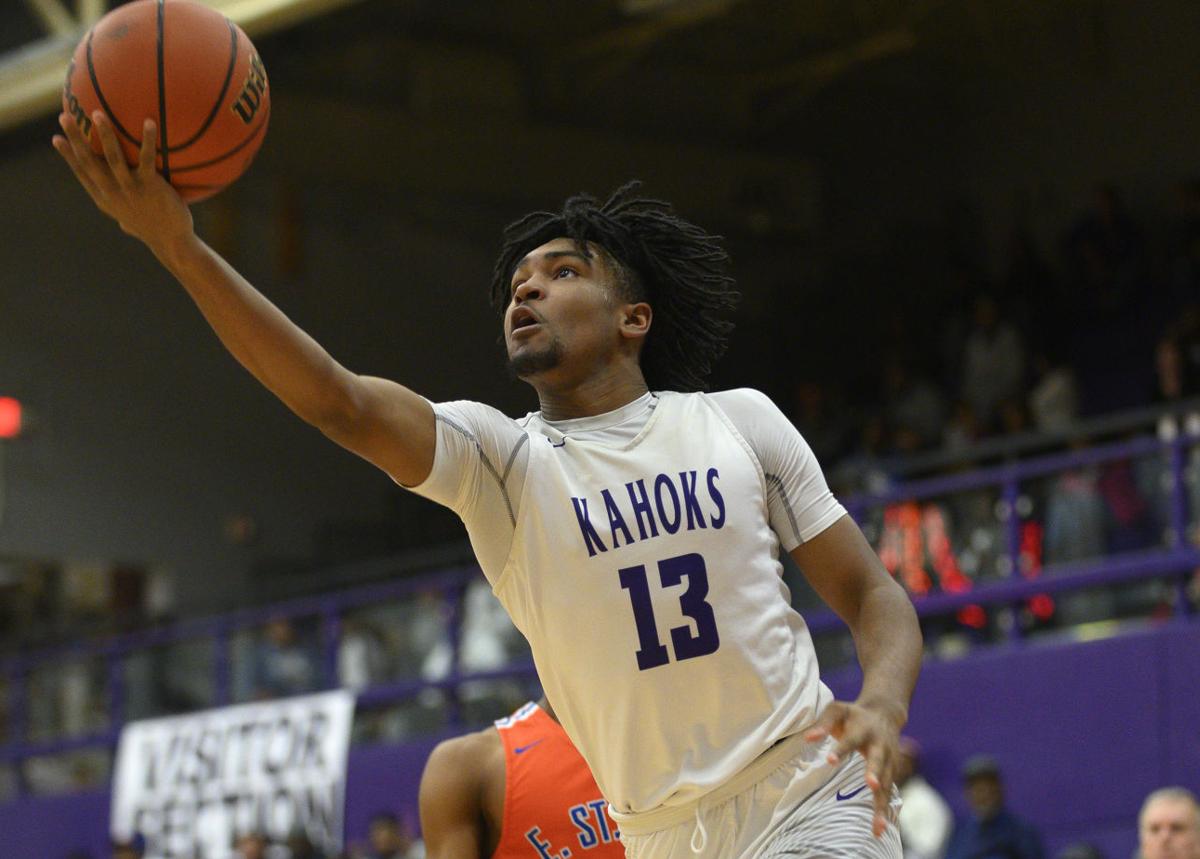 When Edwardsville High began assembling the pieces to put together a showcase basketball event, Alexander Fox didn't have to look far for guidance.
Fox, called his father-in-law.
Edwardsville's athletics director, Fox reached out to Rick Moss. Moss, 66, has a Rolodex that knows no bounds after a long, successful coaching career that included 22 years at the high school level and five years as an assistant at the University of Iowa.
Moss knows people and people know Moss. He has connections in Chicago after a coaching stint at Argo Summit. He led Centralia's program from 1993-2004 and then was the athletics director at Carbondale from 2004-2015. He helped both schools organize their holiday basketball tournaments, which are among the most recognizable in Southern Illinois.
He's a good man to have lend a hand if you're looking to build a basketball showcase from the ground up. Moss couldn't resist (even if he wanted to).
"He kind of roped me into it," Moss said of his son-in-law with a chuckle. "I'm not sure I'd do it for anyone else."
The second Edwardsville Shootout is set for Saturday at Edwardsville High. It features a strong lineup of games sure to please area basketball fans. There are two three-game sessions. The first session opens up at 11:30 a.m. with the Edwardsville girls rematching with a Highland team that knocked them off last season 47-45 to snap the Tigers' 93-game home winning streak.
"That's going to be a good game," Moss said.
The Edwardsville boys follow up against Althoff at 1 p.m., and then Triad and Carbondale tip at 2:30 p.m.
The second session is a humdinger, with three-time defending Class 2A champion Chicago Orr against Pinckneyville at 5 p.m. Collinsville tussles with powerhouse Chicago Morgan Park at 6:30 p.m. and then the night wraps with two-time defending Class 4A champion Belleville West taking on an always tough Lincoln at 8 p.m.
"I think we put together a pretty good night of basketball," Moss said.
Moss would know. He had a hand in securing the teams, especially the hot commodity that is Morgan Park. Moss was friends with Mac Irvin, Morgan Park coach Nick Irvin's father. He's been close with the family for a long time and when he reached out to the younger Irvin it was an easy sell.
Moss has a simple philosophy for running these kinds of events.
"If you take care of teams they'll want to come back," Moss said. "It's all about treating the people right."
When Moss ran Carbondale's tournament he had teams from Tennessee and Texas calling him to see if they could get in. Morgan Park made an appearance in Carbondale, too.
While at Centralia, he landed Mount Carmel, which brought with it Antoine Walker and Donovan McNabb. Walker had a 15-year NBA career. McNabb had a 13-year career in the NFL.
Centralia and Mount Carmel played an epic game that December in front of a standing-room only crowd.
"They got us," Moss said. "We gave them a good game."
Moss has a vision that teams and players of that elite caliber make the Edwardsville Shootout a regular stop. That's what it takes to make a showcase like this stand out in a crowd. There are no shortages of events in the area for basketball fans. No one knows it better than Moss, who's from Highland, home of the Highland Shootout, the gold standard in the area for basketball showcases. The O'Fallon Shootout has become an annual tradition in early February. Alton will host its first shootout Feb. 1.
"The kind of games you can create and the teams you can draw will keep you in business," Fox said. "It becomes who you know and who you can draw."
Which is where Moss comes in. He's already started assembling a bigger, better version of the Edwarsville Shootout for next December. If everything goes just right and it all falls into place he would love for it to be a two-day event.
"In a year or two we could have a real dandy," Moss said.
Tickets for the Edwardsville Shootout are $7 a session or $12 for an all-day pass. Students and seniors are $5 for single session tickets or $8 for a pass. Proceeds from the event will be donated to St. Jude's Children's Hospital.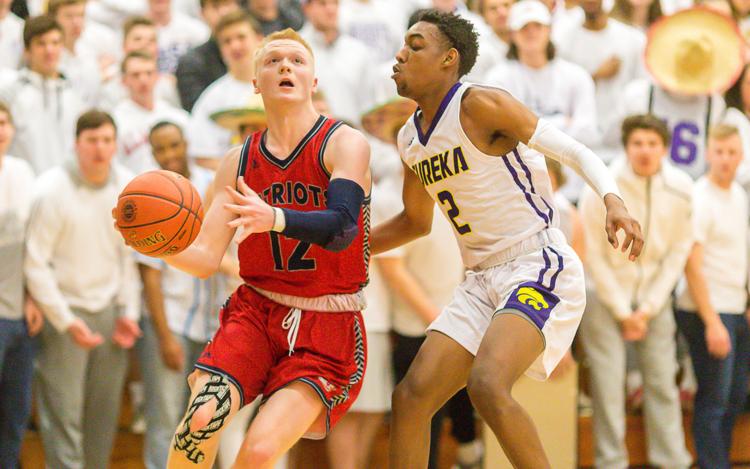 PARKWAY SOUTH ADJUSTS WITHOUT SOMMER
Everything was coming together for Parkway South this season.
The Patriots went 11-17 last season but were buoyed at the end by a 68-66 win over a highly favored Marquette in a Class 5 district semifinal. It helped springboard Parkway South into its offseason and raise the hopes and expectations of a team that would build around seven seniors.
Two games in, the Patriots lost one of their building blocks.
Senior guard Adam Sommer injured his knee last week against Parkway West. What was initially thought to be a minor injury turned out to be a tear of the anterior cruciate ligament. A three-year starter and four-year varsity standout, Sommer's season was over before it truly began.
"We didn't think it'd be anything too serious (last) Tuesday. On Thursday it was an ACL tear," Parkway South coach Matt Roach said. "The last week has been super emotional for Adam, his family and our team."
The 6-foot-4 Sommer averaged 19 points, four rebounds and three assists as a junior. A strong outside shooter who can put the ball on the floor, Sommer was a lynchpin in the Patriots plans. Now he can't be a part of that plan.
It has, Roach said, been a true teaching experience for his players. The best-laid plans can go awry. All you can do is pick up the pieces and keep moving forward.
"What (the team) has learned the last week is as important as anything they'll learn in a classroom," Roach said.
So far the Patriots have managed without Sommer. Parkway South is 4-0 as it won the Gerald Linneman Memorial Tipoff Classic last week by beating Parkway Central, Parkway North and Parkway West. On Tuesday it beat Oakville, 49-37. It was the third consecutive game Parkway South held its opponent to fewer than 40 points. Last year the Patriots gave up an average of 63.
It's one way the Patriots can try to mitigate the loss of Sommer's scoring. They might not have another player who will go score 19 points a night, but can they collectively chip in a few points here and there? Can they sit down on defense and take points off the board?
"You're not going to replace an Adam Sommer, especially not now," Roach said. "You have to find a way to adjust."
In the last week Roach has found a mantra that he keeps coming back to as the players shift into new roles.
"We need the best version of yourself and we'll be OK," Roach said.
Parkway South hosts Sullivan (4-0) at 7 p.m. Friday.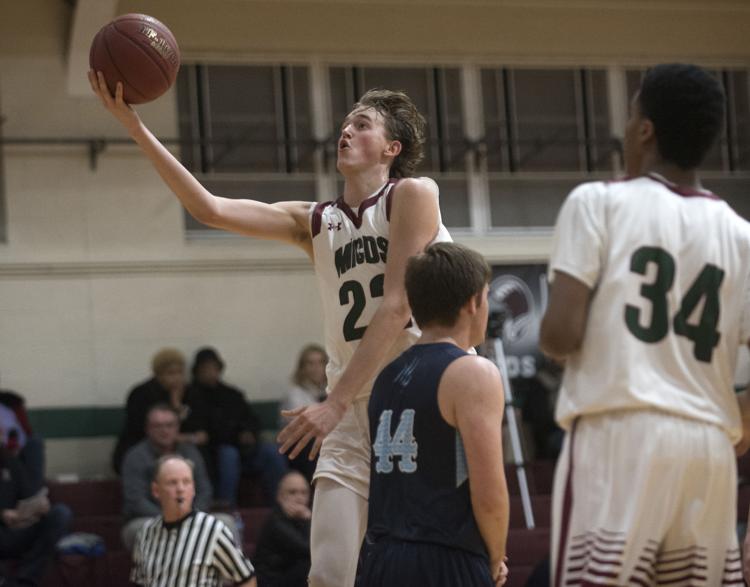 MICDS DEFENDS HOME TURF, WINS TOURNEY
Travis Wallace is still getting used to his new surroundings. After seven years at Jennings, his alma mater, Wallace was hired at MICDS in the spring.
He didn't waste any time taking care of business.
MICDS (3-0) won its Tipoff Tournament with a 47-38 win over Westminster on Friday. It was a nice way to transition into his new digs.
"It was a bonus opening up at home," Wallace said. "So far, so good."
The Rams appeared quite comfortable at their house and with their new coach. Junior swingman Nick Roper started off smoldering as he's averaging nearly 16 points and more than four rebounds a game. Sophomore guard Brandon Mitchell-Day has contributed nearly eight points, four rebounds and four assists per game. Not to be left out is junior guard Jack Pronger, who's pumped in 11 points and six rebounds. Not only have these three been productive they're also enormous. All of them are listed at 6-foot-7 and should Wallace wish he can trot out a lineup that's 6-foot-5 or taller that's versatile.
"Brandon is a do-it-all player," Wallace said. "He can play point guard to center, he's real versatile."
MICDS tested itself Wednesday with a road trip to Borgia but won't have to play outside of its own gym until Jan. 10 when it rematches against Westminster.
On Saturday, MICDS will host its Sager Strong Shootout. The Rams face off with Columbia (4-1) at 4:30 p.m. Named for Craig Sager, an NBA sideline reporter known for his taste of tacky suits, all proceeds from the Sager Strong Shootout will be donated to the Sager Strong Foundation which funds clinical trials and research for leukemia and other blood cancers. It's tradition for the coaches in the tournament to wear the ugliest suit they can get their hands on. Wallace said he has something ready to go.
Clayton visits MICDS on Dec. 16, then it's time for the MICDS Holiday Tournament, which is always among the best in the area and features a variety of talented teams. MICDS has found its groove early at home but will be tested before the new year.
"We're going to find out a lot about ourselves soon," Wallace said.
COLLINSVILLE TOURNAMENT BRACKET RELEASED
The top holiday tournament in the Metro East is back for its 36th year. The Collinsville Holiday Classic always provides entertaining games and this year appears to be no exception.
Among the teams included in the field are Collinsville, O'Fallon, Althoff, Belleville East, Edwardsville, Granite City, Madison, Oakville, Decatur Eisenhower, Decatur MacArthur, Lincoln, Springfield Southeast, Rockford East, Mundelein and Quincy.
The first round will a full-day affair as it starts off at 9 a.m. Dec. 27, with the last game scheduled for 9:30 p.m.
The next two rounds of games will be played Dec. 28, with the final scheduled for 7:30 p.m. Dec. 30.
Tickets are $7 for adults per session. Full tournament passes cost $50. Tickets and passes can be purchased online. For more information visit classic.cusd.kahoks.org.
• Webster Groves vs. Gateway STEM
When: 7 p.m. Thursday at Webster Groves
The skinny: Home opener at Roberts Gym for the Statesmen and new coach Justin Mathes who picked up his first win on Sunday against defending Class 5 champion Rock Bridge at the Norm Stewart Classic at Mizzou Arena.
• CBC vs. Duncanville (Texas)
When: 8 p.m. Thursday at Glendale High School.
The skinny: Highlight game of the Ozark Mountain Shootout, Duncanville is the reigning Class 6A champ in Texas and features a bevy of top-tier talent including 6-foot-7 senior forward Micah Peavy who has signed with Texas Tech.
• East St. Louis at Alton
The skinny: Southwestern Conference play is always intense. East St. Louis is the reigning Class 3A and conference champion. The Flyers are still smarting from their lopsided loss to Collinsville Tuesday. Alton plays tough at home.
The skinny: The only area team in Missouri to win its last game of the 2018-19 season, Ladue finished third in Class 4 and returns a strong cast of players. O'Fallon has started hot with five wins and a 53-50 loss to Collinsville.
• Sager Strong Shootout at MICDS
When: Noon-6 p.m. Saturday
The skinny: Five games featuring area teams from Missouri and Illinois facing off for bragging rights. All proceeds from the event will be donated to Sager Strong Foundation to fund clinical trials and cancer research for leukemia and other blood cancers.
• Webster Classic Championship at Webster Groves
The skinny: Always entertaining tournament wraps up its 20th year. A December tradition for area basketball fans.
• Pattonville at Jennings
The skinny: Pattonville coach Kelly Thames returns to his alma mater, where his jersey still hangs in the rafters. It's Pattonville's first game at Jennings in at least two decades.
When: Dec. 18-21 at Lindenwood.
The skinny: Features 16 games over four days of wall-to-wall basketball action.