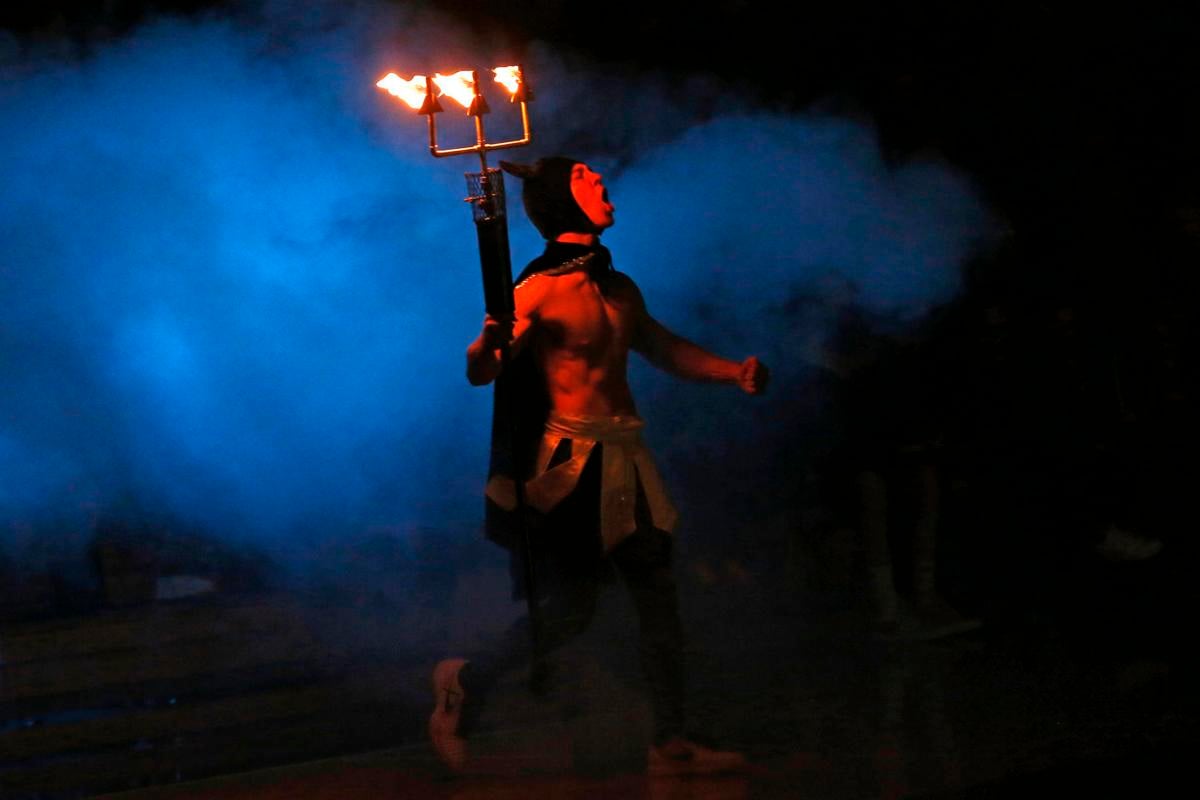 James Henninger lived in the weight room, studied film and kept his cool at tryouts.
Well, as cool as you can be when you carry a flaming pitchfork.
A senior at Quincy High in Quincy, Illinois, Henninger has the distinct honor of being the Blue Devil mascot.
The Blue Devil is no ordinary student in a musty costume with fabric muscles. Henninger's muscles are all real and they're on display. When dressed as the Blue Devil, the 5-foot-10 and 170-pound Henninger wears a cap with horns, a cape and blue tights.
"They told me I could wear a shirt if I wanted," Henninger said. "I think it takes the fun out of it."
Quincy's pregame ritual before its home games features the Blue Devil prominently. The lights go mostly dark in the gym when the visiting team is introduced. When it's the home team's turn, the lights go completely out and a short film is played on the enormous digital video board. When the video is through, the band strikes up the theme from "Phantom of the Opera" and the Blue Devil emerges from a tunnel under the bleachers that glows blue. The Blue Devil carries a three-pronged pitchfork that's on fire. Each point of the trident is fueled by a small gas canister near the top of the staff.
Henninger, 18, parades on to the court, does a choreographed routine that lasts a full minute. He makes his way around the gym getting the crowd whipped up. He then remains on the court as the Blue Devils are introduced, being careful the whole time to not bump someone with his flaming torch.
"It's a great experience," Henninger said. "I didn't realize how big of a tradition it was."
It's a tradition people from across the region and country will get to witness Friday and Saturday when Quincy hosts the Quincy Shootout. The two-day showcase features all-day action of some of the best boys basketball teams in the area and from around the country.
Chaminade, Mehlville, Vashon and St. Louis Christian are among the area teams participating.
Mehlville opens up against Hamilton Heights from Tennessee at 4 p.m. Friday and will be followed by Chaminade playing perennial power Memphis East at 5:30 p.m. St. Louis Christian gets Chicago Heights Marian at 6 p.m. at neighboring school Quincy Notre Dame.
The No. 1 small school in the STLhighschoolsports.com rankings, Vashon (10-4) ends the first night at Quincy High when it meets Sacramento Sheldon (15-2) at 8:30 p.m. That game will feature two of the top players in the nation as Vashon senior and Kentucky signee Cam'Ron Fletcher tries to score a big-time win over Arizona State recruit Marcus Bagley. Sheldon is the No. 5 team in the nation, according to MaxPreps.
Chaminade gets its second game in bright and early as it faces Chicago Corliss at 10 a.m. Saturday. Mehlville draws Chicago Heights Marian at 4 p.m. Saturday, while St. Louis Christian faces Hamilton Heights at 5:30 p.m.
Both nights the host Blue Devils will play, which means Hanninger will be on the job both nights. Quincy plays host to Rock Island at 7 p.m. Friday and then to Centralia, Ill., at 8:30 p.m. Saturday in the event's finale.
"There's no sick days," Henninger said. "You have to be there every time."
It's a job, but one with a term limit. Only seniors can try out to be the Blue Devil. A baseball player at heart, Henninger said he started thinking about what it'd be like to be the mascot when he was a sophomore. That's when he became a weight-room warrior. He used the carrot of being the Blue Devil to motivate him on days where he needed a boost.
"The thought of being the Blue Devil pushed me when I didn't want to," Henninger said.
When it was finally time to try out, Henninger was ready. He looked the part. He studied video of the pregame routine prior to his audition and was comfortable when it was his turn.
When Quincy athletics director Scott Douglas pulled him out of class and told him he'd won the job, Henninger was over the moon.
"My heart dropped, I'm so grateful," Henninger said.
There are community responsibilities that come with being the Blue Devil. Henninger was at the local grocery store and rang a bell for the Salvation Army around the holidays. He was in full costume, as it were.
"It was really cold," Henninger said.
Henninger won't have to be out in the elements this weekend but he will get to help share the joy that is basketball in Quincy. The game has a special place in "The Gem City."
"Basketball is a big part of Quincy," Henninger said. "It's really surreal to be a part of that tradition."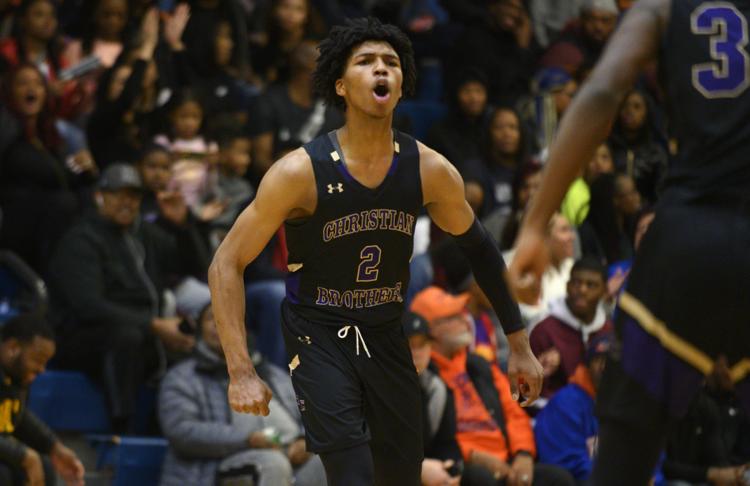 CBC'S LOVE LIFTS OFF FOR 40 (AGAIN)
One of the area's most prolific scorers hit a career benchmark not once but twice the past week.
A 6-foot-4 North Carolina signee, Love went off for 42 in a 68-62 win Saturday at East St. Louis.
He followed that with a 40-point performance in an 83-82 win Tuesday at Cardinal Ritter.
On the season, Love is averaging more than 27 points per game, which puts him among the top three in the area so far this winter.
The 40-point explosions were fueled by what CBC coach Justin Tatum said is a more aggressive offensive approach.
"He's getting 10 or more free throws a game," Tatum said. "He's taking less ill-advised 3-pointers and he's putting pressure on teams."
Love's ability to score has never been in question. It's how he goes about getting those points that has been an area of improvement throughout his career and early in his senior season. Love can get to the basket, consistently knock down a mid-range jump shot or be deadly from behind the arc. Tatum has liked how Love has recently put himself into a good scoring rhythm by getting to the basket, drawing fouls and hitting his mid-range jumpers. He's not settling for uncontested shots from long range that draw the oohs and ahhs from the crowd.
"He's been on a tear," Tatum said.
Love is the first CBC player to score 40 points in a game since Jordan Barnett went for 43 points and 20 rebounds in the Class 5 state championship game in 2014.
The No. 4 large school, CBC (10-6) plays at Hazelwood Central (7-5) at 6 p.m. Thursday.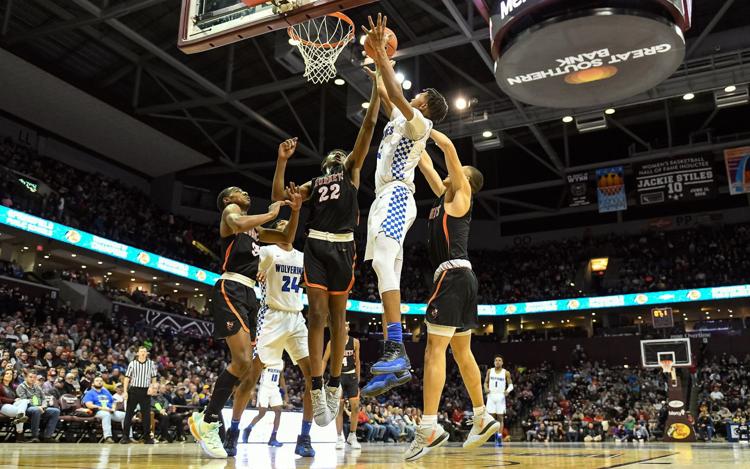 VASHON HOSTS WHITNEY YOUNG ON SATURDAY
Fresh off its appearance in the Quincy Shootout, Vashon returns home for another top-rated foe.
The Wolverines will host the Vashon Winter Classic on Saturday afternoon with a pair of games.
First up is Cardinal Ritter playing Peoria Manual at 5:30 p.m.
Vashon then takes on Whitney Young and Duke-bound standout guard DJ Steward at 7 p.m.
Steward tied the Highland Shootout single-game record Jan. 11 when he went for 40 points against CBC.
Tickets are $10 and available at Vashon.
MOHAMMED STARS AT TOURNAMENT OF CHAMPIONS
Of all the stars bound for big-time stages at the Tournament of Champions, none of them turned in the three days of work like Aminu Mohammed. A 6-foot-4 junior guard at Greenwood Laboratory School, the reigning Class 2 state champion, Mohammed scored 100 points and hauled in 51 rebounds to etch his name into the tournament record book.
Mohammed became just the fifth player in the tournament's 36 years to crack triple digits in scoring. His 100 points ties him for third all-time on the scoring list with Brentwood Academy's Darius Garland who went for 100 in 2018. Glendale's Spud Harbor (2007) and Christ the King's Khalid Reeves (1989) each scored 101. Teddy Dupay of Mariner owns the all-time scoring record with 129 points. He poured in 58 to set the single-game record in 1998.
Mohammed's 51 rebounds is a new tournament record breaking the old mark of 48 held by Malcolm Brogdon of Great Atlanta Christian set in 2011.
Greenwood beat Greensboro Day School out of North Carolina in the consolation semifinals. It marked the first win for a Springfield team against an out of town opponent in the Tournament of Champions since 2014.
Greenwood (13-3) lost to Christ the King 71-67 in the consolation final.
Despite all the history he helped set, Mohammed was among the least impressed with his performance at the Tournament of Champions. His focus was on the end goal.
"That's just the individual stuff," Mohammed said. "It matters but it still doesn't matter if I could not get my team the win it deserves. We're going to keep moving forward."
Mohammed has become the big-ticket player to watch in Springfield over the last year. Rated among the top college prospects in the nation in the class of 2021, he's brought Greenwood notoriety and success like it has never had before. Greenwood defeated Kickapoo in the finals of the Blue and Gold Tournament in December. It was the first time in the 74 years Greenwood has hosted the holiday tournament that it won the title. Mohammed scored 49 in a 65-55 win.
"Aminu has such a high motor. He stays after it no matter what the situation is, no matter what the score is," Greenwood coach Darren Taylor said. "He always believes we can win and he knows what he has to do to help us win and he does it."
Chances are high that Greenwood could return to the Tournament of Champions next year. Mohammed went out of his way to thank the organizers and the tournament itself for having him and his team this year.
"Not so many schools get the opportunity to play in this," Mohammed said. "It's going to mean a lot if we're playing in this next year. That's very important, thank you."
CHRIST THE KING JOINS TOC HALL OF FAME
The Tournament of Champions inducted its inaugural hall of fame class last year. This year its second class honored the longest tenured program in the event, Christ the King from Middle Village, New York.
Christ the King helped put the Tournament of Champions on the map when it agreed to travel to Springfield for the rebirth of the tournament in 1985. The Royals were a powerhouse and gave the Tournament of Champions some of the unique flavor that helped distinguish it from other tournaments.
To acknowledge its contributions to the tournament, Christ the King and its coach, Joe Arbitello were part of the second hall of fame class inducted last week.
Arbitello, who played at the Tournament of Champions for Christ the King in 1994 when it lost in the title game, said he was stunned when he realized he was part of the hall of fame.
"I knew they were putting the program in. It deserves to be in," Arbitello said. "Then when I saw my name on the trophy it was like surreal to me. Probably the greatest accomplishment of my life, honest to God."
Arbitello couldn't say enough about the hospitality of the tournament and community on his visits to southwestern Missouri. As a guy who grew up in New York it's a completely different slice of life when he and his team make the trip west.
"The people here are so nice, so classy. Every time I come here I wonder why I'm living in New York City. I had somebody spit on me on the train the other day," Arbitello said with a chuckle. "What am I doing? Why do I live there? I can come to Springfield, Missouri, buy a really nice house, hang out and watch basketball all day."
During this year's tournament Christ the King played all three Missouri school in the Tournament of Champions field. The Royals opened with a 69-33 loss to Vashon then knocked off Kickapoo and Greenwood in the consolation bracket. He said Missouri basketball has been and remains top notch.
"It's very good. We knew that already though. We've been coming here enough to know that," Arbitello said.
The only significant adjustment Christ the King had to make on the court was playing without a shot clock. New York uses a 35 second shot clock for boys teams and a 30-second clock for girls. When the other team doesn't have to shoot it can make for some long possession. That wasn't the case this time at the Tournament of Champions.
"No shot clock. The thing I was surprised at was nobody held the ball," Arbitello said. "We've come across teams that have held the ball for two minutes against us and it's just frustrating as it can get."
ON-GOING ACTION THIS WEEK
• The Belleville East Classic got under way Tuesday with its first-round action. Collinsville will face Alton in one semifinal at 6 p.m. Friday.
The other first-round games were played Wednesday and included Trinity-Belleville West and Normandy-Belleville East. The winners of those games will meet at 7:30 p.m. Friday.
The championship is set for 7:30 p.m. Saturday night.
• The 69th Salem Invitational opened up play Wednesday. East St. Louis and Highland were slated to meet in the first round at 6:30 p.m. The winner advanced to the semifinals at 6:30 p.m. Friday.
The championship game is scheduled for 8:30 p.m. Saturday.
Other teams in the field include Salem, Carbondale, Effingham, Mount Vernon, Teutopolis and Thornton Fractional North.
A LOOK AHEAD TO NEXT WEEK
• CBC plays its third home game of the season when it hosts Chaminade at 6 p.m. Jan. 31. The Cadets will make up their postponed home game with Vianney on at 6 p.m. Tuesday.
• The Parkway West Showdown is scheduled to run this coming Monday, Wednesday and Friday at Parkway West.
The tournament opens with first-round action on Monday. At 4 p.m. Parkway South faces Parkway Central. At 5:30 pm. Hazelwood Central plays Parkway West. At 7 p.m. De Smet draws Liberty and at 8:30 p.m. Kirkwood faces Lafayette.
The championship is scheduled for 8:30 p.m. Friday January 31.
• The Fort Zumwalt North Tournament gets under way with Monday and Tuesday with two games on each day.
On Monday Parkway North plays Sikeston at 5 p.m. and Troy takes on Holt at 6:30 p.m. On Tuesday Francis Howell North draws Rock Bridge at 5 p.m. while Fort Zumwalt North faces Priory at 6:30 p.m.
There will be semifinals on Wednesday and Thursday.
The championship is set for 3:30 p.m. Saturday Feb. 1.
• The Alton Shootout will makes its debut on Feb. 1. The showcase features seven games in a full-slate of basketball action.
The showcase game features East St. Louis playing Trinity at 7 p.m.
Among the other highlights are Hazelwood East facing Belleville East at 1 p.m. Ladue faces Mount Vernon at 2:30 p.m. Alton takes on Decatur Eisenhower at 4 p.m. Evansville Bosse draws Chicago Bogan at 5:30 p.m.
Tickets are $10 and available at the event.
O'FALLON SHOOTOUT SET FOR FEBRUARY
Tickets are on sale for the O'Fallon Shootout, scheduled for Feb. 7-8 at the Panther Dome on the campus of O'Fallon High.
The event features seven games over two days. On Feb. 7 Mascoutah and Springfield Southeast open things up at 5:30 p.m. O'Fallon plays Southwestern Conference foe and two-time defending Class 4A champion Belleville West at 7 p.m. At 8:30 p.m. Pinckneyville faces Bloomington Central Catholic.
On Saturday Mehlville takes on Chicago Curie at 4 p.m. Chaminade plays O'Fallon at 5:30 p.m.
At 7 p.m. Chicago's Whitney Young draws Marion Arkansas. The event closes out with Collinsville playing Chicago Simeon.
Tickets are available at any Bank of O'Fallon location and online at BankOfOFallonShootout.com. Two-day passes are $15. Tickets to Friday's game are $7 each and Saturday's tickets cost $10 each.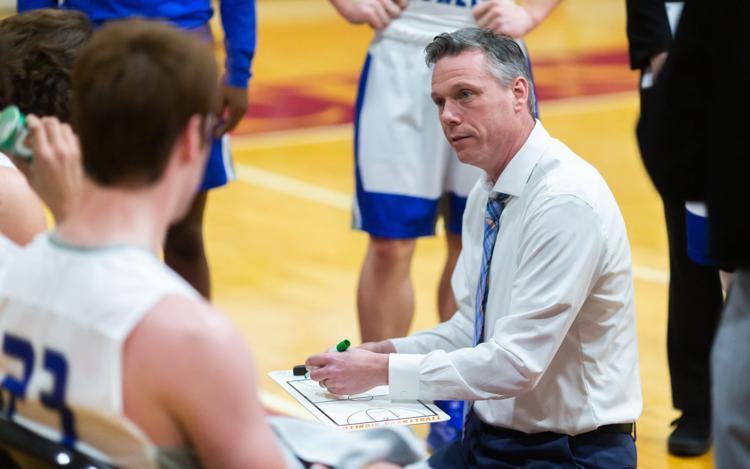 • Duchesne coach Wade Bouslog became the program's all-time leader in wins when the Pioneers knocked off Borgia 49-43 Tuesday night. Bouslog's 275 wins moved him past Duchesne's long time skipper Ted Yeater.
• Vashon's Cam'Ron Fletcher was named the Tournament of Champion's all-tournament team on Saturday night. He joins a strong list of area players to receive the recognition in their recent appearances at the Tournament of Champions including Belleville West's EJ Liddell (2019), Webster Groves's Courtney Ramey and Carte'Are Gordon (2018) and Chaminade's Jayson Tatum (2016) and Bradley Beal (2010).
• O'Fallon Christian junior guard Roddy Alexander scored 16 points in a 57-52 win over DuBourg to give him 1,000 career points. O'Fallon Christian (15-3) travels to Tolton for a 7:30 p.m. tip off Jan. 29.
STLHighSchoolSports.com is the most comprehensive source of stats, scores and stories from any and all area high schools.