Brennan Spain couldn't start practice until everyone's eyes stopped watering.
In his first season as Cardinal Ritter's football coach — his first as a head coach — Spain and his Lions faced their scariest opponent every two weeks when they lined up and had their brains scraped. As part of the return-to-play protocols instituted by the St. Louis City Department of the Health in the fall, any student-athlete or coach participating in sports was required to undergo bi-weekly COVID-19 testing.
A positive test triggered a new set of protocols that included contact tracing, quarantine and — if it happened during the playoffs — possible forfeiture and the end of the season.
The days immediately after testing were some of the longest and most strenuous in a season that played out in the midst of a pandemic.
"I'm not worried about our opponent, I'm worried if we can beat COVID," Spain said. "If you didn't get a call from (the lab) you were good. We were just hoping our phone didn't ring."
Spain's phone never did ring with devastating news and the Lions put together one of the most unique seasons, if you can call it that, in the area. When it appeared the St. Louis City Department of Health was not going to let high school sports play in the fall, Ritter opted into the spring football season offered by the Missouri State High School Activities Association. Yet when sports were allowed to begin in the city in October, Ritter returned to the fall and joined St. Mary's and St. Louis U. High as the only city schools to go forward with football.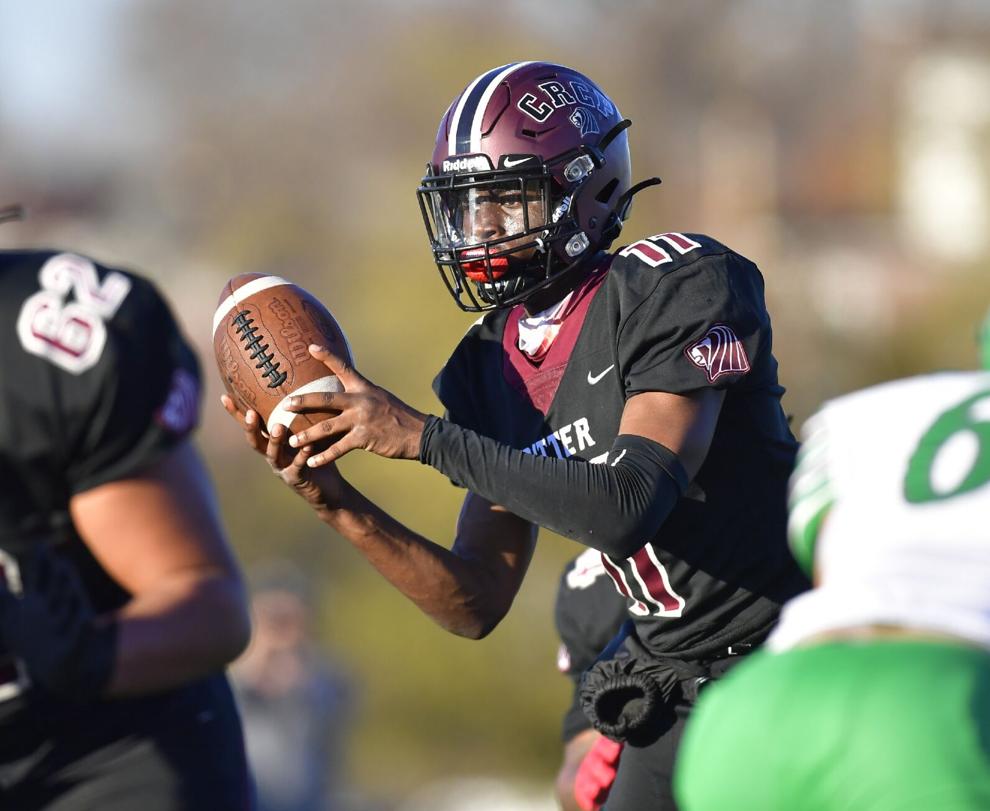 The Lions played three regular season games and lost them all. Ritter was defeated by Francis Howell, Helias and Jackson. Helias (Class 4) and Jackson (Class 5) went on to win state championships in their respective classes. Howell was a Class 6 quarterfinalist.
The brutal mini-season served its purpose. When the Lions began postseason play in Class 3 they were head and shoulders above their peers. Ritter won its three-game district tournament by a combined score of 155-35 and beat Kennett 45-7 in the quarterfinals to set up a semifinal showdown with Blair Oaks.
For additions or corrections, please email Chris Gove at cgove@stltoday.com. Thank you.
Blair Oaks earned a hard-fought 55-46 victory and won the Class 3 championship the next week. The Lions finished 4-4. It wasn't what they hoped for, but just by having their season end on the field they had done better than many teams around the area and the state.
"We could get kicked out of the playoffs for one positive (test)," Ritter athletics director Robert Wallace said. "That was something we didn't want to experience."
Instead, Ritter's experience this past school year was one of rampant success and achievement. It's why Cardinal Ritter is the STLhighschoolsports.com small school program of the year.
What made Ritter's school year so impressive is it did its best work against large schools. MSHSAA lists Ritter's official enrollment at 253. Despite having less than 300 bodies in the building, Ritter's boys basketball team finished 20-5 and won the Class 5 state championship, the state's second-highest classification. It's the ninth state title for the Lions and the second in a row after they won the Class 3 crown in 2020 mere days before the coronavirus pandemic brought life to a screeching halt across the country.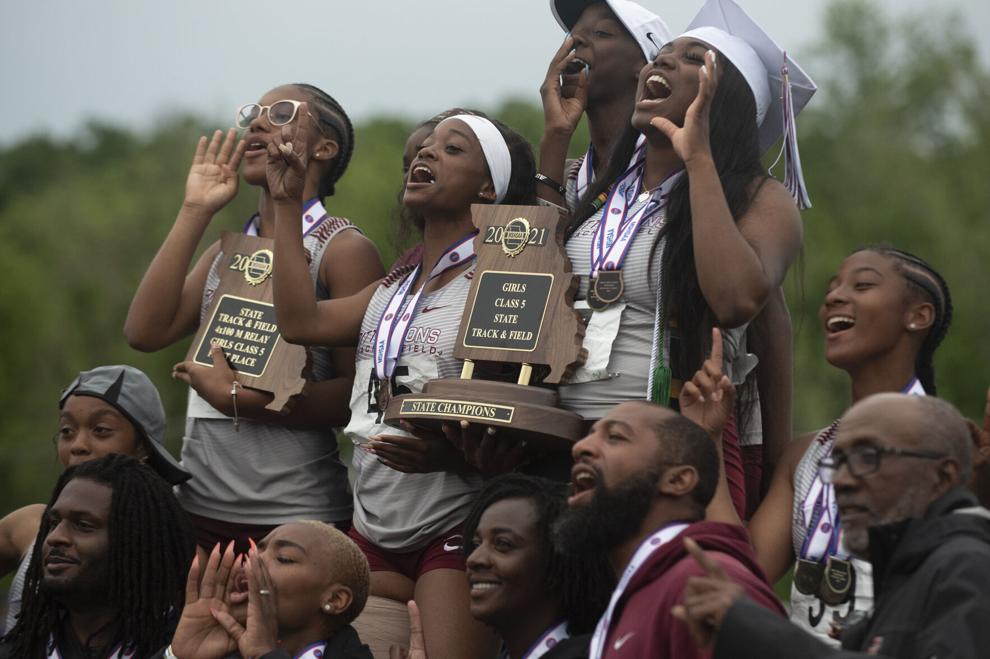 The girls track and field team won the Class 5 state championship, a first at Ritter. Behind the stellar work of a talented underclass including star freshman sprinter Aniyah Brown, the Lions scored 64 points and were the only local team in the Missouri's largest classification to finish in the top five.
Brown, 15, won individual championships in the 100- and 200-meter races, was part of a championship 800-meter relay and helped the 1,600 relay finish third.
"I hadn't run high school track before, I didn't really know much about the classes," the 5-foot-6 Brown said. "The goal was to win state."
The girls basketball team went 21-6 and advanced to the Class 5 quarterfinals, where it was defeated by eventual champion Whitfield.
"It's ironic we're the small school of the year and didn't do anything against small schools," boys basketball coach Ryan Johnson said with a laugh.
For any school's athletic program to achieve the kind of across-the-board success Ritter had requires all the coaches are on the same page. It's especially true at a small school. The pool of athletes is only so big. If the track program and the football program don't share resources, then neither program will reach its potential.
"The culture at Cardinal Ritter is we're building programs," boys and girls track coach Tiffany Spain said. "It's awesome. We all work together."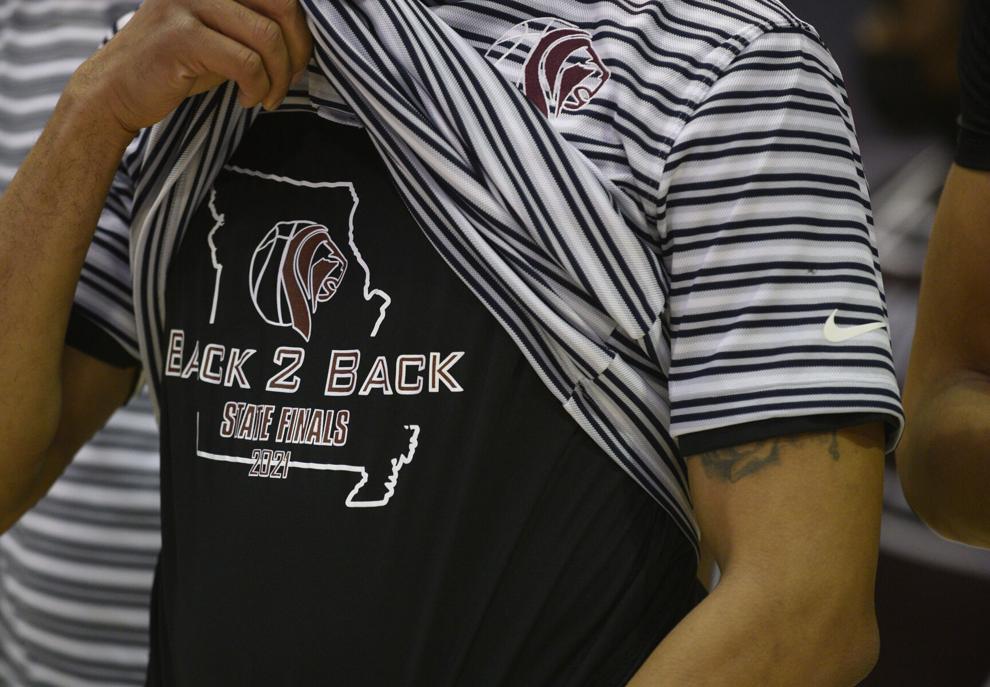 All of Ritter's coaches dealt with a level of adversity that was unprecedented. St. Louis City was the only municipality that required athletes and coaches to be regularly tested. Therefore they were much more at risk of popping a positive and triggering a shutdown or season-ending forfeiture. 
"It was frustrating, everybody wasn't under the same umbrella," Wallace said. "Certain schools weren't being tested. We had the most restrictions." 
In order to minimize potential outbreaks Ritter adopted a hybrid learning schedule. On Monday and Tuesday the juniors and seniors attended in-person school. On Wednesday and Thursday the freshmen and sophomores were in-person. On Friday everyone was virtual.
It turned the simple act of practice from a given into a plate spinning act. Getting freshmen and sophomores to campus on days they were doing virtual school was a chore. Many of the parents were working and the students are too young to drive themselves.
"Some days it was a struggle," Tiffany Spain said. "We were all affected by it. Safety was the number one purpose, but it was hard for the freshmen to get there. They had to find rides."
Every coach praised the scholar-athletes, as Ritter likes to call them, for their ability to handle whatever was thrown their way, be it having their eyeballs poked with a swab, masking up or finding a ride to practice. The kids persevered at every turn, and because of that the Lions had a season unrivaled by any other area school.
"It's about preparing young men and young people for the future," Johnson said. "It was tough. It's hard being held accountable every day, but there is a light at the end of the tunnel if you do it the right way."
After achieving so much over the past school year, the bar has only been raised headed into 2021-22. Brennan Spain is eager to see what his football team can do after it had a true offseason of preparation uninterrupted by the pandemic. The boys basketball team returns a solid core of players that will be eager to prove they are up to standard set by their former teammates. The girls track team was full of talented underclassmen and Brown was the fastest sprinter in the state. The Lions feel they have yet to reach their full potential.
"We can't sit and dwell on the things we've won, it's over with," Johnson said. "We want to be 2022 champs in everything."
Program of the year: 2020-21 small schools finalists
MICDS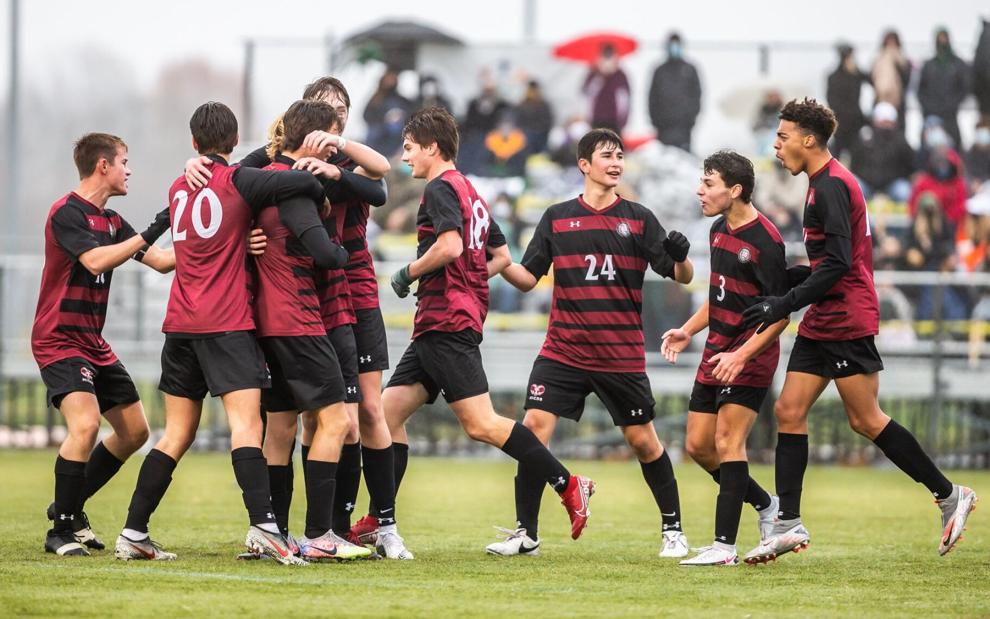 Boys soccer: Captured program's first state championship by winning the Class 2 title after never advancing past quarterfinals previously and not even reaching that round since 1989. Started season Sept. 29 because of COVID-19 restrictions and then won final 11 games to finish 13-3.
Football: Finished as the Class 4 runner-up and with a 7-1 record after falling 35-30 to Helias in the state final. Runner-up showing was second in three seasons for the Rams, who won every game by at least 14 points en route to the title game.
Boys track and field: Fell one point short of first state team championship. Class 3 runner-up finish matched the program's best showing and included a triple jump title for Shawn Putnam along with a 1600-meter relay title for the foursome of Tony Nunn, Winston Moore, Aaron Hendricks and Novo Onovwerosuoke.
Other core sports: Boys basketball 20-4 Metro League champ and district finalist; baseball 14-13 district finalist; girls soccer 10-8 district finalist; girls basketball 16-9 district finalist.
Other sports: Girls lacrosse, 16-0 MSLA champion; boys lacrosse, 17-3 MSLA champion; boys swimming and diving, Class 1 team runner-up behind All-Metro swimmer of the year Lee Naber; field hockey, Midwest Tournament semifinals; girls tennis, Class 2 third-place team finish.
Individuals: All-Metro boys tennis player of the year Evan Erb won class 3 singles state title; Henry Mikula was low area individual in Class 5 boys golf individual state tournament, tying for seventh.
St. Dominic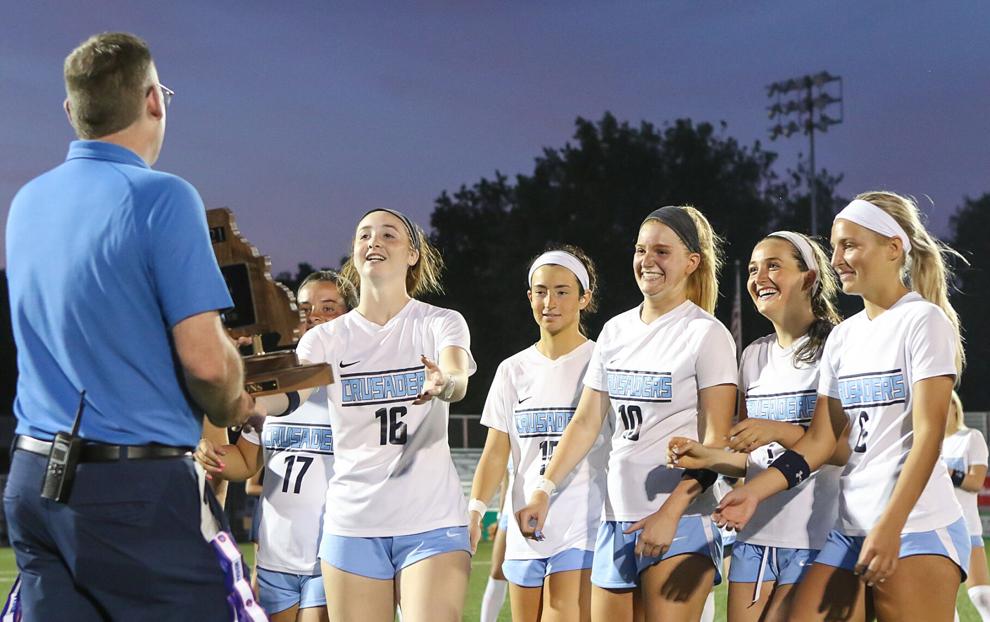 Girls soccer: Became Missouri's first unbeaten champion in the state's highest classification since 2002 with an utterly dominant season. Finished 25-0 and won the Class 4 state title by outscoring opponents 128-14. Championship was the sixth in program history and first in state's biggest class.
Boys soccer: Moved into Missouri's top classification and finished as the Class 4 runner-up with a 23-2 record. It was the first trophy finish for Crusaders since they were second in Class 3 in 2015. Postseason run included a quarterfinal victory against defending Class 4 champ De Smet in a penalty-kick shootout.
Girls volleyball: Finished fourth place in the state's highest classification for the second time in four seasons. Posted a 21-5-1 record after falling in the Class 5 third-place match against conference rival Borgia, which it beat twice in the regular season for the AAA Division I title.
Other core sports: Football, 7-5 Class 4 district finalist; boys basketball, 21-6 Class 5 sectional qualifier; girls basketball, 17-10, Class 5 sectional qualifier; baseball, 16-13 conference champion.
Other sports: Boys volleyball, 22-4 Class 5 quarterfinalist; girls track, Class 4 District 3 team champion; girls cross country, 11th in Class 4 state meet.
Union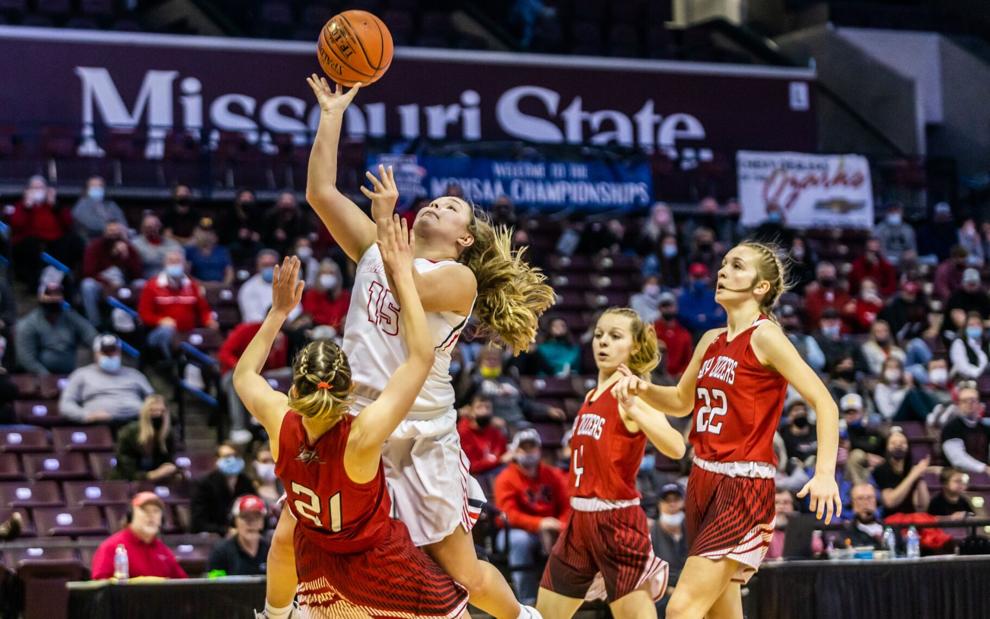 Girls basketball: Third-place finish in the Class 5 state tournament matched the program's best showing from 1979 and was its first semifinal appearance since 1980. Finished 19-2 behind Wofford signee Reagan Rapert, whose scoring average of 23.7 points per game was among area leaders.
Girls soccer: Behind 42 goals from St. Louis University signee Emily Gaebe, posted a 25-3 record and a program-best third place state tournament finish in Class 3 after fourth-place showings in 2018 and 2019.
Football: Despite missing final two weeks of regular season because of a COVID-19 quarantine, reached the Class 4 semifinals for the first time since 1983 and fifth time in program history. Finished 7-5.
Other core sports: Boys soccer, 18-4-1 Four Rivers Conference champion; boys and girls track and field swept conference team titles; girls track and field won Class 4 District 5 team title; baseball, 15-13; boys basketball, 12-13.
Individuals: Daniel Thwing won Class 4 boys track and field state title in 100 meters.
Whitfield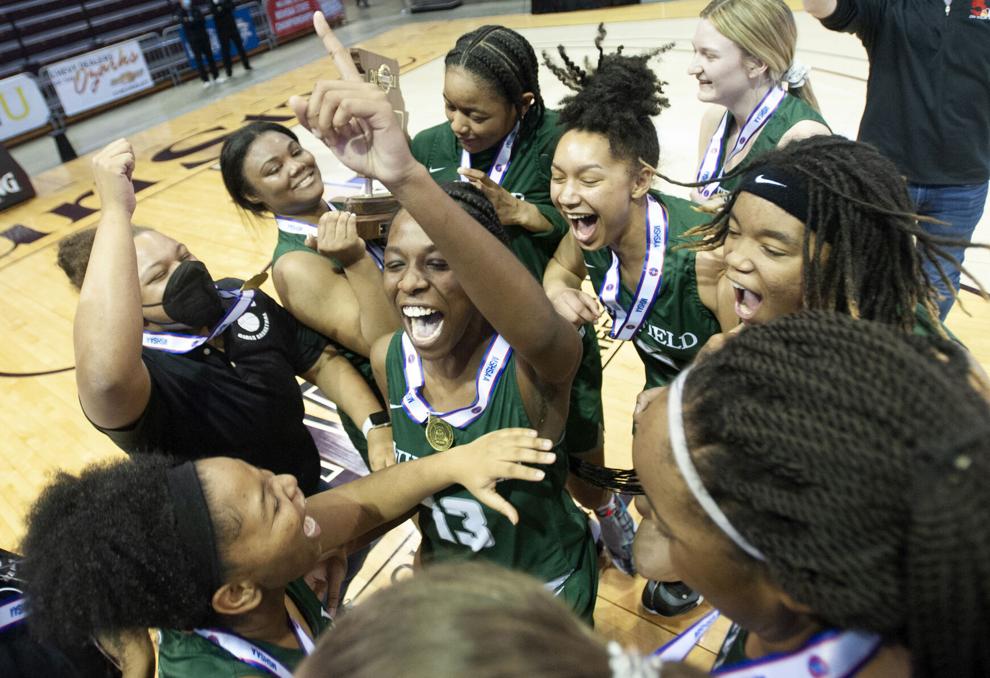 Girls basketball: State champion for the first time in program history, claiming the Class 5 title with a 24-4 record after reaching Class 3 semifinals three previous seasons since 2017. All four regular-season losses came against Class 6 state finalists Incarnate Word and Webster Groves.
Boys wrestling: Moved up to Class 3 from Class 1 and didn't miss a beat, winning the program's fifth consecutive team state championship and 10th in 14 seasons. Porter Matecki (106 pounds), AJ Rallo (113), Evan Binder (120), Gavin Linsman (126) and Keith Miley (220) won individual titles to lead the way.
Boys soccer: Finished 8-7 and as the Class 1 state runner-up, reaching the program's first championship game since 2010. Scored 32 goals during a five-game winning streak leading into state final.
Other core sports: Girls soccer, 9-6 district finalist; baseball, 9-5; boys basketball, 11-11; girls volleyball, 6-6.
Individuals: Daniel Radke finished third in singles in Class 1 boys tennis state tournament; Henry Nordlund finished 15th in Class 3 boys golf state tournament.