It took less than a quarter to know that Luke Maupin was in his bag Tuesday night.
A 6-foot-4 junior post for the Webster Groves boys basketball team, Maupin got his sticky mitts on any and every rebound that was in his vicinity.
Everyone knew he was crushing it — except Luke Maupin.
"When I went to the bench they were like, 'Good job getting all the boards,'" Maupin said with a smile. "I had no idea."
Maupin hauled in 15 rebounds and the Statesmen defended like demons as Webster Groves beat St. Louis U. High 41-29 in a Class 5 District 4 semifinal at Danis Fieldhouse on the campus of SLUH.
Webster Groves (20-7) advanced to play Chaminade (19-6) in the district championship game at 7 p.m. Friday. Chaminade knocked off Kirkwood 60-41 in the other district semifinal.
It's the seventh consecutive district championship game appearance for the Statesmen, who have won 20 or more games in 17 consecutive seasons.
That Webster maintained both of those streaks this season after returning five points to its varsity roster when the season began is a testament to its program and the seniors that grew up in it.
Webster Groves guards Courtney Lumpkins and Ellie Paloucek will never forget their late-January game against Nerinx Hall.
"Their leadership has been really, really good. When you return a team that had five points returning you have to have good leadership across the board," first-year Webster coach Justin Mathes said. "I thought when things got tough and they made a run, we had an answer, and that comes back to leadership."
Webster had seasoned seniors in guard Jacobie Banks and Jerqon Conners to look to when things got tough. SLUH (13-13) spent much of the night searching for someone to snap it out of its funk. The Junior Billikens never recovered.
"I think our youth and inexperience really showed up tonight," SLUH coach Erwin Claggett said. "I think in some key areas we kind of got taken aback a little bit."
Webster won the opening tip and ran its offense with purpose. The Statesmen worked the ball around the perimeter searching for the best shot. They found it when Maupin caught the ball on the block and scored a layup a minute in.
The Statesmen took the lead on their first possession and never trailed. Their offensive patience was an adjustment from the first time these two teams met this season. SLUH won 52-45 at Webster on Jan. 8.
"We didn't really flow on offense (the first game)," Banks said. "Today we were patient, passed it around and got good shots. We didn't waste any possessions, it's a good team. You can't waste any possessions."
The Junior Billikens got their first basket of the game when senior forward DeMarcus Bond hit a 3-pointer with 5 minutes and 8 seconds to go in the first that made it 4-3. SLUH went another eight minutes without a point. When junior forward Freddie Cooper knocked down a 3-pointer with 3:30 to go in the second it made it 14-6.
SLUH took that sliver of momentum and rode it for an 9-0 run. Cooper scored a layup to make it 14-12 with 1:36 to play in the second. Webster led 16-12 at halftime.
"Defensively they were pretty good," Claggett said. "Offensively we didn't execute as good as we should."
The second half opened like the first. Maupin scored the first basket about a minute in and SLUH couldn't answer. The Statesmen reeled off a 6-0 run to make it 22-12 before Claggett called timeout with 5:41 in the third.
Conners, who's not known for his long-range shooting, was left wide open on the right wing, took his time and buried a 3-pointer that pushed Webster's lead to 25-14.
SLUH was able to get its offense in gear in the third quarter but ended up trading baskets with Webster and couldn't get the stops it needed to make enough headway on the scoreboard. The Junior Billikens managed to cut it 27-23 when sophomore forward Nick Kramer hit a tough turn around in the paint with 1:51 to go in the third. Kramer had eight points and five rebounds.
SLUH appeared to have generated some momentum when Cooper chased down Banks, who was rolling in for an uncontested layup and blocked the shot off the backboard as time ticked away. But Webster junior guard Anthony Phiffer trailed the play, grabbed the ball and laid it in just before the horn sounded to make it 29-23 headed into the fourth quarter. Phiffer finished with eight points.
"The rest of our guys were in a haze and they're jogging," Claggett said. "He made a hell of a play chasing it down and scoring. I think that gave them momentum going in. Going up six on a play like that, it really turned the tide."
Sophomore guard Matt Enright was quiet most of the night but the Statesmen sharpshooter delivered a pair of haymakers in the fourth quarter. His first 3-pointer extended the advantage to 32-23 early in the final stanza. His second made it 39-25 with two minutes to play. He finished with eight points, four rebounds and took a charge.
Banks was a catalyst for the Statesmen as he scored 12 points, handed out two assists, made three steals and blocked a shot. He said Webster was locked in on both end of the court because that's what it has worked on all winter.
"All season long we've been grinding it out one possession at a time," Banks said. "We sit down and guard."
Maupin finished with eight points. His 15 rebounds nearly equaled the 17 SLUH managed as a team. It's been a theme this season that when Maupin is on, Webster is tough to beat.
"When you look at our biggest wins of the year and games we've played well in, he was a man on the boards," Mathes said. "His motor is just relentless. Unbelievable energy and unbelievable work ethic."
Webster Groves vs. SLUH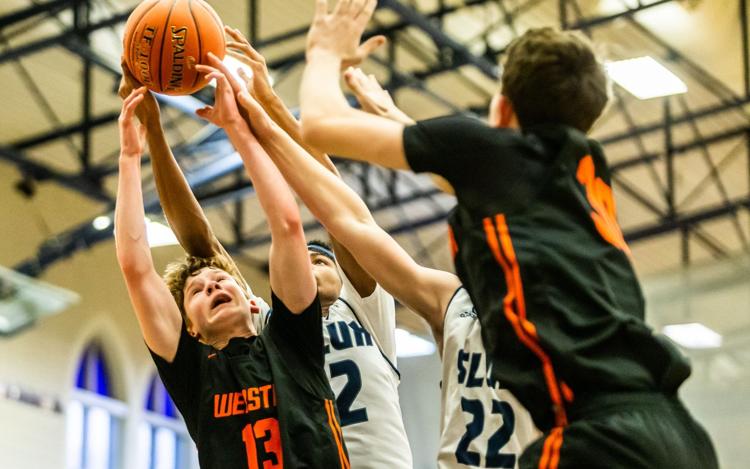 Webster Groves vs. SLUH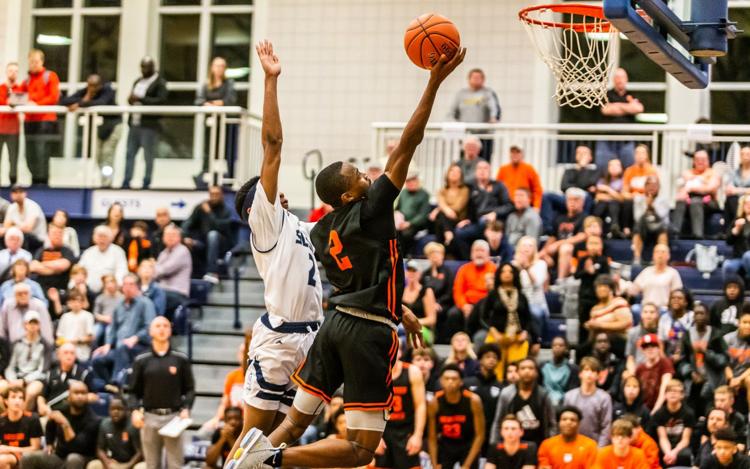 Webster Groves vs. SLUH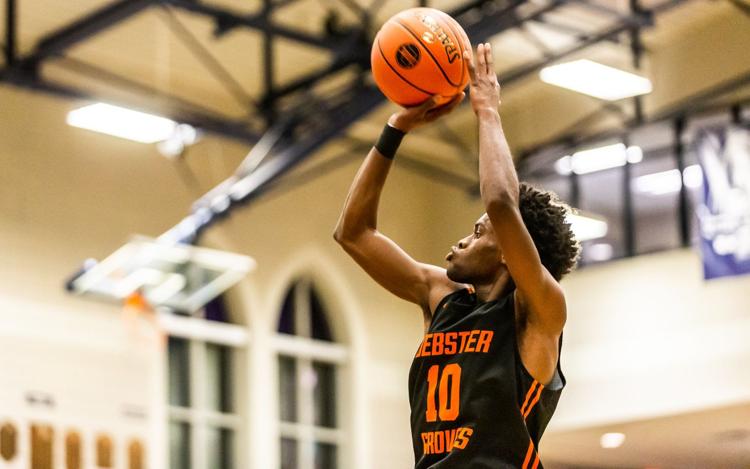 Webster Groves vs. SLUH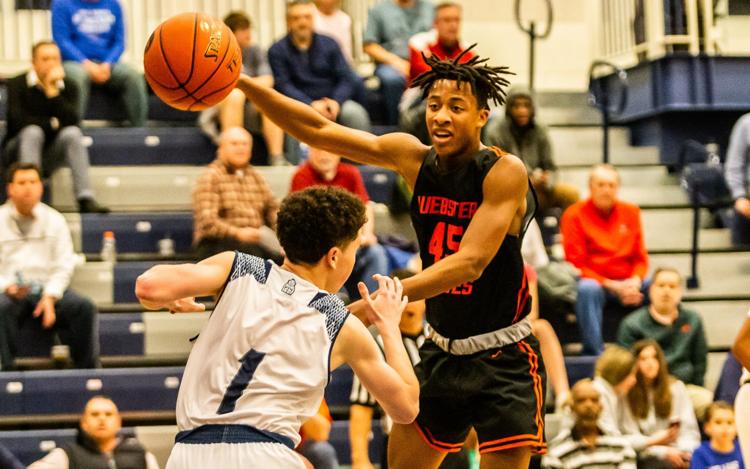 Webster Groves vs. SLUH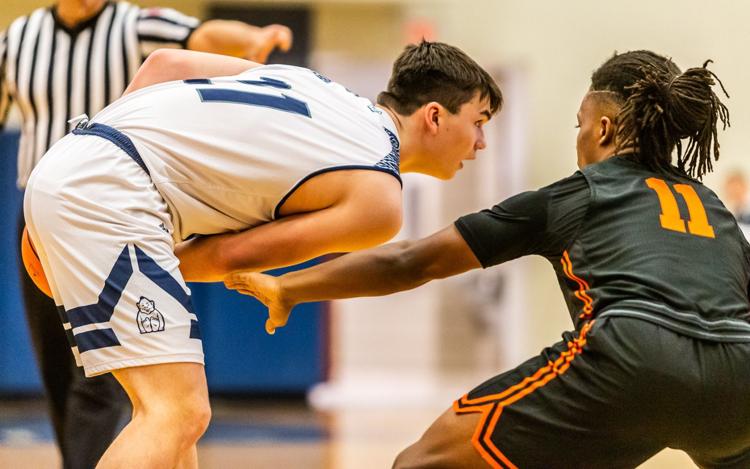 Webster Groves vs. SLUH
Webster Groves vs. SLUH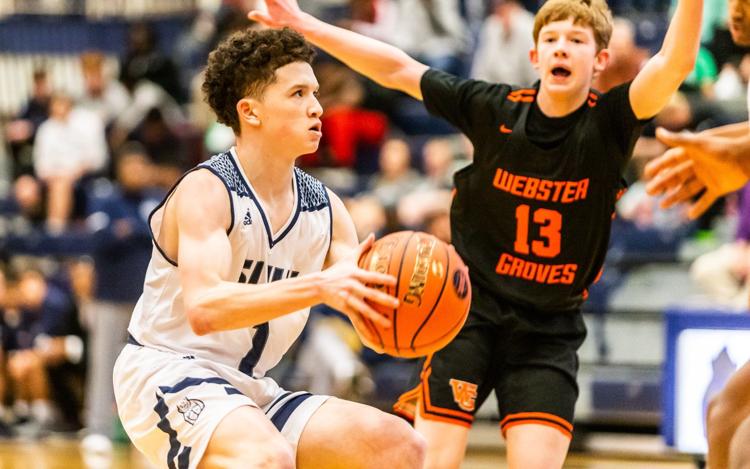 Webster Groves vs. SLUH
Webster Groves vs. SLUH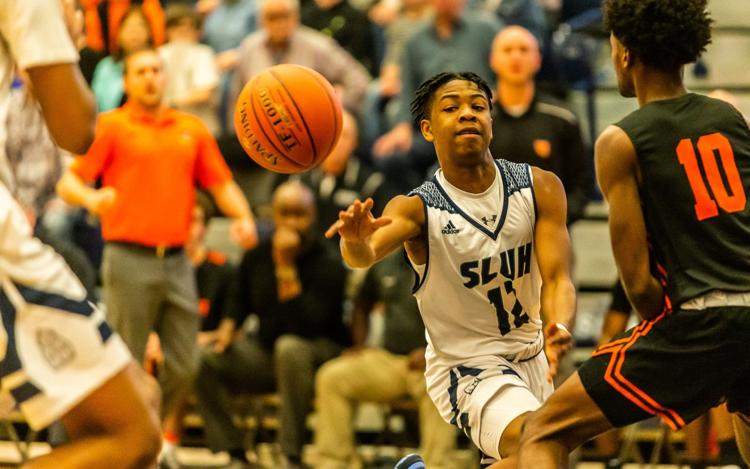 Webster Groves vs. SLUH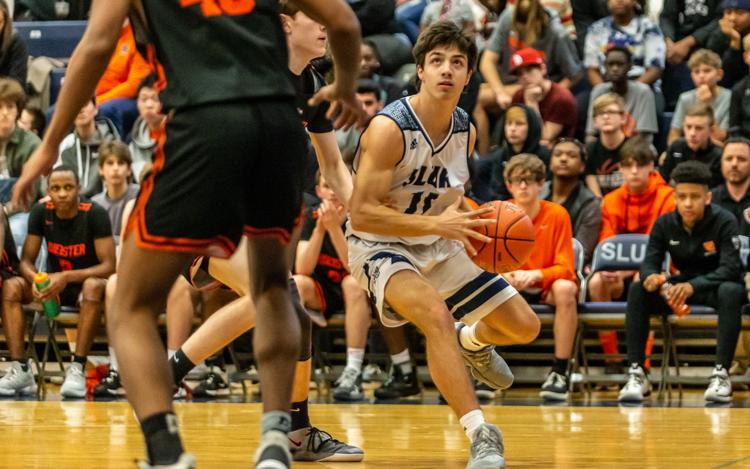 Webster Groves vs. SLUH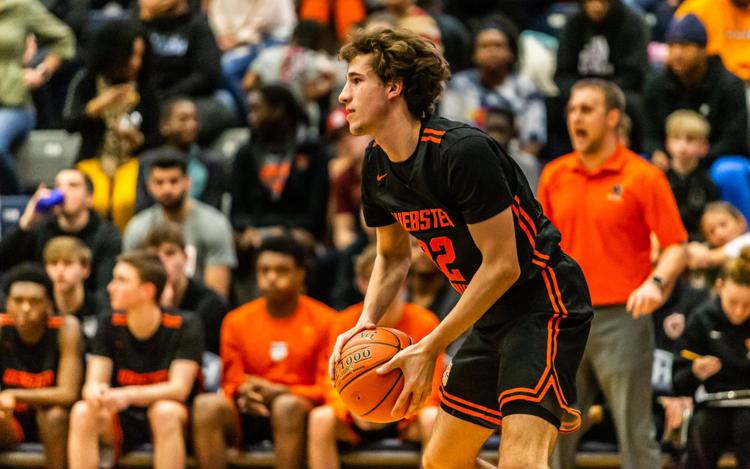 Webster Groves vs. SLUH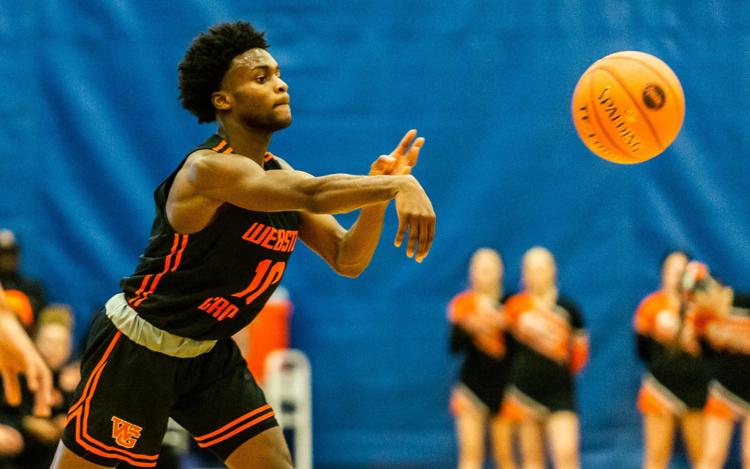 Webster Groves vs. SLUH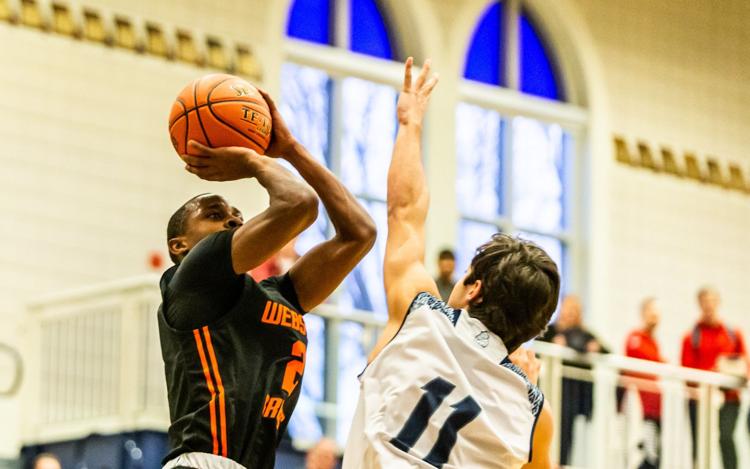 Webster Groves vs. SLUH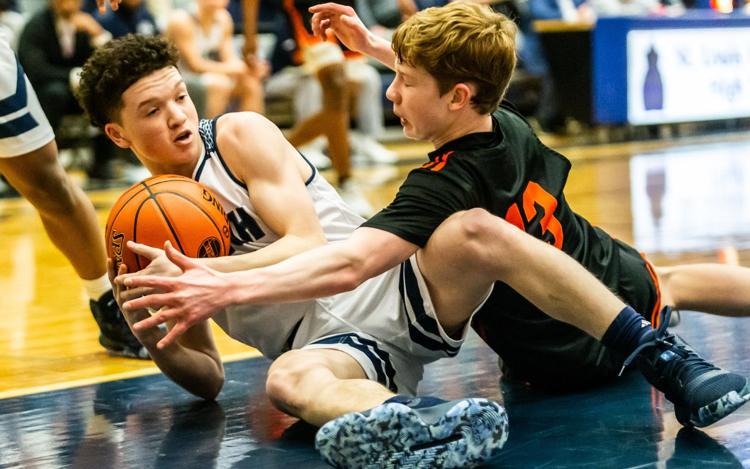 Webster Groves vs. SLUH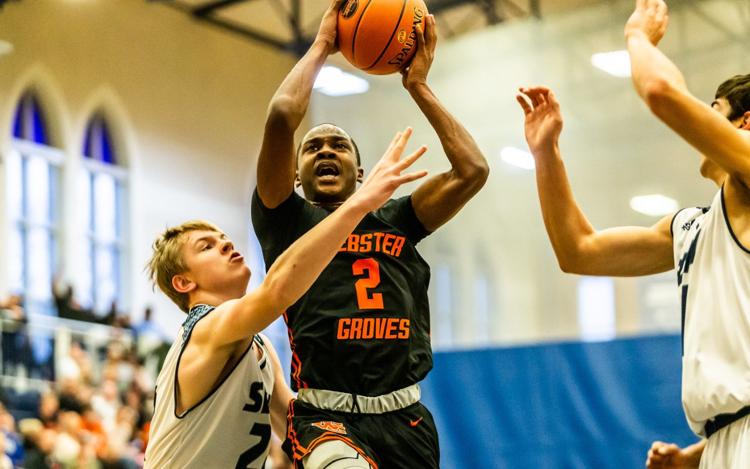 Webster Groves vs. SLUH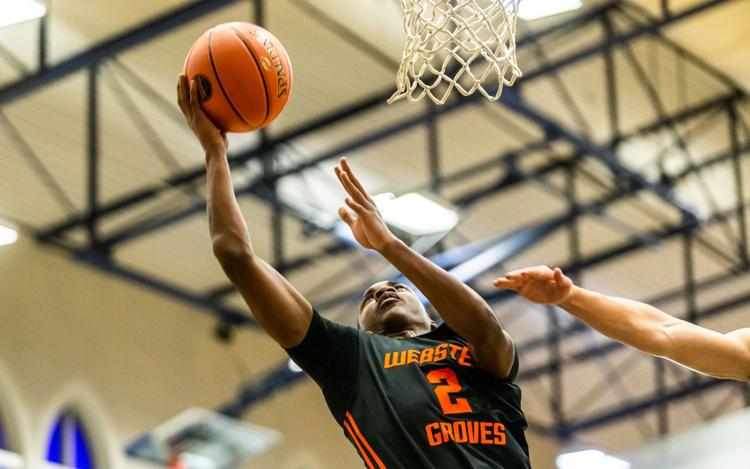 STLHighSchoolSports.com is the most comprehensive source of stats, scores and stories from any and all area high schools.