TROY, Ill. — Darren Latham fought back tears behind his ice-blue sunglasses. 
On the starting line, his Mascoutah High cross country teams stood united in their purple and white uniforms. 
Standing in stark contrast to the deep purple on their uniform tops, every single one of his runners wore a blazing orange headband in solidarity with Latham and his family's personal fight. 
"Our coach brought up that his daughter had leukemia and we were upset about it," Mascoutah senior Jenna Schanz said. "We wanted to show support for them and we thought it was a good idea to get a headband. Today everyone managed to wear them and nobody forgot them and it was awesome. It unites us a lot more."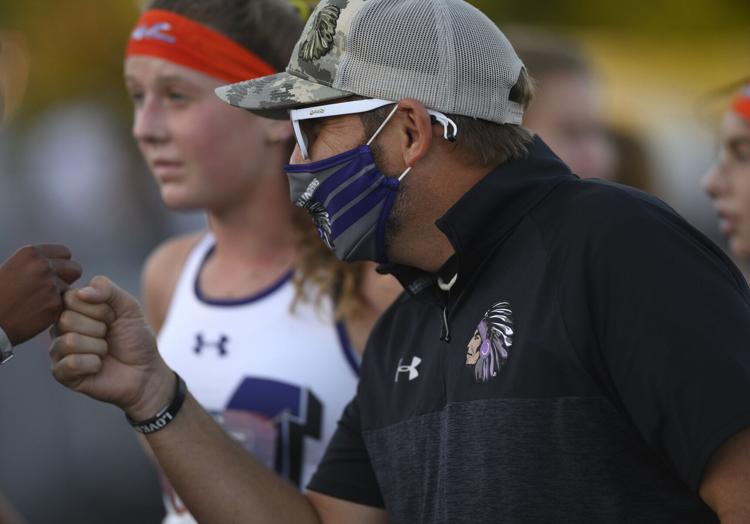 Six months ago, Latham found out that his daughter, Hannah Lowry, had been diagnosed with leukemia. Latham has been private with the battle, but to see his runners standing on the line before running past him as they attacked the course was nearly enough to bring the veteran coach to tears. 
"I can't put into words how great they are," Latham said. "It hit me when we got off the bus and we were taking a team photo and they were all sporting those headbands. They ran past me and they knew that it meant more than running. They're just great kids. I can't say enough."
Mascoutah performed like a group on a mission, claiming both the girls and boys division championships at the Triad Invitational on Wednesday afternoon at Triad High. 
Collinsville freshman Trey Peterson took home the boys individual title with a time of 16 minutes, 33.54 seconds. Belleville West junior Alyssa Elliott won the girls individual title in 18:37.30. 
The Mascoutah boys team had five runners in the top 15 and finished with 38 points. It was led by a second-place finish from junior Lance Miller (16:44.46). The girls had five runners finish in the top 12, led by a seventh-place finish from freshman Amelia Martin (20:44.82). 
After the diagnosis, Lowry, age 28, has gone through four rounds of chemotherapy to combat the cancer.
The Mascoutah teams have donned orange bracelets to support her and their coach, but they wanted to do something more.
"We thought it would be a good idea because we all wear headbands, to get an orange headband with the spear on it just to support her and support coach," Mascoutah senior Jordan Eddy said. "It just shows support for her and people battling leukemia."
While they normally wear all sorts of colors for their headbands, orange is the color used for leukemia awareness and the teams wanted to spread that awareness to all those battling the disease. 
"It's just amazing. They are such a caring team," Latham said. 
The invitational title is the fourth of the season for the boys team and the second for the girls. Both teams have used their close ties to continue to run in a pack, or a "train," to help claim those team titles.
"It's the 'Purple Train.' It just pushes us to go faster," Mascoutah junior Sam LaJoye said. 
While they don't have telekinesis, the workouts they use in practice have helped cultivate that style of running.
"They're right there together for every run," Latham said. "We do workouts to promote it and it's been our strength. They're looking for it. They see each other. It's so much easier to run together than by yourself."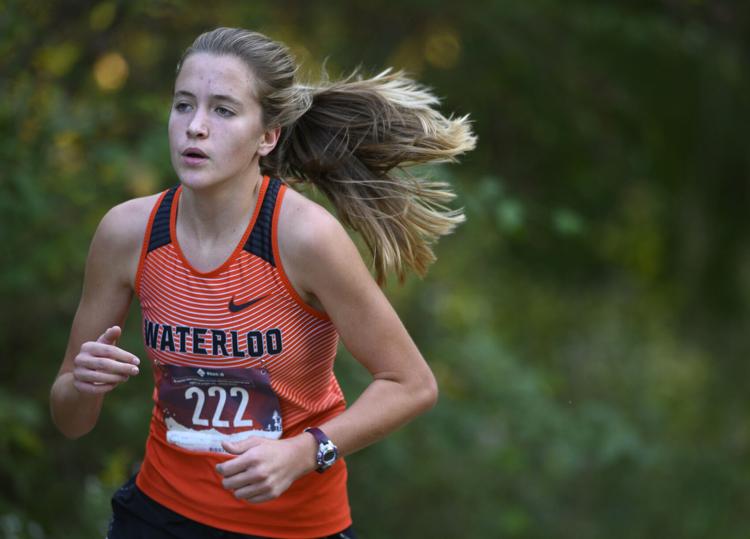 FRESHMEN FLOODING THE COURSE FOR WATERLOO
Larry Huffman knew he was going to get an influx of talent this year. 
The Waterloo High coach knew that the middle school program had produced another batch of talented runners for his girls team.
Freshmen phenoms Angelynn Kanyuck and Danielle Mudd finished second and third respectively on Wednesday afternoon at the Triad Invitational.
"They're such hard workers," Huffman said. "They never miss practice, never complain and it's just a great group of girls who enjoy working."
Kanyuck, part of Waterloo's middle school state title team last year, has picked up where she left off as an eighth-grader.
But Mudd was a one-man team in middle school and she is loving the atmosphere.
"Everyone is nice and it's nice to have a team that you can push yourself with, but also talk to and they understand how you feel," Mudd said. "They're there to help and celebrate."
Kanyuck finished second with a 19:45.20/ Mudd was third with a 20:18.11. Emma Rick, one of two seniors on the team, was 13th with a 21:19.67. 
Kanyuck admits that her eyes were opened during that first race as a varsity athlete.
"The girls are a lot better and that extra mile really adds a lot of difficulties," Kanyuck said
Even though it was an eye-opening experience, she's grown accustomed to the increased competition.
Chloe Aubushcon finished 28th for the Bulldogs, while another freshman Ali Kloeppel was held out of the race due to an injury. Huffman is pleased with what he's seen so far from his freshmen and he knows another batch is coming next year that could have Waterloo primed for a deep postseason run.
"It'll be great once we get to regionals and sectionals in a few years," Huffman said.
STLHighSchoolSports.com is the most comprehensive source of stats, scores and stories from any and all area high schools.