COLUMBIA, Mo. — Everything about this season was uncertain for the St. Louis University High cross country team.
Jr. Bills coach Joe Porter didn't know if there would be a season because of restrictions related to the COVID-19 pandemic. And when the season was given a go-ahead, Porter still didn't know if SLUH would be able to participate in the state meet if it qualified because of travel restrictions imposed by St. Louis County and the city.
But whatever uncertainty Porter had, he said it didn't spread to his runners.
"These are good kids," Porter said. "They'd encourage each other throughout everything. It was about the community they created. They created a culture of running and running well. (Saturday) is a testament to them and their character."
SLUH earned a runner-up trophy for the third consecutive season, scoring 125 points Saturday to finish second behind Rock Bridge (109) in the inaugural Class 5 boys cross country state meet at Gans Creek Cross Country Course.
Rock Bridge's second team championship but first since 2011 was led by individual champion Matthew Hauser, who won in 15 minutes, 34.5 seconds.
The Missouri State High School Activities Association added an additional cross country class in the offseason and bumped SLUH up to Class 5 from Class 4, where it finished as runner-up the last two seasons.
"I'm so proud of the guys," Porter said. "You overcome a pandemic just to get on the line."
The Jr. Bills had a later start to their season compared to most other teams in the Class 5 field other than fellow St. Louis County squadrons.
SLUH could not practice as a team until Sept. 14. Its first meet was Sept. 26, when it competed in Parkway West's Cowboy Classic.
The official first day of fall practices for MSHSAA schools was Aug. 9, and most Missouri schools were running in meets by the last weekend of August.
"Starting off, we didn't know if we'd end up here," SLUH senior Ryan Kramer said.
But SLUH's runners kept on task individually without any organized practice. SLUH won five team titles this season, including the Class 5 District 2 meet last week.
On Saturday, the Jr. Bills were back at state and stuck with a pack mentality despite a group of nearly 100 runners bunched in the first 1,000 meters of the state race.
"It was surprisingly easier to find everyone," SLUH junior Grant Brawley said. "I was with three of my teammates through the first kilometer."
The first five SLUH runners crossed the finish line within 15 seconds of each other.
Brawley led the Jr. Bills with a 27th-place finish in a time of 16:22.5. Kramer was just on his heels in 29th (16:23.9).
Baker Pashea followed in 42nd (16:34.5), while Hayden Zenor (16:36.5) and Sean Kellogg (16:37.6) finished 45th and 46th, respectively, to round out the team score.
"We knew we had a great team," Kramer said. "We didn't have a fast runner like (Rock Bridge's) Hauser. We have a really good split one through five, but we work great as a team. I couldn't be more proud of the team and the work we put in. I can't believe we got this close. It's just excellent that we got this far."
SLUH moved up the team standings throughout the race. It started in seventh place after the first kilometer but continued to climb the team rankings before finishing second.
"We had done that a few times," Porter said. "I wasn't worried. We were prepared for different styles of races. Even though we were seventh, our group was four seconds off the leaders. We could see the race in front of us. They ran their hearts out and I'm really proud of them."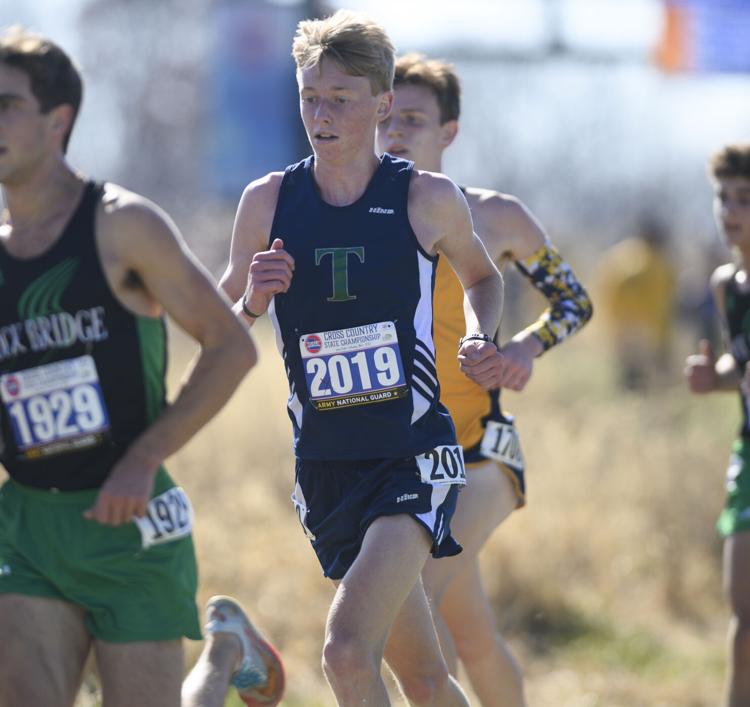 TIMBERLAND'S PEIMANN WINS SILVER
Trevor Peimann just wanted a medal after securing his spot in the Class 5 state championship meet.
The Timberland senior then started to think about that goal and modified it.
"I was like, (every state medal) is bronze except second and first," Peimman said.
Peimann captured his coveted silver medal with a runner-up Class 5 individual finish.
He held off a late charge by Liberty North's Ethan Lee at the finish line for the second-place position.
"At the end, I heard the cheering behind me and I got a little nervous," Peimann said. "I saw (Lee) pop up next to me and I had a burst of energy to keep him behind me."
His time of 15:40.2 is a personal best by six seconds. Lee finished third with a time of 15:40.6.
With a massive pack that kept its shape through the first part of the race, Peimann kept with Hauser as much as he could.
"I raced him last week at districts and sticking on him worked out well then," Peimann said.
Peimann is Timberland's first state medal winner since Austin Crowe finished 20th in 2015.
He qualified for state the last two seasons, finishing 90th as a junior and 118th as a sophomore.
"This year, he's upped his game," Timberland coach Dan Staples said. "He's always been a hard worker but he really committed himself and just took on more responsibility on the team."
STLHighSchoolSports.com is the most comprehensive source of stats, scores and stories from any and all area high schools.