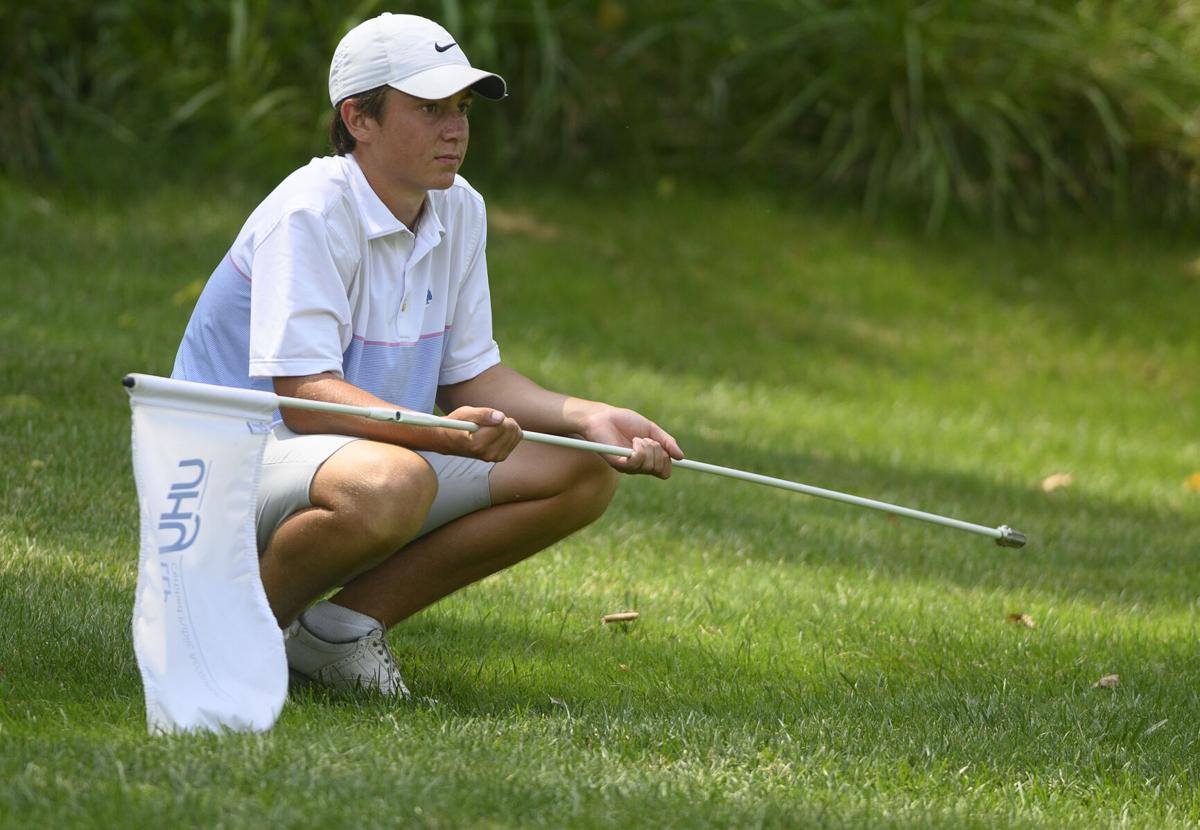 ST. ALBANS – The path to the top of the podium at The Country Club at St. Albans was not an easy one for Nicholas Canales.
And we're not even talking about the more than 12-hour drive from his hometown of La Porte, Texas (25 miles southeast of Houston), to the rolling hills of St. Albans, which sits near the border of Franklin and St. Louis counties.
Canales fought through some adversity in his early days on the golf course and it paid off in a big way Friday as he fired a final round, 5-under-par 67 to claim the title at the American Junior Golf Association St. Louis Junior.
"I'm a first generation golfer, so nobody in my family plays golf. So, we didn't know what direction to take, when to start playing AJGA. We were kind of clueless," said Canales, who will be a senior this fall at La Porte High. "So, we finally got some help and I started playing AJGAs last year. It's definitely been a roller coaster."
A 1-over 73 in the opening round of the three-day affair and a 1-under 71 on the second day left Canales two shots off the pace entering Friday's final round, but after a dazzling 18 holes that featured six birdies and just one bogey, he was able to emerge as the overall medalist.
"I was hitting the ball really well coming up to this tournament, but not making any putts. I switched the putter this week and that kind of helped me out a little bit," Canales said. "It's emotional. The path here was definitely not the easiest, but I got here and played some good golf this week. I definitely want to soak in this moment."
Canales finished two shots clear of a four-way scrum for second place that included defending tournament champion Kevin An, of Riverside, Calif., who fired an 11-under to win last year at Spencer T. Olin Golf Course.
Two golfers sat nine shots behind Canales and seven behind the runner-up logjam to finish in a tie for sixth place. That duo included Chaminade senior-to-be Ryan Walsh, who had the area's best showing with a three-day total of 4-over 220.
"It's tough to play well three days straight. It just goes to show how good the pros are," Walsh said. "But at the end of the day, you've got to be proud. It was my first AJGA this year."
If Walsh was allowed to eliminate one score and keep the other two, he would surely delete his second round in which he carded a six-over 78. He sizzled on Day 1 with a 4-under 68 and had a strong final round of 2-over 74.
"The first day, my irons were great. I think I hit 15 or 16 greens," Walsh said. "Yesterday, starting on the back nine, I missed the first four, and I didn't get up and down on any of them."
Walsh's solid final round was buoyed by a strong back nine that began with two birdies. Only a bogey on his final hole kept him from being 2-under on the back nine.
"I kind of had a similar back nine that I did the first day, except I birdied 18 and bogeyed it today," Walsh said. "I was proud of the way I played. I was 3-over on the front, so I kind of bounced back and it felt good."
Recent Marquette graduate Tyler Linenbroker also fashioned a top-10 finish at St. Albans, compiling a three-day total of 5-over 221.
"All three days, I gave myself a lot of looks but just didn't really make anything for birdie, so I had a lot of pars," he said.
Linenbroker was fairly consistent in all three of his rounds, including a 1-over on the first day and an even-par round to close things out Friday. His highest output was a 4-over in the second round and even that was only because of a bogey and two double bogeys inside his final four holes.
"I kept the driver in play. If you can keep it in play off the tee out here, you can make pars or birdies pretty easy," Linenbroker said. "But, if you miss the fairway, there's not much room before you get into trouble."
Priory rising senior Nick Seifried also grabbed a top-10 spot with a 6-over 222 to finish all alone in 10th place.
"I missed a lot of putts on the first day, so I actually started making some putts on the second and third day," Seifried said. "That was really it. Nothing really changed with the ball-striking."
Seifried struggled a bit in the opening round at 5-over, but he rebounded to post back-to-back strong rounds of even-par and 1-over on the final two days. Oddly, Seifried notched a consistent nine straight pars on the back nine both Thursday and Friday. It was a 4-over 40 on the back nine that dampened his opening round.
"That hasn't really happened to me, especially twice in a row," he said. "I got up and down and I missed all my birdie putts. But, nine pars is fine."
Chaminade junior-to-be John Guerra finished in 12th place with a three-day total of 9-over 225.
"This was my first AJGA, my first three-day tournament, so I thought it was a pretty good experience," he said. "Overall, I'm not too disappointed. I'll try to carry it on to the rest of the summer."
Guerra started strong with a 1-under on the opening day, but saw a slight uptick each day with a 3-over in the second round and a 7-over on Friday.
"The first day, I played really good," Guerra said. "Second day really wasn't that bad. Just one bad hole. Today, ball-striking was not that great, but putting really saved me."
After starting the final round at 6-over, Webster Groves senior-to-be Max Boland fired a 1-under on the front nine Friday and then birdied No. 10 to briefly lead all area players at 4-over. But, a triple bogey on 11 began a downward spiral that saw two double bogeys and one bogey in his final eight holes to finish at 11-over.
"It was hard just because I was playing so well before," Boland said. "There were definitely some things I wish I wouldn't have done, but it was my first AJGA event so it was just fun to come out and compete with the best in the world."
Rising sophomore Bubba Chapman, one of four players in the St. Louis Junior field from newly-minted Class 5 champion Chaminade (Clayton Becher was the other), also finished at 11-over for the tournament. His strongest round came in the final one when he carded a 2-over to close things out.
"This was definitely better than I played at the AJGA up in Indiana last week," Chapman said. "There's definitely room for improvement, but I'm working my way up. I'm happy with how I'm striking out. The driver feels really good and that's kind of important on a 7,000-yard golf course."
Two area seniors-to-be – De Smet's Blake Skornia and Francis Howell Central's Sam Emrick – garnered top-20 finishes among the 50-player field, as each ended up among a five-way tie for 20th at 14-over.
"I felt pretty good about my game," Skornia said. "My birdies had some firepower, but in the end, I really couldn't keep the bogeys off the card. It was a fun week. I'm just looking to get better."