Cole Prager could see his dream of qualifying for the Class 4 boys golf state tournament slipping away.
The Francis Howell senior sat at 9 over par at the turn during sectional play at Woods Fort Golf Course in Troy. He was in danger of missing the state cut.
Then his whole round changed — without even swinging a club.
All it took was a quick glance at his father, Mark, smiling in the gallery.
Mark is in a toe-to-toe battle with esophageal cancer, which was diagnosed in January. Yet Mark never has missed any of Cole's tournaments, juggling his chemotherapy treatments around the Vikings' golf schedule.
"I know there are days when he wants to lay in bed all day," Cole said. "But he's out there, watching me. And when things are going good, he's so happy for both of us. When I saw him and realized that, it made me turn things around. I felt like I had to get better — for him."
Mark's smile allowed Cole to relax and concentrate. Cole promptly recorded a birdie on the 10th hole and never looked back, shooting 2 over on the back nine to finish with an 11-over 83.
The Vikings senior made the cut by four strokes and will play in the state tournament for the first time in his final chance. Mark will be at Silo Ridge Golf and Country Club in Bolivar to watch Cole play Monday and Tuesday in the 36-hole state tournament.
And Cole couldn't be happier.
"I want to show him that I can be as strong as he is," Cole said. "He's fighting every day — and I'm just hitting a golf ball. But it means so much to both of us."
Mark first was diagnosed with cancer in 2006 and appeared to defeat the disease through 18 months of grueling treatments. But the cancer returned to his body four months ago and he is in a full-fledged battle once again.
One of the key weapons in his fight is Cole's success on the links.
Parents regularly live their lives vicariously through their children.
"I want (Mark) to be happy all the time," said Crissy Prager, Mark's wife and Cole's mother. "You don't want him pondering his next day or his future. This is a time for positive things. And Cole is providing that."
Rough times are nothing new to the Howell golf program. Coach Carl Wayne was shot in the back while jogging near the Weldon Spring campus in November of 2017. The tragedy made national news and forced Wayne through a difficult recovery period. But he has slowly returned to normal, or as normal as things can be, thanks in part to the players and parents on the Howell roster.
"They were there for me every step of the way," Wayne said. "Parents, friends, just people involved with the team. Now, it's time for us to help out someone else in need."
Wayne said Mark's presence at the tournaments is a plus for all the players, not just Cole.
"If you walk up to his dad, and you didn't know what was going on, you would never know about his situation," Wayne said. "He's always happy, smiling. That means so much to these kids."
Cole learned to play the sport by following around his father. First, he would tag along to the driving range. Then, when he got older, he would hit the course with his father. That led to some amazing father-son bonding times.
"He used to ask questions about how to do this, and how to do that," Mark said. "Then, a couple years ago, he started beating me almost every time we went out."
Cole's berth in the state tournament is not only therapeutic for Mark, but it also serves as redemption for Cole.
Last season, Cole spent the entire season as the Vikings' No. 1 golfer but struggled in sectional play and missed the state tournament.
The same scenario almost played out this time around. After a disastrous front nine at Woods Fort, Cole couldn't help but think he was destined to come up short again.
That's when dad came to the rescue, just by his simple presence.
"It's almost like I felt like I had to fix my game, right there," Cole said. "Sometimes, it's tough to watch what he's going through. He's one of the strongest men I've ever known. He gets up every morning, goes to work, hits the gym."
Mark can feel the energy and positive vibes surging through his body when Cole does well. Cole's back nine performance on the run to state served as the perfect medicine.
Ironically, Mark does not like to make eye contact with Cole during his rounds.
"I want him to know we are there, but not to know we are there," Mark said. "The idea is for him to concentrate on his game, not us or what we're doing."
Still, Cole couldn't help but look to his father during the his early struggles Monday.
"Sometimes, I try not to think about what he's going though," Cole said.
Cole moved into the No. 1 spot in the Vikings' lineup as a junior and has held that position the last two years. He enjoys golf, but never really thought about playing in college until recently when he was approached by a coach about a possible scholarship offer.
Now, he is putting all his energy into his game to help his future — and his father's present.
"Golf is really important to both of us right now," Cole says. "It's like we're both out there battling."
Class 4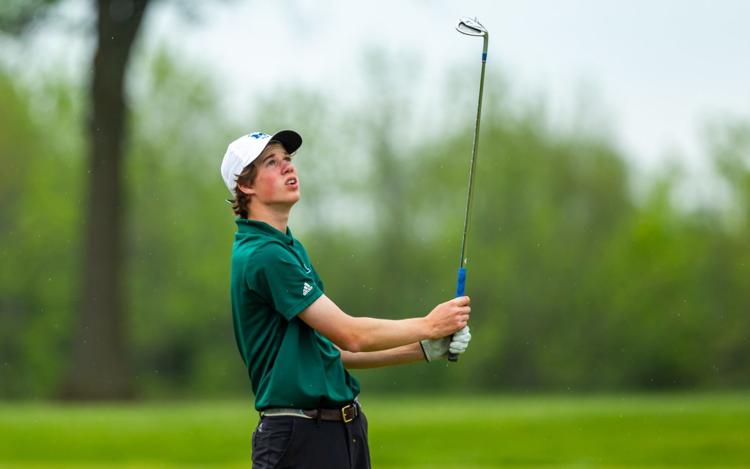 (Monday-Tuesday, 36 holes)
CLASS 4
At Silo Ridge Golf and Country Club, Bolivar
AREA TEAM QUALIFIERS
Chaminade: Cooper Benedict, Michael Bugyis, Josh Heidenry, Ryan Walsh, Zach Walsh
Lafayette: Colin Flowers, Max Kreikemeier, Geoff Ladue, Trip Sanfelippo, Hayden Somach
Marquette: Jack Cronin, Arjun Hiren, Chris Kreh, Tyler Linenbroker, Blake Mazzola
OTHER TEAM QUALIFIERS
Blue Springs South, Glendale, Jackson, Rockhurst, Rock Bridge
AREA INDIVIDUAL QUALIFIERS
CBC: Ian Blome
De Smet: Thomas Bourke, Brennan Dolnick
Fort Zumwalt North: Kyle Saake
Fort Zumwalt West: Braden Hoisington, Max Sigman
Fox: Jack Weis
Francis Howell: Kirk Brewster, Cole Prager
Francis Howell Central: Sam Emerick
Holt: Blake Heimburger
Kirkwood: Joe Avery
Liberty: Hyatt Hines
Lindbergh: Thomas Heisner
Parkway Central: James Sherstoff
Parkway South: Andrew Meyers
SLUH: Parker Leavitt, Jonathan Turner, Ray Winter
Timberland: Hunter Niles
Troy Buchanan: Chase Colbert, Griffin St. Pierre
Vianney: Josh Kleiheider, J.T. Mossinghoff
Webster Groves: Will Ireland, Drew Schwager
Class 3
(Monday-Tuesday, 36 holes)
CLASS 3
At Columbia Country Club
AREA TEAM QUALIFIERS
John Burroughs: Beecher Baldwin, Ben Cummings, Dylan Meyer, Thorton Walker, Ethan Wang
Lutheran South: Jack Anderson, Andy Hennen, Patrick Myers, Elijah Shirley, Zach Shirley
MICDS: Cal Barton, Jeff Desloge, Sam Hanser, Zak Mitra, Henry Mikula
Priory: Alex Garza, Gulshan Kodwani, Will Sandifer, Nick Seifried, Peter Weaver
OTHER TEAM QUALIFIERS
Helias, Pembroke Hill, Smithville, Springfield Catholic, Warrensburg
AREA INDIVIDUAL QUALIFIERS
Borgia: Brady Linz, Zach Unnerstall
Clayton: David Cramer
Parkway North: David Schilp
St. Dominic: Joseph Fuchs, Bryce Kelley, Kyle Kelley
Warrenton: Brenden Day, Travis Toebben
Westminster: Lane Davis, Cole Willyard, Jack Wooldridge
Class 2
(Monday-Tuesday, 36 holes)
At Rivercut Golf Course, Springfield
AREA TEAM QUALIFIER
Whitfield: Donald Diemer, Samuel Miller, Drew Newlin, Henry Nordlund, Clayton Strege
OTHER TEAM QUALIFIERS
California, Eldon, Kennett, Palmyra, St. Pius X-Kansas City, Tolton, Willow Springs
AREA INDIVIDUAL QUALIFIERS
Duchesne: Alex Blase
Hermann: Thomas Henson
Lutheran St. Charles: Joel Meyer, David Thomason
Maplewood-Richmond Heights: Kal Kolar
O'Fallon Christian: Carlos Sardina
St. James: Micah Bartle, William Helterbrand
St. Pius X-Festus: John Herrell
Class 1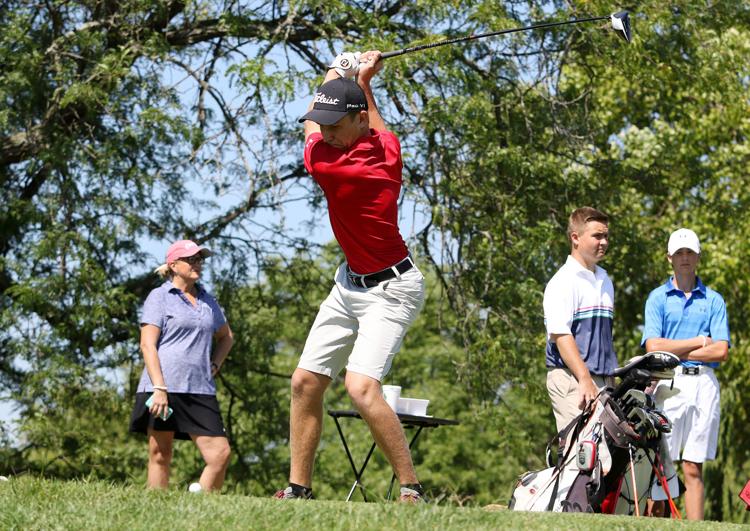 (Monday-Tuesday, 36 holes)
At Sedalia Country Club
AREA INDIVIDUAL QUALIFIER
Barat: Max Floyd
TEAM QUALIFIERS
Bloomfield, Iberia, Mid-Buchanan, St. Joseph LeBlond, St. Vincent, Van-Far, Westran, Windsor (Sedalia)