ST. CHARLES — The MICDS boys' lacrosse team is on the brink of its sixth consecutive state championship.
De Smet, in its first Missouri Scholastic Lacrosse Association state final in 12 years, will try to end the Rams' long reign and snap their 91-game winning streak against Missouri teams.
Faceoff between the two Metro area powers is at 7:30 p.m Friday on the turf of Hunter Field at Lindenwood University. The upper bracket championship game will be preceded by the Show Me Cup game at 5 p.m. between Parkway West and Westminster.
"We broke the mold," De Smet coach Joe Douglas said of his Spartans, who are in the MSLA title game after being stopped in the semifinals the past three years. "We're finally able to push through and we're pretty excited. We've got one more game left. Hopefully it's our best game of the year."
De Smet (16-4) got eight goals and three assists Tuesday and Wednesday from all-state senior midfielder Luke Wetzel in a 17-9 semifinal victory against Eureka (16-6).
"My teammates were moving and cutting well, hitting me on cuts," Wetzel said. "My eight goals are more a reflection of how well our offense as a unit was running, more than me beating my man. I had a lot of assisted goals."
MICDS (17-1) beat St. Louis University High (10-11) by a semifinal score of 18-3 in a rematch of last year's championship game. 
Both of this week's upper bracket semifinal games had to be played over two days because of a dangerous storm system that moved over the area Tuesday night.
Friday's forecast? Partly cloudy with highs in the low 90s.
It will be a rematch of a regular-season showdown the Rams won 15-12 at De Smet on May 2. The only other Missouri team to lose to MICDS by fewer than 10 points was Chaminade, 17-9, on April 5.
"This will be the toughest state championship opponent that we have faced since our first one," MICDS coach Andy Kay said. "They certainly have our attention."
The Rams are led by Georgetown-bound senior Graham Bundy Jr. (69 goals, 60 assists), who now owns the Missouri state record in boys' lacrosse for career points, as well as Boston University bound senior Thomas Niedringhaus (72 goals, 45 assists) and Penn State-bound Henry Carpenter (59 goals, 23 assists).
The defending champs seem unstoppable, but Spartans first-team all-state long stick middie Tommy Emms believes they can be slowed down, maybe just enough.
"We have to start with communicating," Emms said. "That's the big thing for us. We need to play (physical)."
Kay knows De Smet has its own standout players.
"They've got an alpha dog at midfield in Luke Wetzel (65 goals, 53 assists)," Kay said. "They've got an alpha dog at attack in Dan Kinzel (50 goals, 42 assists) and they've got an alpha dog at goalie in Dylan Radke."
Kay is high on Emms, too.
"Emms is outstanding," Kay said. "I think he's the best LSM in the state for the last couple of years. To me, he's a game changer. He's big and strong and he moves laterally very well."
Eureka coach Tim Gainey has seen both championship contenders. He said he gives the edge to MICDS because of the Nico Feldman's dominance at winning faceoffs. 
But if the Spartans find a way to neutralize that advantage?
"I think athletically and as far as having good guys in key spots, they match up well," Gainey said. "De Smet has studs at every position; a hell of a goalie, a hell of an attackman, a great middie and defense. They kind of have it all to match up with (MICDS). I think it'll be a good game."
Kay said Radke, in goal, could be worth as many as 11 or 12 possessions for De Smet, even if the Rams dominate in faceoffs.
"We put a lot of balls on that kid in the first game and he had 14 or 15 saves," Kay said.
Douglas and the Spartans have a unique opportunity before them Friday. They know it. But they also know they'll have to take down a uniquely powerful MICDS team to claim De Smet's first state title since 2002.
"We're going to make them earn it," Douglas said. "But that doesn't mean that, at any point, they can't blow us out. We'll have to give it a little more than we usually do. Then we will see what happens."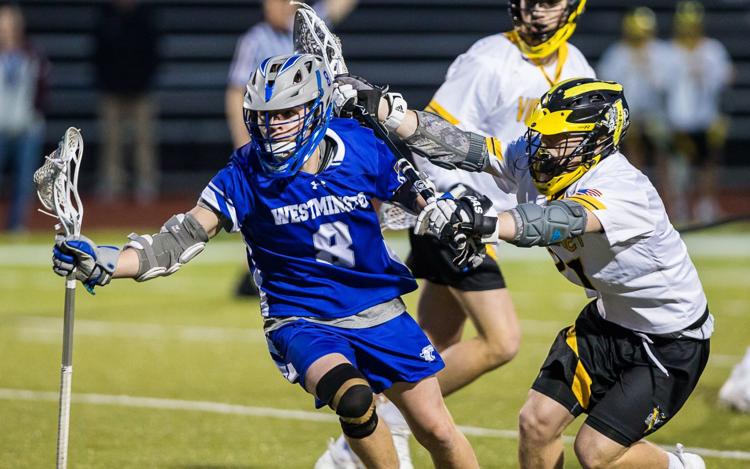 SHOW ME CUP: At 5 p.m. Friday, Parkway West (9-7) will take on upstart Westminster (9-8) for the Show Me Cup title.
Both had to fight past determined foes in Monday's semifinals at Hunter Field. The Longhorns held off O'Fallon, 9-7, while Westminster survived a 13-12 barnburner against Wentzville Holt, which was going for its eighth successive win.
The Wildcats are playing for their first title in only their third year of existence as a varsity program.
"We are certainly ahead of schedule," Wildcats coach John Pettis said. "I'm just lucky to have the coaching staff that I do and the boys who have bought into this culture."
Parkway West won the Division II state title in 2015 and was a semifinalist in the upper bracket in 2012.  Coach Peter Stirling's Longhorns avenged regular-season losses to Clayton and O'Fallon to reach this year's Show Me Cup finals. 
"I like to think the kids are just listening better to the coaches," Stirling said. "We're saying the same things we've been saying. They're playing much more as a unit."
Westminster got three goals from senior attackman Jack Clement and one goal, three assists from senior midfielder Austin Disper in its wild semifinal win over Holt on Monday. Senior Luke Fiala, the team's leading scorer with 45 points, had three points. Jackson Selk had five.
Pettis expects an even tougher test against the Longhorns.
"They're not the most flashy team, but they pick up the ground balls and move very well," said Pettis. "They know their identity. That's the No. 1 thing we will have to exploit."
Parkway West has averaged 13.2 goals over its past five games. Coben Lutton and Wesley Prada combined for six of the Longhorns' goals in Monday's victor over O'Fallon.
Stirling considers his team's balance — six players have between 23 and 44 points — an obvious strength, but said they'll need goalie Keegan "Squibby" Sidwell to come up big on Friday.
"Our goalie is going to have to have a great game," Stirling said. "Our defense will need to stay composed and play within themselves. And we're gonna have to maintain possessions and win the time of possession battle."