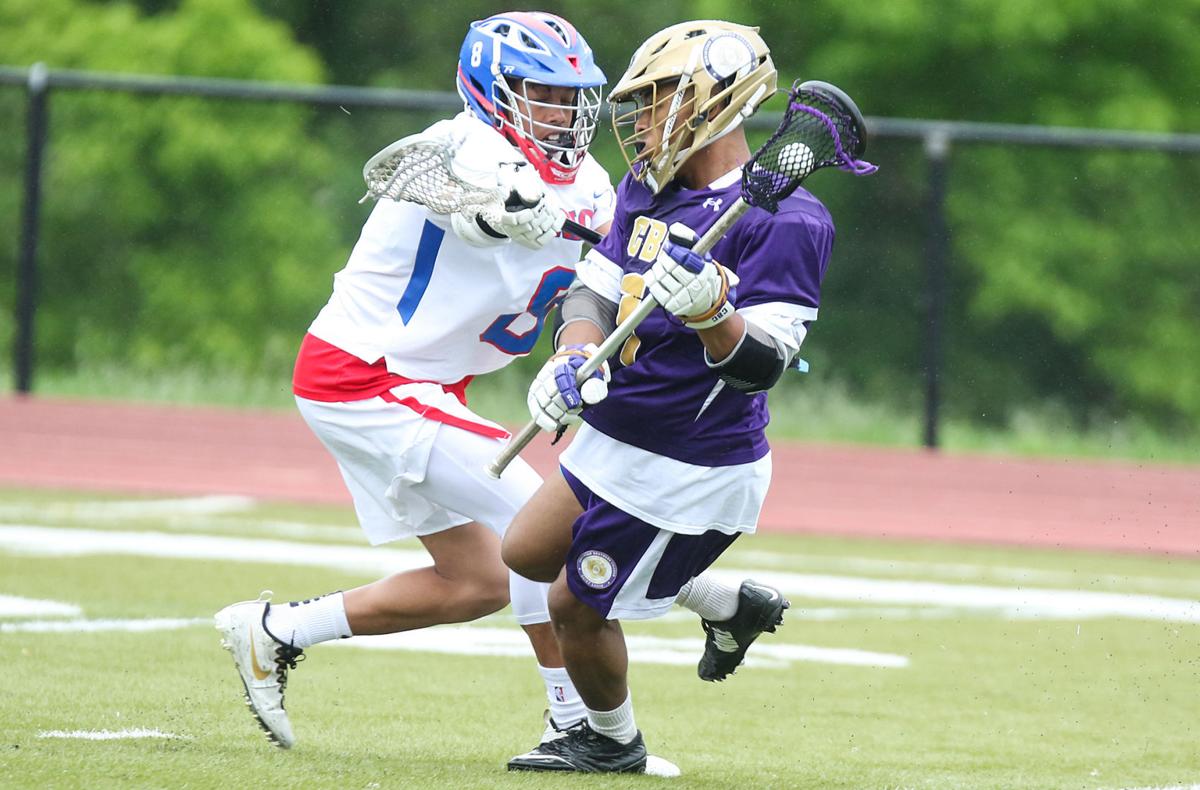 Max Mock dreaded the upcoming Zoom call.
The cancellation of the spring sports season was imminent when CBC lacrosse coach Nick Silva arranged a virtual meeting with the 11 seniors on the roster. Mock, a senior co-captain, was certain that the call would mark the official end of his high school lacrosse career.
"We came into the (meeting) kind of glum because he was going to tell us our season was over," Mock said.
Instead, Silva offered the CBC seniors an opportunity to wear their purple and gold jerseys one final time — four hours from home.
The Midwest High School Lacrosse Showcase, scheduled for July 28, 29 and 30 in Westfield, Indiana, will take place at Grand Park Sports Campus — a 400-acre complex north of Indianapolis with 31 multi-purpose fields that serves as the training camp site of the Indianapolis Colts.
When Silva broached the idea with the seniors, he received a unanimous yes.
"It was such a bummer to lose the season and your first thoughts go to the seniors," Silva said. "That was one of the things that made the tournament in Indy appealing is that (graduated) seniors are eligible to play at it."
The 20th Annual St. Louis Lax summer league is slated to begin July 6 at Lou Fusz Athletic Park, but graduated seniors are not eligible to participate in the boys league. A separate division is being created for Class of 2020 graduates, but for Silva, the appeal of the Midwest Showcase is that seniors can reunite with their high school teammates once again.
Showcase organizer Mark Berutich felt the same sympathies toward seniors and wanted to create a different ending to their high school lacrosse careers.
"When the spring season was stopped, my immediate thought was, 'What can I do to give back some of what these kids lost,'" Berutich said. "While these kids will certainly remember their senior year, I wanted to give them some 'on the field' memories."
Those memories will take on additional meaning for CBC. Earlier this week, Silva, a 2017 inductee into the St. Louis Lacrosse Hall of Fame, announced he was stepping down as coach to spend more time with his family. The trip to Indiana will mark the last time Silva will patrol the sidelines for the Cadets.
"It's just time for me to go and be a dad," Silva said.
For Mock, the recent announcement by Silva adds another layer to the significance of the trip.
"It makes it mean a lot more being his last high school tournament. He was a great coach and an even better life teacher," Mock said.
Area boys lacrosse teams had already played a few games prior to the stoppage of the spring season — the only sport that had progressed that far. CBC had a 1-2 overall record, and despite suffering early-season injuries to key players, showed promise.
Mock was enjoying an excellent start to the season, scoring the first two goals of his high school career in an impressive 12-8 victory over Webster Groves.
"I thought this was going to be our year. It was sad to see it go away," Mock said.
Senior co-captain Ray Lingard felt equally as hopeful.
"We had everything. We had all the parts to make a big run this year," he said.
Lingard, who Silva called "the heart and soul of the team," suffered an injury early in the first game of the season and missed the next two, including an 8-7 overtime loss to Ladue in what would prove to be the Cadets' final game of the spring.
Lingard also remembered the excitement of the Zoom call.
"We were all hyped about it because we would get to play with each other one last time," said Lingard, who is now fully recovered and will be continuing his playing career at Division II Quincy University. "I'm in the best shape of my life. I have my own net, so I've been going back and forth (shooting) with my left and my right and playing wall-ball all day."
Lingard said the resignation announcement by Silva made him "really sad," and he credits his coach for his development into a college-ready talent.
"He believed in me from the start. He moved me up to varsity as a sophomore and gave me a chance to really show what I can do," Lingard said. "We're going to put everything we have into trying to win this tournament to give back to him everything he's given to us and to this program."
Organized practices at CBC have been canceled through June, but Silva has faith that team chemistry will return quickly, inspired by the sheer enthusiasm of reuniting as a team.
"I think everyone is going to have rust to knock off, but at this point, we're just excited to let the kids run around and get back to playing lacrosse," Silva said.
The timing of the Midwest Showcase, which includes teams from Indiana, Ohio, Michigan, Illinois and Kentucky, entered heavily into Silva's decision to enter the Cadets in the field.
"It was my hope that by the time July rolled around, that things would have cleared up and the tournament would take place," Silva said.
While on-the-field play will look the same, Berutich said several precautions will be taken to maintain player and spectator safety.
For players, there will be temperature checks, no post-game handshakes and teams must immediately leave the site after the completion of their games. Spectators will be limited to one parent per player, must wear masks and must sit at least six feet apart. Hand sanitizer dispensers also will be accessible throughout the venue.
"I hope there is pre-scanning and you have to get cleared to play because I don't really want to catch anything before I go off to college," said Mock, who is planning to play club lacrosse at the University of Missouri.
And for the CBC seniors, the ability to play lacrosse for their school one last time is only part of the appeal of this upcoming trip to Indiana.
"The tournament is great, but you really make all the memories in the hotel rooms and the bus trip there," Mock said. "It will be some much-needed closure. At the end of the tournament, I'll probably shed a tear."
STLHighSchoolSports.com is the most comprehensive source of stats, scores and stories from any and all area high schools.