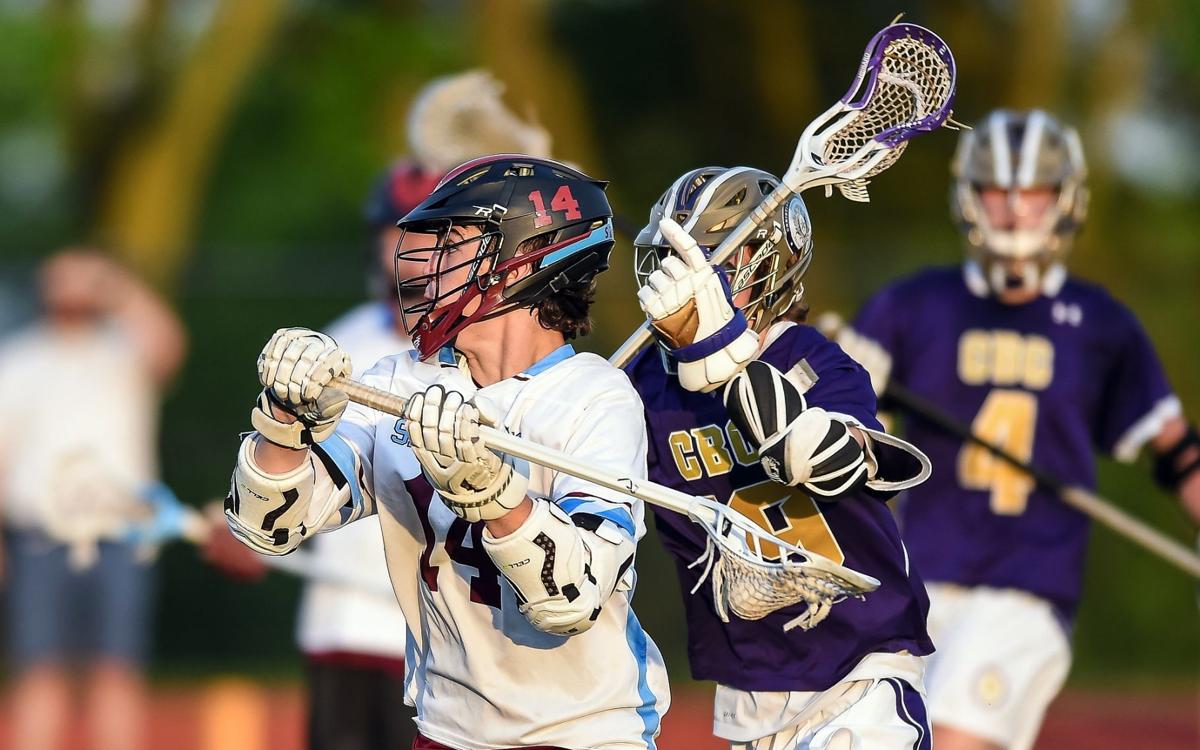 The De Smet boys lacrosse team entered its overtime period Tuesday against MICDS with excitement, trying to become the first team from Missouri to defeat the Rams in more than seven years.
A penalty turned that excitement into anxiety.
"We knew we were going to have to give up a shot and make a save," De Smet coach Joe Douglas said.
Junior goalie Kyle Granquist made the save, the defense cleared the ball and senior midfielder Connor Clancy scored the game-winner in overtime to lift De Smet to a dramatic 8-7 victory.
Clancy's goal gave De Smet (5-2) its fifth win in a row and broke a nine-game losing streak to MICDS.  
Most notably, MICDS had its 99-game winning against Missouri foes snapped. The last in-state loss for the Spartans was an 11-10 setback to CBC on April 10, 2014.
"It was an exciting win for us, but that speaks a lot to what MICDS has done and the respect they have around the state," Douglas said.
MICDS coach Andy Kay did not tell his team that it had 99 consecutive in-state wins prior to the game.
"I just felt it was already a sketchy number to be sitting on, so I didn't want to say anything, but it was bound to happen and I'm glad it happened to a program that is coached by such great guys," Kay said.
De Smet had played the Rams tough many times during the streak, including a 10-9 overtime loss in 2015.
But in its only game played last season before the coronavirus pandemic ended the spring lacrosse season, De Smet lost to MICDS 15-3 in a game where the Spartans did not match the physicality of the Rams.
De Smet was prepared for the big game Tuesday.
"De Smet came out, they were excited and they punched us right in the mouth," Kay said. "It took our guys awhile to get their sea legs under them and then it just turned into a great lacrosse game."
MICDS (6-1) played without leading scorer Crawford Bundy, who sat out to rest an injury.
The Rams were averaging 17.5 goals per game this season, but excellent goalkeeping by Granquist and an impressive game plan by De Smet held MICDS to seven goals — its lowest goal output in 41 games since a 15-6 loss to Memphis University School on April 7, 2018.
"With MICDS, once it rains, it pours," Douglas said. "At some point, they'll go on a two- or three-goal run and we made a big point not to let that turn into six." 
The De Smet game plan relied on smart shot selection, limited turnovers and physical defense.
"They matched up very nicely, they were aggressive, they understood where we like to position our shooters and they were really disruptive," Kay said.
De Smet celebrated the landmark win afterward, but Douglas said he hopes the Spartans will put the victory in its proper perspective.
"We've got another big game on Saturday (at SLUH) and we'll have practice (Wednesday) and get right back at it," Douglas said. "At the end of the day, it's not our ultimate goal as to where we want to be. It's a step toward it."
The loss gives MICDS a mission it has not had in seven years — rebounding from an in-state defeat.
"These things don't go on forever and I'm revitalized to finally have a shared sense of redemption on our team instead of a shared sense of purpose," Kay said. "We haven't had to avenge a loss in a long time and we're looking forward to the opportunity to show some resiliency and some resolve."