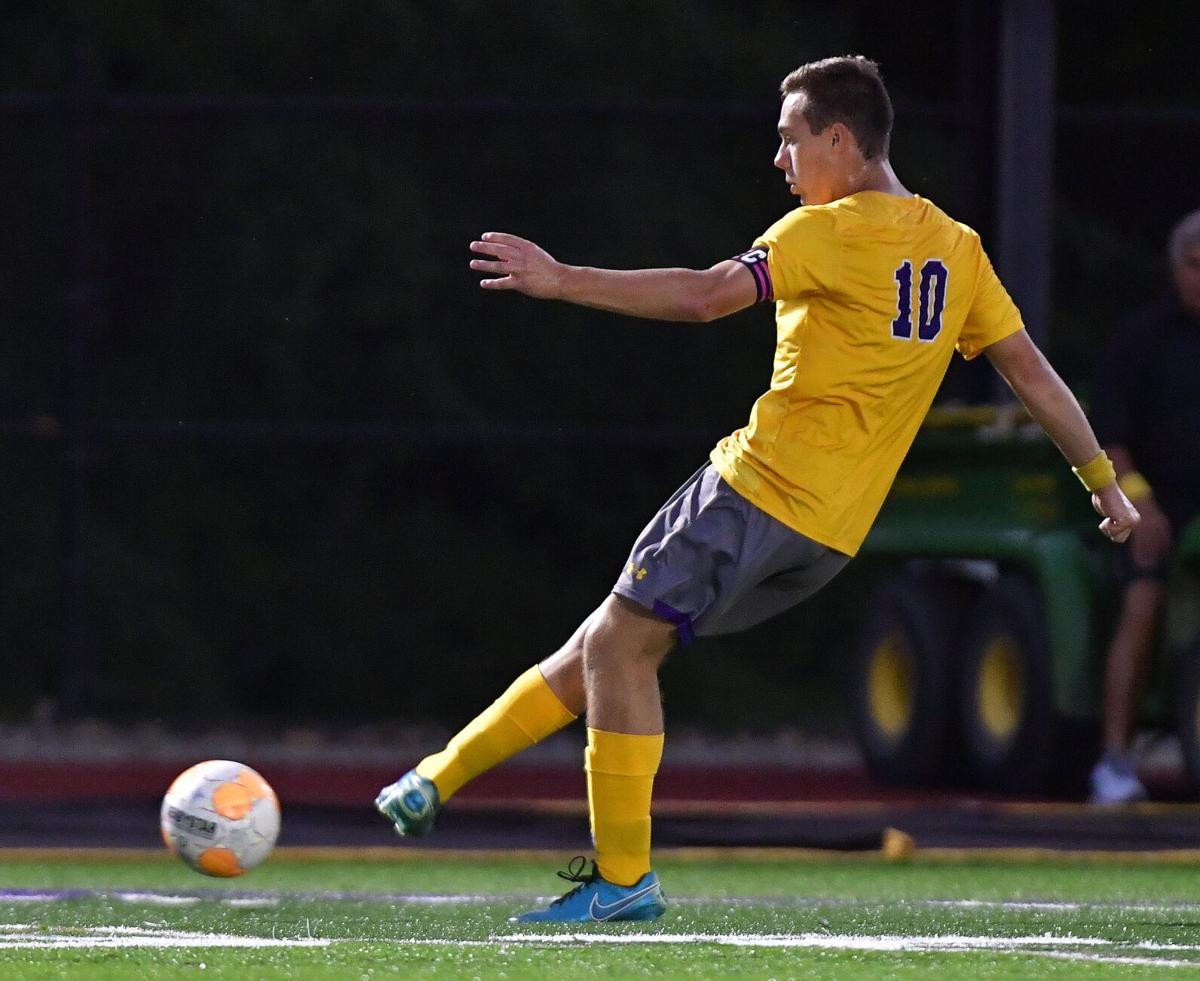 A 12-1 start to the season pleases CBC boys soccer coach Terry Michler. But he's equally enthusiastic about the Cadets' blue-collar approach.
"The fact that we can win (games) in different ways is huge," said Michler, CBC's coach since 1971. "We don't have a designated go-to guy that's going to always turn the crank and make it happen. We just have to gut it out here and gut it out there and find goals."
Michler did not coach in the pandemic season of 2020. It was a challenge for most teams, particularly the Cadets, who finished a substandard 1-5.
There has been no hangover, no lingering aftereffects.
"I don't know that there's been many teams in the past that have come this far, this soon, in a season," Michler said of the dramatic turnaround. "We've had no interruptions. Last year, my understanding was it was nothing but interruptions. You could never build any momentum.
"This has been a good group. They all looked forward to coming back this year and starting fresh, looking forward to a full year to see what they could do. They've bonded well. We've got a group of seniors and sophomores, with just a few juniors sprinkled in there. It's an interesting dynamic in the group, but they all get along really well. It makes a difference."
CBC's lone loss was a 3-2 decision to Metro Catholic Conference rival St. Louis University High in the CBC Tournament on Sept. 16. The Junior Billikens won on a goal by senior Johnnie Ferrara with 1.4 seconds to play. The defeat followed five consecutive victories to open the season.
Since then, the Cadets have bounced back with steely resolve, winning seven in a row while getting contributions from up and down their roster.
Senior midfielder Dillon Byrkit (nine goals, two assists) leads a multifaced offense that also feature senior forward Luke Matschiner (seven goals), senior midfielder Kaden Smith (six goals, three assists) and sophomore forward Dominic Bartoni (six  goals, one assist). Seven other players have contributed goals.
Defensively, seniors Liam Jacober, Alex Peters and Dillon James have been mainstays in front of senior goalie Sean Stenger, who has six shutouts and a 0.93 goals-against average in 946 minutes.
Senior Luca Bartoni, Dominic's brother, has been playing in the back, too, but he's capable of filling any position on the field, which boosts the Cadets' versatility. Luca leads the Cadets with four assists.
"Dominic is a sophomore, but he's got his big brother Luca who sets the table for everybody," Michler said. "The two of them were going to be strikers, but then Matschiner shows up and brings his stuff, and it's like, 'He's got to play.' I told Luca, 'You become the most important player on this team,' which is maybe a term a lot of people don't use regularly. I think 'most important' outweighs 'most valuable,' because I use him as I need, wherever I need, whenever I need and he gets it done all the time."
The Bartoni brothers' father, Beau, played baseball at CBC and Maryville University. Their mother, Amy, played soccer at Incarnate Word High School and Maryville. She holds St. Louis Intercollegiate Athletic Conference records for goals, assists and points, and in 2007 was inducted into the Maryville University Athletics Hall of Fame.
The brothers' uncle, Alix, was a defender on Michler's 2005 state championship team. He also played basketball and baseball. Another uncle, Aaron, played soccer and basketball at CBC, and was a state champion in basketball in 1997.
The Bartonis grandfather, Mike, played soccer and football and ran track at CBC. He was a freshman when Michler graduated from CBC in 1965. Mike is the facilities director at the school and attends most athletic events. Mike's late father, Bill, also graduated from CBC in the 1944.
"Tradition is one of our cornerstones (at CBC)," Michler said. "We base a lot of stuff on tradition, and the Bartoni family has a lot of tradition."
Michler said he's enjoyed coaching the new generation of Bartoni boys.
"They're super," Michler said of Luca and Dominic. "Luca, I've asked, 'Do you play poker?' He said, 'A little bit.' I said, 'You ought to play a lot, because you have a poker face. I can't read you one bit. I don't know if you're mad at me or OK with stuff.'
"Dominic is the second one, so it's always easier to be the second one. The first one paves the way. The spotlight's on Luca, it's not on Dominic. So he can play free. Once he got that first goal, it was like a weight came off his shoulders. He plays freely now."
CBC has tough regular-season games remaining against De Smet, Edwardsville, SLUH, Summit, Vianney, Chaminade and Oakville. There figure to be lessons learned along the way and changes made when necessary.
"Each guy is different," Michler said. "Each guy has his own little quirks about him, qualities and characteristics. It's like a puzzle. Team building is like a puzzle. Every piece is different, but they're all important and they all have to fit together."
Luca Bartoni likes CBC's chances to advance deep in the Class 4 postseason. The Cadets are in District 2 with De Smet, Eureka, Kirkwood, Lafayette, Marquette, Parkway South and Priory.
"Coming into the season, especially after last year, this team was super excited to show what we've got," he said. "I think we've done it so far. We're really excited to show what we've got for the rest of the season."
Michler doesn't know whether CBC will win its 11th state championship, but if it doesn't, it won't be for lack of effort. His players' work rate has been among the highlights of the season.
"They're not going to cheat you," Michler said. "I can never fault these guys on their effort. I fault them sometimes on their decisions and their performance, but not their effort, because their effort is there 100 percent all the time."
Bulldogs still bullish
Fort Zumwalt South (10-3) has dropped two of its last four games, but the Bulldogs have welcomed back junior midfielder Brayden Bresler from an anterior cruciate ligament injury and will return sophomore midfielder Aidan Dietiker (broken collarbone) in late October.
"It will be really nice to get (Dietiker) right at the tail end of the season," Fort Zumwalt South coach Jim Layne said. "Aidan's the type of player that's not going to need two weeks to get back in the groove. He's going to need two games. He's got amazing speed. It will help us kind of move guys around when he comes back."
Layne sensed a bit of a letdown in the Bulldogs' 4-2 loss to SLUH on Saturday in the championship game of the Junior Billiken Classic, but he said it's part of the rigors of a season.
Last year, Fort Zumwalt South was 13-0 before suffering back-to-back losses to Francis Howell and Jefferson City. It won 10 of its final 12 games to take the Class 3 state title.
"There are points in a season where you have your lows," Layne said. "It started about this time last year. We were playing our 14th game, playing against Howell, and we had a really poor first half (in a 3-2 loss).
"You're not going to be your sharpest every time out, especially when you're playing three games a week. You don't want to be playing your best so early on. You want to play your best at the end."
The Bulldogs recognized a couple of personal accomplishments in recent games. Senior goalkeeper Luke Dillon posted his school-record 40th career shutout in a 1-0 win over Chaminade on Sept. 28, recording four saves. Senior Karson Gibbs, meanwhile, scored his 100th career goal on Sept. 30 in a 5-0 victory over Saxony Lutheran.
Playoffs begin
The Class 1A postseason in Illinois begins Friday with teams playing in regional tournaments at Breese Central, Columbia, Greenville and Massac County high schools. The winners of those regionals will advance to the Freeburg Sectional, which kicks off Oct. 19.
Mater Dei is seeded first in the Greenville/Breese Central subsectional. Althoff is No. 1 in the Columbia/Massac County subsectional. The sectional-title game is Oct. 22, with the winner advancing to the Althoff Super-Sectional on Oct. 26 in Belleville against the champion of the Carlinville Sectional. Carlinville and Springfield Sacred Heart-Griffin are the top seeds in the two sub-sectionals.
The 1A state tournament is Oct. 29-30 is at EastSide Centre in East Peoria.
Class 2A and Class 3A teams begin the postseason one week later than Class 1A teams. Mississippi Valley powers Triad and Mascoutah earned No. 1 seeds in Class 2A. Collinsville landed a top seed in Class 3A, edging out Edwardsville.