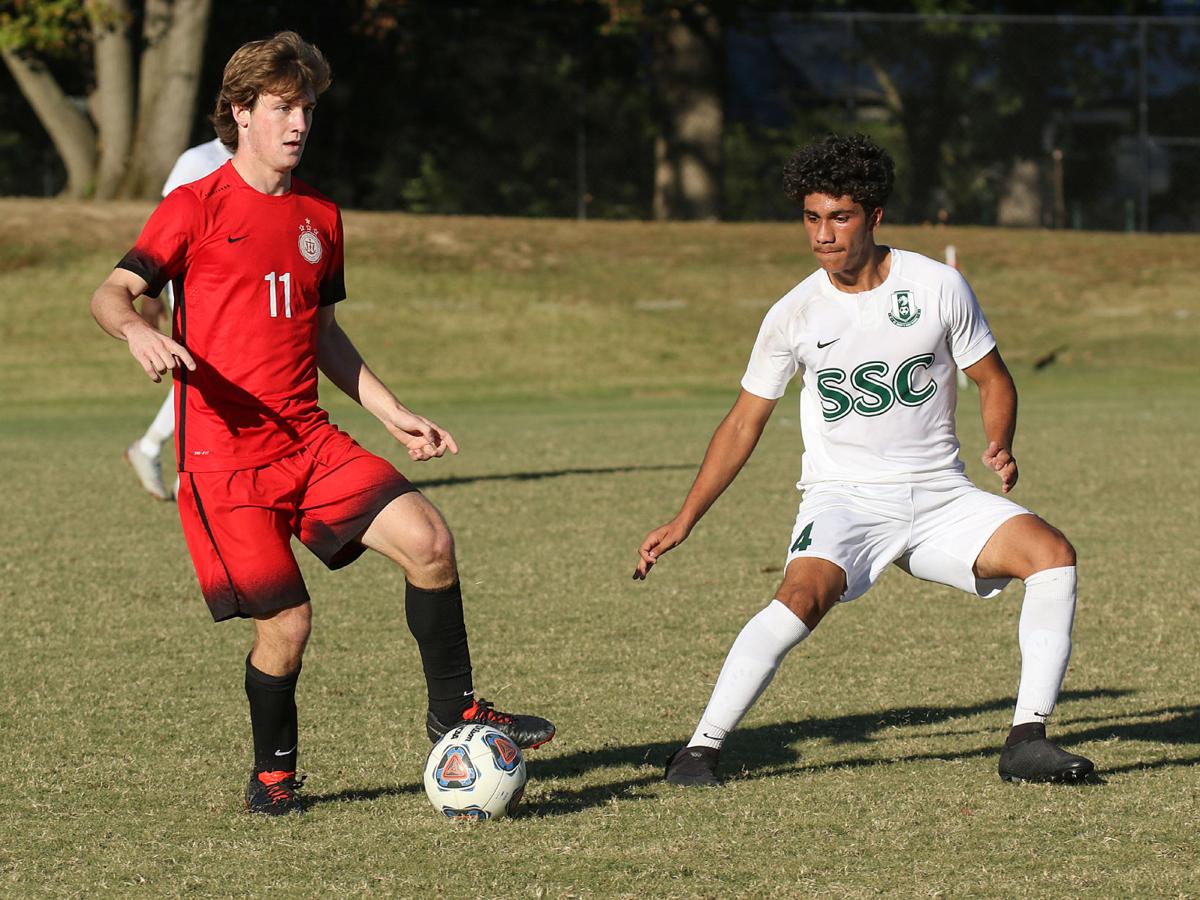 Cole Ross was happy to be back playing the game he loves.
The senior forward scored on a penalty kick Tuesday as Chaminade made its belated season opener with a 4-2 victory at Francis Howell Central.
"I'm just happy to play, honestly, at this point," Ross said. "It felt awesome to lace up the boots. I hadn't played in a game in months. The last time I actually played in a game was with my club, like five, six months ago. Games come with a lot more intensity, and I feel like we all played with that intensity but we're calm and ready to go."
Ross had 10 goals and nine assists last season for a Red Devils team that won 14 games. He said with the season shortened by a month because of St. Louis County's COVID-19 restrictions, everyone needs to have a laser-like focus all season long.
"We knew that, with the guys that we have, if we have playoffs we have a good shot at a good season," Ross said. "We have some good young guys coming in. We're all excited."
Chaminade coach Mike Gauvain said starting with a key core group of leaders with Ross and a handful of others makes a world of difference.
In addition to Ross, the coach pointed to midfielders Joe Hipskind, Green and Mick Hanon as well as backs Evan Browne and Quinn Braeckel as key difference makers.
"Cole's in that group — we have six seniors where a couple have been with us since freshman year and the others since sophomore year — where we look for leadership," Gauvain said. "These guys have been with us, it seems like forever. Cole's older brother, Scotty, was with us for three years. We've had a Ross in the program for seven years. It's been good, it's been real good for us to have guys like this."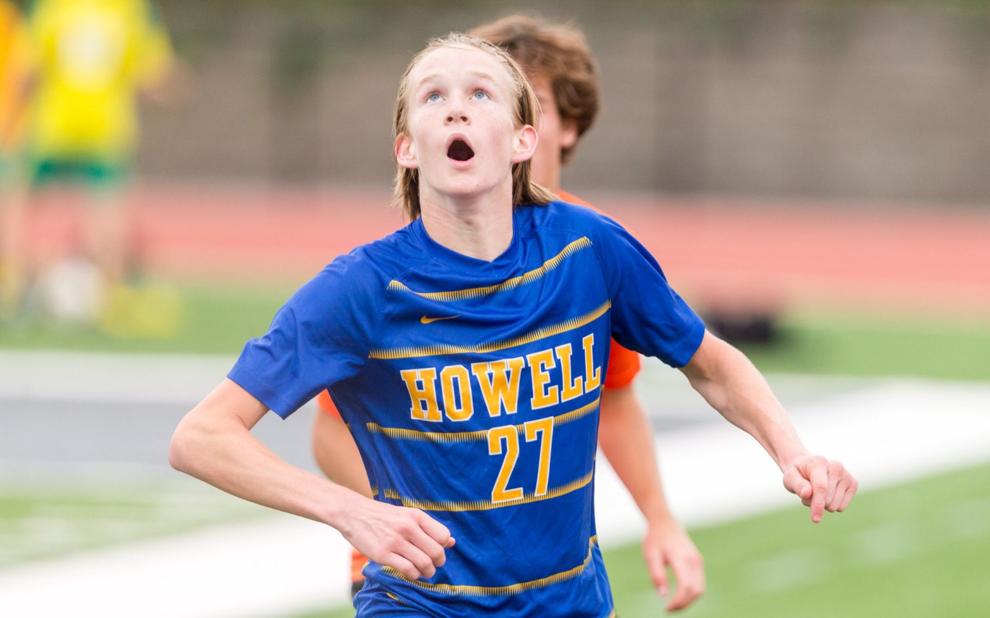 TAYLOR INCREASES SCORING PRODUCTION FOR FRANCIS HOWELL
The Francis Howell forward scored six goals and added four assists during a 17-5-1 season.
Now that he's an upperclassman, though, the expectation that Taylor would progress as a finisher has been met, and then some.
With the goal he scored in the team's 5-0 win over Timberland Tuesday, Taylor is already up to a team-best 12 goals to go along with a pair of assists. He has also already tallied four game-winning goals. The success comes as Taylor has made the shift from an attacking midfielder to a striker for the Vikings (7-2).
"The way you play those positions is very different, but after playing the game and knowing the game adjusting to new positions on the pitch comes easily," Taylor said. "Scoring goals is what I love to do. But most of all I enjoy celebrating with my teammates because I couldn't score without them."
Howell coach Michael Enright said that Taylor's work has proved important because it has allowed him to bring along a team of younger players and still have success in the win column.
The coach said he wasn't sure what to expect after losing every other field player to graduation but that Taylor's work has helped temper the unknown.
"At the end of the year last season, he became a consistent, dynamic attacker for us as both a wing forward and striker, and if we ever needed, he could also be extremely effective as an attacking mid," Enright said. "We originally thought that's where he'd play this year, but due to team injuries, he's been thrust up top as our striker and excelled. This year he's not only continued his consistent play, he also started to consistently finish for us."
Enright said that Taylor has worked well to make others around him better.
The coach said that while Taylor may not earn an assist on a given play, often he is right in the middle of it, making sure the ball finds its way to the player in the best position to finish.
Taylor has done this without any real training time to acclimate to his new position.
"Even in our games vs top teams where we haven't found the back of the net, Nick is helping our team create dangerous opportunities," Enright said. "And with not having a traditional summer to tinker with things, we're starting to figure out where most of pieces fit. Nick has been great at being both a versatile player, but also trying to help some of the younger or less experienced players this season pick up some of the nuances of how to effectively play ball. In turn, the group as a whole is taking a step in the right direction as we get to the halfway point of the season."
CITY SCHOOLS REMAIN IN HOLDING PATTERN
St. Louis University High athletics director Chris Muskopf said Wednesday everything in relation to the Jr. Billikens and like schools in the city actually playing soccer games this fall is at a standstill.
While St. Louis County teams were given the go-ahead to begin games this week, the same can't be said for those in the city.
Muskopf said he's not sure when that will change, either.
"SLUH is among a group of city schools awaiting on approval for its final layers of protocols regarding the ability to compete in sports classified as moderate risk," Muskopf said of soccer, which is in the moderate category. "SLUH and the other schools are optimistic that the approval is on the near horizon but no definitive timetable has been established."
FORT ZUMWALT SOUTH CRACKS TOP 10 IN NATIONAL POLL
The United Soccer Coaches released its second poll Tuesday and Fort Zumwalt South has entered the top 10.
The Bulldogs (10-0), the No. 1 team in the STLhighschoolsports.com large-schools rankings, moved up from the team's No. 14 spot last week.
Last week, the team had wins over Fort Zumwalt North by a 5-0 score and over Lafayette 4-0.