Goalkeeper Tucker Desloge posted a shutout and made seven saves on a rain-soaked Saturday morning as John Burroughs' soccer team defeated visiting Westminster 3-0 to win the Metro League Tournament.
The 6-foot-2, 170-pound junior was just getting started.
After the game, Desloge went home, grabbed a quick bite to eat and returned to the field at John Burroughs.
No, he didn't return to sit in the stands with his friends and enjoy the Bombers' afternoon football game against Brentwood. Rather, he had another job to do. As the football team's placekicker, Desloge contributed six PATs in John Burroughs' 61-20 victory.
"It was awesome," Desloge said. "The soccer, obviously, was awesome against Westminster. We had a great game there. And then the football game was super fun, too. Soccer is my main sport right now, but football has been growing on me quite a bit recently."
One soccer game is enough to take a physical toll on an athlete. Throw a football game into the mix and the dynamics change drastically.
But Desloge eagerly anticipated what he knew would be a frenetic Saturday. It was his first taste of varsity football since both the soccer and football teams had games on the same day.
"I certainly got my work in," Desloge said with a laugh. "I was up at 6:15 Saturday morning to go to a (soccer) team breakfast. I was at the field by 8 a.m. getting treatment, warming up and all that. After the soccer game, I was able to go home for about 15 minutes to dry off, because I was soaked, and eat a little bit of lunch. Then I was right back at Burroughs for the football game. I probably left Burroughs at 4:30 p.m.
"I was looking forward to playing that big soccer game and that football game. At the same time, at the end, I was like, 'That was a big day.' I went home and took about a three-hour nap. I would have (stayed there) if some friends hadn't dragged me out of bed."
Desloge said the key was staying mentally sharp during competition.
"I was super high on adrenalin for that soccer game," he said. "I was thinking to myself, 'I've got to keep this up or I'm going to crash for the football game.' I was able to keep that adrenalin up and I was able to get through it, and I had a blast."
Desloge's dad, Davey Desloge, has been the goalkeeper coach at John Burroughs since 2007. He considers himself "the luckiest guy in the world" and attributes Tucker's interest in soccer to his years as a kid when he tagged along with dad to Bombers practices.
Davey, however, said the idea of kicking in football was "all Tucker."
"He's always had the ability to strike a ball with authority, but it wasn't until one day late in his freshman year during COVID lockdown that boredom and curiosity combined to see if his talents translated to the football field," Davey said. "On his first day out there he knocked a ball through the uprights from 50 yards out and we both looked at each other and I said, 'Yep, you can do this, too.'
"So he reached out to (football head coach John Merritt) and the football program welcomed him with open arms."
Tucker Desloge hasn't yet attempted a field goal, and he considers his range to be within 45 to 50 yards.
"I practice them all the time. They're a blast," he said. "I feel like I can hit anywhere from 38 to 40 pretty consistently."
So, what's more routine, registering a shutout in soccer or kicking a PAT in football? Desloge can now speak from experience.
"I think kicking a PAT would definitely be easier," said Desloge, who missed one PAT and had another one blocked Saturday in the adverse conditions. "I probably had the easy job kicking the PATs. My holder, Gavin King, had to hold the ball in those wet conditions. All I had to do was put it through the uprights. Gavin did an incredible job getting those snaps down."
Desloge said he's still getting accustomed to the opposing team's defensive line taking aim at his PATs. Already, after just one game, he's learned to appreciate not only King but also the offensive line.
Merritt and soccer coach Alan Trzecki, Desloge said, have been "very supportive" of his desire to contribute in soccer and football.
"The football coach is very understanding when I have a soccer conflict that I can't come to football practice that day, or a football game," Desloge said. "The soccer coach is understanding, too, especially since I'm the starting varsity goalie. He's very understanding that I might miss a practice to go kick the football."
Desloge isn't the first John Burroughs athlete to play soccer and football. Ben Cummings, who graduated in 2019, had two goals and one assist as a field player in soccer and added 13 PATs and one field goal in football.
"It's definitely a little bit of a trend for soccer players to get a little kicking in with football," said Desloge, also an infielder for the John Burroughs baseball team. "Baseball's actually been my main sport. That's what I put the most time and work into. I love my sports."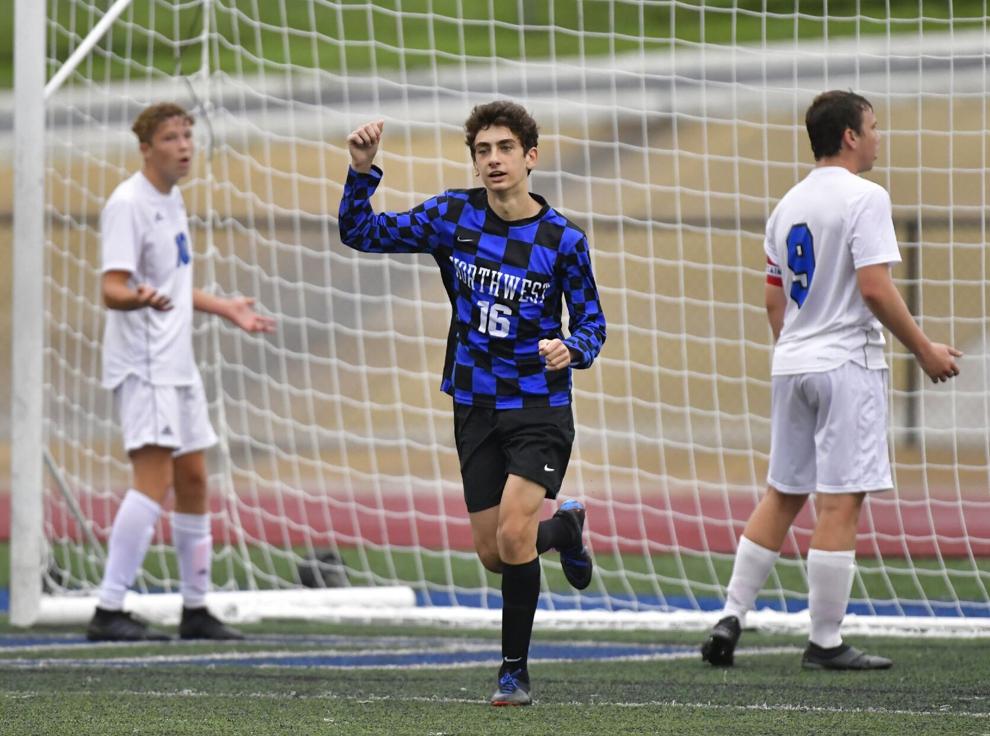 Lions roar out of gate
Northwest Cedar Hill is off to a fast start with victories of 2-1 over Union, 6-2 over Hillsboro and 4-0 over Eureka.
The win was the Lions' first over Eureka since a 1-0 decision against the Wildcats on Oct. 29, 2014.
"That was one of the best games a Northwest team has played since I've been coaching," Northwest Cedar Hill coach David Willis said. "This is year 14 for me with the varsity boys and it was probably the most complete performance that we've had.
"Everybody played so well in that game. All 11 players I started in that game, it seems like every decision they made was a great decision. Everybody played with incredible intensity in that game."
The Lions were 14-11 last season and are hoping for better this year. They will rely heavily on junior forward Tyler Finder, sophomore forward Luke Licare and junior midfielder Stephen Pryk. The three had 11 of the team's first 12 goals.
"I've got some really special players up front," Willis said. "My front three are going to be able to score a lot of goals, and they did (against Eureka). They took advantage of their opportunities."
Adding to Willis' optimism is the return of 6-foot-6 sophomore goalkeeper Alex Drexler, who as a freshman had nine shutouts.
"I think he's probably the best goalie in the area," Willis said. "He actually turned down an opportunity to play with STL City to play high school ball. He's recognized as being pretty darn good. He played varsity soccer, varsity basketball and varsity volleyball as a freshman.
"And he's a 4.0 (grade-point average) kid, so having your smartest player be your goalie is pretty awesome, too. He's able to control tempo. He can direct traffic and he's very confident. As we went through the year, we saw this kid grow and grow and grow — as a leader and in everything else."
Finder is healthy again after missing most of last season with an injury.
"He's a game-breaker," Willis said. "He's so fast, he takes these tight little touches and he makes defenders miss. He can make plays for himself and he can make plays for others."
Defensively, Northwest Cedar Hill's leader is center back Phillip Grimes along with wingbacks Dominic Pupillo and Cooper Dutton.
"He's fantastic," Willis said of Grimes. "Last year, he played about every minute of the season for me. And I've got some wingbacks that are pests, pretty good 1-v.-1 defenders. My midfield (led by seniors Dylan Mayer and Trey Eckols) has been very, very tough, and that's where games are won and lost. In the first three games, we've had the better midfield."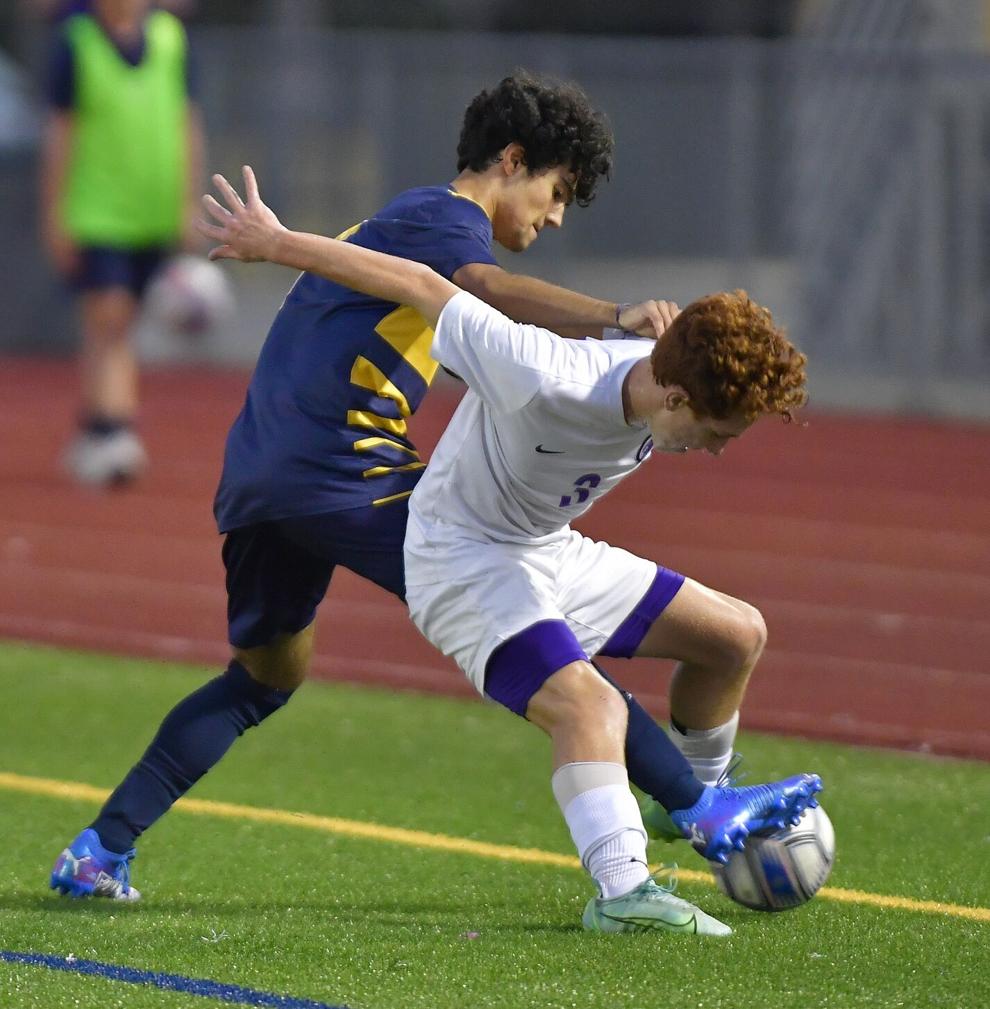 A helping hand
O'Fallon senior Andre Robertson is a handful for opponents, but he's also compassionate.
In the Panthers' 3-0 victory Aug. 31 against visiting Belleville West, Robertson saw Maroons senior defender Canyon Schmidt crumble to the turf after attempting a play on the ball.
Robertson saw that Schmidt was suffering from a left leg cramp in the intense heat, and he wanted to do what he could. He approached Schmidt and stretched out his leg until the cramp subsided.
"I saw him kick the ball wrong and he fell to the ground," Robertson said. "I know if I was cramping, I would want somebody to help me. I wouldn't care who helped me; I would just want somebody to help me because I know when you're cramping on the ground, you can't move. You need someone to help you out.
"The trainer came over a little bit later and I tried to let him go. But he would have still been hurting, so I stayed there and helped him out until he was good."
Robertson plans to major in premed. He's already getting hands-on experience, and in this case, his patient was satisfied with the treatment he received.
"You could tell by the look on his face that he was happy," Robertson said. "He was glad I went over and helped him. He came over and patted me on the shoulder and his teammates came over to me and said thank you. That was really cool."
Belleville West posted a picture of Robertson helping Schmidt on its Twitter account, and it also shown on the Illinois High School Association's Twitter account. West complimented Robertson, adding: "Sportsmanship should never be overlooked. ... How a team wins and loses is always a teachable moment, but good sportsmanship is a true sign of great character."