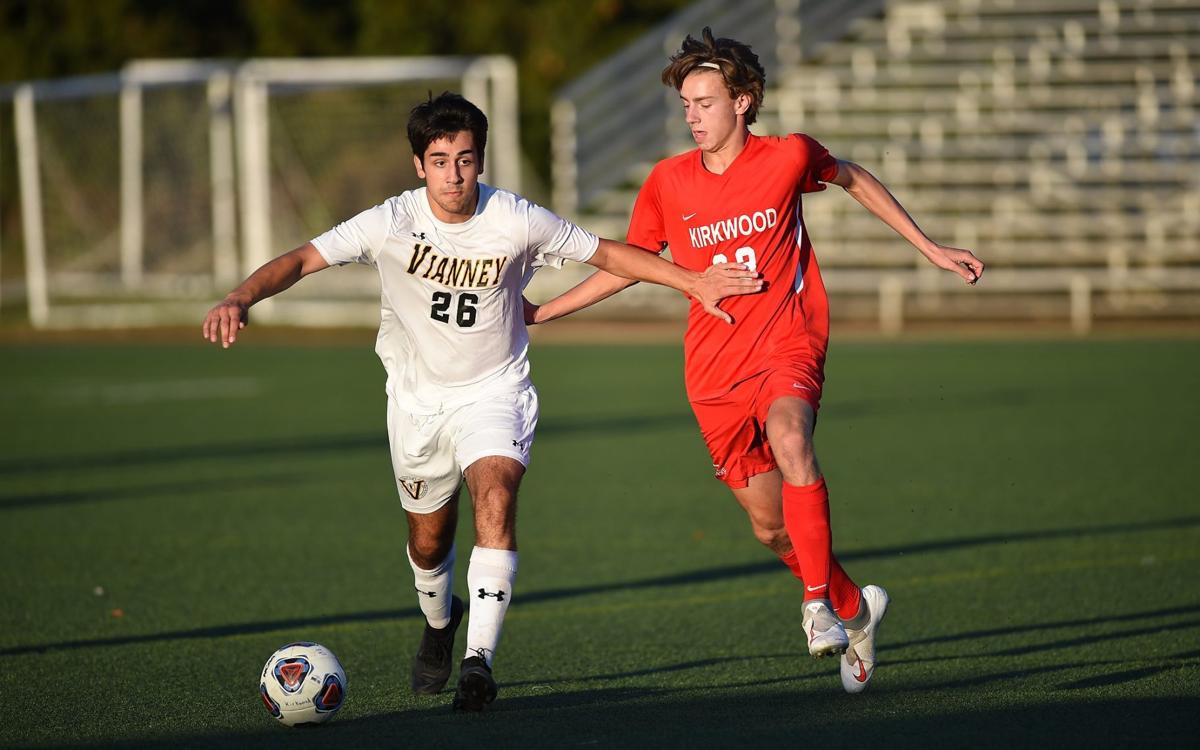 With the uneven bodies of work for boys soccer teams throughout the state as some teams began their seasons on time while others began just last week, the Missouri Soccer Coaches have taken to a new tack in assigning a hierarchy of success.
Instead of the usual coaches poll, which used to be tabulated via weekly votes from members throughout the season, the association has introduced a power rankings system based upon strength of schedule and results.
Missouri Soccer Coaches president Chris Miller, who is the coach at Southern Boone County, explained that in a season where the number of games played ranges widely between the regions where teams are located, the power ranking system was the fairest way to gauge teams.
"So far the power rankings have been a positive thing with regards to creating a system that judges teams on strength of schedule and results while also taking out the human X-factor that goes with coaches trying to evaluate teams from three or four hours away and, frankly, just looking at records without looking at a team's strength of schedule," Miller said. "With the challenges of 2020 and some schools getting a late start or not playing at all, we felt like this would be the best way to provide a system of comparison while providing some interest within the sport throughout the state. We also know that there are some likely adjustments upcoming as this system is still in its infancy, but we think it's an overall more complete way of showing what a team has done so far in a season."
Teams must have played a minimum of five games in order to be considered for the power rankings. With St. Louis county schools beginning games last week, teams from the region will start to enter the power rankings in the coming days.
The St. Louis area teams included in the first power rankings include: St. Pius X (fourth in Class 1) and Lutheran St. Charles (fifth in Class 1); Orchard Farm (12th in Class 2) and O'Fallon Christian (13th in Class 2); Fort Zumwalt South (first in Class 3), Union (12th in Class 3), Borgia (16th in Class 3), St. Charles (18th in Class 3), Fort Zumwalt East (20th in Class 3) and Pacific (25th in Class 3); St. Dominic (No. 3 in Class 4), Liberty (No. 10 in Class 4), Francis Howell Central (15th in Class 4) and Francis Howell North (17th in Class 4).
Pattonville athletics director Jason Sellers, who remains as a board member at-large and the Class 4 representative, said the plan to have the power rankings is something the association had been working on since the end of last fall.
"We had plans last year to alternate a ranking then coaches poll, an every other week type thing," Sellers said. "We still may do a coaches poll. But with how things have shook out, and not all schools playing, this seems like a logical move for now to still recognize those kids and teams for what they've accomplished. It was hard to get a wide array of coaches throughout the state and classes to participate in a poll, given that some teams weren't participating. We are hoping it gives people some sense of normalcy and gets them talking about the sport, the kids and the teams. There was a lot of thought and work put into this by the coaches that helped get it off the ground. It compares to some college sports rankings."
McDOWELL FINDS EARLY FINISHES FOR KIRKWOOD
Though Kirkwood (2-1) is just barely into the season, it appears as if Eli McDowell is in midseason form.
McDowell, a senior forward, owns three of the team's goals including both game winners in victories over Clayton Sept. 30 and Summit Oct. 2.
Even though he's been producing, that's not where his focus has been, McDowell said.
"These first couple of games, I have just been really focused on a win for the team," McDowell said. " Coach always says when you win, good stats will come and that's exactly what has happened. The team is playing at a very high level which i'm proud of, and with that, came some chances for me to score some big goals."
Last season, McDowell did have his share of finishes with six goals – including three game-winning goals, but the 14 assists he had likely carried more weight for the team as it finished 21-5.
Pioneers coach Joe Fisch said that McDowell's success comes as a natural progression both in terms of physical ability and maturity.
"Eli is a great kid," Fisch said. "This is his third year with us and he has improved every year. He was a big part of our success last year. This year, he is stronger and faster and has become a team leader. I'm excited to see what he and the team can accomplish this year."
LINDBERGH KEEPS THINGS SIMPLE, FINDS SUCCESS
When it comes to winning each of the team's first three games, Lindbergh central defender and senior co-captain Timmy Jurado chose to be brief.
"Hard work pays off," he said.
The Flyers' hard work, which features just three returning starters from last year's 17-10-1 team that took fourth in all of Class 4, has translated into wins over Oakville, CBC and Eureka.
The team has surrendered just a single goal in the three contests while tallying seven.
On offense, five different players have scored, led by senior forward Nadim Sarajlilja's three goals.
Coach Mark Giesing said that the perfect start is the cherry on top of the sundae that is the season's belated start.
"Like everyone, I think we are just excited to be back playing and to get a couple of early wins just makes it more fun," Giesing said. "We have a pretty balanced team. I've been pleased with how well they play together, and with their very strong team chemistry. We are a possession style program that looks to keep the ball as much as possible. We emphasize patience, ball movement and work rate away from the ball."
LUTHERAN NORTH OFF TO IMPROVED START
Last season, the Lutheran North soccer team didn't win its second game until a Nov.5 district win over Elsberry on the way to a district championship before a Class 1 quarterfinal loss to Tolton
This season, though, the Crusaders (2-1) are off to a much better start.
Junior midfielder Drew Keathley leads the team with two goals while senior Zach Molden (2-1, 3.48 goals against) has done the job in goal.
• The Union goalkeeping duo of Ian Meyer and Cooper Bailey have helped get the Wildcats (11-2-1) off to a solid start. Meyer is 6-0 with a .32 goals against average and five shutouts while Bailey owns a 4-2-1 record with a 2.27 goals against average and a shutout.
• This weekend, Fort Zumwalt South and Francis Howell head to play a pair of games each at Rock Bridge. Friday, Howell will play KC East at 6:15 p.m. before South plays Jefferson City at 7 p.m. On Saturday, Howell plays Jefferson City at 9:45 a.m. before South plays Rock Bridge at 1 p.m.
• Three players have moved out ahead of the pack in the race to lead the area in assists. Orchard Farm's Ethan Bromaghim leads with 14 while St. Dominic's Jimmy Doherty and Fort Zumwalt South's Ryley Gibbs aren't far behind with 11 apiece.
STLHighSchoolSports.com is the most comprehensive source of stats, scores and stories from any and all area high schools.