With the turf being replaced on the Spartans home field, the team has begun it preseason work at Soccer Park in Fenton.
"We were joking earlier in the preseason about how it's just funny that we're here," Grewe said. "You look over there and you see the main field and that's where last year ended for us and where you want to be at the end. It's just harmonic and something to work towards."
Spartans coach Josh Klein said even though there are just a handful of starters back from the team that fell 1-0 to CBC in the state final, everyone around the program remembers what it meant to play for a title.
"The word that keeps popping up every day at practice is redemption," Klein said. "They are not ready to rebuild. They are just ready to continue.
"You always look for a word for them to rally around, a visual. This gives them that perfect visual in that gate right there, to walk through again. I'm excited."
Back to help lead the Spartans offense are Grewe and junior forward Thomas Redmond, who returns as the top scorer back from last season with 10 goals and four assists.
De Smet finished 22-4-2 last season, finishing second in the MCC.
"People are definitely talking because we lost 17 seniors and two leading forwards," Redmond said. "I think it's going to be a surprise to see what we can do this year. I'm up for the task of leading the team this year. I've stepped into a bigger role, being a junior."
He won't be alone, however, as senior midfielder Henry Lawlor, junior midfielder Brendan Schoemehl, senior backs Jacob Roschke and Kyle Burke all return to the fold.
Klein said the Sparants will have to come ready to play each day as Metro Catholic Conference and nonconference contests alike will test the Spartans.
"I think every MCC coach would agree with me that we really wouldn't want it any other way," Klein said. "We face plenty of public schools who are also the best of competition. We're going to get tested every game, I'm pretty sure."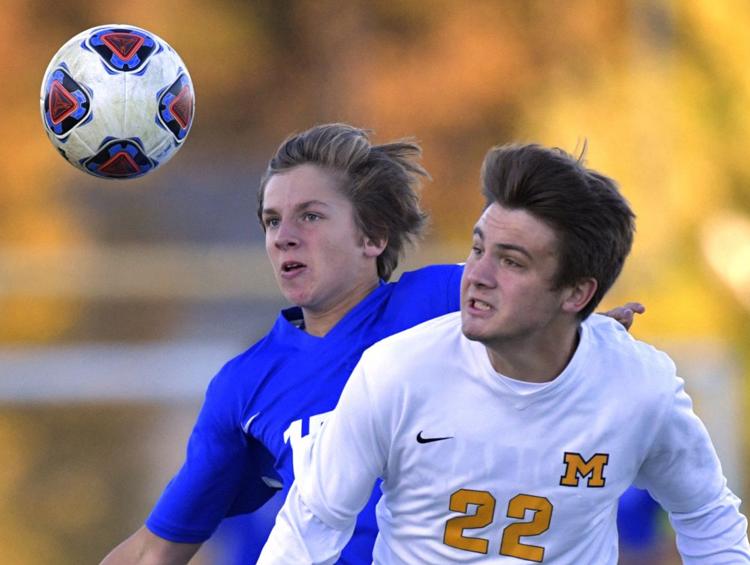 BRIDGES CONTINUES FAMILY LINE FOR COLUMBIA
"Obviously, we hated how our season ended, especially to Gibault," Bridges said. "But so many guys have come together over the last year and we feel this is our time this season."
That sense of unity and leadership are two reasons Columbia coach Jason Mathenia expects a lot from Bridges.
Add to that his 19 goals and nine assists and it's easy to see why the coach feels strongly about the senior.
"Karson really stepped up his play last year after we lost (Riley) Hubler to an ACL injury," Mathenia said. "He just really adds a punch into our offensive game. We are expecting him to step up even more this year for sure."
For Bridges, though, while seeing his team succeed is important, there is something more.
Family has been a key for Bridges.
He played his freshman year with his brother Jake. Both brothers have spent their entire high school careers playing for their father, Jamey Bridges, who is the boys assistant coach and led the girls team to a Class 1A state title last season.
"Playing my freshman year with my brother was awesome," Karson Bridges said. "Our program finished undefeated at all levels until we lost to Triad (in the postseason). My dad has always been around coaching me, it's good and bad, he is always on me but good because I get his perspective. It's fun being together. He encourages me and my brother to keep working hard and good things will happen."
For Jamey Bridges, the chance to be a coach to such talent has been great, but to be a father to his sons who happen to play soccer has been equally important.
"It has been a great honor to be able to coach at Columbia with both my boys, Jake and Karson," Jamey Bridges said. "(Karson) has always been a strong, aggressive player, but the last 2 years he has played with a lot to prove, it will be nice to see him transition to more of a leader on the field. Obviously, it's a joy to coach your kids but seeing him thrive at the high school level has been fun to watch."
VLASAK READY TO SHOULDER LOAD FOR COLLINSVILLE
Collinsville achieved great things last season in coach Rob Lugge's first season at the program's helm.
The Kahoks finished 20-6-2 and finished third in Class 3A.
Senior defender Spencer Vlasek is the lone player standing from that memorable run. He is the team's only returning starter.
"I'm used to playing with an older group, but I have known these guys for a while," Vlasek said. "I've been training with the (younger) guys and I have gotten to know them better. They're soccer players, so it won't be too much of a difference."
Lugge said one of the biggest comforts for him lies in having Vlasek.
The coach said Vlasek is the perfect centerpiece for a Kahoks team that he hopes will achieve great things again.
"Spencer is one of the smartest young men I have ever met," Lugge said. "His leadership abilities are outstanding. He's just a captain for us everywhere we go."
Vlasek said he understands the mantle that has been thrust upon him.
He said it is one he accepts willingly.
"I have the most experience on the team playing varsity since sophomore year," Vlasek said. "As a defender and a leader, I have to go out and play my role. There will be guys who look up to me and I have to lead."
MSHSAA RELEASES DISTRICT ALIGNMENTS
When the MSHSAA unveiled its new alignments for fall sports Friday, Class 4 District 5 stuck out among the toughest.
In that district, Ritenour will have to contend with three Metro Catholic schools — 2018 state runner-up De Smet, Chaminade and SLUH.
"It is what it is," Klein said. "In my six years as head coach, I've learned that it's just healthier to focus on the things you can control and that is getting these young men ready for the postseason regardless of who our opponent is. To my memory, we've had MCC rivals in our district more often than not, so our mindset on how we prepare for the postseason won't change. It will be an exciting atmosphere with a great crowd and great soccer being played out of all four teams. The MCC is a great conference and we're honored to be a part of it. It's always a tremendous accomplishment to be the one representing it in the state tournament, the last ones standing in it."
Another change in the largest class is Parkway West moving up from Class 3 to compete in a district with defending Class 4 champion CBC, Marquette and Lafayette.
The most notable change among the smaller classes belongs to Priory.
After winning a district in Class 3 a season ago, the Rebels, who won the Class 2 championship in 2017, return to that classification.
That could set up a semifinal between the last two state champions in that class as John Burroughs and Priory would meet if both teams win their respective districts and sectionals.
METRO CUP KICKS OFF 2019 SEASON
Monday is the first day for soccer in the region as the Metro Cup will be contested throughout southern Illinois.
This year's event will be split up into the Nike and Adidas brackets.
In the Nike bracket, which will be played at Columbia and Althoff and will have winners determined by a points system, Springfield, Columbia and Edwardsville are in Group A while O'Fallon, Marion and Granite City will be in Group B. Teams will play round-robin games within the group Monday, Wednesday and Thursday before playing a crossover game Saturday.
The Adidas bracket will be more traditional as 11 teams will play in a bracketed format.
Games will run Monday through Saturday at Freeburg and Althoff, with the title game slated for 6 p.m. Saturday at Althoff.
Teams in the bracket are: Carterville, Roxana, Valmeyer, Civic Memorial, Mascoutah, Althoff, Freeburg, Highland, Belleville West, Mount Vernon and Father McGivney.