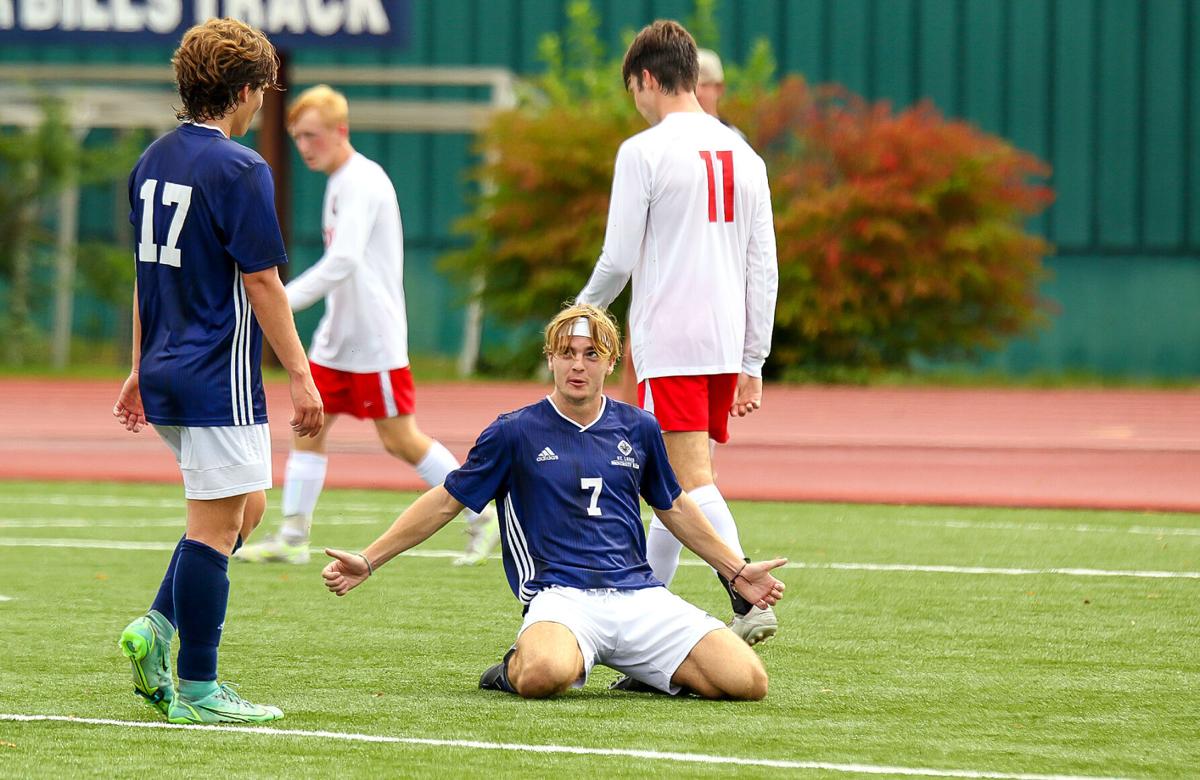 St. Louis University High boys soccer senior forward Stephen Saladin has statistics that jump off the page — a team-leading 24 goals and 12 assists.
But Saladin much prefers to talk about the other players who have helped the surging Junior Billikens (19-1-1 overall, 2-1 Metro Catholic Conference) to their most victories since the 2017 team won 21. 
"It's been really fun," Saladin said of a season that has included a 13-game winning streak. "It's also been fun to do it along with guys like Grant Locker, Tyler Van Bree, Johnnie Ferrara. As the season's gone on and I've been racking up a lot of stats, so has Grant. Teams have started to think that if they handle the both of us, then they'll be good.
"But while they've been double-teaming or triple-teaming me and Grant, guys like Tyler, Johnnie, Kevin Cooney, Evan Yalavarthi, have been stepping up big and contributing a lot. Lately, we're realizing we have a lot more weapons than we thought we did at the beginning of the season. Looking past myself, we've got a lot of guys who can hurt teams. It's fun to be surrounded by people who can put up numbers like I can."
Indeed, Locker, a sophomore midfielder, has contributed 18 goals and eight assists to the Junior Billikens' prolific offense.
Van Bree, a senior forward, has eight goals and 11 assists. Cooney, a junior forward, has eight goals and five assists, and  Ferrara has six goals and eight assists. Sam Tieber, a junior midfielder, has five goals and Yalavarthi, a senior midfielder, and has four.
The Jr. Bills close their MCC schedule at 6 p.m. Thursday when they host De Smet (9-7-1, 2-1).
"The other kids are so humble and selfless, too," SLUH coach Bob O'Connell said. "They understand the role Stephen plays and they understand their roles. It's just awesome to watch all these kids with different personalities buy into the same thing. To create culture is a hard thing. This group buys in that the whole is greater than any of its parts, and the parts can be pretty good individually."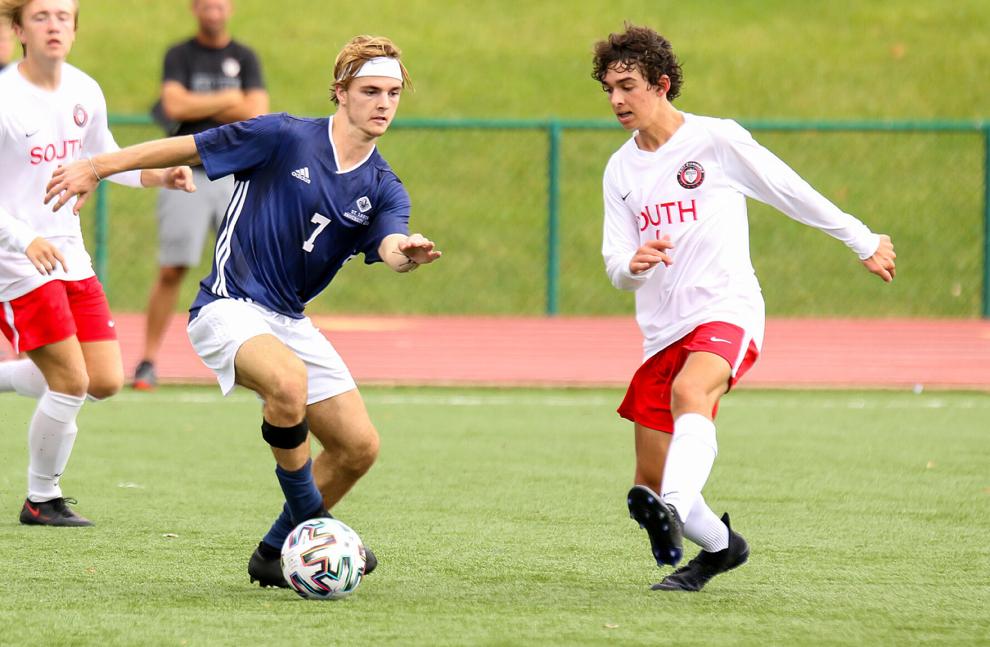 Signature win
Perhaps the Junior Billikens' most significant win of the season, the springboard to their later success, was a 3-2 decision against CBC on Sept. 16 in the CBC Tournament.
Following a wild scramble in front of the net, Ferrara turned and knocked in a right-footed shot with 1.4 seconds on the clock. Saladin had scored the Junior Billikens' first two goals of the game.
"It was very important because they were kind of the top dog going into that game," Saladin said the talented Cadets. "That was our big game to prove ourselves, and I think we did it in a fashion that helped our confidence to play them the other night, too. It's good to get the double (victories) over them this season."
Saladin also was referring to SLUH's 5-0 victory over CBC in a Metro Catholic Conference game Oct. 12 at CBC, which affirmed once again that the Junior Billikens can rely on their entire roster.
Saladin had one goal, a penalty kick, but Van Bree had two and Cooney and junior midfielder Lucas Hammond had one apiece. Assists came from Locker, Ferrara and Cooney.
"I was on an island with (CBC defender) Alex Peters all game, and we still put four more goals past them that didn't come from me," Saladin said. "It's nice if I'm out of the game or if someone like Grant's out of the game or Tyler's out of the game or Johnnie's out of the game, we've still got four or five other guys who can put the ball in the back of the net. We're a multi-dimensional team. We can hit you from anywhere."
Saladin said the first victory over CBC was probably the happiest moment he's had on the field with his teammates.
"For sure," he said. "Johnnie has been one of my best friends in high school. If anyone was going to score that goal, I would have wanted it to be him. So yeah, I was super happy for him and super happy for the team after that."
SLUH's only loss of the season came 1-0 on Oct. 5 against visiting Chaminade on Oct. 5. A 2-all tie in the season opener at Marquette is the only other blemish on the Junior Billikens' season.
"We had that run of 13 (straight wins) that was really good and helped boost our confidence. It helped everybody realize how good we are," Saladin said. "Then we had that hiccup against Chaminade, which was good for us. We were getting complacent. As people can see from our results right after that, it helped feed our hunger again. We lost that complacency, and in the long run that loss will help us going forward.
"I've never liked losing to other MCC schools, but I'm glad it was Chaminade because we should play them in districts at some point. I'm glad we'll have a chance to have an opportunity to get some revenge from that game."
SLUH will host the Class 4 District 3 Tournament, which also includes Chaminade, Francis Howell North, Hazelwood Central, Hazelwood West, John Burroughs, Pattonville and Ritenour.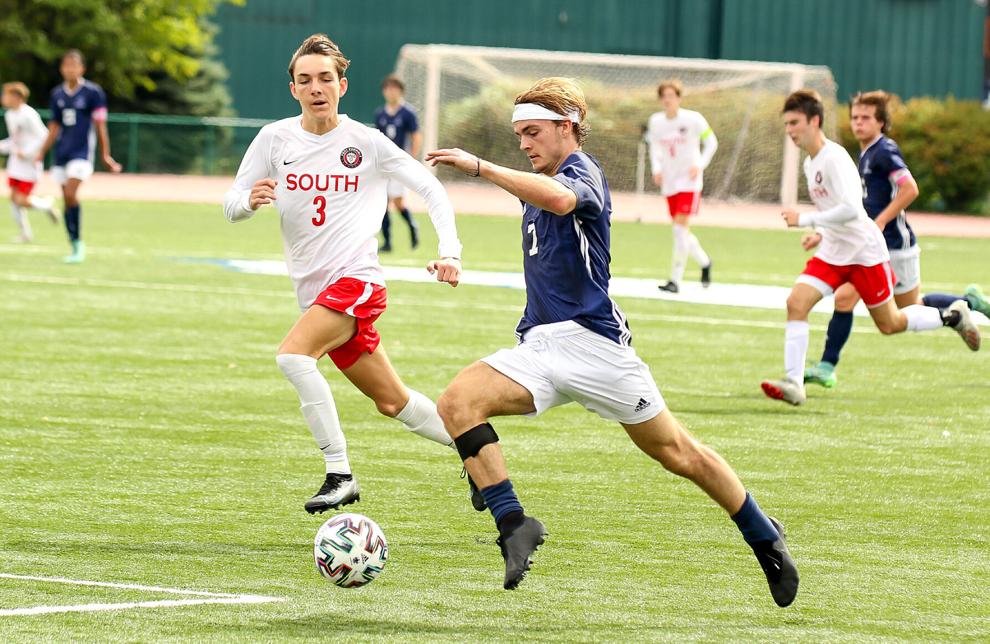 Learning from the past
The Junior Billikens were 5-6 last year after a 4-0 start, a season filled with fits and starts because of the COVID-19 pandemic.
It was Saladin's first season at SLUH, since he played academy soccer as a freshman and sophomore. He was displeased with the way the Junior Billikens closed last year after such a promising start.
Saladin said O'Connell emphasized unity in the preseason, and it's helped the Junior Billikens relay on one another at all times.
"It's the chemistry we've built," Saladin said. "We all know how to play each other. We have a lot of young guys, but we had a long preseason and did a lot of bonding that Coach O'Connell set up for us. Then we came into the season and we all had the same goal. We weren't in any of the preseason rankings, and we kind of wanted to let people know that we had a good team. We felt the need to prove ourselves. That helped us get on track and play well."
Saladin remembers the season falling apart in 2020.
"We started out 4-0 and then we had a tough weekend where we lost to St. Dominic and Chaminade," he said. "That kind of halted us because we thought about those games a lot. We lost both of them in pretty dramatic fashion. That could have easily happened to us against Chaminade this year, but I think the way we bounced back with those 8-0 wins (over Helias and Quincy Notre Dame) and the big statement win against CBC showed us that we've matured a lot from last year."
Making his move
Saladin is one of the faster players in the area, with a hard right-footed shot. He has a sense of timing, too, mastering the art of making his run to the goal from the left side.
He scored three goals in a 4-2 victory over Fort Zumwalt South to clinch the championship of the Junior Billiken Classic on Oct. 2. On the first two, he waited patiently for the pass while even or a half-step behind the defender, won the race to the ball, cut from left to right and finished inside the right post.
Saladin trusts his speed to get the job done. He credits CBC's Peters as being the best defender he's gone against, but he can't recall meeting a defender that had an edge over him in the speed department.
"I kind of hang back a little bit now because I know I can catch up to a ball that's played in front of me," Saladin said. "I give myself a foot or two behind the line because I know my speed will make up for it. I can catch up to (the ball) when it's played through."
It's not always about adding to his own goal-scoring numbers. Saladin enjoys setting up teammates, too, on races toward the net.
"I wouldn't want to be someone with 20 goals and zero assists," Saladin said. "I'm fortunate enough to be on the end product of a lot of our goals, but I'm also not going to pass up a chance to give a goal to a teammate just to get another one for myself."
That's music to O'Connell's ears.
"Stephen's a lot of things, but he's a great teammate," O'Connell said, adding that the timing of Saladin's runs "are really a special piece of his game."
"His runs are outstanding — diagonal, across the field," O'Connell said. "He's so fast. The timing of them is what's so unique. So many kids run offsides, but he (usually) doesn't. Sometimes when he is offsides, it's that the pass didn't come when he wanted it to come. But yeah, he can make great soccer runs because he's such an intelligent player."
Academy vs. high school
Saladin probably would have starred as a freshman and sophomore at SLUH, but he opted to build a foundation of technical skills by playing those years with the St. Louis Scott Gallagher academy.
He made the decision to forego the academy and play at SLUH as a junior, and he led the Junior Billikens with six goals and two assists.
"The academy can help you a lot with technical things," Saladin said. "But my decision to play high school my junior and senior years has helped me grow as a leader a lot more than it would have on academy."
Saladin acknowledged the decision was difficult, but he became convinced that playing in high school would not negatively impact future opportunities to sign with a college program. Saladin expects to make his decision about college later this year or next spring.
"All the college coaches I've talked to have told me, 'If you're a good player, we'll find you no matter where you play,' " Saladin said. "So if you're willing to bet on yourself and you believe in yourself, you can gain just as much in high school as you can from the academy.
"I don't think it really affects your development as a player. I've gained just as much, if not more, from playing high school these past two years than the academy. It's a personal decision, but you're definitely not hurting anything by playing high school soccer."
Saladin has greatly enjoyed playing at SLUH.
"The rivalry games in high school and those big moments that you need to step up in, those are just as important — if not more — than things being gained at the academy," he said. "Having two years at each has helped me a lot both technically and as a leader."