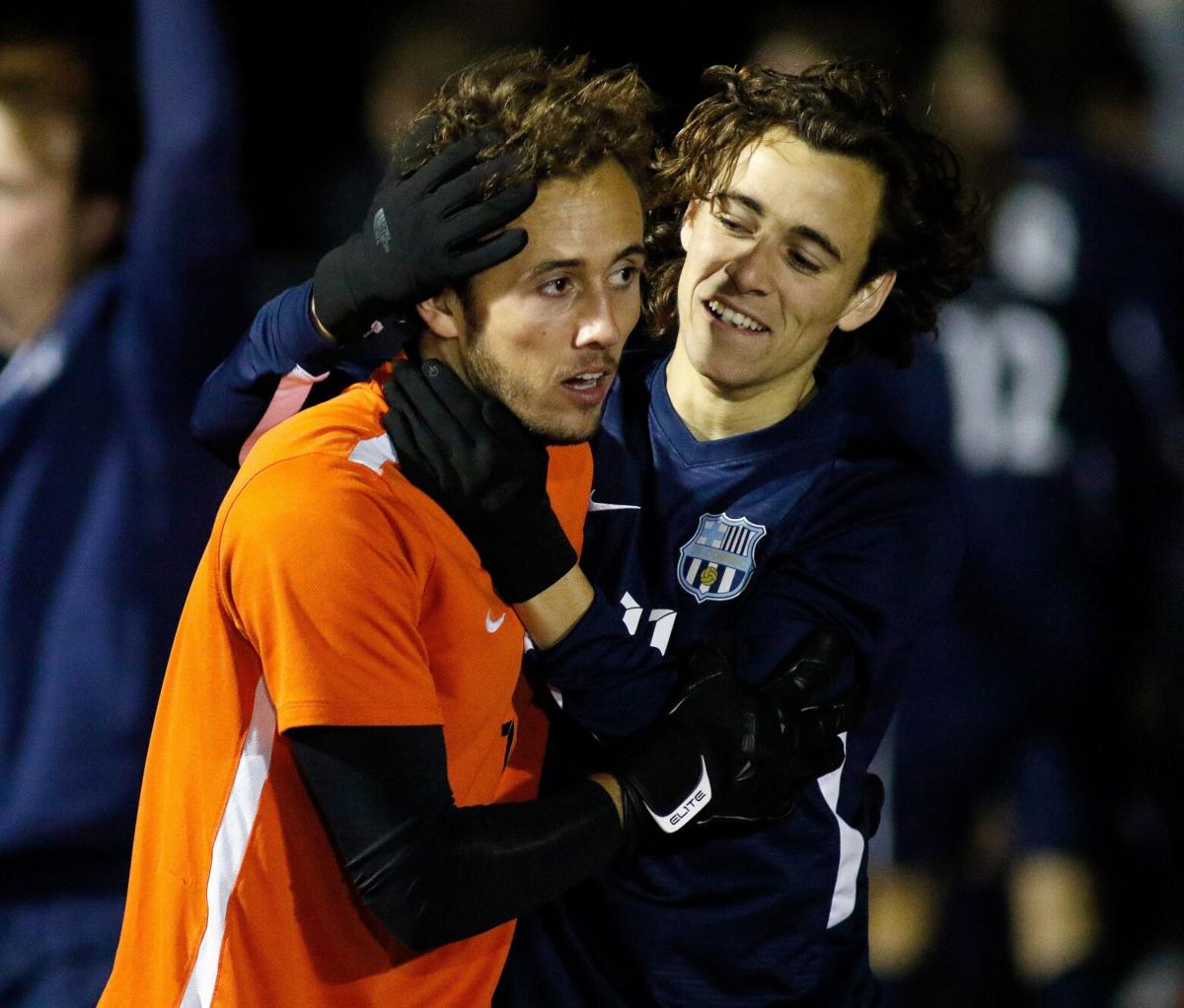 The prospect of raising a state championship trophy for the St. Dominic boys soccer team is nowhere near where twin brothers Will Nicholson and Drew Nicholson began their high school careers.
But that's exactly what they'll try to accomplish when St. Dominic (23-1) plays Jackson (18-3) at 6 p.m. Saturday in the Class 4 state championship game at Lake Country Soccer Complex in Springfield.
Each brother started playing as Metro Catholic Conference rivals before transferring separately to St. Dominic.
Will Nicholson has been in St. Dominic's program three seasons — the last two as its primary goalkeeper — after playing his freshman season at De Smet. Drew Nicholson, a midfielder, previously was at CBC before making the move for the Crusaders.
"Playing on the same team with my brother as the goalie has been a lot less stressful than trying to score on him," Drew said. "I can't believe this weekend will be our last game that we will play together."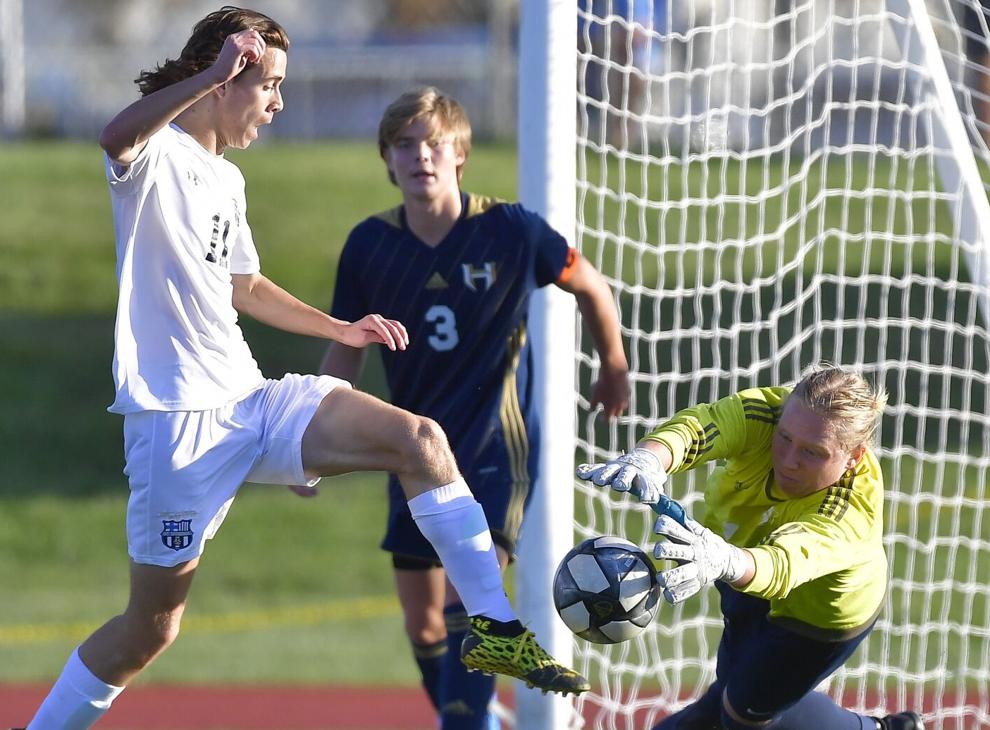 Last season, in fact, Drew Nicholson was on CBC's roster when it earned a 2-1 overtime victory against St. Dominic — which had his brother, Will, in goal.
Twists and turns led their journey together for a senior season that has St. Dominic on the cusp of its first state championship since 2013.
"Freshman year, we went to different schools and that was very hard because I was so used to having him with me," Will Nicholson said. "I went to Dominic and he wasn't really liking CBC like he used to and I told him he had to come over here. I told him this was the best decision of my life and he came over. I'm so happy to have my best friend back with me in school and on the field."
Drew Nicholson has contributed five goals and four assists in his lone season with the Crusaders. That includes a key goal in the second half of a 4-1 victory against Holt in the sectional round.
On the other hand, Will Nicholson has been front and center for the Crusaders' success.
He owns a goalkeeping record of 20-1 with 11 shutouts and a .48 goals against average in 1,660 minutes.
"His approach to the game is what sets him apart from peers," St. Dominic coach Greg Koeller said. "Will is constantly challenging himself to improve and achieve a higher level of play."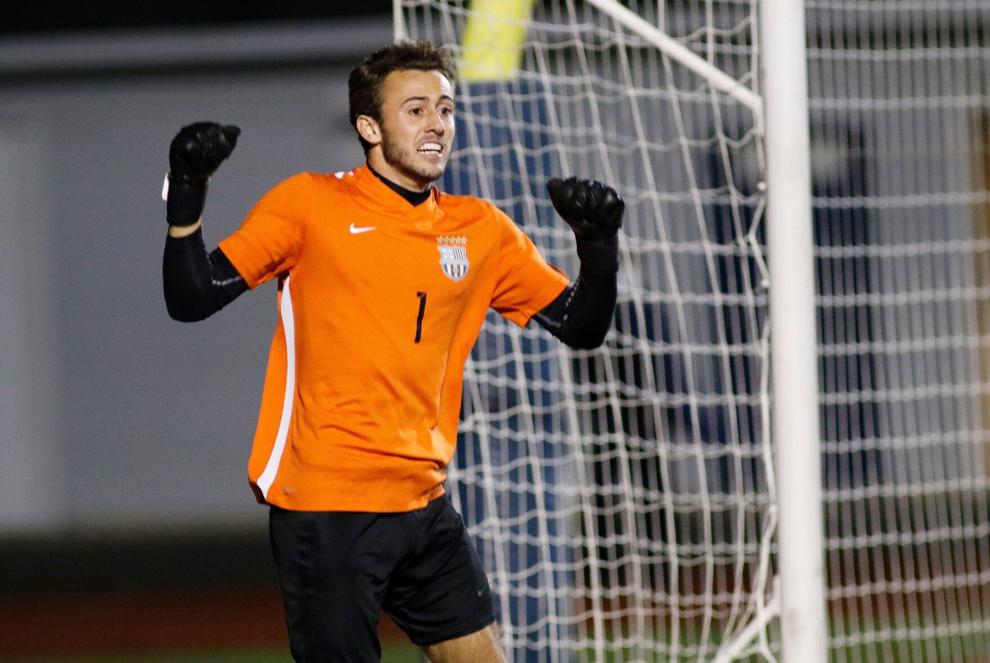 Will Nicholson's outstanding senior season has come on the heels of a tough 2019 campaign for the Crusaders.
St. Dominic never had a winning record and posted a 10-14 record a season ago, although it played within a goal of eventual Class 3 state champ Summit in a state quarterfinal.
During the up-and-down season, Nicholson posted a 6-12 record with a 1.95 goals against average.
As a sophomore, Nicholson posted a 4-2 record in his first season with St. Dominic while playing behind seniors Ryan Box and Mason Clynes. Nicholson is one of six players this season from the 2018 varsity roster and paid tribute to the leaders from that team.
"They kept us motivated and got us ready to go for when it would be our turn," the senior goalkeeper said.
Nicholson's turn has come in just about every St. Dominic game this season, and especially last week in a 2-1 quarterfinal victory against his former classmates at De Smet.
St. Dominic's lone loss this season was a 1-0 setback Oct. 20 at De Smet, but the second meeting went the other way in a penalty-kick tiebreaker — thanks to a Nicholson save in the sixth round after the first 10 shooters converted.
"I know a lot of the guys over there and have a bunch of friends there," Nicholson said. "It really meant a lot to play that game and come away with a win in a time that really mattered with these guys I consider to be my brothers. It was just an awesome feeling. We've all worked so hard, so to get that win and to get this chance to keep playing was huge. All love for De Smet, though."
The only thing left now for the Nicholson brothers and the Crusaders is to complete their journey to a sixth state championship.
It would be the first for St. Dominic in the state's largest classification.
"I really would love nothing more than to go out and win it all with my teammates," Will Nicholson said. "I know I want to play at the next level and I have been talking with schools, but that's not what matters now. Our focus is on Saturday."