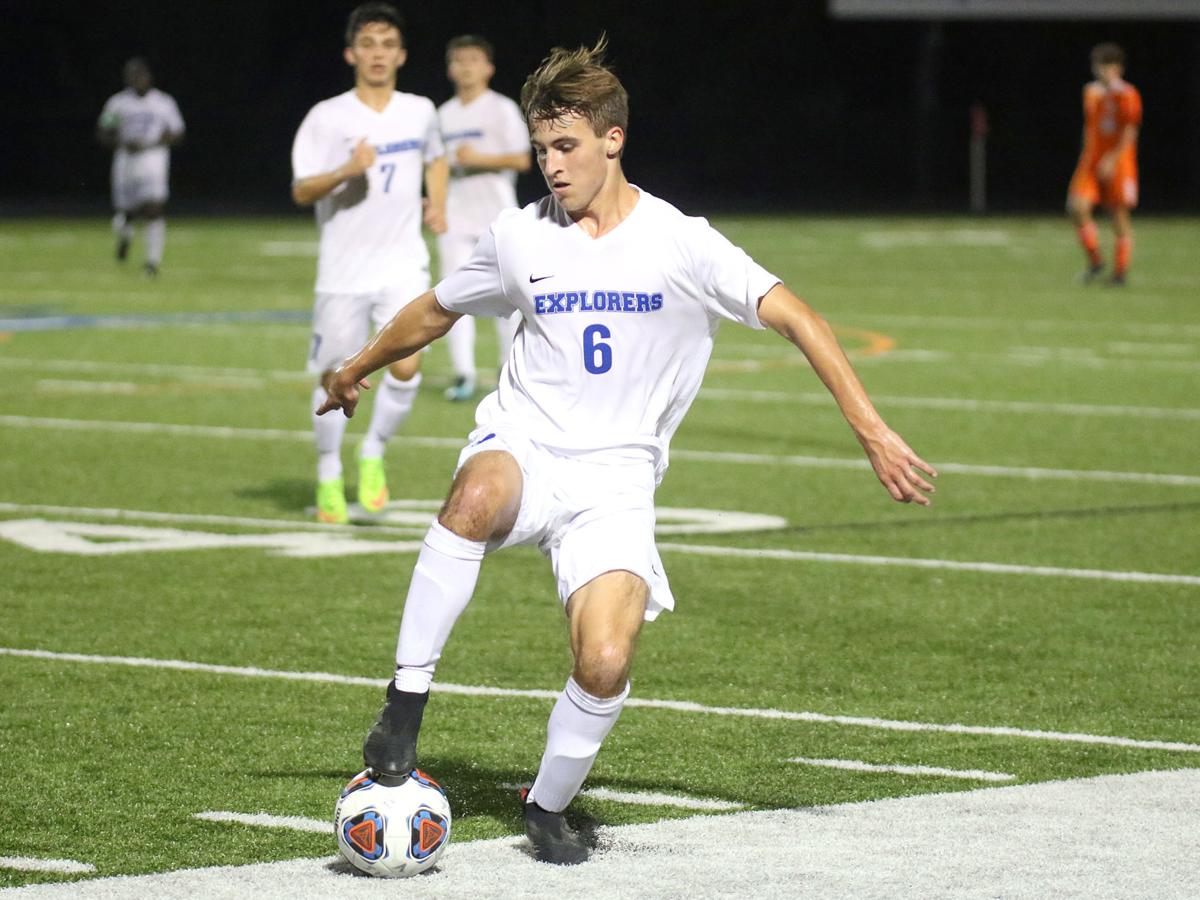 With a new coach and heavy graduation losses, the Alton Marquette boys soccer team appeared to be facing a challenging season.
But new coach Tim Gould and the Explorers have flown out to a 9-2-4 start despite losing 10 seniors, including eight starters, from last season's 16-win team.
Explorers senior defender Nick LaFata said last season's regional final loss to Columbia spurred the holdovers to success this season.
"After our unexpected early exit in playoffs last year, I think it really set a fire in the younger guys on our team for this season," LaFata said. "(Gould) came in with a firm plan and really helped fuel this program to go to that next level."
STLhighschoolSPORTS.com rankings - 9/25/2019 Large SchoolsLast Week1. De Smet (7-0-1)12. Triad (12-0-1)23. Summit (9-0-1)—4. Fort Zumwalt Sout…
Alton Marquette's only losses this season have come against a pair of strong programs in Edwardsville (12-3) and Quincy Notre Dame (6-5).
Gould said that the Explorers have learned on the fly.
"With our schedule, we've only had a couple chances to practice," Gould said. "We got down early in a couple of games and had to work at coming from behind. The boys did really well and we've made adjustments the best we could because of (the limited practice time)."
The Explorers have had plenty of firepower to help in this season of adjustments. They have 13 players with a goal this season, including 10 with multiple goals.
Leading the way has been the pair of senior forwards in Noah McClintock (11 goals) and Aaron Boulch (eight), along with LaFata (seven).
Marquette already has tied Columbia 1-1 this season and the teams play again at 6 p.m. Monday in the CYC Tournament's Walsh Division at Soccer Park.
"That's really a great event," Gould said. "The guys are just working as hard as they can to keep getting better. It's a long season and they've come so far. There is still more to be done, though."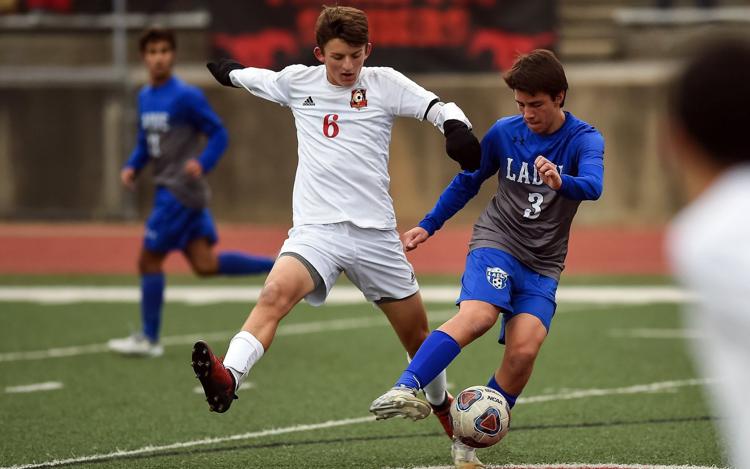 HOME SWEET HOME FOR LADUE 
Wednesday night marks a big one on the calendar for Ladue.
For the first time in the history of the program, coach Dave Aronberg said, Ladue (8-5) will play a true home soccer match when it plays host to Kirkwood at 7 p.m. on campus. 
"Playing under the lights is a dream come true for all of us," senior midfielder Carlos Puyo said. "The atmosphere, the stadium, and playing in front of our family and friends on our home field is going to be an amazing feeling and is going to be one of the highlights of my time here at Ladue."
Aronberg has guided both the boys and girls teams in home games on a field at Ladue West Campus since early in the decade. He said that there is a palpable air of excitement for the game around the team's circles.
"It's very exciting to play at the actual high school campus," Aronberg said. "The facility is top notch and there's nothing quite like playing under the lights. The boys are excited to break in the new digs for the first time ever in soccer."
The game won't be the first competition held on the field as, among other events, the football team already owns a 2-0 record in the stadium with wins over Webster Groves and Parkway Central.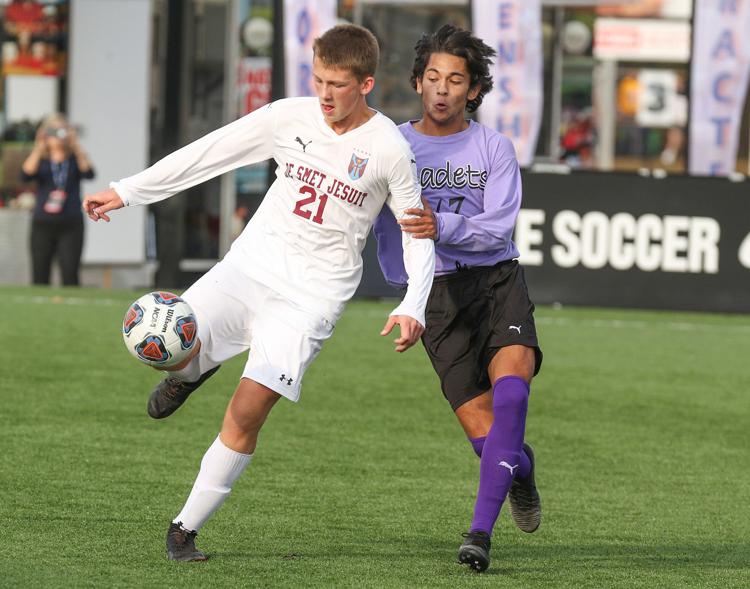 DE SMET WINS CBC TOURNAMENT TITLE
For the first time since 2011, De Smet walked away as champions of the yearly CBC Tournament last weekend.
De Smet (7-0-1) beat Vianney 3-2 on Sept. 17 and SLUH 3-0 on Sept. 19 before tying CBC 1-1 to win the title Sept. 21 with a 2-0-1 mark in the round robin.
"After last week's tournament win, I am very happy with where our team is at this point in the season," senior defender Jacob Roschke said. "We faced our toughest competition yet we were able to rally from two goals down against Vianney, and we figured out what we needed to improve. I am excited to see what this team can accomplish moving forward."
Junior defender Brendan Schoemehl had the game-winning tally against Vianney and junior forward Max Mundwiller provided the comeback goal against CBC in the tournament finale.
De Smet's tie against CBC was a rematch of last season's Class 4 state final that CBC won 1-0. The teams will play again Oct. 16 in a Metro Catholic Conference game at CBC.
"I was very proud of our guys last week," Spartans coach Josh Klein said. "Down 0-2 to Vianney and 0-1 to CBC, these guys showed a level of resilience and mental toughness you don't expect until postseason time. I told them this tournament always serves as a good gauge on how we are as a team, and as of right now I'm pleased with how they're coming together."
CYC TOURNAMENT BRINGS AREA TEAMS TOGETHER
The 65th annual Bob Guelker/CYC soccer tournament will be played at various sites around the area next week.
The event is divided into three varsity divisions — the Meyer, Walsh and Sullivan divisions.
The Meyer Division features CBC, Kirkwood, Ladue, Lindbergh, Francis Howell Central, Oakville, Vianney and Webster Groves. The title game is slated for 6 p.m. Friday at Soccer Park.
The Walsh Division features Clayton, Gibault, Triad, Waterloo, Alton Marquette, Columbia, Northwest Cedar Hill and Timberland. The title game is slated for 8 p.m. Friday at Soccer Park.
The Sullivan Division features Fox, Liberty, Trinity, Troy, Bayless, Lutheran South, Mascoutah and Washington. The title game is slated for 6 p.m. Friday at Soccer Park.
• Jersey coach Scott Burney has found himself a new job. After 20 seasons of coaching, the last nine as the head varsity boys coach, Burney will also take over the girls soccer program this spring. The girls finished last season with a 8-13-1 record.
• A recent scoring spurt by McKinley (3-2) has put senior central midfielder Hussain Seoud into the area lead for most assists. Of his 15, he assisted on 13 goals in wins over Vashon and Carnahan. Last season, Seoud tallied 36 assists for the Goldbugs.
• A pair of local players lead the way in the area in terms of game-winning goals. Both Wood River's Ethan Moore and University City's Jalen Corn have five decisive goals to lead the way.