For the first time in five seasons, Chaminade sits atop the Metro Catholic Conference soccer table.
Senior defender and captain Adam Kuntz said a tough road was well worth it for the Red Devils (8-3 overall, 4-0 MCC), who were pushed to the limit in conference wins over De Smet and CBC.
STLhighschoolSPORTS.com rankings - 10/2/2019 Large SchoolsLast Week1. Summit (10-0-1)32. Fort Zumwalt South (12-1)43. Chaminade (8-3)74. Triad…
"We really just wanted to focus on staying together as a team, especially after we went down against De Smet," Kuntz said. "They tied it up against us in the last 20 seconds and we were already a man down. It was all about sticking together. Same thing with CBC. They tied it in the last minute and we had to find a way to stick together. We came out with the victory in both of those games, which was important."
Cole Ross scored in double overtime to knock off CBC, and it took a penalty shootout for the Red Devils to emerge victorious against De Smet.
Chaminade coach Mike Gauvain said with the top-notch competition the teams of the MCC face on a yearly basis, winning the league title is special.
"It's always nice to win the MCC conference, which I believe to be to toughest conference in Missouri and possibly in the country," Gauvain said. "Anytime your team can find a victory against any team in our conference, it's a good win."
Chaminade last won the MCC in 2014 with a 3-0-1 league record. CBC won the last two league titles, including a 4-0 mark in 2017, and De Smet went 4-0 to win the league in 2016. SLUH was a 4-0 MCC champ in 2015.
With the conference season over before the dawning of October, Chaminade turns its focus on a slate of tough nonconference games before the postseason begins.
Gauvain said he's not overly worried about playing four games and being done with the tough competition the MCC provides so far in advance of the postseason.
"I think where we are right now and how the state sets up the state tournament there is no need to play a double round-robin conference schedule," Gauvain said. "The five MCC schools, for the most part, see each other very early in the state tournament — the state tournament is another conversation. Therefore with the CBC and the CYC tournaments, and a conference matchup with each other, there are some seasons when you could play a MCC team up to four times. I think all the conference schools feel there are plenty of very good teams to play throughout Missouri and the metro area, and it is always a benefit to see different teams with different styles of play and to see other good players throughout the area and state."
DEPTH HAS EDWARDSVILLE ON VERGE OF ANOTHER SWC TITLE
Edwardsville is on the verge of winning a Southwestern Conference title for the fourth season in a row.
The Tigers (14-3 overall, 7-0 conference) have won nine consecutive games, allowing just five goals during the streak. They need one more victory in their three remaining league games to sew up the title.
"I think that our depth has been the true winner as we have so many key players that sometimes start but are always major contributors when they come in the game," Tigers coach Mark Heiderscheid said.
Heiderscheid lauded junior Andrew Mills as a standout able to play either center midfielder or central defense.
Other players Heiderscheid said are helping lead Edwardsville's solid defense include Kadin Lieberman, Parker Mathews, Jack Heiderscheid, Ben Loftus and JT Watson.
Offensively, the Tigers have gotten multiple goals from seven players. Cooper Nolan (13 goals, two assists) and Brennan Weller (10, 1) lead the way.
Heiderscheid has taken the program to six state tournament appearances since 2000. But the Tigers haven't been since 2013, when they won the Class 3A title, their longest state semifinal drought since a six-season period between 2002-07.
"This team has some of those same traits, but often the game comes down to the one goal in a tight game," Heiderscheid said. "I am just hoping that we can get that goal when we need it most this year."
HARD WORK PAYING OFF FOR BAYLESS' LUCAS
As his team's top returning offensive player from a season ago, Bayless' Adam Lucas knew he was going to have to continue his work as a finisher.
Just as the Bronchos' win total has grown this season, so has Lucas' scoring tally.
Lucas has 22 goals and 11 assists for the Bronchos (10-3-1) this season after providing 11 goals and adding 16 assists a year ago.
"Everyday, I go out onto the field and work as physically and mentally hard as I can," Lucas said. "It feels great to help the team succeed, the bond we all share is like that of a family and we would do anything for each other. I believe that if you work as hard as you can, you will be rewarded so that is what I try to do every game."
Bayless coach David Pozzo said Lucas' success lies in his ability to create.
Bronchos senior Armin Jusufovic has helped carry the scoring load with 19 goals and five assists of his own.
"He is an extremely gifted player and it's great to see his hard work pay off," Pozzo said of Lucas. "Our strong defense and midfield has allowed him to be more offensive-minded and he has made the most of his chances. It's been exciting to see him develop into an elite offensive talent. He along with Armin have been doing a lot of the goal scoring, but without the play behind them, they wouldn't be having this kind of success."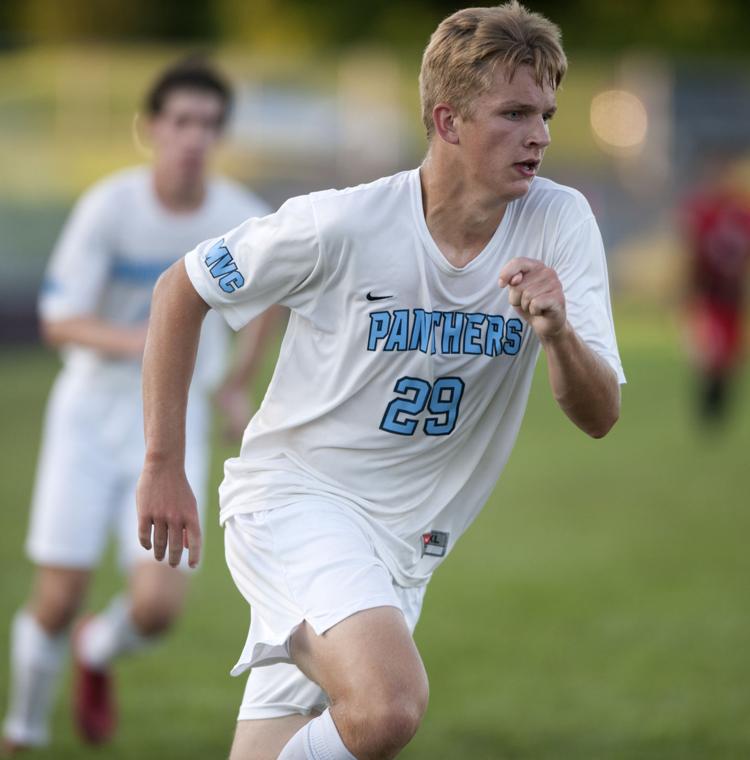 • As the days dwindle down in the Illinois soccer season, there is a tie atop the local scoring chart. Jerseyville's Andrew Kribs and Wood River's Ethan Moore both have scored 31 goals. Zumwalt South's Devin Livingstone's 23 goals are tops for local players from the Missouri side of the Mississippi River.
• The IHSA Class 1A postseason brackets have been released. The Columbia sectional features regional play at Freeburg, Althoff, Mater Dei and Anna-Jonesboro. The opening round games are slated for Oct. 11-12, regional finals are Oct. 18-19 and the sectional final is slated for 4 p.m., Oct. 26 at Columbia.
• Last week was a big one in terms of an individual goal scoring effort. McKinley's Hussein Seoud accomplished the feat of scoring five against Carnahan. It was just the second time the feat has been accomplished this season by an area player. Kribs has also matched this effort for Jerseyville.