Over the past couple of seasons, the Clayton soccer team has grown into one of the area's premier small school soccer programs.
Still, senior midfielder and one of the team's captains, Rohan Tripathy, said he feels that the team – even with an impressive record this season – is continuing to find its stride.
STLhighschoolSPORTS.com rankings - 10/9/2019 Large SchoolsLast Week1. Summit (14-0-1)12. Fort Zumwalt South (14-1)23. Triad (15-1-3)44. Chamin…
Clayton (12-1-1), which suffered its first loss Oct. 4 at the CYC Tournament, is readying to round into form and make a protracted postseason run in the coming days.
"I think our season has gotten off to a great start," Tripathy said. "After losing so many key seniors last year, I feel our team has stepped up to the challenge. I really think our team started to find our stride during the CYC tournament. I think we really started to move to ball well as a team and build chemistry between the players."
Tripathy said that the roster is littered with talent and he mentioned such players as senior Clark Boeger and freshman Ned Thompson in the back, senior Andrew Matheny (7-0-1, .50 goals against) in goal and senior forward Dillon Flynn (17 goals, six assists) as keys to the overall success.
The senior said everyone hopes that the team's chemistry is a recipe for success in the coming days.
"I love our defense," Tripathy said. "Our attack has also really been solid. I feel we always come to games a practice ready to work hard and get better. I'm really looking forward to see how we perform in the district tournament and hopefully get a chance to play for the state championship."
Greyhounds coach Tom Redmond said that the team has responded very well after having to reload from a worthy effort last season.
"I am really proud of our guys and for their effort and the way they are playing the game this year," Redmond said,. "We are being led by a mature group of great young men. Our senior tri-captains, Clark Boeger, Andrew Matheny, and Rohan Tripathy have provided excellent leadership and great play. Also, contributing to the effort are our current leading scorer Dillon Flynn and standout defender, Ned Thompson. After graduating 16 seniors, our players have believed in themselves since the start of the season, so the 12-1-1 start is gratifying for all of us."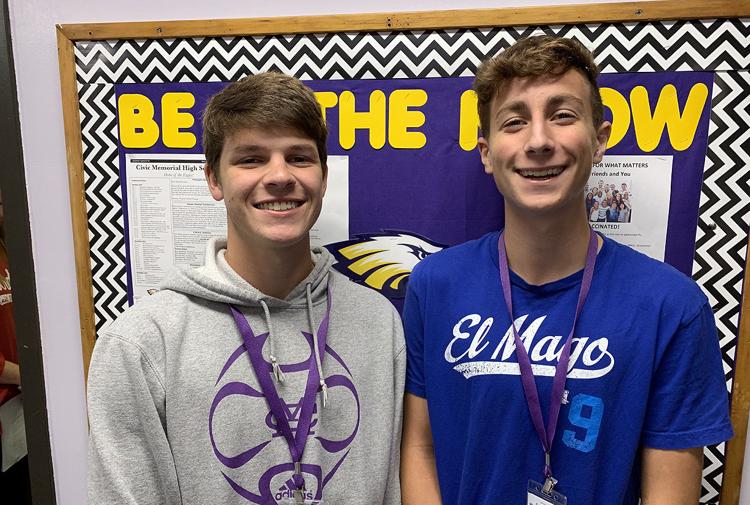 MIDFIELD DUO HAS CIVIC MEMORIAL FLYING HIGH
For many years, the Civic Memorial boys soccer team has languished at or near the bottom of the Mississippi Valley Conference standings.
In fact, it's been since 2011 that the team finished above .500 overall.
That will change this season thanks, in large part, to the collaborative efforts of a pair of midfielders.
Senior Nic Vaughn (23 goals, eight assists) and sophomore Parker Scottberg (21, 24) have formed a potent one-two punch for the Eagles (15-6) as the team's top scorers.
"Nic and I have a knack for what each other can do and where we will be, we have good chemistry," Scottberg said. "We have a strong cast of teammates that go to battle for each other each day. We love coming to the field with the mindset that we can change the direction of this program."
While the duo has had its share of success, Vaughn said that the success of the pair is due to the overall hard work of everyone in an Eagles jersey.
He said he's been amazed by how far the team has come in such a short time.
"It's nice to be able to contribute to us having such a great start the year, but none of it is possible without the team we have," Vaughn said. "Kids are working hard and it's been amazing to show up to practices and games to try to get better. We are excited about the remaining games we have and getting ready for the postseason."
Still, the team has to be successful by putting balls in the back of the opponent's net.
Civic Memorial coach Derek Jarman said that the duo has been at the epicenter of the turnaround by showing everyone in the program the possibilities of putting a little hard work into action.
"Nic and Parker have been instrumental in the turnaround and success of our program," Jarman said. "Nic has been a four year starter and is part of a senior class that has pushed us to improve through this process. He has played several positions through his career, and this year he has stepped in and proven to be a finisher for us up top. Parker is a sophomore captain who simply makes everyone around him better. His soccer IQ and ability to distribute has been on another level this season. He is the epitome of what you ask for in a center mid. They play very well together, but more than that they are great teammates and leaders and want everyone to be successful."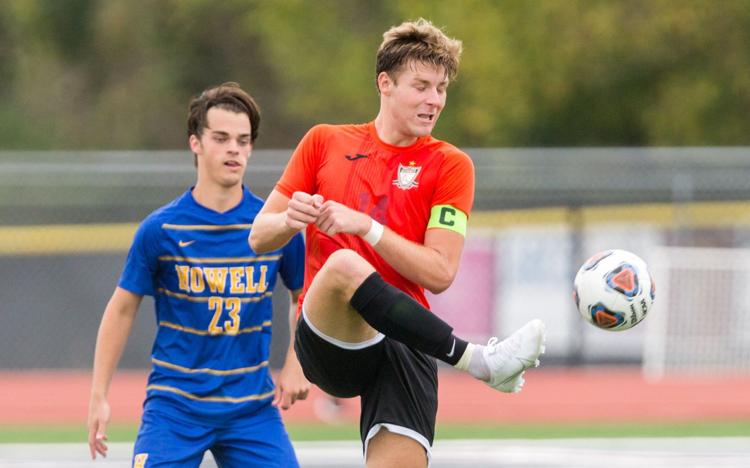 KRAUS CONTINUES SOLID PLAY FOR UNBEATEN SUMMIT
The success of the Summit soccer team and that of senior forward Christian Kraus have gone hand-in-hand this season.
If you ask Kruas, however, the numbers he's putting up on offense — 22 goals and 12 assists — for the Falcons (14-0-1) have as much to do with those that have come before him as it does with Kraus. Just as he made the transition from midfielder to forward when he was younger, Kraus has transitioned into a central figure for Summit.
"My success didn't come overnight. It's been a process throughout my four years on the varsity team," Kraus said. "I had guys (Corey) Goede, (Colin) Hilpert and (Billy) Hency in front of me to learn from during my freshman and sophomore years, but my junior year I felt the need to step into a different role."
Summit coach Tom Wade said that Kraus has taken his place among the pantheon of Summit talent through a lot of hard work and growth.
Wade said Kraus' work is making everyone around him exponentially better.
"Christian has been building to this season since his freshmen year on the varsity team," Wade said. "As a freshmen and a sophomore, he was mentored by great players like Hency, Goede, and Hilpert. But more importantly, every year he has worked so hard to improve and to become the player he is today. He has spent countless hours over the past four years in the offseason, and with his great club team, and before and after our practices, working on getting faster, stronger, and better. Between his hard work and the amazing level of talent on the pitch with him, he and the whole team are reaping the reward this season. With his size, speed, and skill, he's a constant threat, and such a complete player, not only as a goal scorer but also as someone who creates chances for other players."
While he's worked hard to succeed, Kruas said he does it all with one goal in mind this fall.
He wants to see the Falcons succeed as a team into the season's last days in November.
"We were determined last year and had what it took, but we couldn't get the job done against Priory in the district final," Kraus said. "Ever since then, I've thought about that feeling of winning state my freshman year and my teammates and I have worked extremely hard during our club seasons and throughout the summer to get prepared for our last chance at the title. I've definitely done my share of work to be successful, but I highly credit my teammates and coaches to my current success. Without them, I wouldn't be where I am now. With that being said, our end goal certainly is winning another title for the school, but over the years something that we have learned is to take each game at a time and enjoy what the beautiful game brings us."