The Ladue High soccer team is off to its best start since 2016.
Through the first few weeks of the season, the Rams (7-1) have managed to win not one, but two tournaments and have surrendered multiple goals in a game just twice.
Senior midfielder and captain Carlos Puyo said that the Rams effort in a pair of games – come-from-behind wins against Parkway Central and Bryan Station (Ky.) – have shown the team's capabilities. The win over Bryan Station clinched the title at the Thoroughbred Cup in Kentucky, while the team defeated East Moline United to win the Quincy Notre Dame Tournament.
"We have faced some pretty good competition and we have fought really well to control leads and especially to get back in games like against Central and Bryan Station," Puyo said. "We can be pretty explosive at times but, overall, every result to every game for us is going to be about the hard work we put in. I'm hoping to have the same success we have had out of town and I know we are in a great place as a team."
STLhighschoolSPORTS.com rankings - 9/11/2019 Large SchoolsLast Week1. De Smet (2-0)22. Chaminade (3-0)43. Vianney (3-1)34. Fort Zumwalt South …
The championship was the school's first in the Notre Dame Tournament.
Ladue coach Dave Aronberg said senior midfielder Giuseppe Di Cera (nine goals, five assists) is on a roll.
"Giuseppe is one of the best soccer players I've ever coached," Aronberg said. "He can do it all on the field and is tenacious both in practice and in games. He's done a lot of his damage from a defensive midfield position which makes his scoring even more impressive. Honestly, I didn't think we'd get the scoring production that we've gotten from him. I know on his academy team he wasn't leaned on much to be a scorer, but he's such a smart player. He always gets in the right positions to score and is clinical with his finishes."
The coach added that the team's success isn't all about Di Cera.
Aronberg said that there is plenty of talent for the opposition to contend with when they face Ladue.
He points to sophomore Grayson Francis (four goals, one assist), senior Lincoln Dibler and senior Elliot Loitman as key cogs for the Rams. The coach added that senior captains Alex Smith, Xavier Hadley and Puyo lead by example.
"While Giuseppe's numbers have been great, really we're not a one-man band," Aronberg said. "It's the collective talent that has helped us this year. We have a bunch of interchangeable parts up top with speed and a nose for the goal."
Coming off a 15-11 finish, Aronberg said he knew the seeds were there for success. It's just that the team has grown much faster than anticipated.
"The coaches knew before the year started that this group had the potential to be a special group," Aronberg said. "Honestly, though, we thought it would take longer to jell and figure things out. It's one of the most coachable groups I've ever had and they've really grown a bunch in a short time."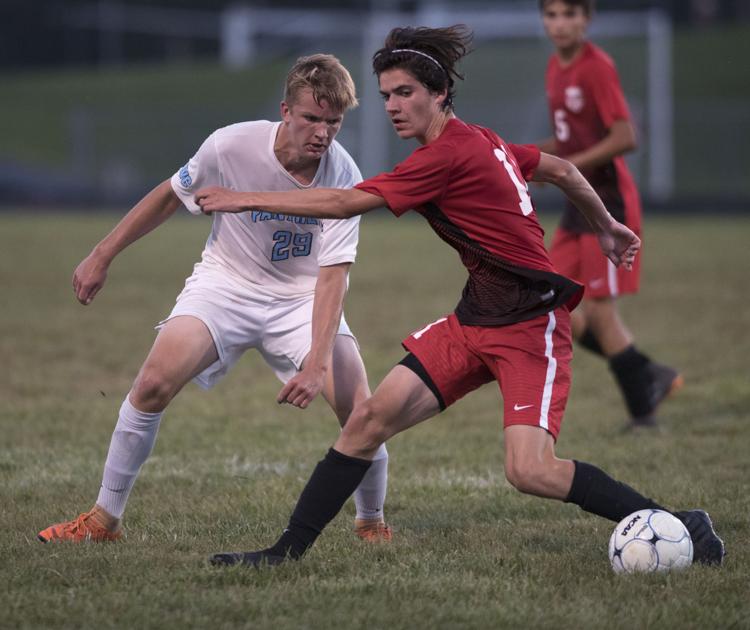 JERSEY'S KRIBS LEADS AREA IN SCORING
Though he's just a couple of weeks into the season, Jerseyville junior forward Andrew Kribs is already ahead of last year's offensive pace.
The success for Jerseyville (7-1) has mirrored his own as Kribs already has 20 goals to lead the area, which is up from the 16 he scored all of last season
"We're really moving the ball well as a team," Kribs said. "A lot of us have been playing together since we were in fourth grade. It's great to see all of us coming together this season."
Jerseyville has, indeed, come together for coach Scott Burney.
Kribs' goals have come in bunches. He has scored five goals apiece in wins over Staunton, Gillespie and Springfield Lutheran. The win over Lutheran secured the championship at the Carlinville Tournament.
The team's seven wins in eight games equals the program's start from a season ago when the Panthers finished 12-11.
While Kribs' 20 goals have been important, another number which has been key for Jerseyvile so far has been the number two, as in the number of goals the team allowed in winning its first seven games in succession.
"We've played really well to start and we thought we'd do well with the seniors we have coming back but we didn't know we'd start 7-0," Burney said. "We're starting in the back. We wanted to solidify (the defense). We haven't been very good the last couple of years defensively. In years past when we've made (postseason) runs, we've been good defensively, so we want to get back to that this season."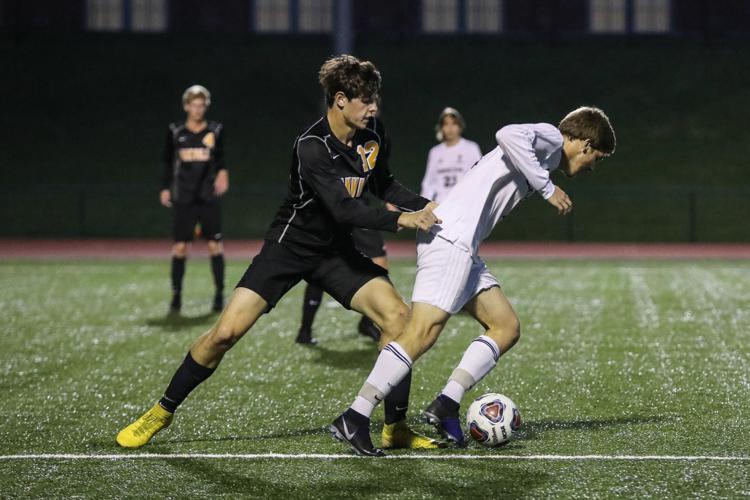 After winning seven games all of last year under new coach Bob O'Connell, the SLUH soccer team may have found its footing.
Even the Junior Bills losses have been by the one-goal variety as the team has been nipped by Chaminade and Rock Bridge.
After averaging less than one goal per game last season, the team has scored two per contest in the early stages this season. Leading the way has been the three goals tallied by senior midfielder Charles Neuwirth.
"I think the guys are ahead of where we were at this point last year," O'Connell said. "The guys committed themselves to spring weights and our summer fitness and scrimmage program and we are seeing the fruits of their efforts. We are organized in the back and have the ability to keep the ball. Charles Neuwirth has been great in the midfield while Ethan Joly, a forward last year, has been converted to center back and has done a really great job for us along with senior Kevin Stein and goalkeeper Peter Herrmann."
• Much like SLUH, another team under the tutelage of a second year coach is off to a roaring start. St. Mary's under Charlie Clark, has steamrolled its way to a 4-0 start, including winning the Windsor Tournament. The Dragons have outscored the opposition 22-1.
• At Fort Zumwalt West, the Jaguars are off to an impressive start, winning each of the team's first four games. West has outscored the opposition 16-1 behind seven goals from senior forward Jack Meuse.
• De Smet's Nicholas Miller, St. Charles West's Ian Hollander and Zumwalt South's Luke Dillon have all started the season off with a pair of shutouts apiece. The trio are the only local players with a goals against average of 0.00 having played in multiple contests.