Devin Livingstone was part of a three-headed scoring monster that tallied a combined 73 goals for Fort Zumwalt South last season on its way to the Class 3 boys soccer state championship.
The senior forward hasn't slowed down this season, scoring a team-high 12 goals for the Bulldogs (7-1) after providing 24 all of last season.
STLhighschoolSPORTS.com rankings - 9/18/2019 Large SchoolsLast Week1. De Smet (5-0)12. Triad (9-0-1)83. Fort Zumwalt South (7-1)44. Edwardsvil…
"There is always pressure to score when you are seen as a goal scorer, especially when others are counting on you," Livingstone said. "In order to be a good team, we have to have someone scoring goals every game they can, and that's all I hope to do every game so we have a chance to be successful."
Livingstone has goals in six of the Bulldogs' seven games, including four multi-goal efforts.
His personal best this season was a four-goal effort Sept. 3 in a win over St. Charles in the season opener.
"We feel Devin took it upon himself to build upon his personal successes of last season and he has picked up right where he left off," Bulldogs coach Jim Layne said. "He came into preseason physically in great shape and ready to contribute right away. At the same time, we have noticed a new side to Devin. He has become more of a vocal leader and we think he truly understands what his role is on the team, what he needs to do in order for us to be successful."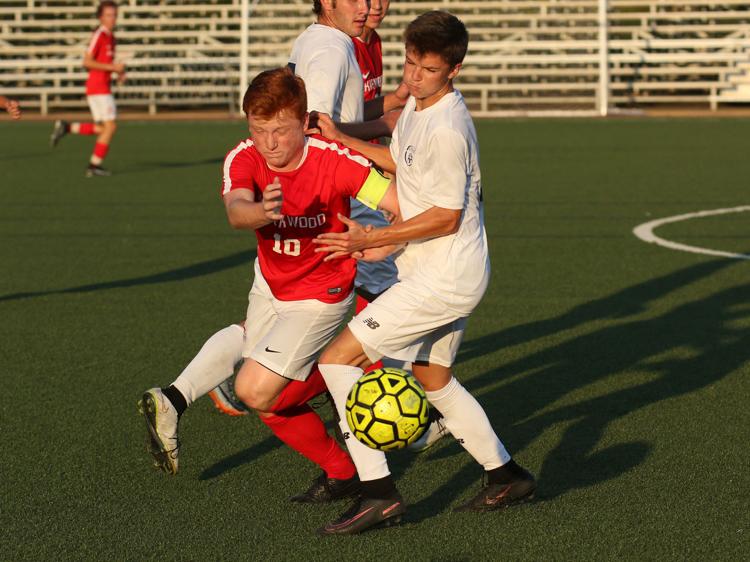 O'FALLON AIMS TO BUILD UPON STRONG START
At 6-1-2, O'Fallon is off to its best start since a 9-1 mark in 2010.
"The great start has given us a lot of confidence,"senior midfielder Ben Koenig said. "Our team chemistry this year is better than in the past and we know the talent we have is high this year, including off the bench. We are getting better and better every game. It's motivating us to put together the final pieces to be a team that can make a long run in the playoffs."
Due to working out early-season kinks, the pair hasn't even had the chance to feed off one another in the midfield yet.
"Ironically, they haven't played together much at all," O'Fallon coach Jason Turkington said. "We worked on quite a few things in the first couple weeks of the season and are hopefully getting closer to finalizing everything. It's tough in high school to work through your system and formations when there are so many players from different age groups and (different) club teams and the preseason is basically non existent, so you have to experiment during the season."
Turkington said O'Fallon's defense has been solid and has been a main reason for early-season success.
The Panthers are giving up .78 goals a game behind senior Steven Merrill's .84 goals against average and two shutouts.
"Defense in any sport is obviously crucial and the group of defenders have done a wonderful job for us," Turkington said. "But it's not just our back line, we are defending as a group and have a strong goalie as well."
CORN CONTINUES TO GROW FOR UNIVERSITY CITY
As a sophomore, University City midfielder/forward Jalen Corn had a successful season, scoring 22 goals and adding 12 assists as the Lions went 17-7.
Fast forward one year and Corn is up to his old tricks.
Through the early stages of this season for University City (5-3), Corn has already amassed 18 goals, which are good for second most in the area, while he's added seven assists.
Corn has scored at least three goals in a game five separate times.
The most recent scoring binge has been back-to-back four-goal efforts in wins over North Tech and Lutheran North where he scored the game-winning goal each time.
Corn's five game-winning goals lead all area players.
"Jalen's outstanding start is a result of his hard work in practice and the offseason to improve his finishing capability," University City coach Tom Henson said. "His superb creative skills have produced numerous scoring opportunities for him and his teammates."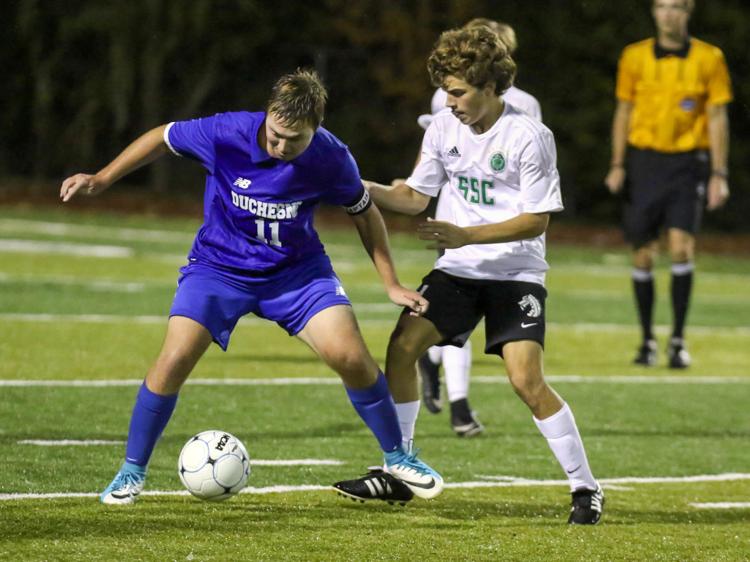 ST. MARY'S CONTINUES RESURGENCE
For the first time since 2014, St. Mary's is above .500 after seven games.
Also, St. Mary's (6-1) sits with a single loss at this juncture for the first time since 2007.
The Dragons' offense boasts five players who have scored multiple goals so far this young season. The group is led by the pair of senior Matthew Chastonay (seven goals, four assists) and junior Keith Polette (seven goals). 
• The McCluer Tournament wraps up later this week as the semifinals are slated for Wednesday and the championship round is Friday. In the semifinal round, University and Orchard Farm play at 5:15 p.m. at Lutheran North while Lutheran St. Charles plays at McCluer at the same time.
• The CBC Tournament also wraps up this week. After wins by De Smet and SLUH Tuesday, the teams will play at 5 p.m. Thursday before Vianney plays CBC at 7 p.m. The final day features Vianney and SLUH at 5 p.m. and De Smet against CBC at 7 p.m. Saturday.
• The Summit Shootout runs Thursday through Saturday as teams from around the region take part.