While Tuesday may have provided the crown jewel in the resurgence of the Priory soccer team, the last three weeks have provided plenty of evidence the Rebels are serving notice to all comers.
On the surface, a 3-0 win over a juggernaut like Chaminade is special, but in truth it's just the latest example of the team's good play, junior center back Ben Glarner said.
STLhighschoolSPORTS.com rankings - 10/17/2018 Large SchoolsLast Week1. Summit (16-2-1)22. CBC (18-2-2)33. Francis Howell (17-2-1)54. De Smet (…
"Chaminade is a great team, obviously, and they've done a lot of great things throughout the year," Glarner said. "We know ourselves and have prepared to put everything on the line. They are a phenomenal team and it was awesome to do something like this."
Glarner said the resurgence is working because everyone has bought in. The Rebels haven't conceded a goal in six October games.
"It's been a team thing over the last month, as the season is coming to a close, we've really become closer," Glarner said. "We know that everyone has their own duty, their job. Knowing that has allowed us to come together."
The win not only marked the first time the Rebels beat a Metro Catholic Conference team this season in four tries, it showed the growth they have experienced.
"I think we have learned from mistakes that early in the season sometimes led to sloppy goals and disappointing losses," Priory coach John Mohrmann said. "Sometimes that has meant playing smarter and with more focus, and sometimes it's about improved skill and better organization."
The improved skill will go a long way toward helping Priory prepare for the Class 3 District 4 tournament at Westminster that, in addition to the host school, will feature Parkway West and Summit.
"We know we've got a big job ahead of us," Glarner said. "We have to continue to work hard to play as a team and work together and we will (take our chances)."
DUNNE BROTHERS HELP PARKWAY CENTRAL ROUND INTO FORM
Senior Camden Dunne and his brother, sophomore Teagan Dunne, have been able to bond over the game of soccer most of their respective lives.
While soccer has been such a big part of their lives together, though, this season at Parkway Central marks the first time the pair has ever played on the same team.
"My brother and I have always been super close to each other," Camden Dunne said. "From a young age we would spend hours and hours at each others games. And then after the games we would come home and play with each other again in the backyard, but something that never happened was that we never played on the same team. High school, club, or CYC — none of them. But that didn't stop the bond and chemistry we had. Teagan and I have our agreements and disagreements but when we are playing on the field together the chemistry is amazing."
The younger Dunne said that it's been great to use all of the soccer experience he's gotten from working with his brother on the pitch at Central.
"After all these years playing with my brother in the backyard and watching each other from the sidelines it has really been a fun opportunity," Teagan Dunne said. "To be able to use the chemistry we have off the field, on the field (is special)."
That chemistry has helped Central (12-5-2) has Camden has scored eight goals and added five assists while Teagan has added four assists.
The duo has formed a powerful combination in the central midfield, Colts coach Brian Adam said.
"It is tremendously fun to watch them work together," Adam said. "They are different players, but still show the same base set of skills. It is special to watch them anchor the middle of the field together. Teagan, as one of the youngest players, is one of our best leaders. The team plays better with him anchoring the middle of the field. Camden, as one of our captains, is a personal type of leader. He can be at the center of attention, but his real leadership shows when he is having a one-on-one conversation with a teammate. He is extremely gifted at knowing what to say and when. He does such a good job of lifting his teammates up and getting them to play their best."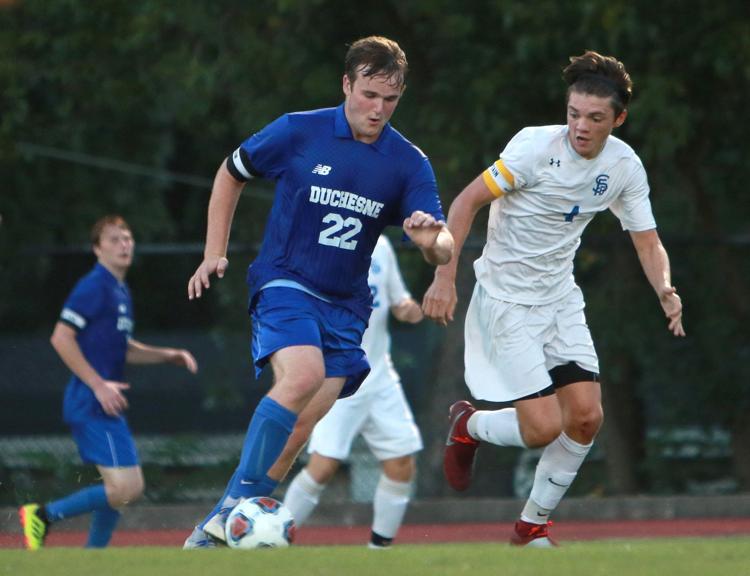 DUCHESNE PERSEVERES IN TOUGH SEASON
Duchesne has endured some tough moments this season.
But by virtue of the their 2-1 win Tuesday at Lutheran St. Charles, the Pioneers (8-11 overall) team won the Archdiocesan Athletic Association Division II title with a 7-1 conference mark.
"It's a pretty nice feeling, we haven't had the most luck this season," senior captain Nic Budrovich said. "It's rewarding to see us perform well in our conference. It's a good boost going into the postseason."
While the regular season schedule has been littered with losses to some of the area's best programs, Pioneers coach Pat Turner said the team has got to look forward.
"It has been a trying season, both mentally and physically," Turner said. "I believe our non-conference schedule is what set us up to do well in the AAA. I've very happy for our boys to have the experience to win our conference. Now it's time for the focus to shift to winning our tough district."
The title is the first the Pioneers have won outright in the conference since joining the AAA in 2012.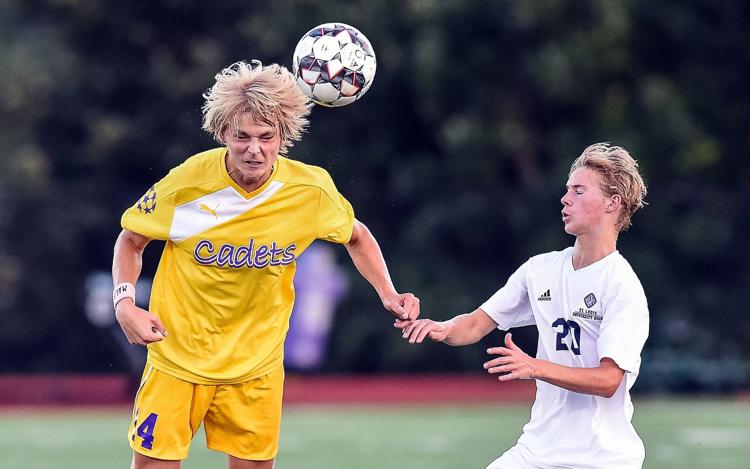 • Just how tough is the Metro Catholic Conference? For the first time since 2011, there won't be an undefeated champion. By virtue of the Cadets 2-1 win Tuesday over Vianney, CBC (18-2-2) captured the title with a 3-1 conference record. That was identical to De Smet, but CBC owns the tiebreaker after a 4-0 win at De Smet on Oct. 10.
• The Illinois soccer postseason remains in full swing this week. Class 2A regionals at Waterloo and Carbondale (6 p.m. Friday) and Civic Memorial (11 a.m. Saturday) wrap up this week, as do Class 3A tournaments at Collinsville (Quincy vs. Collinsville, 3 p.m. Saturday) and O'Fallon (O'Fallon vs. Edwardsville, 5 p.m. Friday).
• The Class 1A Althoff Sectional comes to an end this week as well. The title game is slated for 1 p.m. Saturday.