If it's October, then the Collinsville boys soccer team must be on another postseason run.
For the third consecutive season, the Kahoks (17-5-2) have advanced to the Class 3A sectional championship game.
STLhighschoolSPORTS.com rankings - 10/24/2018 Large SchoolsLast Week1. Francis Howell (19-2-1)32. CBC (19-2-2)23. Summit (18-3-1)14. De Smet (…
This time, though, when the Kahoks face Normal Community at 6 p.m. Friday, they might just have an ace in the hole.
That's because senior goalkeeper Tate Wyatt has been phenomenal in concert with the defense in front of him.
"I think it's both," Wyatt said. "I do think I am doing well, but it's also the guys in front of me. The defense really keeps things clean and tight. Personally, I just feel like I'm having my best season out of all four years."
Wyatt owns every decision for the team and also has amassed a 1.45 goals against average while making 101 saves and shutting out the opposition eight times.
Collinsville coach Rob Lugge said other than a stretch of five losses and one tie in seven games, Wyatt has been rock solid.
"Tate's been outstanding for us all year, we started out hot, but then we were going through a rough patch and I never wavered with Tate," Lugge said. "We knew how high of a quality of goalkeeper he is and he still surprises me every game with just how good he is."
In his three years of varsity experience, Wyatt owns a 20-5-2 record for Collinsville. 
Wyatt made several key saves Tuesday in the Kahoks' 2-1 win at home over Edwardsville in a sectional semifinal.
Among several key saves, Wyatt robbed Tigers senior forward Bryce Glisson in the second half to give Collinsville the chance it needed to win.
Edwardsville coach Mark Heiderscheid lauded Wyatt.
"I though Gliss had that one for sure," Heiderscheid said. "Wyatt just made a great, great tip save. Any one of our chances could have iced the game but, alas."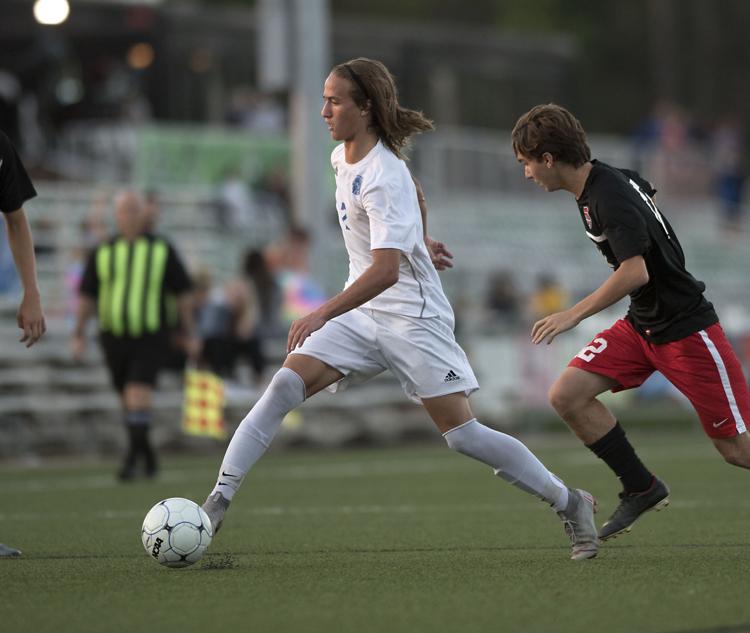 NOAH HELPS GUIDE LIONS AWAY FROM ROUGH SEAS
It has been since the 2014 season that Northwest has had a winning record.
The fact the Lions have bulked their record to 15-8 may have a lot to do with the fact junior forward Joe Noah has bulked up both his game and his body.
After an offseason of hard work, Noah went from four goals to setting the school record. His current total of 33 surpassed the mark of 31 set by Gino Bono in 2012.
"I hit the weight room hard and put in a lot of hard work," Noah said. "It has just all paid off. The team has worked so hard to put me in perfect situations. Honestly, this all goes to the team."
Northwest coach David Willis said while Noah has been successful, the junior is right — his success has come thanks to a little help from his friends.
"Joe also benefits from the fact that he plays with one of the best players in the area, my center attacking mid Brandon O'Dell," Willis said. "I feel like anytime you break a record like this, it's a team record, really."
Noah said he knows just how valuable O'Dell has been to his success.
"I think just about every one of his assists have come on my goals," Noah quipped. "Seriously, though, there have been a lot."
While he made sure to highlight O'Dell — who has 13 goals and 18 assists — Willis said he didn't want to take away from the effort Noah has put together.
"We've gone through some seasons recently where we have really struggled to score," Willis said. "Joe's emergence as a goal scorer has been fantastic. He worked hard in the offseason to get bigger, faster and stronger. Speed kills in this game."
Noah has scored multiple goals in a game 10 times this season, including a personal best four twice. He notched the feat Sept. 24 in wins over Affton and Oct. 15 against Parkway North.
Noah's scoring totals put him sixth in the area in goals scored and seventh in total points.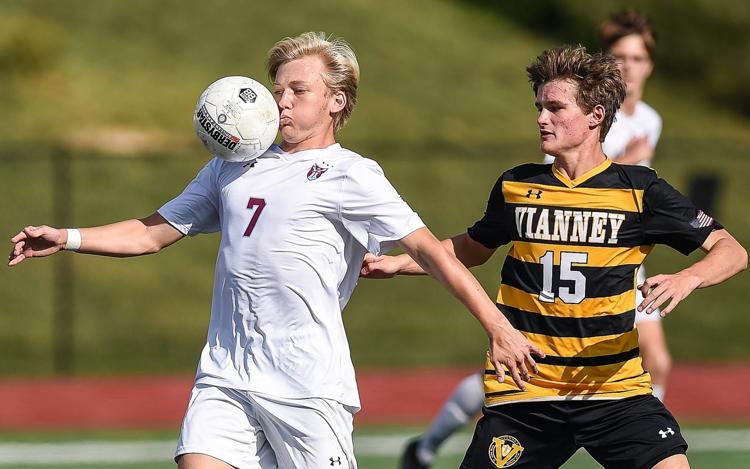 DE SMET CONTINUES MARCH INTO POSTSEASON
Headed into the Class 4 District 2 tournament at home next week, De Smet is ready to roll.
Playing host to Hazelwood West at 4:30 p.m. Tuesday while Howell North and Pattonville play in the other semifinal at 6:30, Spartans coach Josh Klein said the Spartans have plenty of cautious optimism.
"The season was successful for us, yes, but the boys know that the postseason is going to require even more grit," Klein said. "(We will need) the ability to find that 'next gear' if we want to do anything special."
De Smet (17-3-2) has done plenty of special things to date.
The Spartans are 11-1-1 in their last 13 games.
Carson King leads the team with 10 goals this season as 17 different players have accounted for the 63 goals scored by the team.
"We're really proud of the regular season results," Klein said. "A lot of veterans and newcomers have stepped up in big ways. What we need now are those individuals to stay consistent and capitalize on the opportunities they create."
The district championship game is scheduled for 6 p.m. Nov. 1.
UPSTART CARDINAL RITTER WINS WAY INTO DISTRICT TITLE GAME
In just its second full season of varsity soccer, Cardinal Ritter still has plenty for which to play.
Playing a limited schedule, the Lions (4-4) managed to edge Vashon 4-3 in a Class 2 District 3 opening round game Monday.
For good measure, the team then went out and edged the district's top seed, North Tech, by a 3-2 score.
Ritter will now take on Roosevelt (6-6) for the title in a game slated for 4:30 p.m. Thursday.
The winner of that contest will play either John Burroughs or University City in the sectional round Oct. 30.