Chris Ahr fought back the tears.
Her son, Brian Ahr, a standout defender for the Summit High boys soccer team, was unable to tie his shoe. Just standing up was a major chore.
Mom had to do almost everything for the 17-year-old as he tried to fight on despite a broken vertebrae in his lower back suffered during a club soccer match in February.
"It hurt to see him not able to do the normal everyday things in a life that any teenager should be able to do by himself," Chris Ahr recalled. "But if he could handle it, I had to show him I could be strong, too."
Brian has never given into the intense pain that still racks his body from head to toe.
Through it all, one of the top shutdown center backs in the area has persevered.
"It hurts, sometimes really bad," Brian said. "I just keep moving forward and try not to think about it."
Ahr's strength and determination comes from a strong desire to continue to play a sport that has become his passion.
He will lead the unbeaten Falcons (27-0-1) into the Class 3 state tournament this weekend at Soccer Park in Fenton.
Summit, a solid favorite to win its second state crown, faces Webster Groves (20-6) in a Class 3 semifinal at 11 a.m. Friday. Neosho (18-7) takes on Platte County (25-1) in the other semifinal at 1 p.m. Friday.
The semifinal winners meet for the state championship at 3:30 p.m. Saturday.
That Ahr is even still playing soccer — and at such a high level — is remarkable. He snapped the bone in his lower vertebrae, which forced it into a nearby disc, causing excruciating pain.
For the time being, Ahr has kept going with the help of some well-placed epidural shots, which make the pain somewhat bearable. His doctors have told him that spinal fusion surgery is likely down the road.
But they also gave him the go-ahead to keep playing — as long as he can handle the discomfort.
"They said there's no way I can hurt it any more," Brian said. "As long as I can tolerate the pain."
Ahr's determination to fight through a situation that would disable most adults can be attributed to his love for the sport he has played since age 3.
His fight has proved an inspiration for teammates and everyone involved with the program.
"A lot of people think he's crazy," Summit senior midfielder Jonathan Thomas said. "But that's just the way he is. He knew right away that this wasn't going to stop him."
Ahr has three goals this season. But his main role is that of a defensive stopper. He has an uncanny knack for keeping the other team's top sniper under wraps. He recently held Fort Zumwalt South scoring machine Devin Livingstone (45 goals) scoreless in a 4-0 sectional win on Nov. 13.
"He is an absolute warrior," Summit coach Tom Wade said. "With his condition, he knows he won't be able to play in college, this is it for him. And he wants to go out a champion."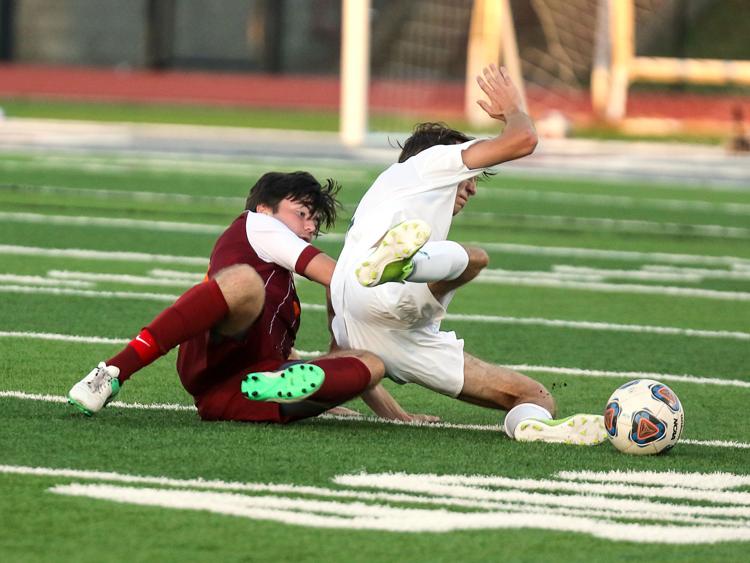 Ahr's brother, Matt, was a member of the Summit state title team in 2016 and Brian desperately wants to match him with a ring of his own.
It is that desire that has fueled his perseverance.
"I remember jumping into his arms after they won (the title), it was a great feeling," Brian Ahr said. "I want that feeling again."
Ahr believes he sustained the injury while lifting weights right before the ill-fated club tournament. A hard tackle in the match apparently pushed the bone even further out of place.
He struggled for months just to get around and knew returning to the pitch was a longshot.
But doctors came up with a plan for him that included three epidural shots, all spread out during the season. The injections give him some relief and usually last four to five weeks. He received his last shot late last month. Ahr passed out from the pain of the long needle but was back on his feet hours later.
"A lot of people think he's crazy," Chris said. "I'd say a little crazy and a lot of courage."
Ahr has accepted his fate and said he realizes even with fusion surgery, he likely will battle back problems the rest of his life.
That makes this weekend even more important.
Arh lives, breathes and eats soccer. When he is not playing, he is watching matches from across the globe. An ardent supporter of Arsenal in the English Premier League, soccer has played a huge role in his life.
He doesn't want to let go but realizes that his playing career is coming to an end soon.
"I'm happy that we made it this far, that's been my goal ever since this first happened," Ahr said. "But after the game, I'll be looking at the field and think, 'Those were my last minutes of soccer.' "