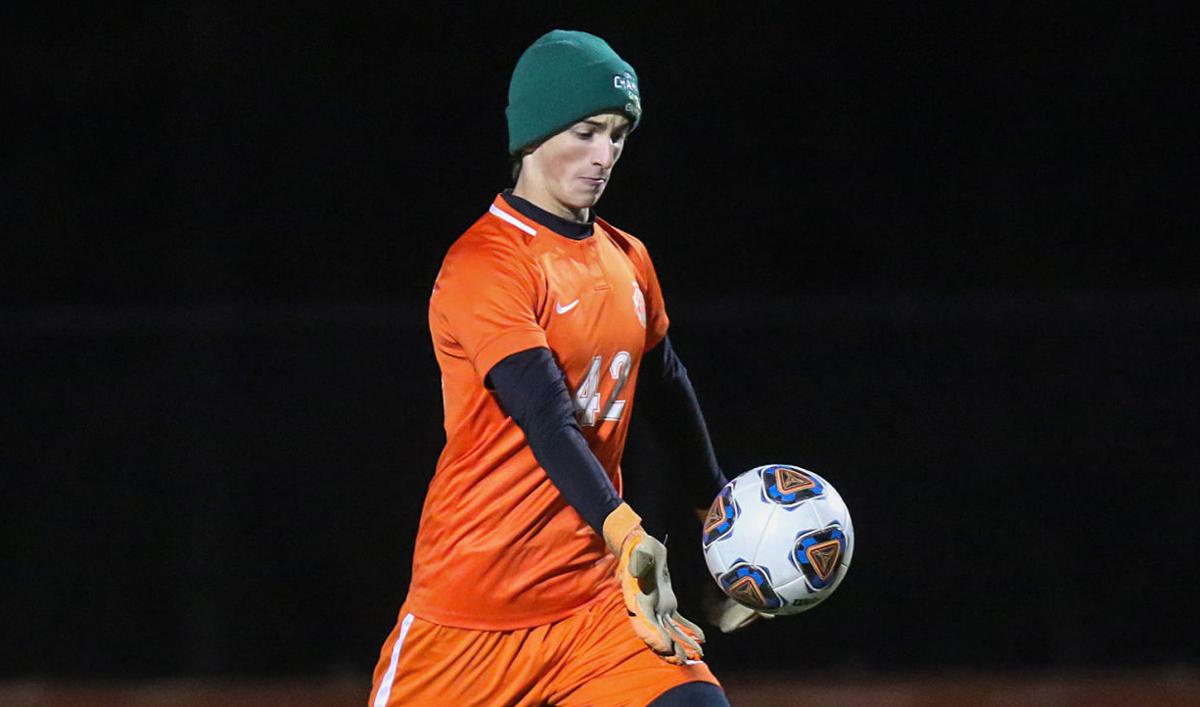 Junior goalkeeper Trevor Mihill had been little more than a spectator during games this season for the Webster Groves boys soccer team, playing 310 minutes in five appearances through the team's first 24 games.
Times have changed, though.
Senior starter Preston Haney sustained a knee injury during late in the first half of the Statesmen's sectional victory against Ladue, thrusting Mihill into the spotlight.
"It's been a great experience so far, I feel I'm getting stronger each game," Mihill said. "My teammates have been nothing but positive to me. They know that this situation may be new to me, but overall their positivity has helped me improve my game and stay focused for these matches."
As Webster Groves (20-6) prepares to play Summit (27-0-1, No. 1 LS) at 11 a.m. Friday at Soccer Park in a Class 3 state semifinal, Mihill is set to be the main man in net.
He owns a 5-1 record with a pair of shutouts and a 1.29 goals against average.
"Trevor is a confident player that has the skills and work ethic to be a great goalkeeper," Statesmen coach Tim Velten said. "The only thing he was missing was the experience and now he's getting that, too."
Since the injury to Haney, Mihill owns wins over Ladue in the sectional and over Hillsboro in the quarterfinal. He has made five saves between the victories.
Velten said that the credit for allowing just one goal in each game doesn't belong to him alone.
"The team has handled this tremendously," Velten said. "They are so disappointed for Preston but have really rallied behind Trevor and given him an enormous boost of confidence."
Mihill said his motivations, along with winning, of course, have to do with representing those who can't represent themselves right now, but have been key cogs for the team throughout the season.
Sure, Haney is a prime example, but Mihill said there are others.
"To make the best of (the current situation), I simply need to play for the team," Mihill said. "And all the guys who are missing out on this game due to injuries."
Velten said he has the expectation that Mihill is more than capable of succeeding, even on the biggest of stages.
After all, he's already done it twice in the postseason.
"I expect him to handle next weekend exactly the same way he handled Saturday, with poise and confidence," Velten said. "It's a team sport and he knows that, which takes a lot of pressure off of him. He knows he doesn't have to do it all himself and he has 10 players in front of him that have his back."
Mihill added that he's just happy to be a part of a team that is attempting to succeed in its fourth state tournament in six seasons.
After all, Webster is the returning Class 3 runner-up and the Statesmen also have state titles in 2014 and 2015. Sure, an undefeated Summit team will provide a tough opponent, but the Statesmen will be ready.
"We know they're good, and we know how they play," Mihill said. "We know what we need to do to get a result and that's what will happen. As it comes to me to prepare, obviously practicing the basic skills is important, but for me the mental game will be a key factor. Weather its thinking about communication or positioning, I need to stay focused for the entire game to get my team a result."