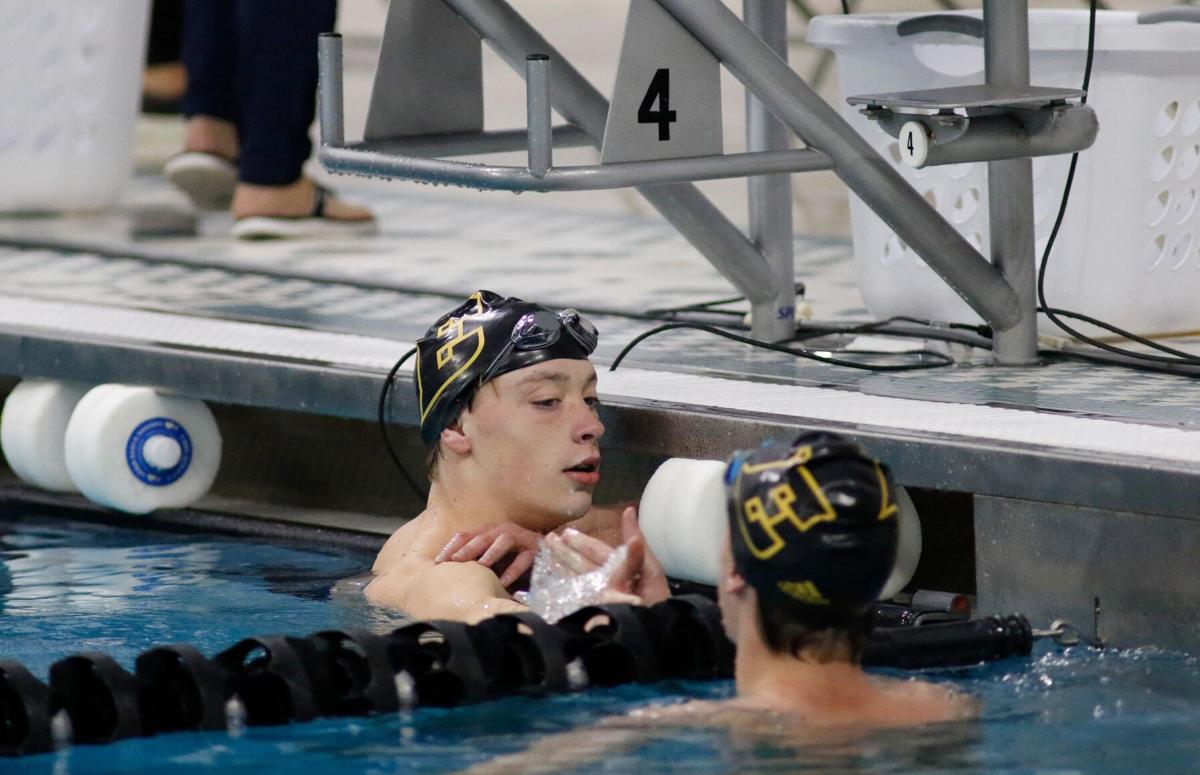 ST. PETERS — Locked in a back-and-forth battle with its rival, one race turned out to be a big boost for the Fort Zumwalt East boys swimming and diving team.
The Lions went 1-2-3 in the 500-yard freestyle to turn a five-point deficit against Fort Zumwalt South into a 22-point lead and, after a late surge by the Bulldogs made it close again, the Lions won the night's final event to hold off the Bulldogs 418-408 to win the GAC North-Central championship for the second successive season Wednesday evening at the St. Peters Rec-Plex.
"I very much applaud the South team. They have an outstanding group of swimmers there. It was a lot of fun," East coach Wade Horn said. "I knew that the entire event was going to go back and forth, back and forth. I knew where they had a lot of kids that were strong and where we were going to be strong. It came down to a relay team finishing strong."
The GAC South championship went to Francis Howell for the third season in a row. Howell amassed 495 points to Fort Zumwalt West's 391.
"From Day 1, we talked about team goals and what we wanted, and what we had to do to get here," Howell coach Mandy Windham said. "And they were willing to put in the work to do it, literally from top to bottom."
East junior Christian Randall won the North-Central 500 free with a time of 4 minutes, 53.49 seconds and was followed by sophomore Nick Ostrander (5:21.92) and Henry Griffin (5:39.19) to give the Lions an important 53 team points in the event.
"That felt really good," Randall said. "We were really planning on that before we started finals today."
East held an early lead before South took the lead after Event 10. After the Lions grabbed the lead back in the 500, the Bulldogs kept inching closer until the deficit was down to just four points heading into the final event, the 400 free relay.
The favored Lions topped the Bulldogs by just under 14 seconds to win their third relay of the night and secure the first-place trophy.
"I'm speechless in a sense because these guys have worked diligently all year long at their task and it really paid off today," Horn said. "Every single one of them did their job. They came out and went after it every single event and I couldn't be more proud of the tenacity that they showed."
Randall won a pair of individual events, as he also captured the 200 free title. He made the state cut in both the 200 and 500.
"I hadn't done it yet and I was so close in both of them," Randall said. "I had it on my club team, but I just didn't have it here, so it felt really good to get it."
East junior Matthew Springer also won a pair of first-place medals in the 50 and 100 frees and the Lions also got a win from sophomore Brayden Phillips in the 100 butterfly.
South picked up an individual title when freshman Jacob Wolf won the 100 backstroke, which was a race that helped the Bulldogs close the gap late on the Lions.
Washington senior Mason Kauffeld was the other double winner in the North-Central, as he was victorious in the 200 individual medley and the 100 breaststroke.
Kauffeld's win in the breast was especially noteworthy as his time of 59.02 seconds was his first sub-one minute time ever and also broke an 11-year-old GAC record in the event held by Trace Curvey of Zumwalt West, who swam a 59.11 in 2009.
"To finally break a minute means a lot because I've been trying to do that for two years," Kauffeld said. "It was really exciting for me because I've been working all season and over the summer."
Howell North junior Logan Schelfaut also broke a GAC record when he compiled 669.35 points in Tuesday's North-Central one-meter diving competition.
Schelfaut, the two-time defending Class 2 diving champion, also set the GAC record as both a freshman and sophomore.
"Throughout the meet, I was just feeling really good about my dives," Schelfaut said. "I can still work on some dives, but I feel like I did pretty good yesterday."
West had the most individual wins in the South Division with five, but it was Howell's depth that earned the Vikings another spot at the top of the team standings.
"No one person is more important than another," Windham said. "Everyone is told daily that they matter and their spot matters. If you don't show up to practice one day, then your teammates suffer because of that. They knew, in order to get this done, every single one of them had to step up and do a job."
Howell won the 400 free relay to close out the night. Junior Jacobb Dearing had the Vikings' only individual win with a repeat title in the 200 free.
"It's so nice to see that all of our work that we put in through the season has paid off," Dearing said. "We train for this every year and it's really nice to see that the numbers show that."
West won the 200 medley relay and also got a pair of wins from junior Cameron McCrary (100 fly, 500 free), as well as victories from junior Sean McElfresh in the 50 free, junior Joseph Serio in the 100 breast and senior Eric Busby in diving.
McElfresh's win meant the South Division's 50 free title will stay in the family, as his older brother Kevin won it as a senior last fall. Sean said he was hopeful Kevin, who is now serving at the United States Naval Academy, was able to watch this year's meet unfold on the event's live stream.
"I watched him win it last year and I was really happy for him," Sean said. "My goal was to win it this year and it feels great to win it."