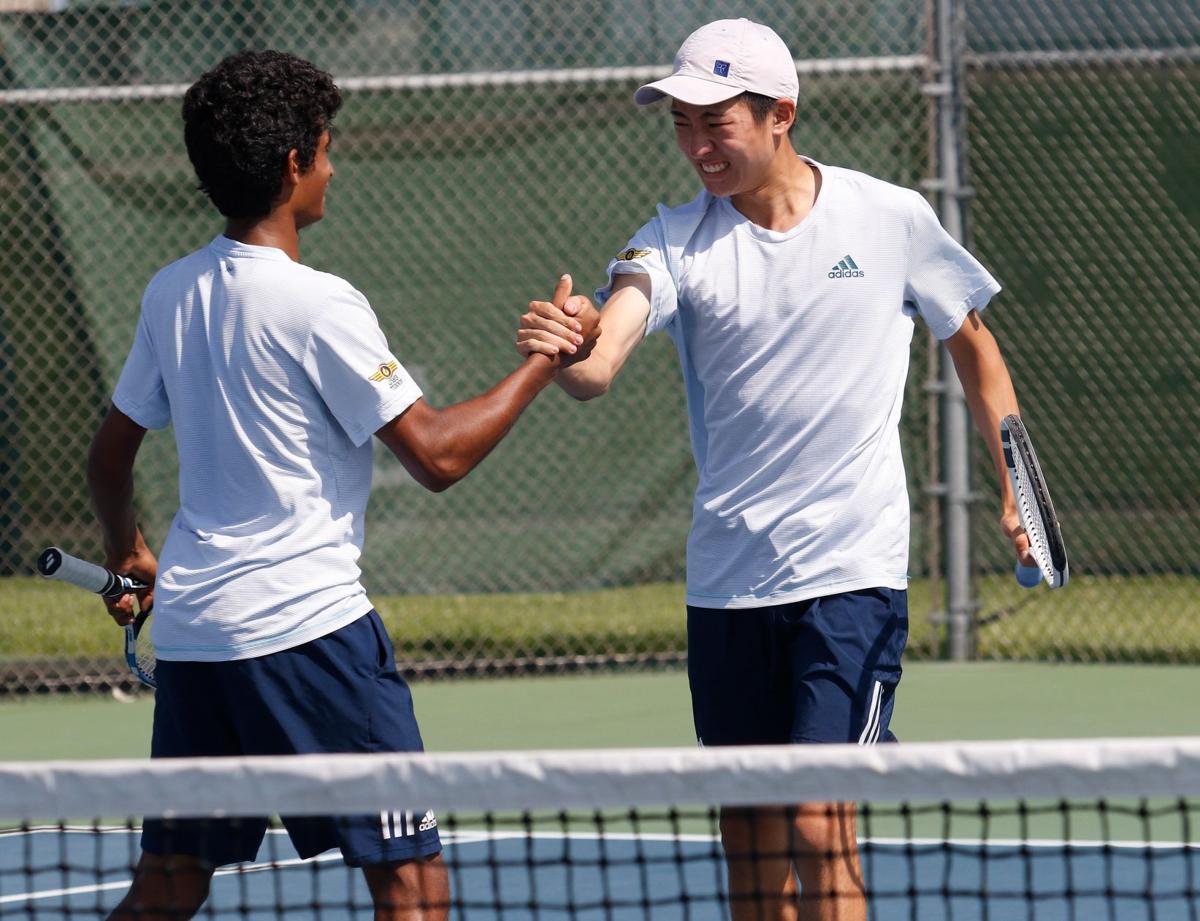 It didn't take long for legendary area high school tennis coach Bob Keefe to realize he has something special going with the John Burroughs boys program.
Keefe has seen his share of good high school players during his many years of coaching. He began his career in 1979 at Belleville West, where he coached until 2007. He also had stints at Waterloo and Incarnate Word, went back to Belleville West for three years and also has helped with the state champion John Burroughs girls program.
He was scheduled to coach the boys at John Burroughs during the 2020 season before it was canceled because of the COVID-19 pandemic.
"I only had 14 practice days with them," Keefe said. "But that was long enough to realize what kind of team this can be. I have worked with some very talented kids, but I have never had a group with as much talent as these guys."
Akash Rajan, Rory Sutter, Dav Nayak and Sam Wang — all seniors for the Bombers — have glowing resumes.
Rajan won the Class 1 singles championship in 2019 and finished second in doubles in 2018.
Sutter has a pair of second-place singles finishes at state. He reached the title match as a freshman in 2018 before losing to Evan Erb of MICDS and then fell to Rajan in 2019's title match.
Nayak and Wang teamed for a second-place finish in Class 1 doubles in 2019.
"All of these guys are athletic and they all have high tennis IQs," Keefe said. "They compete with each other, but they are supportive with one another. There is a great atmosphere here."
The ultimate goal for these seniors is to complete the sweep of team titles. They won Class 1 team championships as freshmen and sophomores but could not defend their title last year.
The saving grace was that they had this year to play. And Keefe said they seem more motivated than ever to make their senior season special.
"I was very bummed out that we couldn't play last year," Sutter said. "We were going to try to chase another team championship. But we are very excited about this season. We started out as champs and as seniors we want to close out on top."
The Bombers have four team state championships, including the 2018 and 2019 crowns, and have reached the state semifinals 17 times.
"We didn't get the chance last year," Rajan said. "The state tournament is such a fun time and I was fortunate to win state as a team and individually. That would be an ideal finish if I can do that."
The challenge will be more difficult this season as the Bombers surely are going to be in the newly created Class 3 because of the Missouri State High School Activities Association championship factor, which reclassifies schools based on postseason success over a six-year time period.
MSHSAA has not announced when it will release classifications for the spring sports.
John Burroughs' girls tennis team also was bumped into Class 3 and won the team championship.
"We are excited to play against a lot of the bigger schools," Sutter said. "They usually have well-rounded teams, but we feel if we play the way we are capable that we probably are the very best team."
The Bombers are scheduled to open their season at 4 p.m. April 2 by playing host to Ladue.
Rajan said he feels a Class 3 team championship will be even more prestigious than the previous two for the Bombers.
"I will enjoy playing different teams, better teams," Rajan said. "I have full confidence in our team, no matter who we play."
The team state tournament is scheduled for May 28-29 at Cooper Tennis Complex in Springfield. The individual tournament is scheduled for May 20-22.
Keefe said he feels the Bombers certainly are capable of playing against any school in the state.
"I love their intensity and their work habits," Keefe said. "They are so focused and hungry."