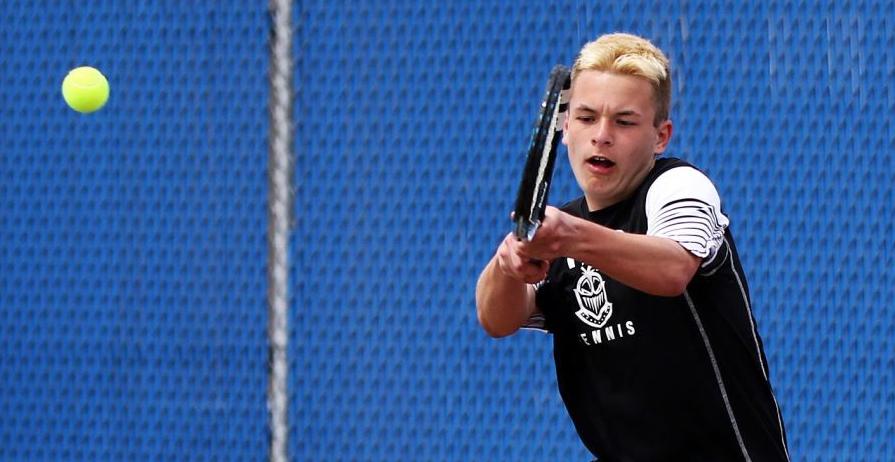 No player from the Metro East area was awarded one of the 16 seeds in singles or doubles in either Class 1A or Class 2A for the Illinois boys tennis state tournament, which begins at 8 a.m. Thursday in the northern suburbs of Chicago.
That does not mean there was a lack of success or highlights in the regular season for area teams.
The Illinois boys tennis tournament is scheduled for Thursday through Saturday at high schools throughout Chicago.
For instance, Triad has had quite an interesting and memorable season despite having three tournaments canceled.
The Knights had a solid 15-6 record in the regular season and have excelled in the postseason.
Triad won the Mississippi Valley Conference Tournament and did so by sweeping all nine flights — six singles and three doubles.
They continued their dominance in the Class 1A Triad Sectional last weekend. Triad won the team title and in the process had both the sectional singles champion in Jaden Henderson and doubles champion in the team of Dillon Henderson and Marc Froidcoeur.
"It's been over a decade since we had both singles and doubles champions in sectional," Triad coach Jack Carmody said. "And this was the first time in 86 years of Triad tennis that we had an all-Triad finals."
Henderson and Froidcoeur defeated teammates and top seed Kyle Langenstein and Jake Stewart for the doubles title by a 7-6, 6-4 score. Henderson and Froidcoeur, who were seeded third, avenged a regular-season loss with a straight-set win over Althoff's John Nester and Cole Curtis in the semifinals.
It was smooth sailing in the singles draw for Jaden Henderson, who lost just three total games in his four matches. He defeated Sutherland Allen of Highland 6-0, 6-1 in the final.
Jaden Henderson also won the sectional title as a sophomore in 2019 before last season was canceled by the COVID-19 pandemic.
"It is the first time in school history where we have had back to kind of back sectional champions," Carmody said. "Jaden is everything you want from a senior leader."
Henderson, who also qualified for state as a freshman in doubles, has only lost one match this season against a player from a Class 1A school.
"I am very happy with where my game is right now," Henderson said. "I had a few good matches early in the season and a few bad ones. Towards the end of the year I have been playing better and a lot of that has to do with my serve. I just want to be consistent at state and perform when it matters the most. I would love to finish off my high school career as all-state."
Henderson will face Ixit Prajapati of Oak Forest in the opening round.
Jaden has already made Triad history as he and his brother, Dillon, became the first brothers to win both a singles and doubles sectional title.
"I am glad that my little brother is getting to go to state," Jaden said. "I did it as a sophomore and so did he."
Sujan Garapati of Chicago Latin is the top seed in singles while Latin's Akshay Garapati and Kiran Garapati are the top seed in doubles.
O'Fallon senior Evan Potter, who won the Class 2A Belleville West sectional championship, will face Mattis Ciabilis of St. Charles North in the opening round.
Max Sheldon of Hersey is the top singles seed in Class 2A.
Colin Fox and John Rogers of New Trier earned the top seed in Class 2 doubles.
The tournament is scheduled to run through Saturday. Hersey High School is serving as tournament central. Thursday's preliminary rounds will be playing at Barrington, Buffalo Grove, Elk Grove, Fremd, Hersey, Hoffman Estates, Palatine, Stevenson, Rolling Meadows, Vernon Hills and Wheeling high schools.