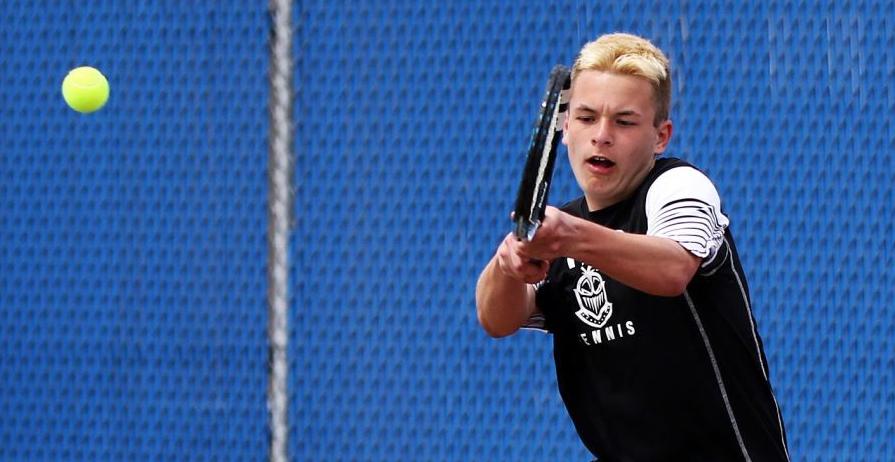 Triad hasn't performed better on the opening day of the Illinois boys tennis state tournament than it did Thursday.
The Knights assured themselves of all-state finishes in both singles and doubles in the Class 1A tournament, which is being played in the northern suburbs of Chicago.
Jaden Henderson, a senior, became the first player in Triad history to win his first two rounds in the singles draw. He defeated Ixit Prajapati of Oak Forest 6-0, 6-1 in the first round and followed with a 6-1, 7-5 victory over Marko Nikolic of St. Ignatius. Henderson then fell in the third round to Jackson Schuetzle of Crystal City South 6-3, 6-0. Schuetzle is seeded in the 3-4 area.
"Jaden played well in the first two rounds and in the first set of his third match," Triad coach Jack Carmody said. "The elite of the elite find another level and that is what happened today in his final match. Jaden slides to the 9-12 area, so the goal now is the top 10."
There was plenty of drama for senior Kyle Langenstein and sophomore Jake Stewart as they also earned all-state honors with three wins in their four doubles matches.
They opened with a 6-3, 6-4 win over Andrew Catalpa and Marko Cucuk of Quincy Notre Dame. They lost their second round match to a team from Hinsdale South and then beat a team from Charleston. It looked like it was going to be a one-day stay for Langenstein and Stewart as they lost the first set badly against Nathan Kochera and Colin Farley of St. Viator before rallying for an 0-6, 6-2, 10-6 victory.
"I thought we could make some noise up here, but I didn't think all-state was going to be a part of it," Stewart said. "It's really an amazing feeling."
The odds are against a team that loses the first set 6-0, and that was particularly true for the Triad duo as it played its fourth match in the heat.
"Playing four matches in the heat was tough, but everybody had to do it," said Langenstein, who like Stewart is playing in his first state tournament. "We knew we could fight with them, even after losing the first set. We made some adjustments, started to play better and had the momentum going into the tiebreaker."
No other area players in Class 1A advanced to Friday.
Althoff's John Nestor and Cole Curtis had the roughest draw of any area team. They had to face second-seeded Brian Lelm and Harry Hawbaker of Metamora in the first round. They did not win a game in that match but came back to win a pair of straight-set matches before being eliminated.
Mascoutah's doubles team of Sam Norrenberns and Tommy Beck won its first round match and Highland's Sutherland Allen had one win in the singles consolation bracket.
In Class 2A, Edwardsville freshman Colton Hulme won his first two rounds in singles, although one was by default. Hulme then defeated Thomas Placin of Hononegah 6-1, 6-3 in the second round before falling to Ansh Shah of Hinsdale Central 6-0, 6-0 in the third round. Shah is seeded in the 3-4 range.
Edwardsville's doubles team of Jade Dynamic and Michael Karibian won its first round match and another match in consolation before being eliminated.
O'Fallon got first round wins from Evan Potter and Gavin Sohn in singles and from Kaden Vollmer and Nic Strobel in doubles. But the Panthers lost six of their seven matches after the first round, with the only win coming from Sohn in the second round of consolation.
Belleville East's Ben Harris and R.J. Miksell won one match in doubles consolation.