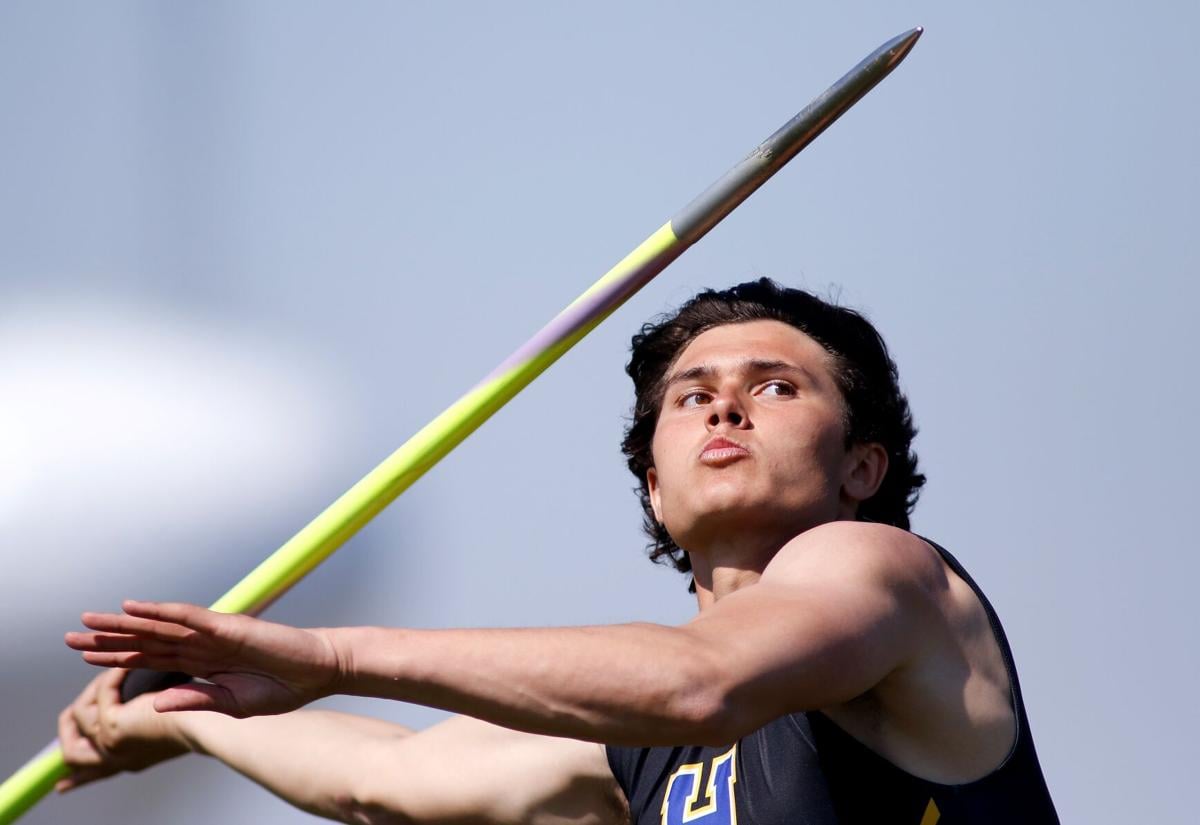 Mason Brock knows what it's like to be a state record holder.
Even if it was only for five minutes.
A senior thrower for the Francis Howell boys track and field team, Brock heaved the javelin 195 feet and 2 inches April 1 at Francis Howell Central's Todd Bizzell Memorial Spartan Relays. It broke the previous record of 194-5 set by Joplin's Zac Westmoreland in 2019 at the Class 5 state meet.
And Brock did it on his first throw.
"It was definitely a surprise," Brock said. "I didn't expect that to happen."
What happened next, though, wasn't completely unexpected.
Brock's teammate, senior Bryce Kazmaier, also was competing at the meet and throwing well. So well, that Brock figured Kazmaier might have an equally phenomenal throw in him.
He did, only it wasn't equal.
On his last attempt of the meet, Kazmaier unleashed a toss of 211 feet to snag the state record from Brock and put himself atop the national high school leaderboard.
"On his last throw he demolished it," said Brock, whose 194-5 also ranks in the top 10 nationally. "I expected him to be up there with me or beat me, but nobody expected it to go that far."
"I really wasn't expecting to go that far," Kazmaier said. "That last throw everything connected, everything released all at once. It was a great throw."
It was the throw heard round Howell.
When Kazmaier arrived on campus the next day, everyone he crossed paths with was buzzing about his record-setting performance. People he never expected to have any interest in track and field were patting him on the back and engaging with him about his passion.
"Going to school the next day, it was hard to focus. My phone was buzzing constantly," Kazmaier said. "All my conversations were track related."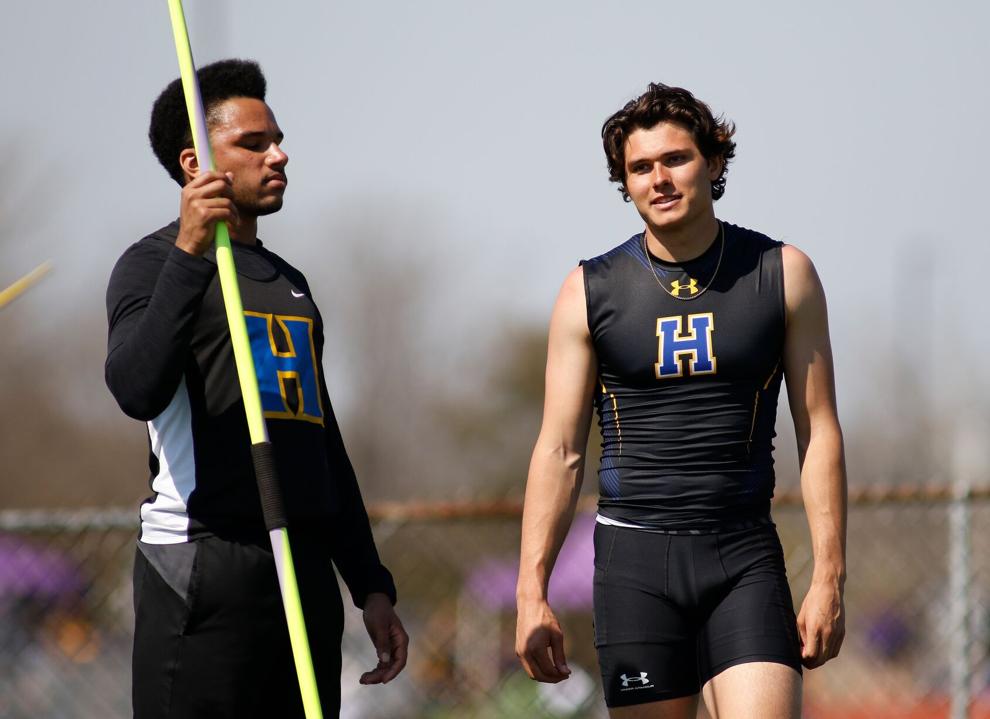 It was a far cry from last spring when there were no track conversations at all. The coronavirus pandemic wiped out the season and with it the junior seasons for Brock and Kazmaier. Both had high hopes and big expectations for themselves. When those goals and dreams evaporated they had to find their way through the early days of quarantine. They took divergent paths.
Brock, 18, was so put off by the loss of the season that he pondered punting track and field all together. It would have been a stunning decision. He grew up on the track watching his older siblings compete. When it was Brock's turn he followed suit and competed several times at the AAU Junior Olympics. He even set several javelin youth records in the process. The ripples of the pandemic put him in a strange place.
"I'd been working so hard for that junior season," he said. "For that to fall apart was hard."
The season fell apart, but Brock did not. Instead of raiding the fridge and binge watching television, Brock spent his time in quarantine working out. He funneled his frustration into staying in shape and getting stronger.
"I lift on my own a lot," he said. "I love to work out."
When school resumed so did Brock's interest in competing for the Vikings. He couldn't imagine not being out there with his teammates when the games began again.
Kazmaier, 18, was disheartened by the loss of the season but refused to let it stand between him and his hopes of becoming a collegiate athlete. He planned on putting himself on the map his junior year to jump start his recruiting. Instead he used his newfound time to introduce himself to a large swath of the college coaches across the country.
"I sent out a lot of emails," Kazmaier said with a laugh. "I sent out a lot of information."
One unique aspect of recruiting for track and field is there is little room for debate about performance. Track athletes are beholden to the stop watch. The field athletes are the same with the tape measure. As Kazmaier began filling up inboxes with his film and his performances he began to get feedback.
At one point Kazmaier said he was having conversations with 15 to 20 collegiate programs. It didn't hurt his cause that he's a decathlete. The decathlon includes 100-meter dash, long jump, shot put, high jump, 400-meter run, 110-meter hurdles, discus, pole vault, javelin and the 1,500-meter run.
The 6-foot-3 and 195-pound Kazmaier was introduced to the decathlon the summer after his freshman year while running with the Jets track club. He had never tried it before, but once he did he found he had some natural talent.
"I really love the decathlon," he said. "I had enough athletic ability I did well."
As spring gave way to summer, Kazmaier continued his quest to find a collegiate home. He also never stopped working on his craft. His family hired a personal coach to work on his technique and form. He found places to sprint, throw and jump.
But the pandemic's tentacles reached into the college ranks. Kazmaier focused a lot of his attention on the Ivy League schools at the start because he wanted to attend an elite academic institution. He was having regular conversations with a University of Pennsylvania coach only to find one day that the school had cut its program's budget and the coach he'd been talking to had been let go.
"I talked to them for months," he said.
Eventually he found a home at the University of North Carolina. It had everything he was looking for academically and athletically. And while it's not easy to build a relationship on the phone or over Zoom, Kazmaier said the coaching staff at North Carolina won him over because they wore their interest in him on their sleeve.
"No program was as excited as they were when I first met them," Kazmaier said.
He signed his binding national letter of intent to be a Tar Heel in November.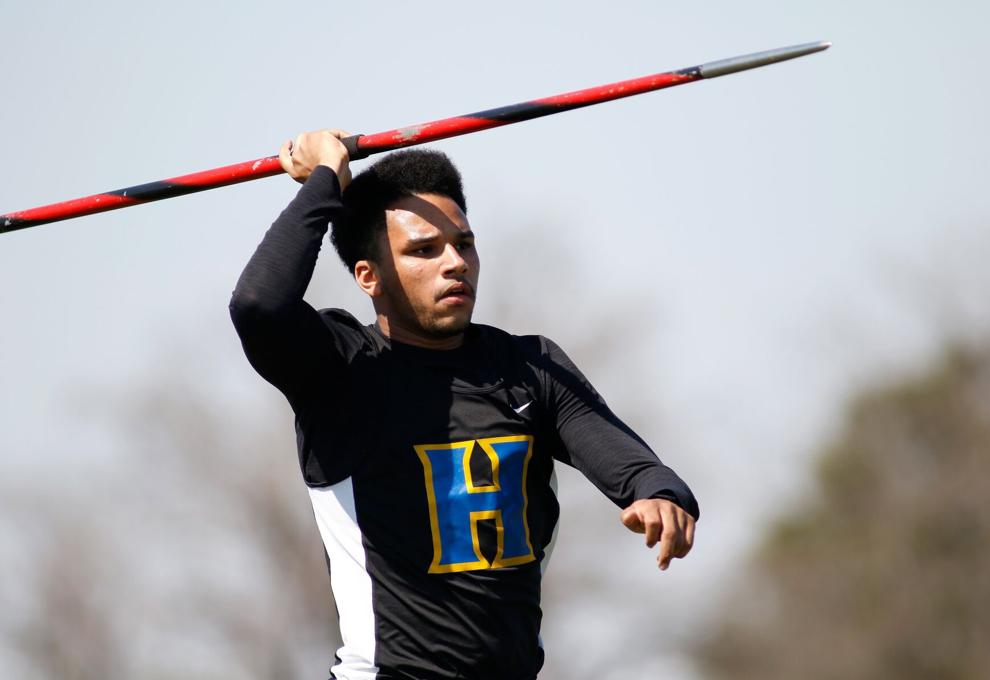 Brock is hopeful he can join his friend and teammate as a collegiate competitor. At 6-foot-2 and 190 pounds he doesn't have the size typically associated with a thrower. It's not uncommon at a high school meet for the throwers to be big and burly. They often spend their Friday nights in the fall playing on the offensive and defensive lines for their football teams.
Brock looks more like a quarterback, which both he and Kazmaier were as underclassmen. Brock gave it up after his freshman year ended with a broken femur. Kazmaier turned in his helmet and pads after he left Washington High his sophomore year and enrolled at Howell.
When Brock and Kazmaier show up at the throwing ring at a meet, they've been greeted with a raised eyebrow now and again.
"They're looking at us like 'What are you doing here?' " Brock said with a laugh.
What they lack in bulk they make up in speed and technique. It's why Brock has won the discus at all three meets he's competed in this season. It's why he's been in the top three in the shot put, too.
"I worked hard the last couple summers getting my technique down," Brock said. "It's a matter of understanding what to do with my speed and my power."
It's worked so far with impressive results. Both Brock and Kazmaier are hopeful the Vikings can turn some heads this spring and take a run at something special at the state meet.
That will be here soon, but in the meantime Brock has some personal goals of his own.
"I just look forward to bettering myself in all my events," he said. "And I'd like to take that state record back from Bryce."