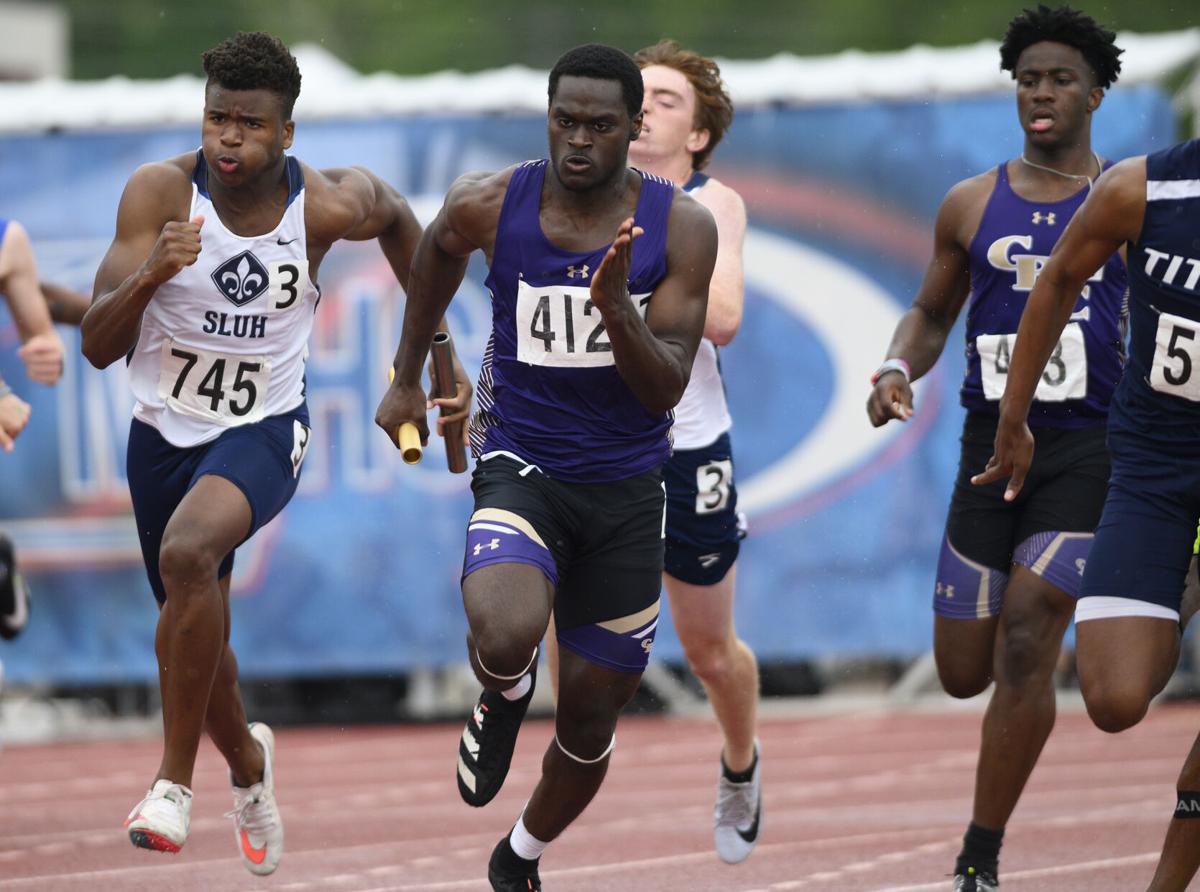 JEFFERSON CITY — Jeremiyah Love smiled when he heard a torrent of rain was going to hit the Class 5 boys track and field state meet Thursday at Adkins Stadium.
He nearly started jumping for joy as the rain poured down.
The CBC sophomore wanted the inclement weather.
"Football players love to play in conditions like that," CBC coach James Gillespie said. "It's fun for him. He took that concept to track and literally ran with it."
Missouri track and field state meet scoreboard
Love, in the rain, won the 100-meter dash title with a time of 10.76 seconds.
He edged Rock Bridge's Casey Hood by six hundredths of a second to claim the title. 
"The whole time I'm thinking trying to beat my time — I just wanted to beat my 10.92," Love said. "The whole time I was thinking 'I'm about to eat.' It was just all focus on beating that PR."
Love competed in the 100 after a two-hour lightning delay.
But he used the opportunity to get ready for the race.
"I was just trying to get my thoughts together," Love said. "I was at first doubting myself. I had to give myself a pep talk. That two-hour delay helped me get my mind right."
Love also helped CBC's 400 relay team finish fourth.
The sprinting sophomore had to reprogram his mind a bit after a motion that is so natural on the football field nearly bit him in a race earlier this season. He said he started looking to his right instead of focusing dead ahead.
But on Thursday, instead of worrying about the next lane over or how anyone else was doing, Love turned his head to the sky.
"Jeremiyah is a baby in terms of track and field," Gillespie said. "This is the first time he ran since he was 6 years old. Track you have to focus on your own lane, football though, you have to be aware of your surrounding. It's a whole different concept, but today, he ran a perfect race."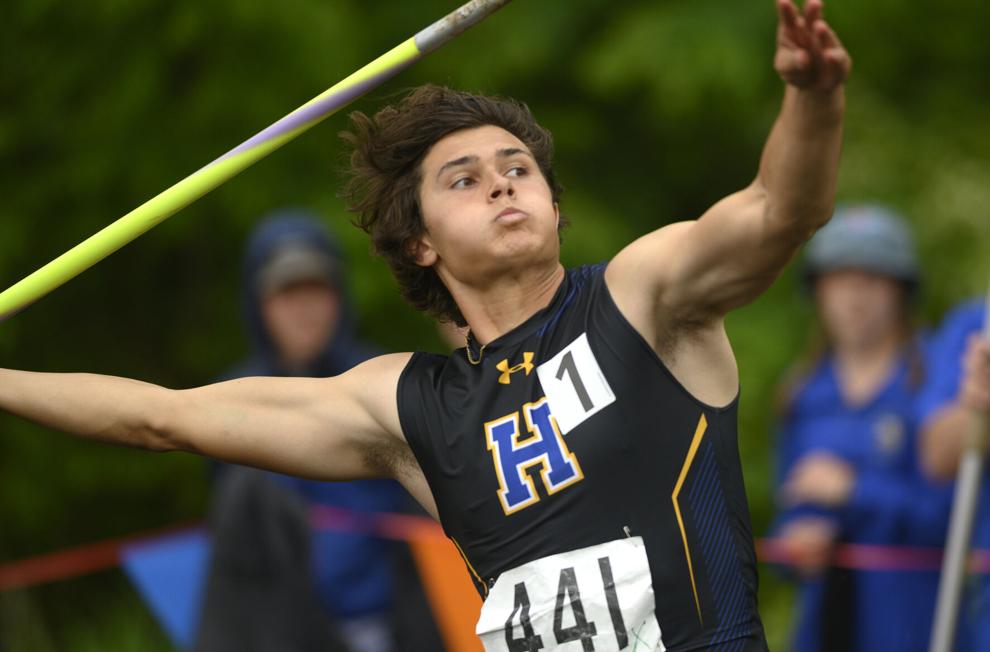 HOWELL DUO USES COMPETITION TO BREED SUCCESS
Bryce Kazmaier knows he's going to get pushed by college athletes to be better when he heads off to Chapel Hill.
The Francis Howell senior has had plenty of experience of that this season.
"I'll be competing against all those good athletes in college," Kazmaier said. "I got a level college-level athlete that I'm squaring off with every day in high school. That's the reason why I did so well."
Mason Brock echoed his teammate, pointing to Kazmaier as the main reason for his success.
"It's the same thing for me," Brown said. "Having him there in competition is the best. I was a little bummed out that I could actually throw with him at the same time, but having him there all season has been great."
Brock got the better of his teammate on Thursday, edging him out with a mighty throw of 59.21 meters to claim the Class 5 state championship. 
"It hasn't really sunk in yet," Brock said. "It sounds great right now. I'm glad I got to end my season like that."
Kazmaier finished as the runner-up with a throw of 57.82 meters. 
Brock's state championship throw was his first throw of the four attempts. All but one of his throws would have been a state championship throw. 
But even after that Brock wasn't sure if he would be the state champion.
"I wasn't too confident because I know Bryce is capable of a lot," Brock said. "I know he's beat me a few times on his last throw, but it felt good. It was a good throw."
Having Brock there pushed Kazmaier all throughout the season.
"We've been pushing each other in practice every day," Kazmaier said. "That's how you get the big marks. I'm fortunate to have him."
The two mighty throws by the Howell dynamic duo helped catapult Francis Howell to its highest finish in program history with a runner-up placing on Thursday.
Howell scored 49.5 points, just behind Rock Bridge who was the Class 5 champion with 52 points. 
Lee's Summit (49) and Hickman (48) rounded out the top four teams.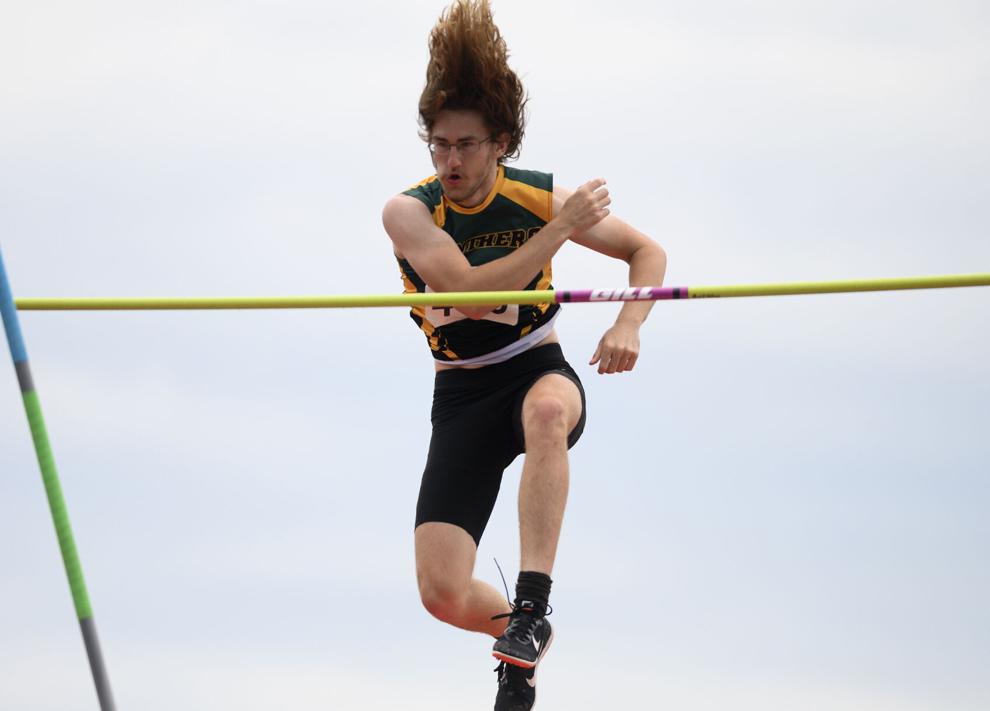 ZUMWALT NORTH'S GLEASON VAULTS TO A TITLE
Sullivan Gleason was tired of waiting for his turn to jump.
The Fort Zumwalt North junior got even more tired waiting out a long delay in a crowded gym.
So he did the smart thing.
"I ate a sandwich and took a nap," Gleason said. 
His two-hour power nap was as refreshing as it was needed as Gleason claimed the Class 5 pole vault state championship with a vault of 4.49 meters.
While waiting for his turn to jump, Gleason saw the clouds and the rain coming in. While he was tired of the waiting, he took full advantage of the two-hour break.
"That break made everything better," Gleason said. 
Despite the state championship, Gleason was a little down on himself as he accepted the medal.
"I would have liked to jump higher, but I'm happy with how I did," Gleason said. 
Gleason followed in his family's footstep of bringing home a state medal, joining older brother Seth Gleason