Vianney is sending half of its track and field team to the state meet this weekend.
It won't need a bus. Or a van. Or even an SUV.
The Golden Griffins would do just fine with a four-door sedan and have room to spare.
CJ Bossert qualified for the Class 5 boys track and field state championship meet, which will be Saturday at Battle High School in Columbia. The state meet moved sites and shortened to one day after a tornado caused significant damage to Jefferson City High School late Wednesday night.
The 6-foot-2 and 230-pound Bossert is half of the Golden Griffins varsity track and field team.
Daniel St. Louis is the other.
A pair of senior throwers, Bossert and St. Louis represented Vianney's varsity at every meet this season. Just the two of them. It was a strange way to spend the spring and it took the boys some getting used to.
"It was weird being the entire varsity," Bossert said. "You see some schools unload two busloads of people. We show up in our individual cars."
The Golden Griffins' numbers were way down this year. There were 17 athletes in the track and field program. Despite just Bossert and St. Louis competing for the varsity, the Golden Griffins managed to not finish in last place at most meets this spring. That was a particular point of pride for the throwers.
"We did beat a couple of schools with just the two of us," Bossert said.
Bossert secured his first appearance at the state meet by finishing third in the discus at the Class 5 sectional last weekend at Lafayette. He outperformed his seed with a throw of 138 feet, 1 inch. It's nearly four feet short of his personal best of 141-10 that landed him the Metro Catholic Conference championship May 1 at De Smet.
Bossert said there was an odd feeling among the competitors at the sectional. It was like a nervous energy spread throughout the field and affected their throws.
"Everybody was a little worse than they should have been," Bossert said. "I felt really nervous. I got comfortable."
It's a sweet reward for Bossert, who has been throwing since his sophomore year. He said much of the credit for dragging him to throwing ring belongs to his teammate, St. Louis, who finished sixth at the sectional, two spots shy of qualifying for state.
"He wanted me to come on the team," Bossert said. "I did pretty well my first year. I could tell if I worked on it I'd get better."
He's continued to do just that. Under the tutelage of Vianney throws coach Mike O'Fallon, Bossert has improved year over year. He's been in the weight room in the offseason and refining his technique to get the most out of each throw.
O'Fallon is particularly excited for Bossert because he narrowly missed making it to state as a student-athlete. A 2011 Vianney graduate, O'Fallon suffered a shoulder injury during football season his senior year. He rehabilitated and made it back to competition in the spring but finished fifth at the district meet, one spot off advancing to the sectional. Now Bossert is the second thrower he's coached in the last five years to make it to state. Spencer Peterson qualified in the shot put as a senior in 2015.
"To me that's a coach's dream," O'Fallon said. "Watching him grow every year and seeing the progress was amazing."
Added Bossert, "It does feel good to take your coach to state."
Bossert once again will have to outperform his seed if he's going to finish in the top eight and earn a state medal. Of the 16 competitors, Bossert is seeded 14th. Among the field are Jefferson City senior Devin Roberson, whose best throw this season of 206-1 is tied for the third-longest throw in the country this spring. It's also the longest throw in Missouri state history.
Bossert said he was preparing to compete but also looking forward to watching the best throwers in the state do their thing.
"It's going to be really cool," he said.
Bossert does not have plans on continuing his throwing career at college. He said he's looking at enrolling at the University of Missouri as a regular student. If Saturday is the official end of his time as a thrower, Bossert said he wants to give himself the best chance at a medal and see what happens.
"I'm definitely practicing every day and trying to get good practices in," he said. "I can improve a little bit and be more consistent."
LUTHERAN NORTH'S HOPKINS CHASES HEALTHY FINISH
Josh Hopkins had plans last summer.
A senior at Lutheran North, Hopkins was the returning starting quarterback for a football team with state championship aspirations and the elite talent to make it a reality.
Hopkins made it two games before he suffered a season-ending shoulder injury. 
"It's definitely been hard, especially going through an injury," he said.
Unable to play, Hopkins could only watch as Lutheran North powered its way back to the Class 2 semifinals, where it was then beaten by eventual state champion Blair Oaks.
At 6-foot-3 and 200 pounds, Hopkins was going to spend the winter on the basketball court. He made it two games before his shoulder became troublesome again. He shut it down once again.
Hopkins has one last chance to chase down the state championship that has eluded him. He'll compete in the long jump, triple jump, 200-meter dash and on the Crusaders' 800-meter relay at the Class 3 state championship track and field meet Friday and Saturday at the University of Missouri in Columbia.
He has set high expectations for himself.
"I want first in everything," he said. "I'm going all out for it."
Hopkins knows what it'll take to be successful. He qualified for the state meet last year and took second in the long jump. He was 13th in the triple jump. As he prepares this week, Hopkins has done what he can to mimic the intensity of what he'll see Friday and Saturday.
"You have to practice how you want to perform," Hopkins said. "I'm practicing at the rate I want to perform at the meet."
He's practicing for more events than ever at state. This was the first season he's competed in the 200. He took fourth at the sectional meet, the last state qualifying spot, when he finished in a personal best time of 21.82 seconds. Hopkins didn't plan on running the open 200, but Lutheran North's coaching staff wanted him to find another event to focus on this season. They offered him the 100, 200 or the 110-meter hurdles or the 300-meter hurdles. Hopkins had no interest in the hurdles and he'd never run the 100, which is the most unforgiving race on the track, especially for those athletes who are brand new.
He settled on the 200 because he'd run on the Crusaders' 800 relay before and he was comfortable with the distance.
"I went with what was close to what I knew how to do," he said.
It's turned out to be an excellent choice. Hopkins has the fifth-fastest seed time headed into Friday's preliminary races. Should he live up to his seeding he'll qualify for Saturday's final. There is a good opportunity for Hopkins to earn all-state recognition in all three of his individual events. Lutheran North's 800 relay is seeded fourth and is expected to be in the mix in the finals on Saturday.
After a senior year where everything went sideways, Hopkins hopes he can end this season on a positive note. Then again, Hopkins is a pretty positive guy despite all the adversity he's dealt with this year. He tries not to worry about things he can't control.
"It was definitely frustrating at the beginning but I put it in God's hands. It's part of his plan," Hopkins said. "I tend to look on the brighter side of things."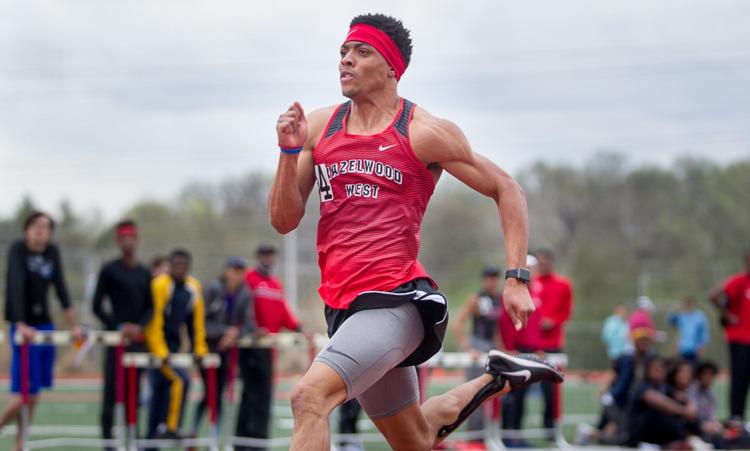 WHAT TO WATCH FOR AT STATE
• In Class 5 at Battle High in Columbia, the Hazelwood West boys are taking aim at the program's third state trophy since 2000. The Wildcats bring standout junior sprinter Justin Robinson, who has the fastest 400-meter time in the nation and the top 100-meter and 200-meter times in the state on his resume.
West has the top-ranked 1,600-meter relay in Class 5 this spring when it finished in 3 minute and 19 seconds to win at the KU Relays on April 20. The 400 and 800 relays qualified for the state meet and are in a good position to score, as well.
Junior hurdler Aaron Holmes has all-state aspirations with a top-four performance in the 300-meter hurdles (39.04).
• In Class 4 which will be held at Washington High, MICDS senior sprinter Joshua Sutton enters the state meet with the top seed times in the 100 (10.48) and 200 (21.26).
Summit senior Jacob Brunsman has the third-fastest 100 (10.92), second-fastest 200 (21.52) and second-fastest 400 (48.43).
Parkway North has the top-rated 400 relay after it went 42.54 at the sectional meet at Hillsboro last weekend.
• In Class 3, which will be held at the University of Missouri's Audrey J. Walton track and field facility, Cardinal Ritter has the appearance of a juggernaut. The Lions have the fastest 400, 800 and 1,600-meter relay teams. The 1,600 relay dropped a 3:13 at Kirkwood's Dale Collier Invitational on April 27, the fastest 1,600 relay time on the books in state history. Senior sprinter Jameson Williams has the fastest 100 (10.66) and 200 (21.23) in Class 3. Williams, an Ohio State football recruit, unleashed his class-best 200 at the sectional meet last week at Lutheran North.
Orchard Farm senior Carson Sanders has the fastest 3,200 in Class 3 this season. He went 9:32 on April 9 at the Orchard Farm Invitational. He posted a 10:24 at the sectional meet to qualify for state.