The only thing Jameson Williams will hurdle his senior year are opposing defensive backs.
A senior football and track standout at Cardinal Ritter, Williams will not chase a third consecutive Class 3 300-meter hurdle state championship this spring. Instead, he's opened the door for his brother, Jaden, to take his shot.
"I want him to have a chance to win it twice, too," Williams said.
One of the area's most accomplished hurdlers, who signed with Ohio State as a wide receiver, Williams' most memorable hurdle his senior year will be when he jumped over a Trinity defender and ran for a huge gain in the Class 3 state championship football game. While spectacular and jaw dropping, hurdling a defender at the high school level is a penalty. Williams' big play was nullified. Trinity went on to win its first state championship.
Though a different season, Trinity remains at the forefront of Ritter's mind. The Lions won the Class 3 track and field championship last season with 72 points. Trinity was the runner up with 57. Both teams figure to be in the title hunt once more and Williams, for one, has no interest in a football repeat.
"I can't lose to Trinity in football and track," he said with a smile. "We have to take this one."
It would appear Ritter is primed to do just that. The Lions returned every significant contributor from last season's title team. After assisting the girls team last year, Gregory took over the boys team this season when Ruben Albright was not retained. It hadn't dawned on Gregory just how much talent was back in the fold until the first day of spring practice.
"It's awesome," he said. "From a coaching standpoint we're going to have competition with Burroughs and Trinity, but at the end of the day it feels good to have most of your guys returning from the state championship team."
Gregory helped guide Maplewood-Richmond Heights to three consecutive Class 2 state championships between 2009 and 2011. Those teams had a returning core to anchor its run and he's having flashbacks at Ritter.
"It makes your job a lot easier when everyone is coming back," he said.
And that team didn't get to add one of the top sprinters in the country. Senior middle distance standout Hasani Barr missed his entire junior year due to injury. He returned to the track last summer, signed with powerhouse Baylor in the fall and is a big part of the Lions plans this spring. Before he was injured, Barr was among the top 400-meter runners in the nation. If he's able to compete at a high level this season, the Lions just became that much tougher to beat.
"To coach a guy of that magnitude, it's big time," Gregory said. "Hopefully he can have a successful year and stay injury free and help us try to win another one."
The Lions will make their season debut Saturday at the Jackie Joyner-Kersee/Al Joyner Invitational at East St. Louis High. They were slated to compete last week at University City's Charlie Beck Invitational only to see it canceled due to inclement weather.
With a young, inexperienced team, Gregory might have concerns about how the athletes would fare having to wait this long into the season to compete at a meet. But the veteran Lions have put him at ease.
"You don't panic as much because you've got guys that have been there and done that," Gregory said.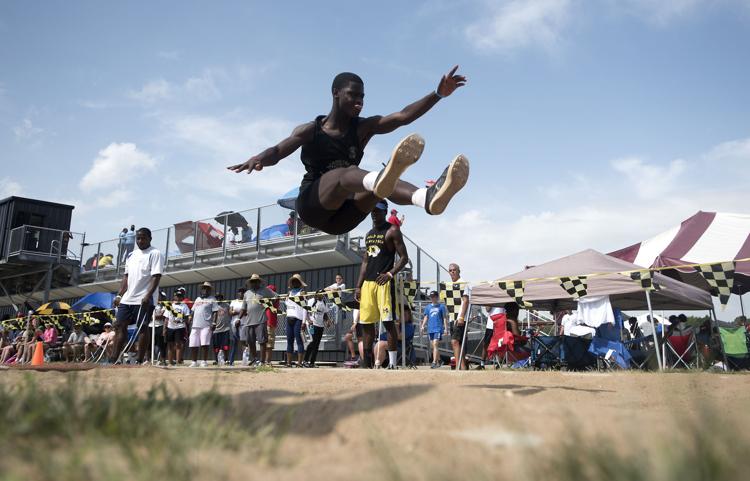 If anything, Ritter is anxious to get outside and see what it can do. The reigning triple jump champion, senior Rasheed Ricketts spent his offseason getting bigger, faster and stronger. He showed a taste of what's in store at several indoor meets this winter where he routinely jumped 48 feet or better. To put it in perspective, Ricketts won his state title with a leap of 47 feet, 4.5 inches.
Ricketts, 18, sparked a lot of college interest with his winter work. The 6-foot-2 and 168-pound leaper will have the chance to get some or all of his college tuition paid for with track.
"I just started letting everything go, let my speed coming down the runway and then I got to 48 (feet)," he said. "After that, I was in that mode."
Both Ricketts and Williams said they would like to open some eyes at East St. Louis on Saturday. Williams has his sights set on winning the 100 and 200-meter state championships after being nipped at the finish line in both races by returning Trinity senior Kemeric Winston. Ricketts is chasing the state triple jump record.
All of the Lions are focused on keeping that state championship in their house. It won't be easy and they know it.
"We know we have a target on our back," Ricketts said. "We have to step it up a level. Trinity is coming for us this season."
Ritter's experience and talent should keep it in the championship mix. The Lions can use their athletes in any number of events and find ways to score. Ricketts is a beast leaper but can contribute on relays or sprints. Senior wide receiver and Western Michigan signee Cam Coleman is running this spring and adds another dynamic athlete to the fold. The trump card is Williams, who has the ability to score plenty of points no matter where he's deployed.
"Jameson is a whatever guy. He can do so much. He might long jump. He might triple jump. He might high jump," Gregory said with a laugh. "Talent-wise you can see what areas you need to get points in.
"It's cool to have that ace of spades in the hole knowing whatever you need him to do he can do it well."
ROBINSON, BAKER ARCADIA BOUND
Two of the area's top athletes will see where they stack up against the best in the nation on Saturday.
Hazelwood West junior sprinter Justin Robinson and Kirkwood senior distance runner Christian Baker will compete at the Arcadia Invitational at Arcadia High School near Los Angeles. Billed as the "home of national records", the Arcadia Invitational has seen 31 national records set at its meet and nearly 180 United State Olympians compete on its track.
Robinson is returning for a second season after he was the runner up in the 400 last year in 47.24 seconds. This time around, he'll compete in the 200 and 400.
The reigning Class 5 3,200-meter champion, Baker will compete against a stacked 3,200 field.
The meet will be broadcast online at ArcadiaInvitational.org. Baker's race is set for 9:33 p.m. Central Standard Time on Saturday. Robinson will run the 400 at 9:09 p.m. and then the 200 at 10:15 p.m.
MEETS TO WATCH THIS WEEKEND
• John Burroughs will make its debut at home when it hosts the Skippy Keefer Relays on Saturday. The Bombers have a wealth of talent on both its boys and girls teams that is expected to compete.
On the boys side, star 800 runner Brandon Miller will compete but what events remain a mystery. Miller, a junior, didn't run an 800 last season until the end of April. But as talented as he is, watching him run in anything from the 100 to the 1,600 is a joy. He may join DJ Miller, his older brother, in the long jump.
On the girls side, senior sprinter Madison Fuller has returned healthy after a late season injury spoiled her postseason a year ago. A Vanderbilt signee, Fuller has battled injury her sophomore and junior seasons after dominating as a freshman.
Sophomore distance runner Kylie Goldfarb took top honors in the Class 800 last season and was the runner-up in the 1,600. This fall she was the runner-up in the Class 3 state cross country championship, too.
• Also scheduled for Saturday are the Northwest Invitational at Northwest Cedar Hill, the Wolfpack Invitational at Timberland and the All Catholic Invitational at Chaminade.
MAROONS FINISH AS RUNNER-UP AT HOME MEET
The third-place finisher in Class 3A last season, Belleville West showed there's plenty of talent back in the fold as it finished second at the Belleville West Lady Maroon Invitational last Friday.
The Maroons scored 95 points, bested only by Class 3A runner-up Homewood Flossmoor, which scored 111.
Reigning Post-Dispatch All-Metro girls track and field athlete of the year Laqwasia Stepney won the 300 hurdles (46.48). It was the only individual championship for the Maroons as Stepney was eked out at the finish line in the 100 hurdles by Incarnate Word junior Scout Regular. Regular won the 100s in 14.75 while Stepney was the runner-up in 14.79 (the top time in Illinois this season according to Milesplit).
Edwardsville junior Abby Korak doubled up as she won the 1,600 (5:24) and the 3,200 (11:12). Korak will compete against the top distance runners in Illinois and the Midwest at Distance Night In Palatine on April 20 at Palatine High in suburban Chicago.
Wood River sophomore thrower Jayden Ulrich won the shot put (43-7.25) and was the runner-up in the discus (121-2).
Freeburg junior Ella Siebenberger won the pole vault by clearing 10-6. Alton's Lauren Winer was the runner up at 8-6.
The season has just started but it hasn't stopped several local athletes and teams from putting up strong times and distances in their events.
The East St. Louis boys' 1,600-meter relay went 3:19.51 at the Sugar Bowl Track and Field Classic in New Orleans on March 23. It's the top time in Illinois and ranks as No. 46 in the nation, according to Milesplit.
East St. Louis junior standout Willie Johnson clocked the fastest 400 in Illinois when he went 47.34 in New Orleans.
Incarnate Word junior Scout Regular beat Belleville West's Laqwasia Stepney by a hair in the 100 hurdles at the Belleville West Lady Maroon Invitational last Friday. Stepney's time of 14.79 is the best in Illinois but Regular's winning time of 14.75 isn't the fastest in Missouri.
Rock Bridge sophomore Tyra Wilson has locked down both the fastest time in the 100 and 300 already. She finished the 100 in 14.31, good enough to be ranked No. 39 in the nation. Her 300 time of 44.14 is No. 43 in the nation, too.