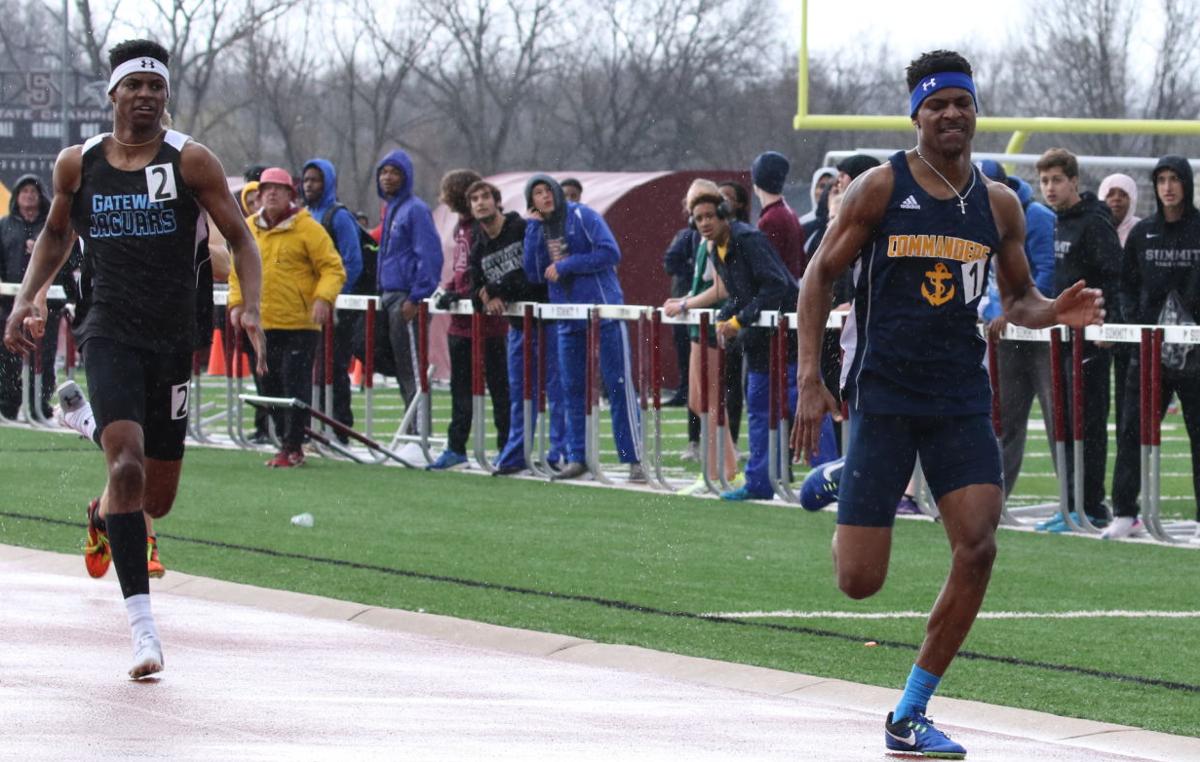 FENTON • James Allen won the race out of the womb.
A senior runner for the Cleveland NJROTC boys track and field team, James entered the world a minute faster than Jerald Allen, his twin brother. 
And he never lets him forget it. 
"He acts like he's the big brother," Jerald said with a laugh.
Adorned with head bands featuring "Twin 1" and "Twin 2," James and Jerald set the pace for an electric 800-meter race Saturday at the Corey Siebert Invitational hosted by Summit.
James and Jerald were near the front of a loaded pack through the first lap but separated themselves from the group on the back stretch. Running his second 800 this season, James won the race in 1 minute and 57.72 seconds. Jerald was the runner up in 1:58.24, just ahead of St. Louis U. High sophomore standout Lazarus Williams (1:58.82) and Summit senior Kyle Kubernat (1:58.89).
It was the first race of the day where the rain held off and the sun made a small attempt to break through the clouds on a cold and nasty day that has defined spring thus far. It was among the most exciting races of the day, too.
"I told him I was going to win, he didn't believe me," James said.
Added Jerald, who made his 800 debut Saturday, "I have a little more work to do, I'll be back."
Jerald was unable to compete at the state meet last season due to injury. James, hurdler Antonio Norman and jumper Kelsey Cole were key components as the Commanders won the Class 2 state team championship last season. The standouts racked up points in the 3,200 relay, 1,600 relay and their individual events. James, Jerald, Norman and Cole will continue their academic and athletic careers at Lindenwood University on scholarships.
"We're going to help Lindenwood build its program," James said.
Before they get there, though, the twins are finding out what life is like on their own. Jerald left Cleveland and transferred to Gateway STEM for his senior year.
"I didn't like the ROTC aspect at Cleveland anymore. I wasn't feeling it," Jerald said. "We have to wear uniforms."
Added James, "I don't mind it."
The separation hasn't been a big deal in school. On the track it hasn't made much of a difference, either. Whether on the same team or not, the Allens want to win every race. If that means beating a teammate (or brother) then so be it.
"It's still the same. Going against each other in the open events is the same, we're used to it," Jerald said.
There are only two aspects that have been affected by Jerald's transfer. James and Jerald won't hand the baton to each other on the 1,600 or 3,200 relays. They also don't get to compete every day at practice. Cleveland practices on its home track, as does Gateway.
"We don't know where each other is at so we can't really push each other," James said. "I'm fine at practice because I've got Antonio Norman. He pushes me. I'm good."
Jerald does not have the same depth of talent to compete against every day.
"I have to push myself at practice," he said.
The split will have postseason implications, too. Cleveland competes in Class 2 and Gateway is in Class 4. Classes 1-2 compete at the state meet the week before Classes 3-5. James will get the chance to defend his 800 state championship. He has hopes of breaking the Class 2 record of 1:54.
Jerald will get the chance to show what he can do on his own. His time Saturday gives him the second-fastest 800 in Class 4 this spring behind Webb City's Ryan Riddle (1:55.7). Not bad for a rainy, cold debut.
"I'm trying to go 1:56 or faster at Ladue (next week)," Jerald said.
The twins won't get to test each other next week, though. Gateway will run at Ladue's Strobach/Brusca Invitational and Cleveland will compete at Kirkwood's Dale Collier Invitational.
It's not all bad, though. While they like running against one another, they are looking forward to college where they won't have to live with one another.
"We're not sharing a dorm or nothing," Jerald said. "I've been with him my whole life."