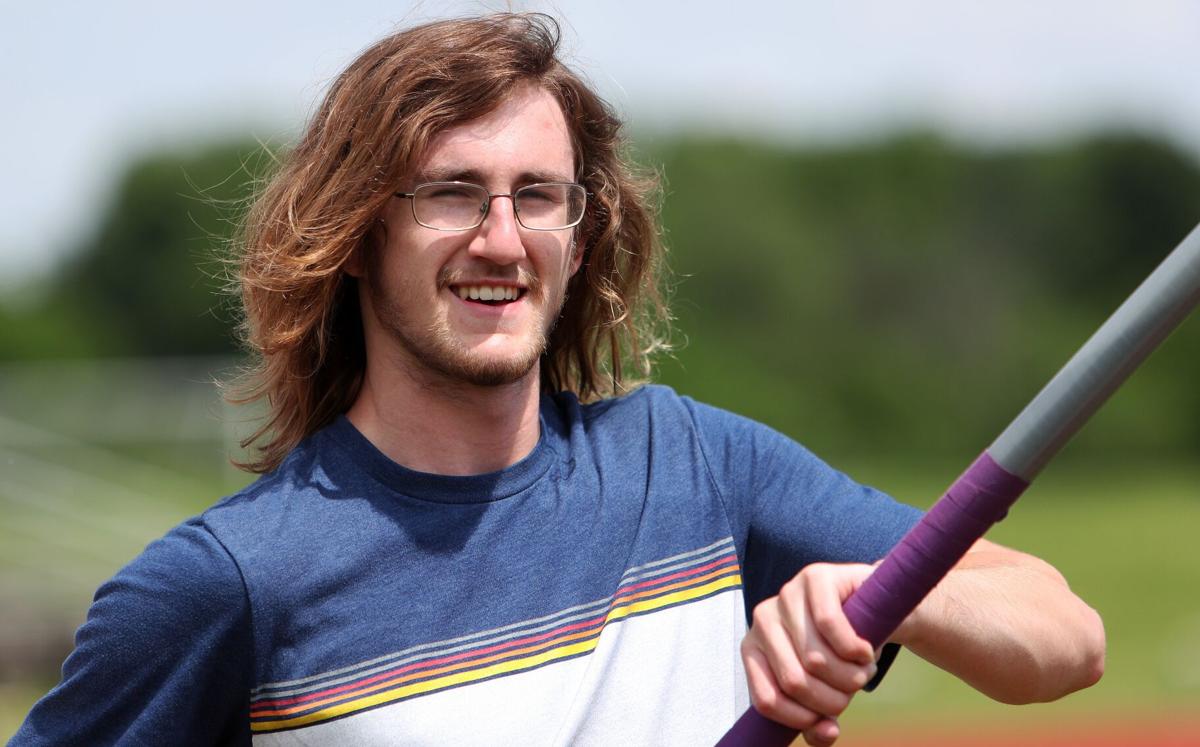 As Sullivan "Sully" Gleason paraded around the grass field, he wondered if he'd made the right choice.
A freshman at the time, Gleason arrived at his first track and field practice with visions of flying through the air as a pole vaulter.
Turns out you have to earn your wings.
"It's kind of hard for kids to stick to it," Fort Zumwalt North coach Nick Fisher said. "We have to start off slow because it is so complicated."
At those early practices the sprinters are dashing around the track, the distance runners are putting in the miles and the jumpers are dusting sand off their backsides from landing in the pits.
All the while the vaulters learn how to properly handle the pole, how to jump into the pit, how to sprint down the runway and then, after more than a week, put it all together.
"Once we started vaulting it got pretty fun pretty quick," Gleason said.
Now a junior, Gleason hasn't just stuck with the pole vault. He's become one of the best vaulters the area has ever seen.
At the Class 5 Sectional 2 meet Saturday at Washington High, the 6-foot and 170-pound Gleason cleared 16 feet to win by more than a foot and put himself in rare company. According to Milesplit he's just the second area pole vaulter to go 16 feet or higher.
Now, this season the Missouri State High School Activities Association began using the metric system for all its field events. Instead of feet and inches, vaults, jumps and throws are measured in meters. When Fisher broke out his tape measure at Washington High on Saturday, the bar was set at 16 feet. When the measurement was converted to meters and then reconverted by Milesplit for the official results that were sent to MSHSAA, it was reported as 15-11.75.
"Milesplit rounded down for some reason," Fisher said.
There was a discrepancy after the meet, but during the meet there were no questions. Gleason cleared 16 feet. The last time an area athlete did that was Chaminade's Brian McGinty, who cleared 16-4 in 2005 at Ladue's Brusca/Strohbach Invitational.
Gleason, 17, is second in the area all-time and has the top qualifying mark headed into the Class 5 state championship meet Thursday at Jefferson City High. Liberty North senior Weston Edwards had the second-best qualifying mark at 15-1. Francis Howell senior Bryce Kazmaier has the third-best mark at 15-0 and Fort Zumwalt South's Jake Schwepker is fifth at 14-9.
Gleason's success this spring is expected and at the same time unexpected. Since he picked up the sport that first day at track practice as a freshman he has dedicated himself to it. Gleason said he didn't play organized sports as a kid. It wasn't until he saw the pole vault at the 2016 Olympics that his interest was piqued. He spent the spring of his freshman year winning or placing in junior varsity meets and topped out at 10-6. He had so much fun vaulting he decided to do it year-round.
He's a regular at PoleVaultSTL, where he's been coached by Russ Braudrick, who has been instrumental in Gleason's growth.
Even when his sophomore spring season was lost due to the coronavirus pandemic, Gleason wasn't all that put off. He just kept on preparing like it was the regular offseason.
"It didn't bother me, it gave me more time to work on technical stuff," Gleason said.
Coming into this spring, Gleason was primed to make an impact. He competed at the first meet of the season, the O'Fallon City Championship, and was two feet better than teammate Aidan Siemer. A senior, Siemer and Gleason were expected to be two of the top pole vaulters in the area. The Panthers were counting on big-time points out of the duo every time they competed.
"We're going into every meet with two of the better pole vaulters in St. Charles County," Fisher said.
A few days later that plan fell apart.
At practice Gleason was testing out a new pole and during one of his tests it snapped in half. That can happen to vaulters, it's a part of the sport. Fortunately no one was injured — that time.
"The next day he gets on a bigger pole and it broke again," Fisher said. "When it snapped all that energy released and it went through his thumb."
When the pole snapped, it smashed into Gleason's left palm, just below his thumb. It broke the bone and surgery was required to install pins and screws. Recovery time from the injury and subsequent surgery is about eight weeks. If there were no setbacks, Gleason would be back at practice mere days before the district meet.
It was not an ideal situation, but one that at least gave Gleason a chance to compete in the state series. Fisher said Gleason was cleared by his doctor to resume vaulting four days prior to the district meet.
Gleason was able to run prior to being cleared, which made for an easier transition back to vaulting.
"He runs down the runway the exact same way every time," Fisher said. "He is very fast and puts a lot of energy into the pole."
Even with Gleason cleared, Fisher wasn't ready to unleash him. The top four finishers in each event at the district meet qualify for the sectional meet. When Gleason secured his place as the runner-up at the district meet, Fisher pulled the plug and didn't let him finish his remaining jumps.
"We pulled him after we knew he was in the final four," Fisher said.
The plan for the sectional meet to was to play it by ear. If Gleason felt healthy and strong, Fisher would turn him loose.
Gleason had never been healthier or stronger. He blew past the school record of 15-3 set by Gene Baker in 1987. When he went over 16 feet, it was a personal best by 18 inches and set the stadium record at Washington High.
"It's the first time I jumped that high," Gleason said. "You can kind of celebrate midair after you're that high up."
And when Gleason says he'd never jumped that high, he doesn't just mean at a meet. He'd never done that at practice either.
"He used some poles that day he'd never jumped with before," Fisher said.
After he cleared 16 feet, Gleason decided to add on another half foot for his next set of vaults because, why not?
"After I won the meet I thought I might as well go big," he said.
Fisher said Gleason nearly made it over 16-6. With some tweaks to the placement of the standards he has no doubt it's a mark that Gleason can clear.
"He was over it, he hit (the bar) on the way down on the back side," Fisher said.
Gleason had one of the all-time incredible sectional performances in area history. Now he'll try and repeat it at the state meet.
If he clears 16 feet again, Gleason would be tied for eighth all-time in state meet history with Monroe City's Brian Hancock, who did it in at the 2005 Class 2 meet. The all-class state meet record is 17 feet, set by Park Hill's Chris Nilsen in 2015 according to MSHSAA's online record book.
This will be Gleason's first appearance at the state meet. It can be an unnerving experience for some competitors because it's often the biggest crowd most of them will compete in front of during the season.
Gleason doesn't feel the stage will affect him much if at all. His focus is solely on being the best version of himself.
"I'm worried about me getting better, not being better than other people," Gleason said. "I'm not too worried about placing well at state. A (personal record) would be nice, that's all I'm looking forward to."