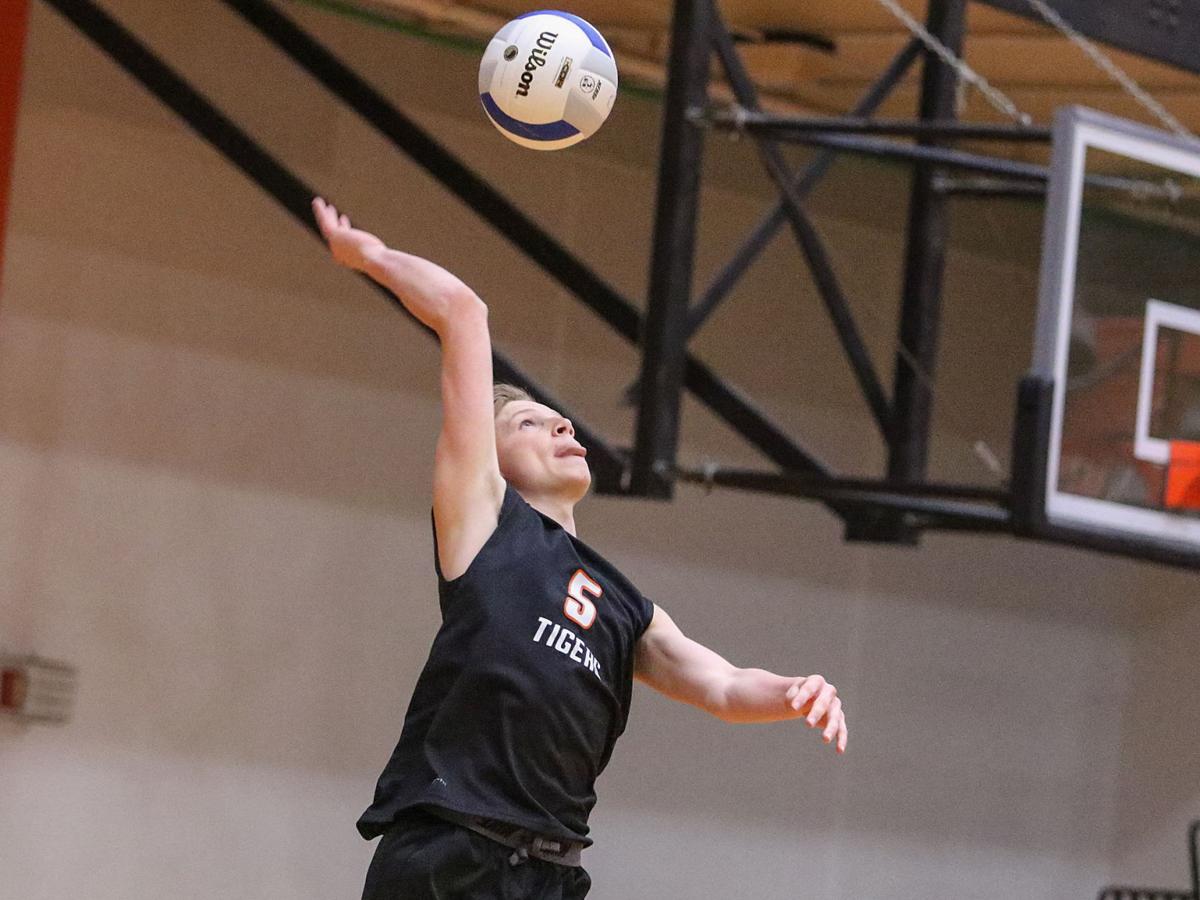 His high school days being numbered, Edwardsville senior Preston Weaver has had to muster extra effort to keep his focus in the classroom. The exercise became futile May 12.
That is when Weaver and the rest of his Tigers boys volleyball teammates got the news they had been waiting to hear — that the Illinois postseason is a go.
For Weaver, the news was especially sweet. The 6-foot-1 setter also is a standout basketball player. Because of COVID-19 restrictions, the Illinois basketball season started more than two months late and played a partial schedule with no postseason.
"Basketball season was kind of disappointing," said Weaver, who averaged 7.4 points for the Tigers. "I'm glad it got to happen, but obviously postseason's a pretty big part in any sports season so I'm just really excited to be able to have it now."
Edwardsville boys volleyball coach Scott Smith had a similar reaction.
"During an unrelated meeting for teaching, I saw a tweet from IHSA, and I went to the website during the meeting and threw my hands up out of excitement," Smith said.
The Illinois High School Activities Association originally had only scheduled the boys volleyball postseason through regionals.
The rest was listed as to be determined by the state's public health department.
"We had originally decided to end it after the regional round because where we were in the phases in Illinois where teams that were listed as medium risk indoor and high risk were not allowed to travel outside of a 30-mile radius," said Stacey Lambert, an IHSA assistant executive director who oversees boys volleyball.
The key word in that explanation is "indoor." Volleyball being played indoors made it a medium risk activity. Outdoor sports such as baseball, soccer and track and field always were allowed to have a full postseason.
But Gov. J. B. Pritzker's announcement Illinois would be advancing to Phase 5 on its virus management plan June 11 changed the game.
"That really gave our board of directors the idea that we could conduct this and do it within the requirements of our state government," Lambert said.
She said she had "an overwhelming" response to an email sent out to the state's volleyball-playing schools requesting playoff hosts.
Regional playoffs are scheduled to be played from June 7-10, followed by sectional playoffs June 12-15. The eight-team state final tournament is set for June 18-19 at Glenbard West High School in Glen Ellyn, located in the Chicago suburbs.
Belleville West and O'Fallon are scheduled to host regional events that feed into the Minooka Sectional. Belleville East is scheduled to play host to a sectional semifinal at 4:30 p.m. June 12.
"It's an opportunity for us to showcase our facilities and it's an opportunity for our athletes to play at home, which you know hopefully they benefit from in the postseason," Belleville West athletics director Lee Meyer said. "We have a lot of pride in it. We try to accept every opportunity we can when we're asked to host by the IHSA."
Weaver and his Edwardsville teammates are primed to make the most of the opportunity.
One of the area's assists leaders, Weaver averages 9.64 a set for Edwardsville (8-0), No. 4 in the STLhighschoolsports.com large-school rankings. Evan Reid (4.14 kills per set), Kaden Chiapelli (3.14 kills) and Jacob Geison (2.43 kills) spearhead a versatile attack.
"We are definitely good enough to make a pretty good postseason run so I'm really excited about that," Weaver said. "We've just got to keep working at practice and taking care of business in the regular season."
Edwardsville is the top seed in its 10-team sub-sectional of the Minooka Sectional and plays in the Belleville West Regional.
Belleville East (9-2) is seeded second in the sub-sectional and plays in the O'Fallon Regional.
Weaver and his teammates are just grateful for the opportunity.
He said there has been an extra bounce in everyone's step since the postseason was restored.